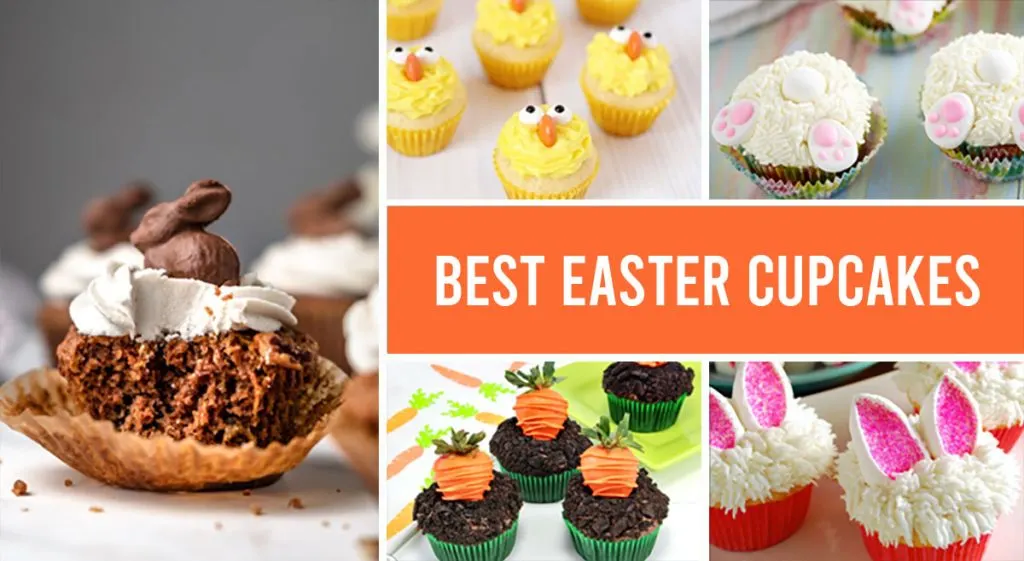 Get inspired this Easter with 10 delicious Easter cupcakes that will satisfy your sweet tooth. From classic flavors to unique combinations, hop to it and try these egg-cellent cupcakes that you're sure to love. Perfect for Easter celebrations or any springtime gathering!
Welcome to the Easter season! It's time to enjoy the wonderful traditions and delicious foods specific to this time of the year. And what could be more appropriate than a small and tasty sweet to complete the Easter meal? That's why I've collected some delicious recipes for Easter cupcakes that are easy to prepare and will surely delight everyone's taste buds.
The classic recipe for cupcakes includes a fluffy top, delicious frosting and themed decorations. But don't stop there! There are many ways in which you can express your creativity. You can try a cupcake recipe with apple, carrot or even chocolate. Here are some ideas:

Carrots and walnuts – Add pieces of grated fresh carrots and chopped walnuts to the cupcake batter for a sweet and spicy flavor.
Chocolate and mint – Use cocoa powder and mint extract to create a minty chocolate taste in cupcakes.
Vanilla and strawberries – Add pieces of fresh strawberries to the vanilla batter for delicious cupcakes with a fresh and fruity taste.
Lemon and orange peel – Add a touch of acidity to cupcakes with lemon and grated orange peel for a light citrus flavor.
Caramel and sea salt – Add a layer of salted caramel to the cupcakes for a sweet and salty taste.
Cinnamon and apples – Add chopped apples and ground cinnamon to the cupcake batter for a sweet and spicy taste.
Coffee and chocolate – Add cocoa powder and coffee extract to the cupcake batter for a rich and delicious aroma.
Cocoa and peanuts – Add pieces of roasted peanuts and cocoa to the cupcake batter for a nutty chocolate taste.
Marzipan and almonds – Add pieces of marzipan and almond flour to the cupcake batter for a sweet and almond flavor.
Cherries and white chocolate – Add pieces of cherries and pieces of white chocolate to the cupcake batter for a fruity and sweet flavor.
And don't forget to give free rein to your imagination when decorating them, because the possibilities are unlimited! You can use whipped cream, fruit, chocolate, or themed edible decorations, such as bunnies or Easter eggs.
In addition, Easter cupcakes are perfect to be made together with family or friends. You can compete with each other and see who can create the most beautiful and delicious cupcakes. Or you can do a special bonding activity, in which you learn how to prepare cupcakes from scratch. It will definitely be a memorable and fun experience for everyone.
So, if you are looking for a sweet and delicious snack for the Easter season, then cupcakes are the perfect choice. These are easy to prepare, can be customized in many ways and will definitely be a point of attraction for the Easter table. Treat yourself to these sweet little joys and enjoy this special time of the year!
I hope you like the recipes created by the talented bloggers below!
Best Easter Cupcakes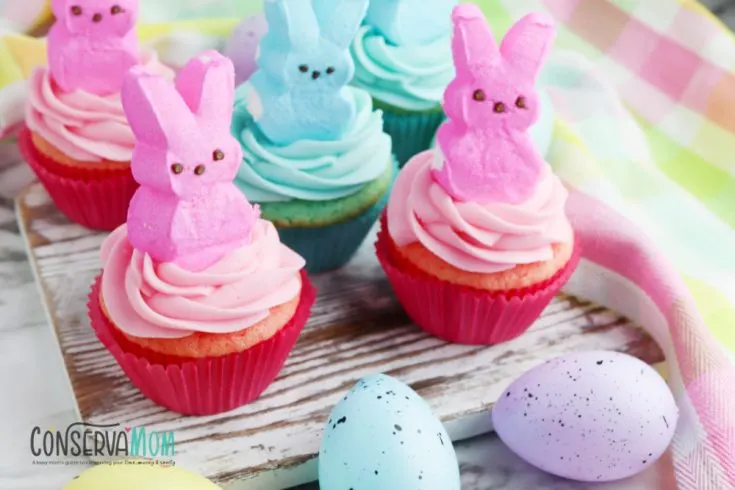 These cupcakes are perfect for anyone who loves the marshmallow candies you commonly find during the Easter holidays. These are decorated with soft frosting and topped with a fluffy yellow Peep that adds extra sweetness and color. PHOTO CREDIT: conservamome.com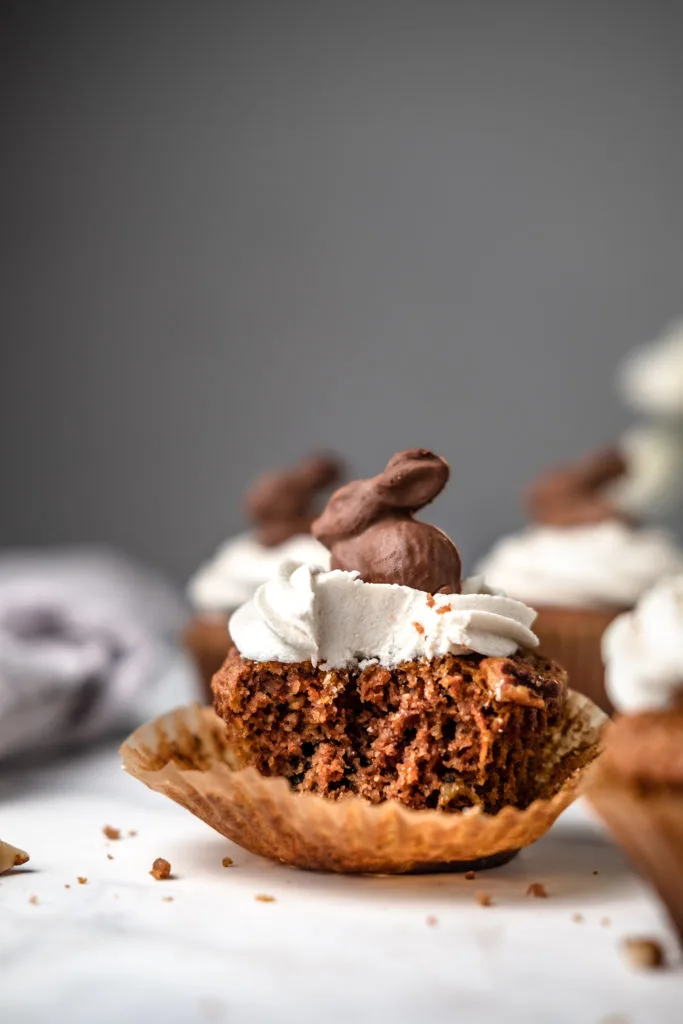 Easter Carrot Cake Cupcakes are a classic Easter dessert that should not be missing from the holiday table. These delicious carrot and chocolate cupcakes are topped with creamy frosting and a chocolate bunny decoration. PHOTO CREDIT: delight-fuel.com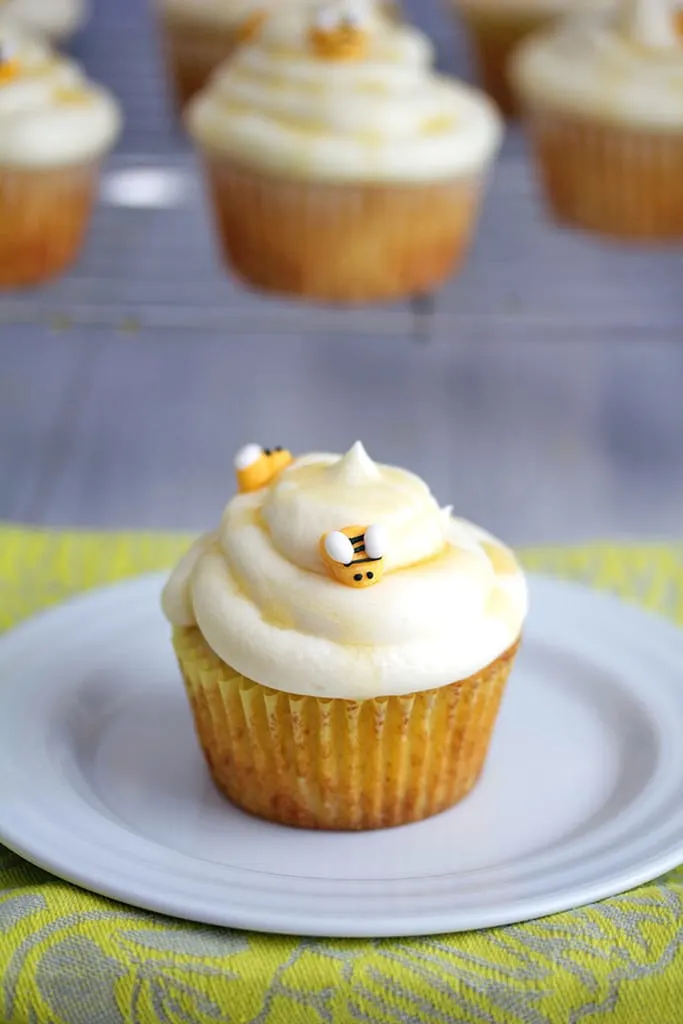 Honey Bee Cupcakes are adorable and delicious and perfect for serving at the Easter table. These deliciously vanilla-flavored cupcakes are decorated with creamy frosting, have candy bees. PHOTO CREDIT: wearenotmartha.com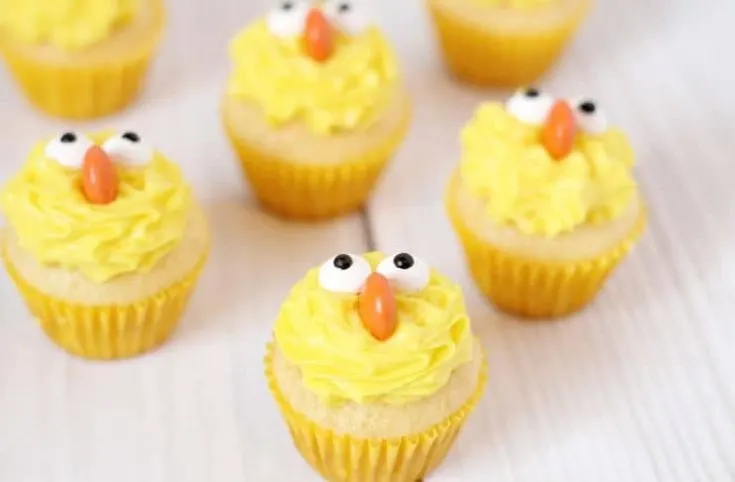 Spring Chick Cupcakes are a delicious dessert that is perfect to serve at the Easter table. These chicken-shaped cupcakes are decorated with creamy frosting and have a lovely yellow color. PHOTO CREDIT: acrazyfamily.com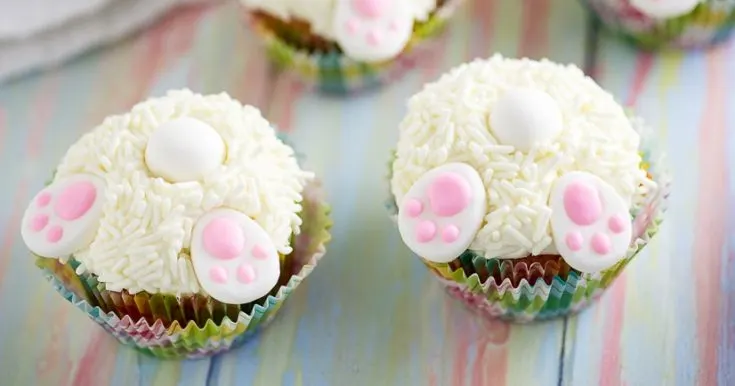 Bunny Butt Cupcakes are adorable and fun, and they're perfect for serving at Easter parties. These cupcakes have a delicious top and are decorated with creamy frosting and a sprinkles background in the shape of a rabbit's butt. PHOTO CREDIT: www.thegraciouswife.com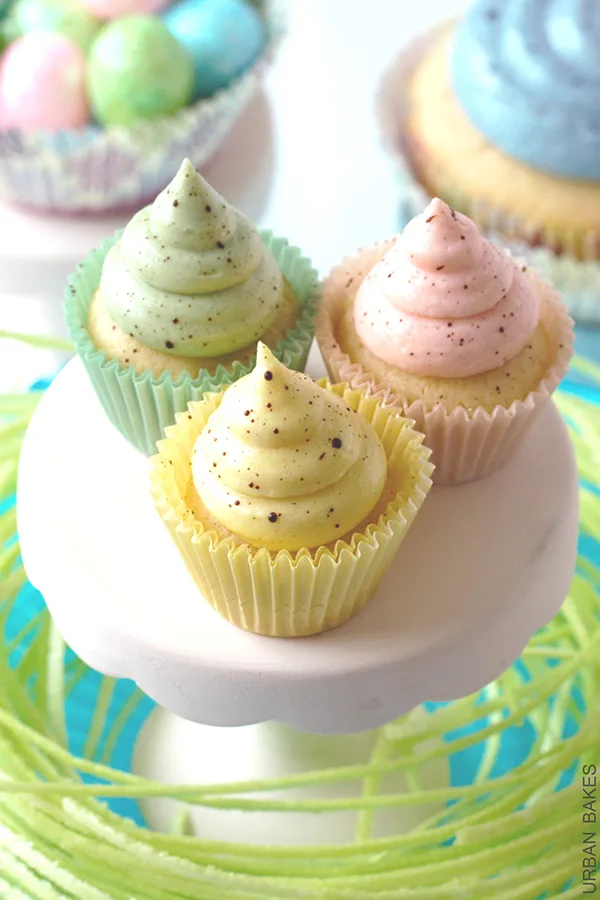 Speckled Easter Cupcakes are delicious Easter cupcakes with a special decoration that makes them look like chicken eggs. The cupcakes are flavorful and soft, decorated with a creamy frosting. For decoration, the cupcakes are covered with an edible powder in pastel tones. These cupcakes will bring a touch of spring and joy to the Easter table. PHOTO CREDIT: www.urbanbakes.com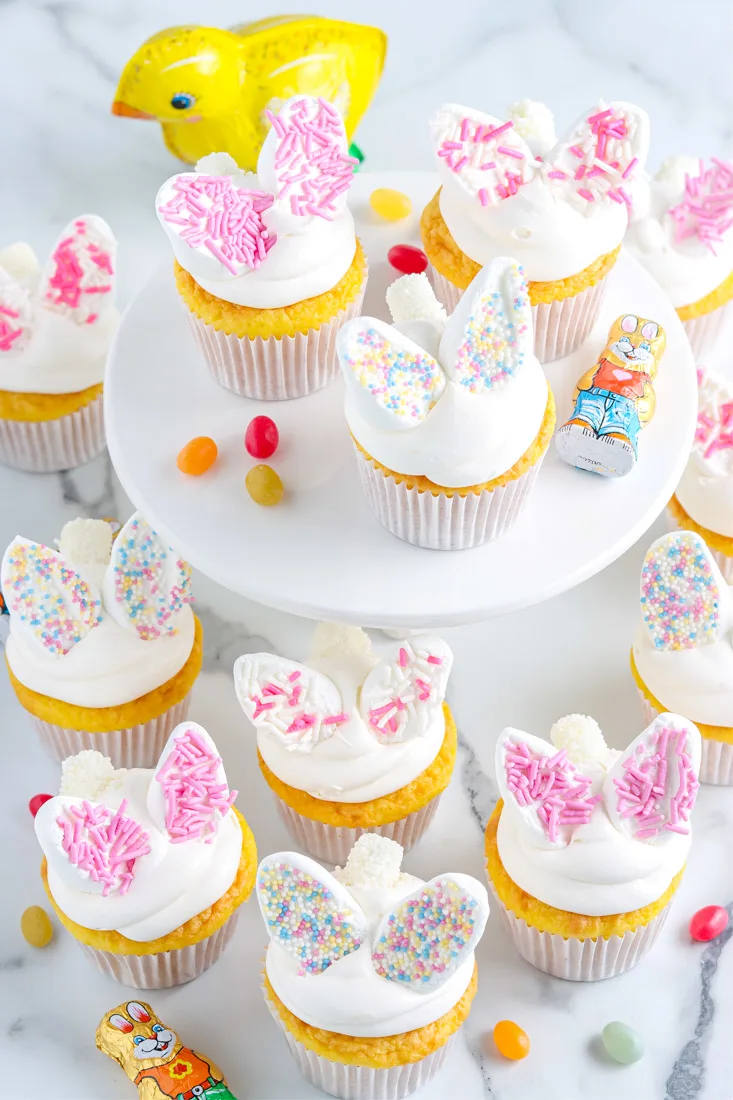 Easter Bunny Cupcakes with Marshmallow Ears are a simple and delicious dessert that will bring a smile to everyone's face. These deliciously vanilla-flavored cupcakes are topped with creamy frosting and have soft marshmallow ears. PHOTO CREDIT: easybudgetrecipes.com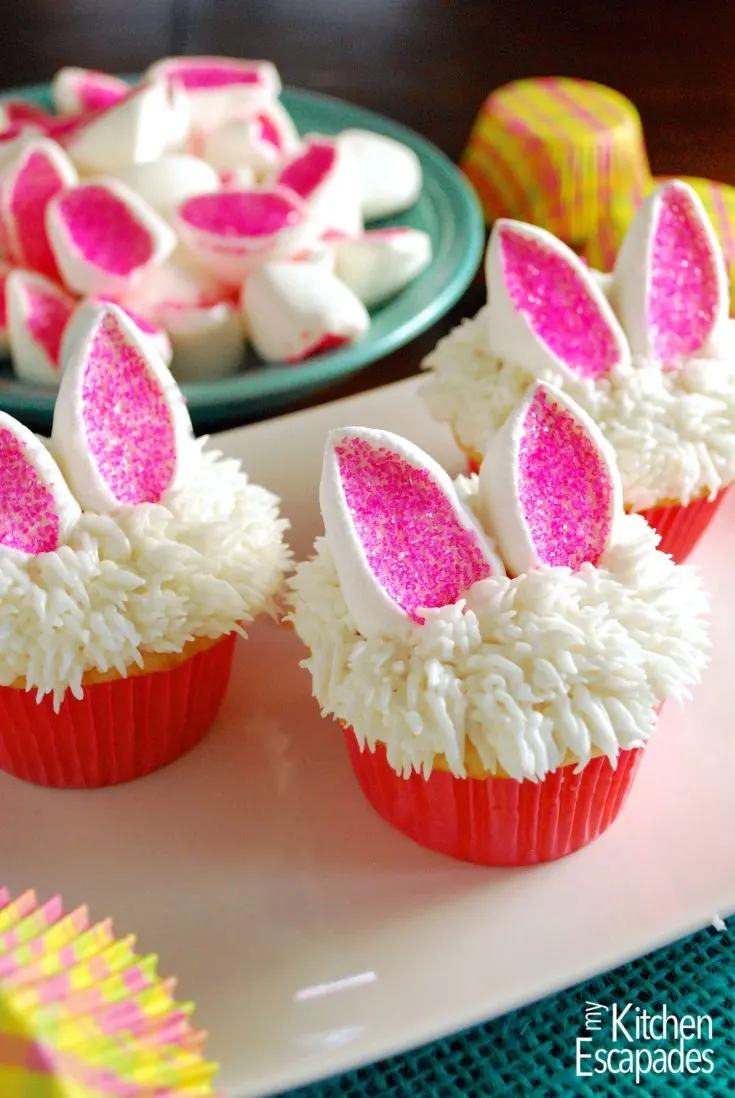 Bunny Cupcakes are an adorable dessert that will be a hit at any Easter party. They are decorated with creamy frosting and have marshmallow ears. PHOTO CREDIT: www.mykitchenescapades.com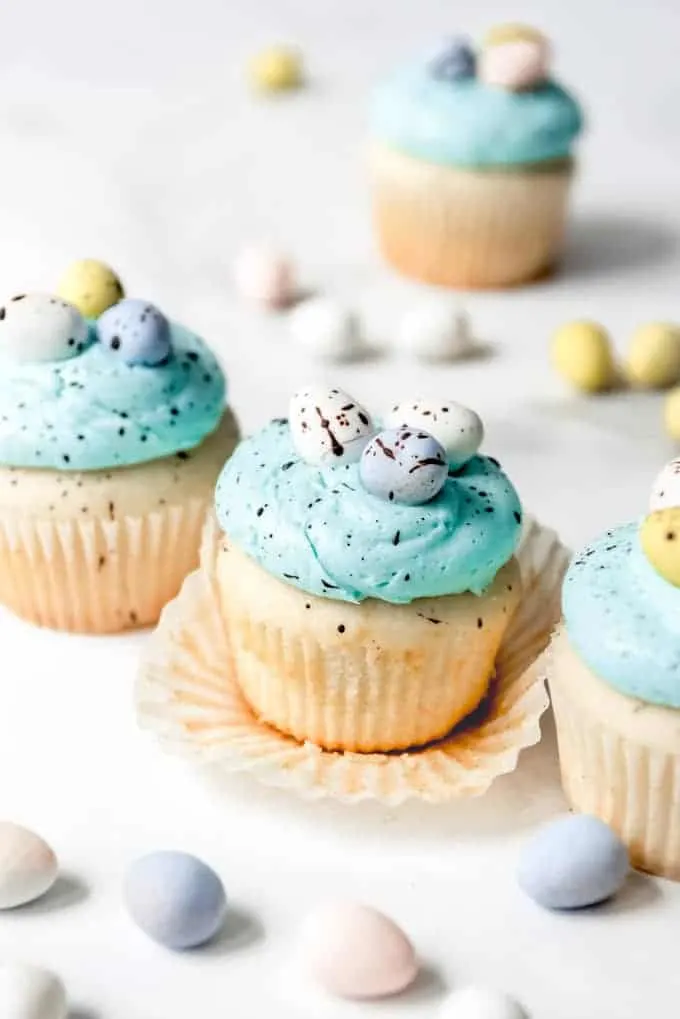 Robin's Egg Easter Cupcakes are inspired by bird's eggs and decorated with creamy buttercream frosting in delicate shades of blue and green. These cupcakes with a delicious vanilla flavor are perfect to serve at the Easter table. PHOTO CREDIT: houseofnasheats.com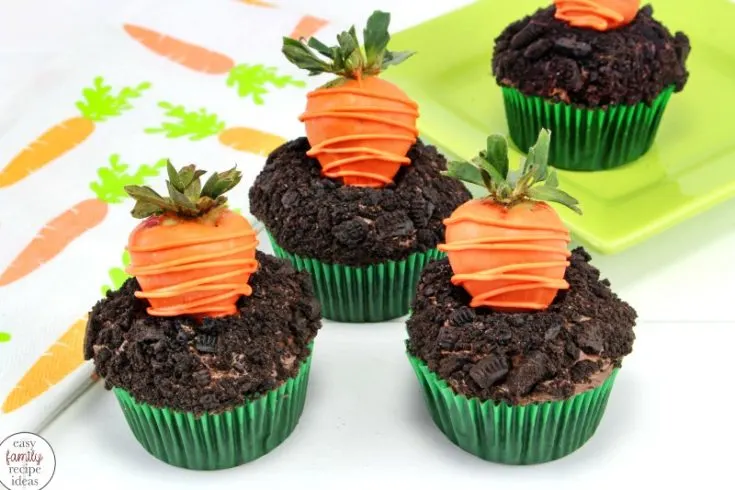 Carrot Patch Cupcakes are a delicious dessert that combines a fluffy top and creamy frosting with an adorable decoration. These earth-shaped cupcakes with chocolate carrots and a marzipan carrot are perfect for any Easter party. PHOTO CREDIT: easyfamilyrecipeideas.com