Elevate your morning routine with coffee waffles – a delightful fusion that's more than just tasty; it's an energy kick-start! Envision the robust scent of coffee melding seamlessly with the crispiness of a perfectly baked waffle. It's culinary magic in every bite!
Ever since I got my waffle maker, I've been experimenting with waffle recipes for breakfast, both sweet and savory. And what better combination to start the day than making waffles with coffee!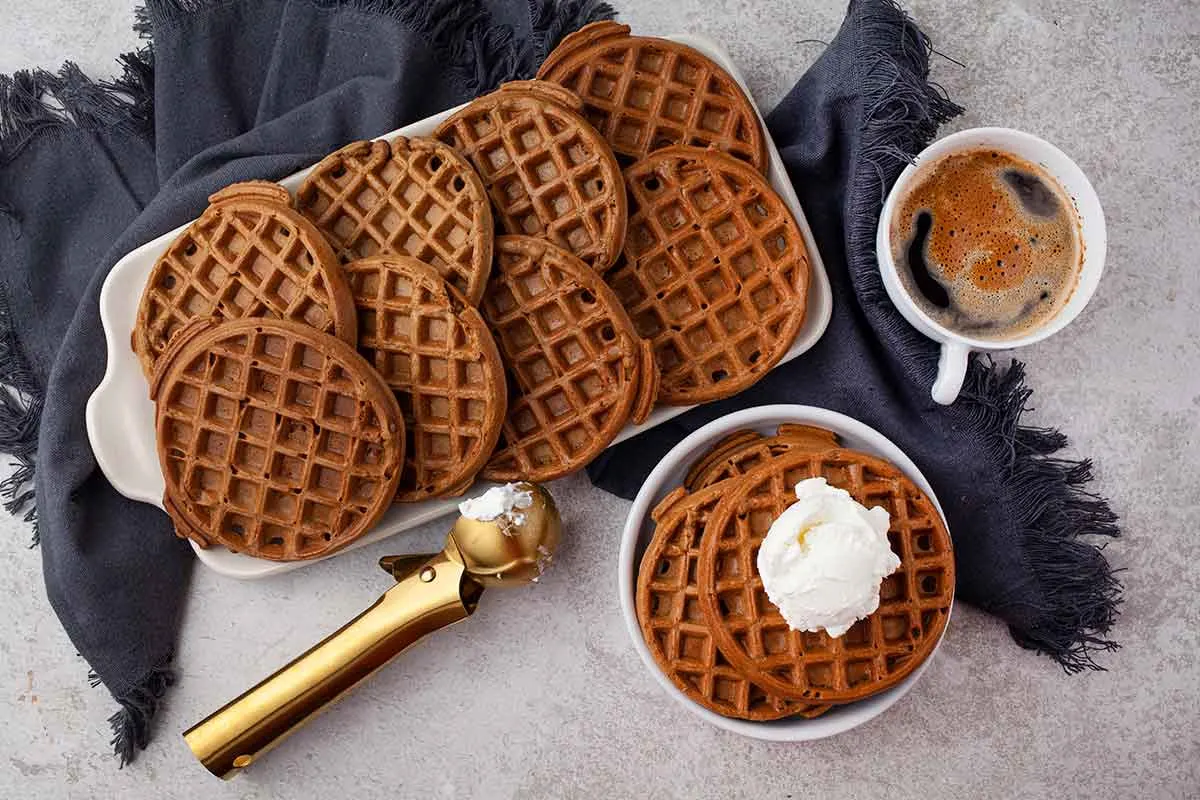 Sweetener alternatives for waffles
Coffee, with its rich and complex profile, can be accentuated or balanced by various sweeteners. Here are some options:
Brown sugar: Thanks to its caramelized nuances, brown sugar adds a depth of flavor to coffee waffles. The brown sugar molasses provides a soft texture and a sweet contrast to the bitterness of the coffee.
Maple syrup: With its rich and slightly smoky aroma, maple syrup offers a distinct sweetness. It is an excellent choice if you want to add a rustic hint to your recipe.
Honey: Honey, especially the more aromatic varieties such as acacia or linden honey, adds a floral sweetness that contrasts nicely with the strong notes of coffee. Also, honey can provide a slightly sticky texture, which can be pleasant in combination with the crispiness of the waffles.
Agave syrup: This is a natural sweetener, sweeter than regular sugar, but with a lower glycemic index. It adds a delicate sweetness without overshadowing the coffee aroma.
Stevia: For those looking for a calorie-free waffle option, stevia can be an alternative. Although it is extremely sweet, it is important to use it in moderation to avoid a too intense taste.
Depending on your personal preferences, you can experiment with various combinations or proportions of these sweeteners. The key is to choose a sweetener that complements and balances, and doesn't dominate, the rich coffee flavor in your waffles.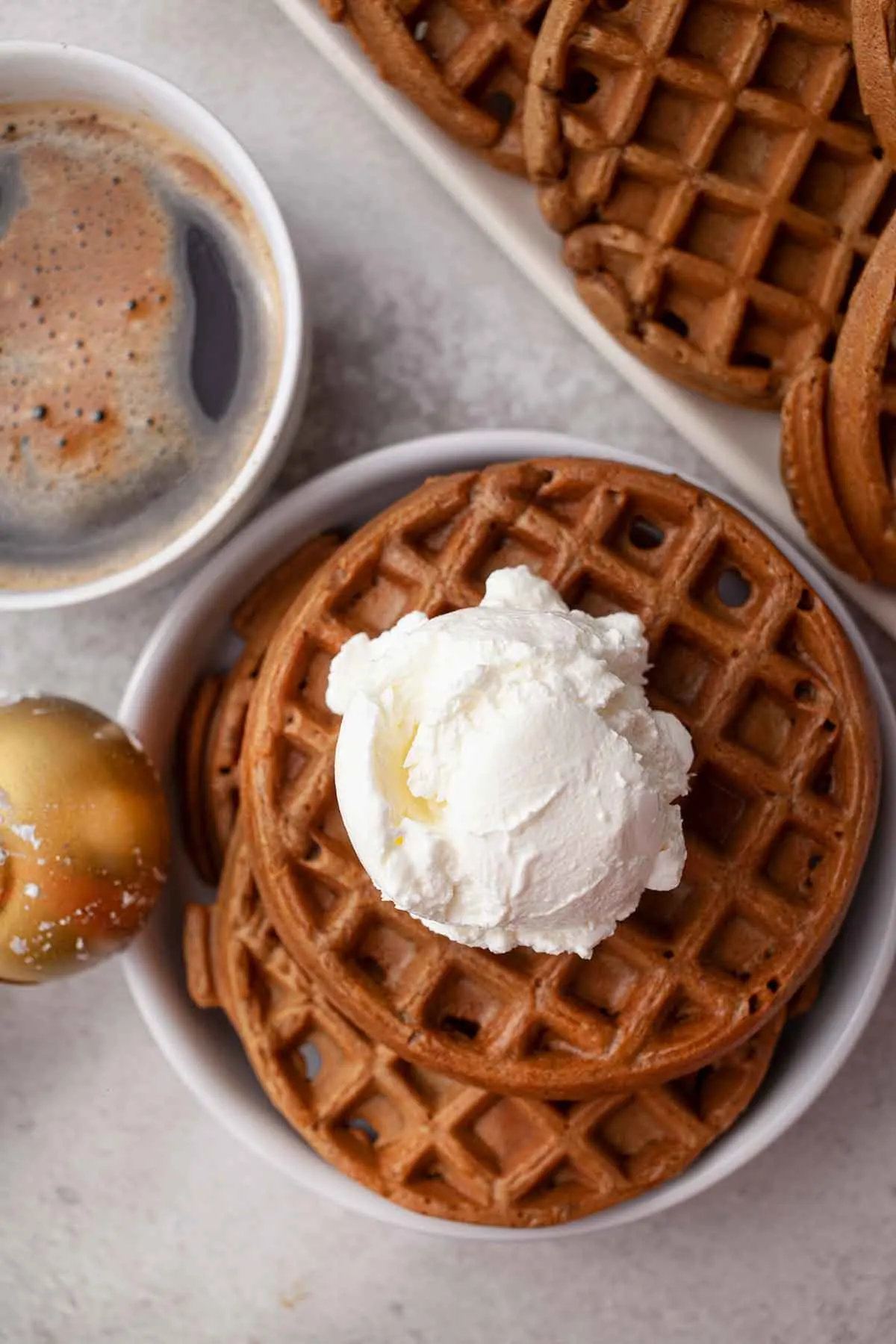 Additions and toppings for coffee waffles
Coffee waffles have a distinctive taste profile, and their combination with various additions and toppings can create an unforgettable culinary experience. Here are some suggestions that can be included to enrich the flavor and texture:
Cream
Vanilla cream: Vanilla and coffee are two flavors that complement each other. A light vanilla cream can add a sweet and creamy contrast to the subtle bitterness of the coffee.
Chocolate ganache: Coffee and chocolate are a classic combination. A rich ganache with an intense chocolate taste can amplify the depth of the coffee flavor in the waffles.
Fruits
Bananas: Thinly sliced, bananas can add natural sweetness and a soft texture.
Strawberries or raspberries: The acidity and sweetness of these fruits can balance the tones of coffee and add a touch of freshness.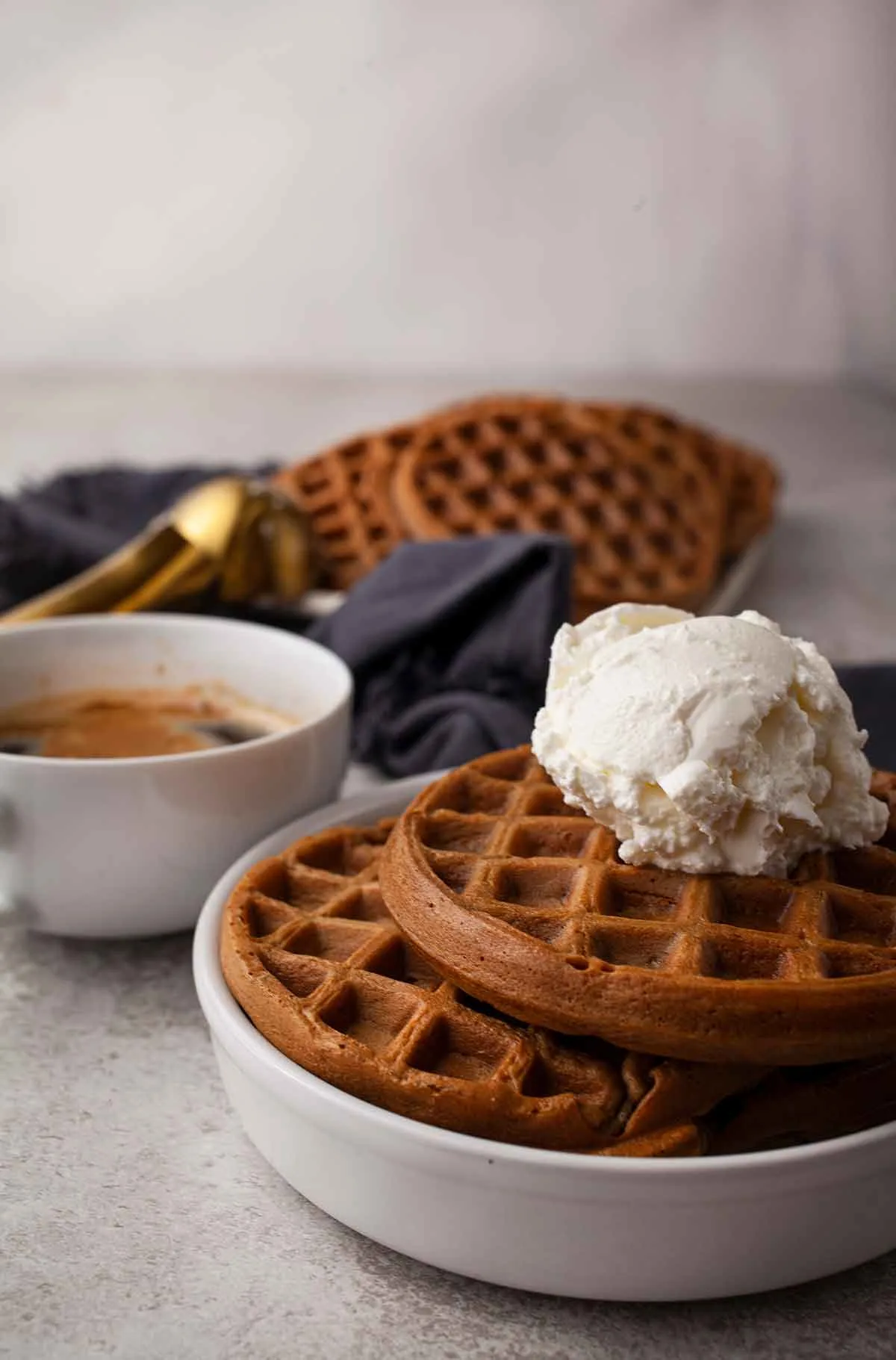 Nuts
Caramelized pecans or macadamia nuts: These nuts can add a crunchy texture and a rich taste that goes well with coffee flavor.
Hazelnuts or pistachios: Prepared roasted and coarsely chopped, they can add an interesting contrast and a nutty taste.
Syrups
Caramel syrup: Sweet, sticky and with a depth of taste, caramel is an ideal partner for coffee.
Chocolate syrup or melted chocolate: For mocha lovers, this is the perfect combination.
Maple syrup: For a sweet and smoky note, which complements well the roasted flavors of the coffee.
Regardless of the additions and toppings chosen, the key is to experiment and find the perfect balance for your taste buds. Combining the deep aroma of coffee with various textures and tastes can transform a simple waffle into a refined delicacy.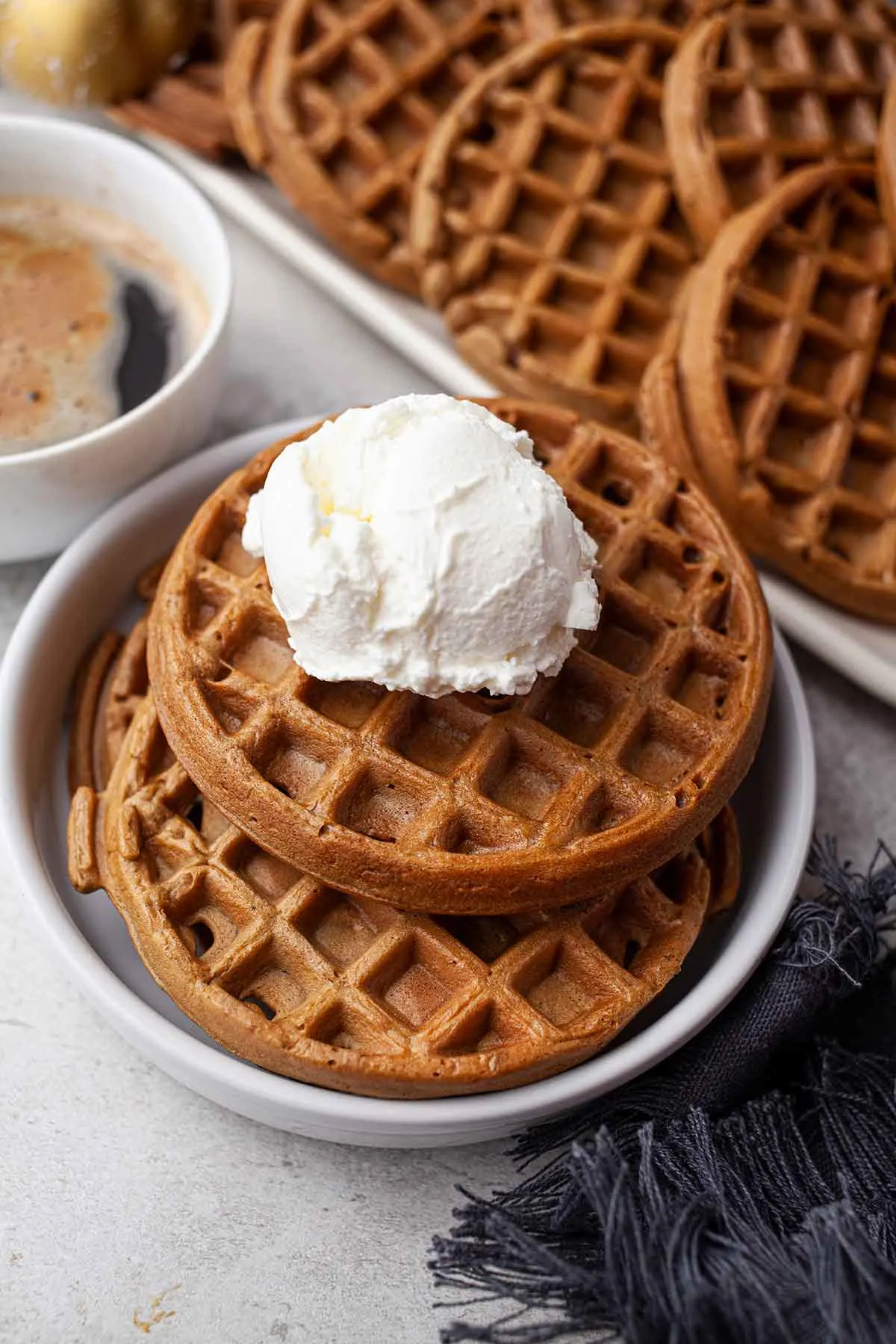 Variation ideas for coffee waffles
Coffee waffles are delicious in their simple form, but the introduction of new ingredients can bring surprising dimensions to the flavor and texture. Here are some options you can explore:
Waffles with coffee and cocoa: The combination of cocoa powder with coffee aroma will make you think of the famous mocha drinks. Cocoa adds a touch of deep chocolate, and the combination of coffee bitterness and chocolate sweetness creates a balanced and full taste.
Waffles with coffee and coconut: The introduction of grated coconut or coconut extract in the dough adds a tropical note to the waffles. The fluffy texture of the waffles contrasts nicely with the crispiness of the fried coconut pieces.
Waffles with coffee and cinnamon: Cinnamon is a spice that goes naturally with coffee. A hint of cinnamon in the waffle batter can amplify its flavor and add a warm and spicy note, perfect for cold days.
Waffles with coffee and cardamom: Cardamom is an aromatic spice that adds a spicy and citrus note. It is a popular choice in many coffee drinks, especially Middle Eastern coffee. Introducing it into waffles can offer a pleasant and exotic surprise.
Waffles with coffee and caramel: You can incorporate pieces of caramel or even a caramel syrup into the dough, thus creating a sweet-salty contrast with the coffee.
Playing with flavors is fascinating and opens up a world of possibilities. These variations not only diversify the recipe, but also offer the opportunity to enjoy waffles adapted to your tastes or mood on a certain day.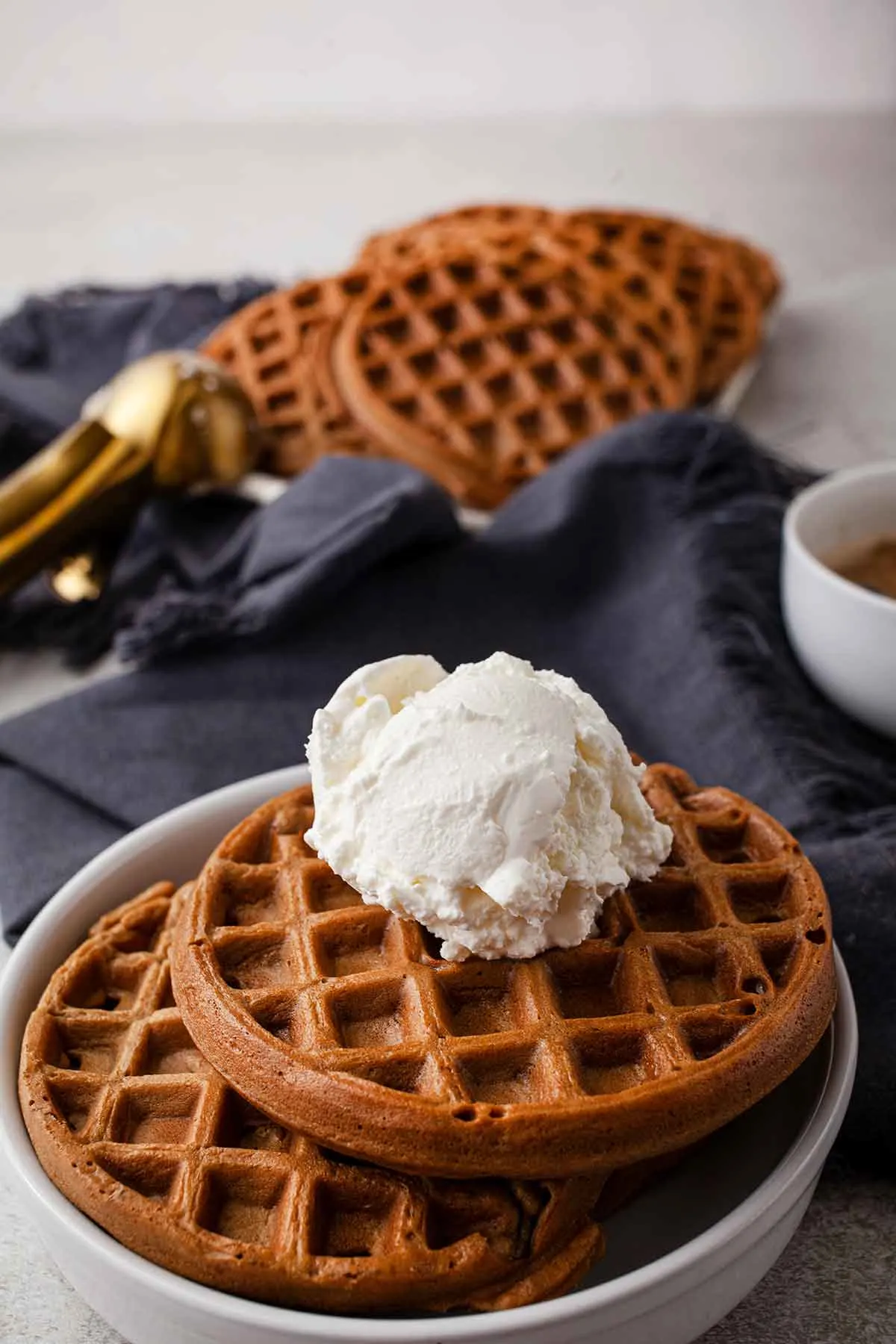 Coffee Waffles recipe
Yield: 15 waffles
Coffee Waffles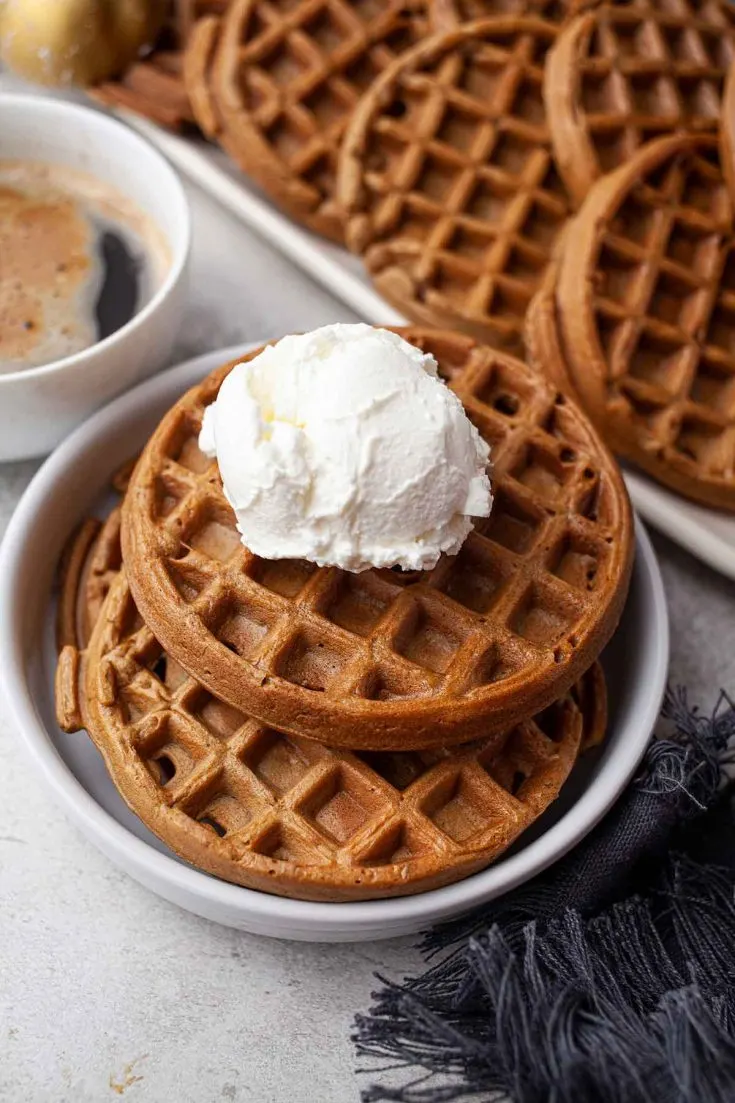 Elevate your morning routine with coffee waffles - a delightful fusion that's more than just tasty; it's an energy kick-start! Envision the robust scent of coffee melding seamlessly with the crispiness of a perfectly baked waffle. It's culinary magic in every bite!
Ingredients
1½ cups all-purpose flour
½ cup brown sugar
1 teaspoon baking powder
1/3 teaspoon salt
¼ teaspoon baking soda
2 large eggs
2 tablespoons oricotta cheese
1¼ cups milk kefir
2 tablespoons instant coffee
5 tablespoons butter, melted
whipped cream, for serving
Instructions
In a bowl, combine the flour, sugar, baking powder, salt, and baking soda. Stir well.
In a separate bowl, whisk together the eggs and ricotta until smooth. Gradually whisk in the milk kefir and instant coffee, followed by the melted butter.
Pour the wet mixture into the dry ingredients, stirring until you achieve a smooth, creamy consistency. Cover and let the batter rest for 30 minutes.
Warm up your waffle iron. Lightly brush it with butter and pour in the batter, cooking each waffle until golden brown. Continue until all the batter is used up.
Serve your waffles warm, dusted with a hint of coffee and topped with a dollop of chilled whipped cream. Enjoy!
Nutrition Information
Yield
15
Serving Size
1
Amount Per Serving
Calories

127
Total Fat

5g
Saturated Fat

3g
Trans Fat

0g
Unsaturated Fat

2g
Cholesterol

37mg
Sodium

188mg
Carbohydrates

17g
Fiber

0g
Sugar

7g
Protein

3g
I strive to keep the information as accurate as possible but make no warranties regarding its accuracy. I encourage you to make your own calculations using your preferred nutrition calculator.