Change language | Schimba limba: Romanian
You'll love this potato and cheese tart with sweet paprika! it does not only taste amazing, but it looks great too! The sweet potatoes add some extra color and sweetness!
I first made this potato and cheese tart for the AcasaTV video interview ( you can watch it here ). Since then, I made it three more times and it has become one of my favorite recipes! As most of my recipes, this potato and cheese tart is super-easy to make so you won't need any special skills. Basically, the mandoline will do the hard work.
For some extra-sweetness and color, I also added sweet potatoes. Can you believe this was the first time I ever tried sweet potatoes?! I like them a lot! They taste like pumpkin and go great with regular potatoes in this recipe.
[update] I recently gave up dairy, so I tried this potato and cheese tart using smoked tofu instead. It was really good! So, if you're dairy-free, you should give it a try.
P.S. Liked this recipe? You should also try my Cauliflower and Cheese Casserole recipe. If you want some more inspiration for this week's meal plan, here's Kelly's awesome sweet potato tart recipe! I'll surely give it a try!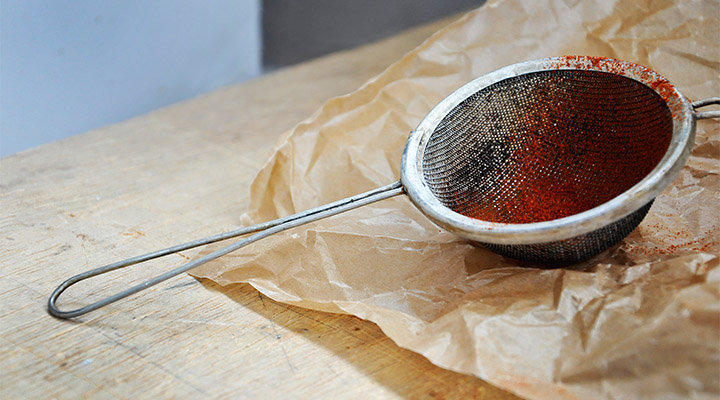 Potato and Cheese Tart
Vegetarian recipe for white potatoes, sweet potato and cheese tart with sweet paprika.
Serves:
20-25cm diameter, 3cm tall Pyrex casserole | 6 servings
Ingredients
2 thin skin white potatoes, unpeeled and very well rinsed
½ sweet potato, peeled
2 eggs
⅓-1/2 cup grated teleme cheese
1 small onion
1 tsp thyme
sea salt and pepper, to taste
sweet paprika
chopped fresh greens: parsley, ramps, green onions, chives – for garnish
1 tsp olive oil
Instructions
Using a mandoline, start slicing the potatoes and onion. If you don't have a mandoline you can just slice them the usual way, by using a knife but it's more complicated. A mandoline will save you a lot of time + all slices will have the same thickness.
Spray the casserole with some olive oil.
Place the white potato slices in the casserole in a circular way, one on top of half of the other, just like you do when you make apple pie for example. Add sliced sweet potato and onion, randomly, between the white potato slices.
In a separate bowl, whisk 2 eggs. Add grated teleme cheese, salt, pepper, thyme. Pour this mixture ver the potatoes in the casserole. Using a fork, try to disperse the mixture so that most of the slices will be covered.
Place in preheated oven at about 180ºC/356ºF and cook for 30-35 minutes. Check if ready using a fork. If the potatoes are tender, it's ready!
When ready, leave it a bit to cool. Remove from form and sprinkle with sweet paprika and fresh herbs.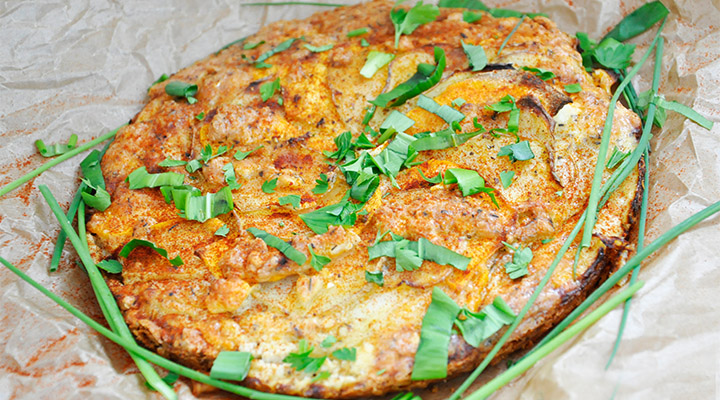 Potato and Cheese Tart
was last modified:
April 10th, 2015
by