Vegetarian recipe for white potatoes, sweet potato and cheese tart with sweet paprika.  |  Reteta vegetariana sanatoasa, rapida si gustoasa pentru tarta de cartofi cu branza telemea si paprika dulce. 
  Recipe in English
  Reteta in Romana
I made this potato and cheese tart for the AcasaTV video interview ( you can watch it here ). Since then, I made it three more times and it has become one of my favorite recipes. As most of my recipes, this potato and cheese tart is super easy to make so you won't need any special skills. Basically, the mandoline will do the hard work.
This potato and cheese tart recipe also contains sweet potatoes. Can you believe this was the first time I ever tried sweet potatoes?! I like them a lot! They taste like pumpkin and go great with regular potatoes in this recipe.
Liked this recipe? You should also try Cauliflower and Cheese Casserole.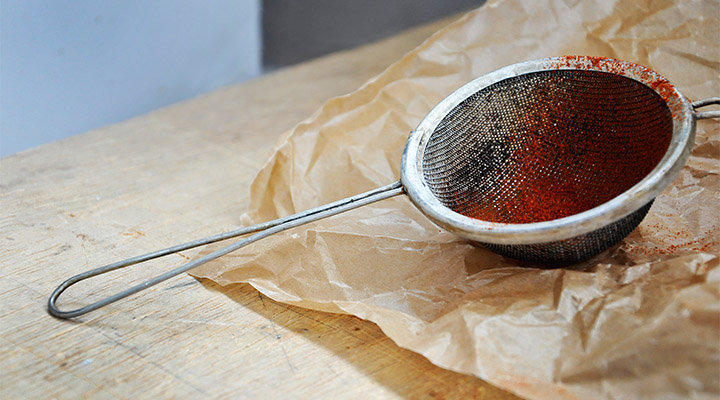 Potato and Cheese Tart
Vegetarian recipe for white potatoes, sweet potato and cheese tart with sweet paprika.
Ingredients
2 thin skin white potatoes, unpeeled and very well rinsed
1/2 sweet potato, peeled
2 eggs
1/3-1/2 cup grated teleme cheese
1 small onion
1 tsp thyme
sea salt and pepper, to taste
sweet paprika
chopped fresh greens: parsley, ramps, green onions, chives – for garnish
1 tsp olive oil
Instructions
Using a mandoline, start slicing the potatoes and onion. If you don't have a mandoline you can just slice them the usual way, by using a knife but it's more complicated. A mandoline will save you a lot of time + all slices will have the same thickness.
Spray the casserole with some olive oil.
Place the white potato slices in the casserole in a circular way, one on top of half of the other, just like you do when you make apple pie for example. Add sliced sweet potato and onion, randomly, between the white potato slices.
In a separate bowl, whisk 2 eggs. Add grated teleme cheese, salt, pepper, thyme. Pour this mixture ver the potatoes in the casserole. Using a fork, try to disperse the mixture so that most of the slices will be covered.
Place in preheated oven at about 180ºC/356ºF and cook for 30-35 minutes. Check if ready using a fork. If the potatoes are tender, it's ready!
When ready, leave it a bit to cool. Remove from form and sprinkle with sweet paprika and fresh herbs.
http://gourmandelle.com/potato-and-cheese-tart-tarta-de-cartofi-cu-branza/
Copyright: 2014 Ruxandra Micu | www.gourmandelle.com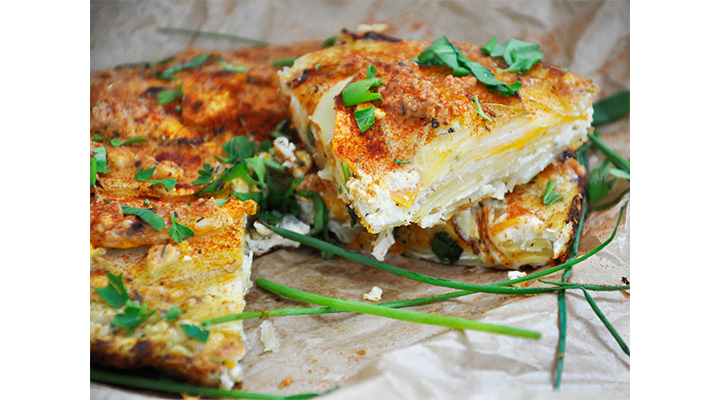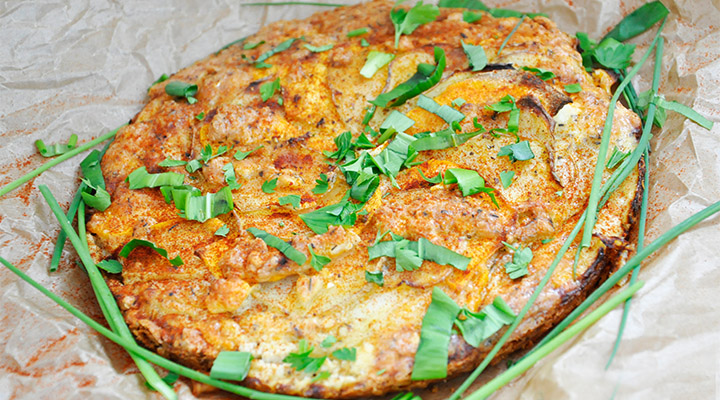 Am facut aceasta tarta de cartofi cu branza pentru interviul de la Povestiri Adevarate, de pe Acasa TV (il poti vedea  aici). De atunci am mai preparat-o de vreo 3 ori si de fiecare data parca imi place si mai mult! A devenit cu siguranta una din retetele mele preferate. Tarta de cartofi se face super usor si nu iti trebuie cine stie ce aptitudini culinare. De fapt, razatoarea face toata treaba
Tarta de cartofi cu branza telemea contine is cartofi dulci. Iti vine sa crezi ca a fost prima oara cand am mancat cartofi dulci? Auzisem ca au gust de dovleac dar nu i-am incercat. Mi-au placut, plus ca dau culoare tartei
Daca ti-a placut reteta asta de tarta cu cartofi si branza telemea, iti recomand sa incerci si Budinca de conopida cu branza telemea!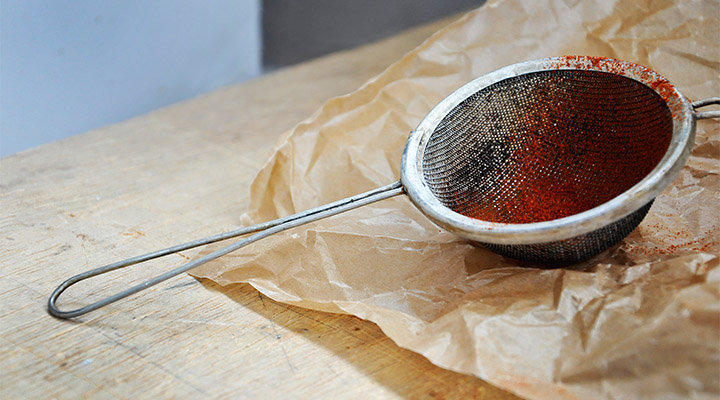 Tarta de cartofi cu branza telemea
Ingrediente:
(Am folosit un vas de yena rotund, 20-25 cm in diametru, 3cm inaltime | puteti face tarta asta in ce alt vas doriti, cantitatile le puteti pune ochiometric in functie de mariema vasului de gatit)
2 cartofi albi cu coaja subtire, nedecojiti dar foarte bine spalati
jumatate de cartof dulce, decojit
2 oua
1/3-1/2 cana de telemea rasa
o ceapa mica/medie
1 lg cimbru uscat
sare si piper, dupa gust
boia dulce
verdeturi maruntite: leurda, patrunjel, ceapa verde, chivas – pentru decorat
1 lg ulei de masline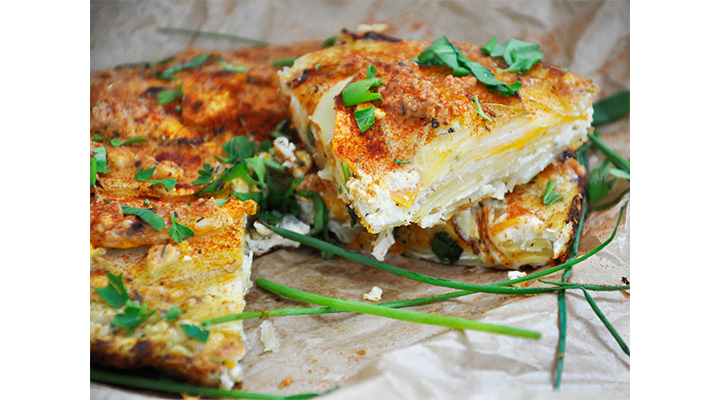 Instructiuni:
Video pentru interviul Acasa TV cu instructiuni in romana 
Feliaza cartofii si ceapa, in felii rotunde si subtiri, folosind o razatoare speciala. Daca nu ai o razatoare de feliat poti folosi metoda clasica si sa ii felizezi folosind cutitul insa este mai dificil si dureaza mai mult timp.
Unge forma cu ulei de masline – o lingurita max.
Pune feliile de cartofi circular, una peste jumatatea celeilalte, mergand treptat catre centru. Adauga feliile de cartof dulce si ceapa, cate una o data la 3 felii de cartof alb.
Intr-un vas separat, bate 2 oua. Adauga telemea rasa, sare, piper si cimbru in bol. Pune amestecul peste cartofii din vasul de yena si disperseaza amestecul in asa fel incat sa ajunga la aproape toate feliutele de cartof.
Pre-incalzeste cuptorul la 180ºC si pune tarta la cuptor pentru 30-35 de minute. O poti incerca cu o furculita ca sa vezi exact cand e gata. Daca furculita patrunde usor in cartofi inseamna ca poti scoate tarta din cuptor.
Dupa ce e gata, este ideal sa o lasi un picut sa se raceasca pentru a fi mai usor sa o scoti din forma. Presara paprika dulce pe deasupra si garniseste-o cu verdeturi proaspete.