If you're craving some filling Mexican food, I have just the recipe for you! Here's how to make the best vegan green enchiladas – quick and delicious!
Confession time! I decided to change things on the blog a little – I decided to start posting ALL those excellent recipes I'm making every day for lunch or dinner. These are yummy, easy recipes for everyday cooking that I made and loved, but for which I didn't have any time to take "professional" pictures with my camera because I was just TOO hungry. I have so many recipes like this that I didn't share with you guys because I felt the visuals are "not worthy". I had no props, no proper light, and no fancy plating. But I won't let that stop me ever again!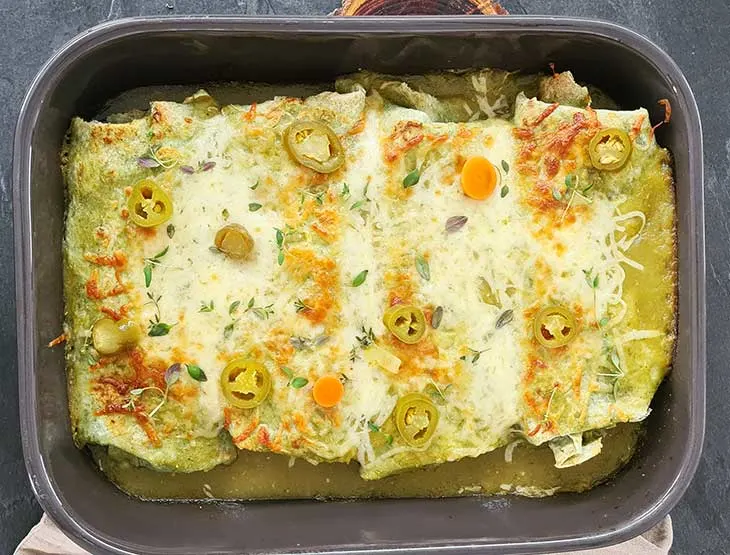 So for this recipe, I only have a couple of photos taken with my phone, but what's important here is the taste and the actual recipe.
For today's recipe of green enchiladas (enchiladas verdes) I used salsa verde. I was a bit lazy and, although I have an excellent recipe for green salsa (salsa verde) on my blog, I decided to use a store-bought one.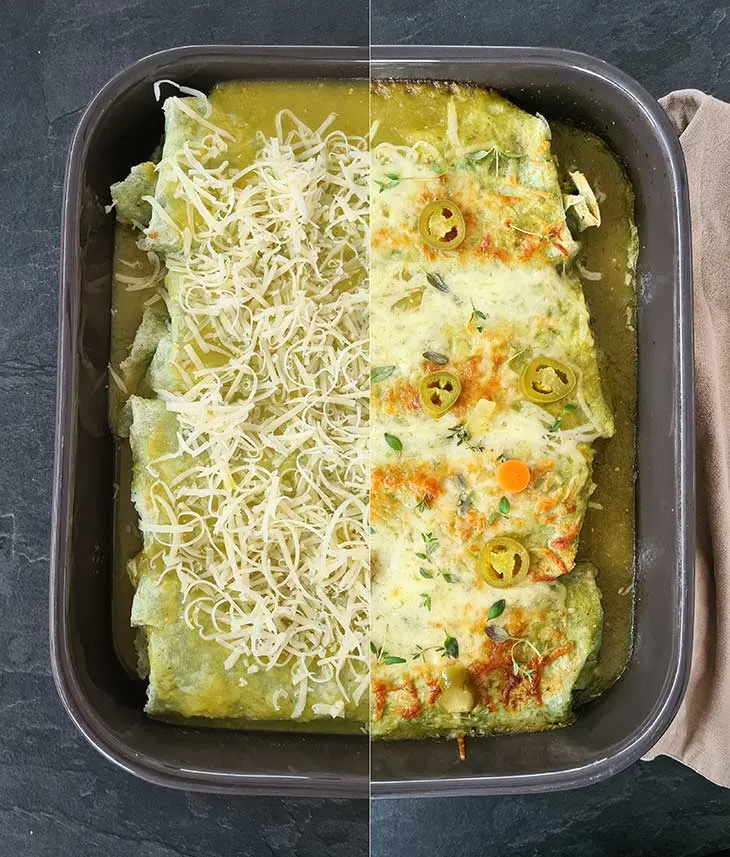 It was pretty good, but I still recommend using my recipe for this. In this post, you will find other yummy salsa recipes as well in case you want to experiment a little bit more!
During the Mexican dinner that I organized some weeks ago with my boyfriend, I got inspired to try some more Mexican recipes. We served some hard shell veggie tacos and some loaded vegan nachos then, but I still had some Mexican veggie mix left and I decided to put those to good use.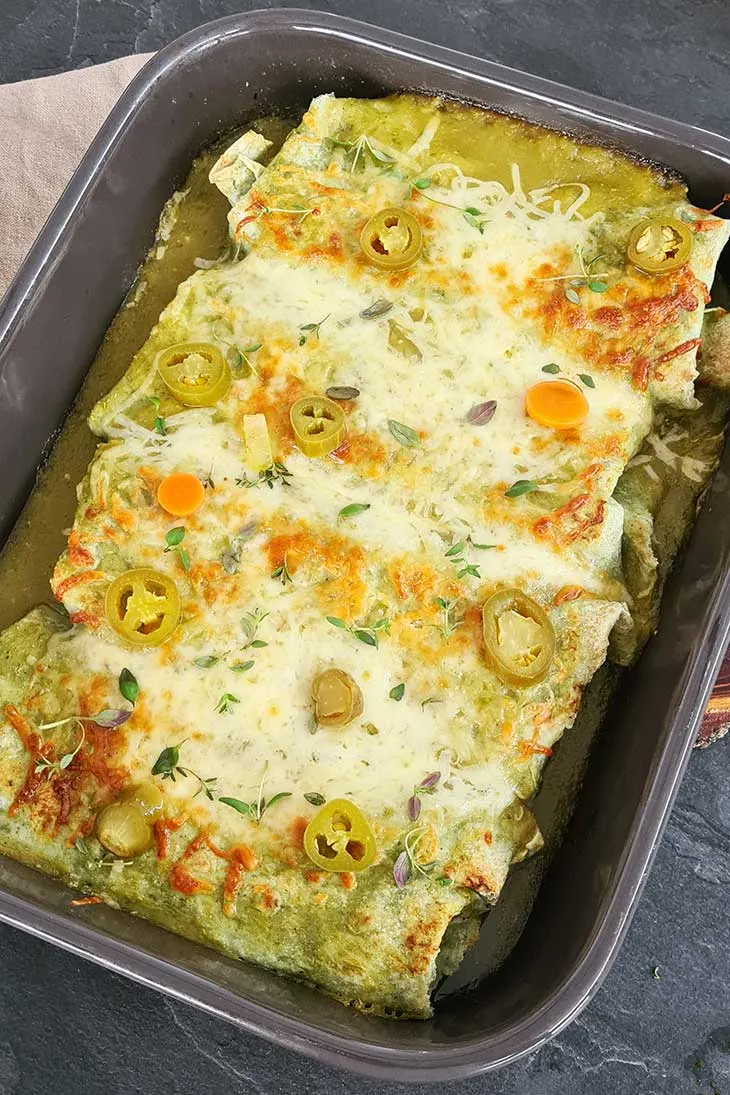 That's how I came up with this ah-mazing recipe for green enchiladas! For the filling, I used around half a bag of Mexican vegetable mix from Lidl (750g). The mix from Lidl is hands-down my favorite because it has baby corn and beans too and because it's already seasoned with Mexican spices.
But, of course, you can use your favorite Mexican mix. You can even make your own Mexican veggie mix yourself if you buy individual bags of vegetables and you mix them as you please.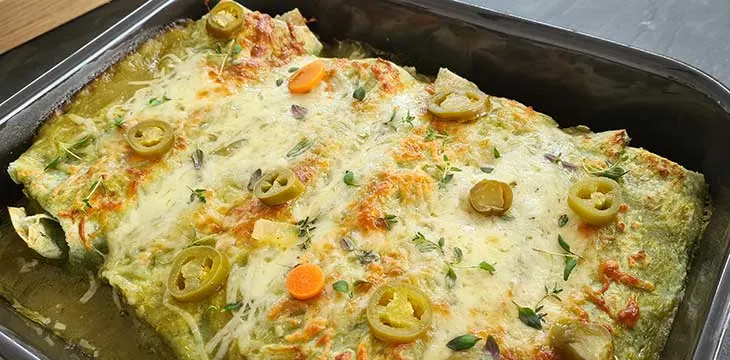 As for the wraps, I used some green ones. They contain spinach and they're super pretty and delicious too. But you can use plain wraps as well – it's what's inside that counts! 😉
What about the name? Green enchiladas sounds a bit confusing, right? And no, the name isn't given by the fact that I used green wraps, those were just a bonus. Green enchiladas are made with salsa verde (green salsa), which is made with green chilies, jalapenos, cilantro, and some spices. It's a staple in Mexican cuisine and it's extremely flavorful!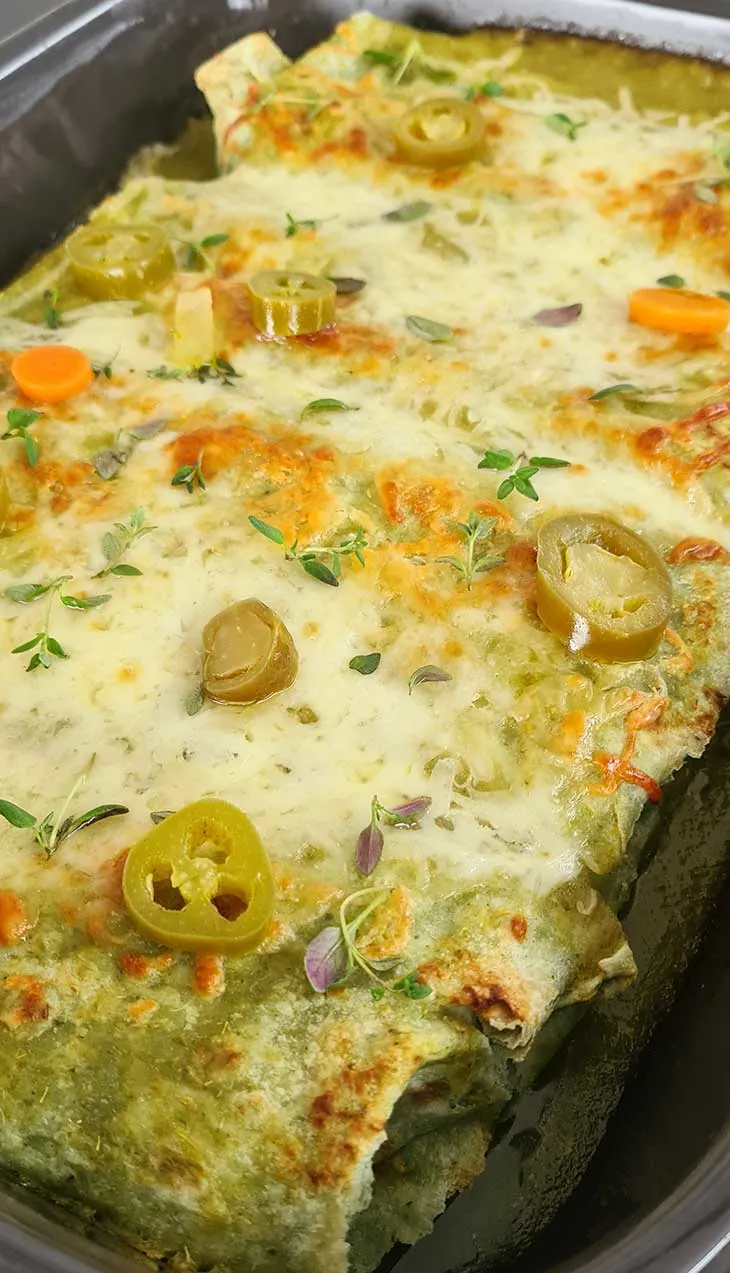 One of the best things about this recipe is that it's freezer-friendly and meal-prep friendly. You may already know how much I love meal prepping over the weekend. Organizational skills, baby! And these green enchiladas freeze beautifully, which I absolutely love.
You can make an extra batch and keep it in the freezer for later – they can resist for up to 3 months like this. Then, whenever you're craving a portion of delicious green enchiladas, you can just take them out of the freezer and reheat them in the oven. Drizzle some garlic sauce or sriracha on top and they're ready to be served!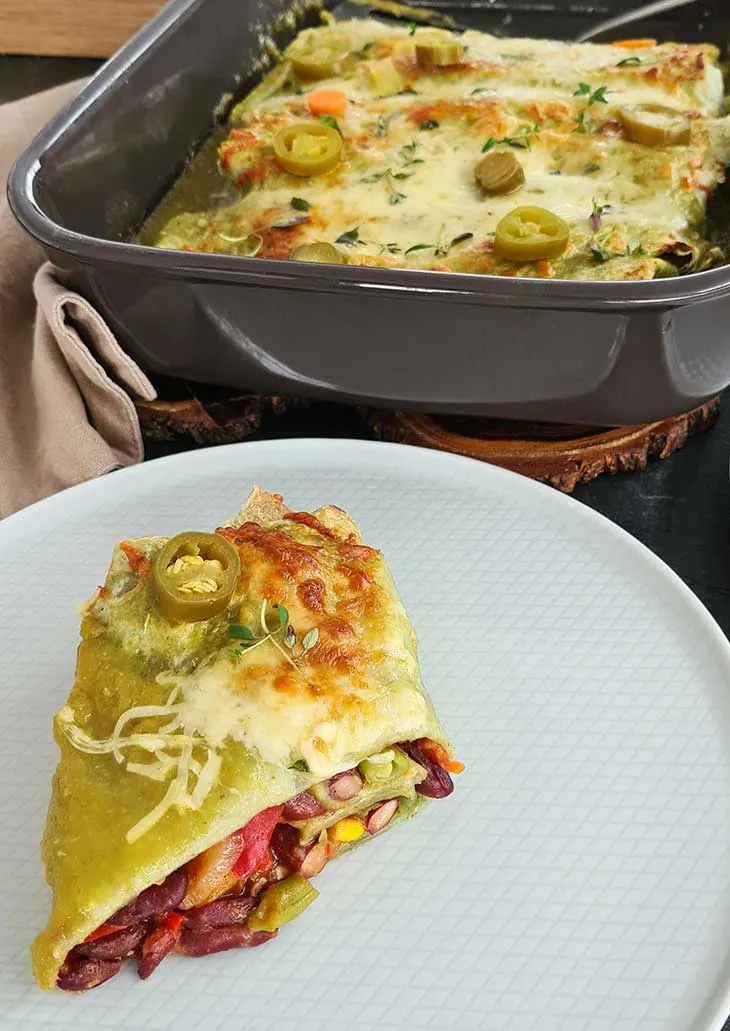 Another amazing thing about this recipe is that it's extremely easy to make. You may find the entire process a bit intimidating because it requires a bit of filling and folding. But trust me, once you get used to it, it's a breeze! I recommend checking out my step-by-step video for Protein Power Vegan Enchiladas where I show you exactly how to fold these enchiladas.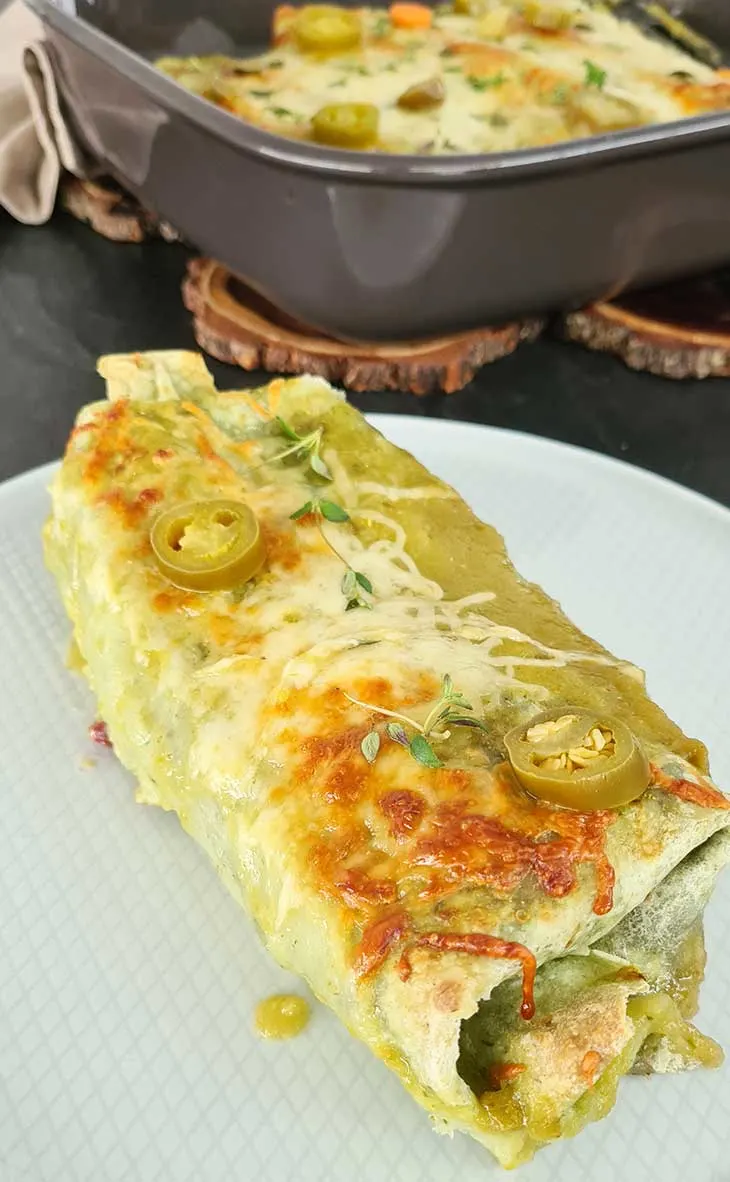 NOTE: If you scroll down to the step-by-step recipe below, you may find it a bit confusing that I mentioned that this recipe makes for 4-8 portions. The explanation for this is because these enchiladas are pretty big, it was more than enough for me to eat just half an enchilada in one sitting. I was already feeling SO full! But if you're really hungry, you may eat an entire enchilada. So that's that.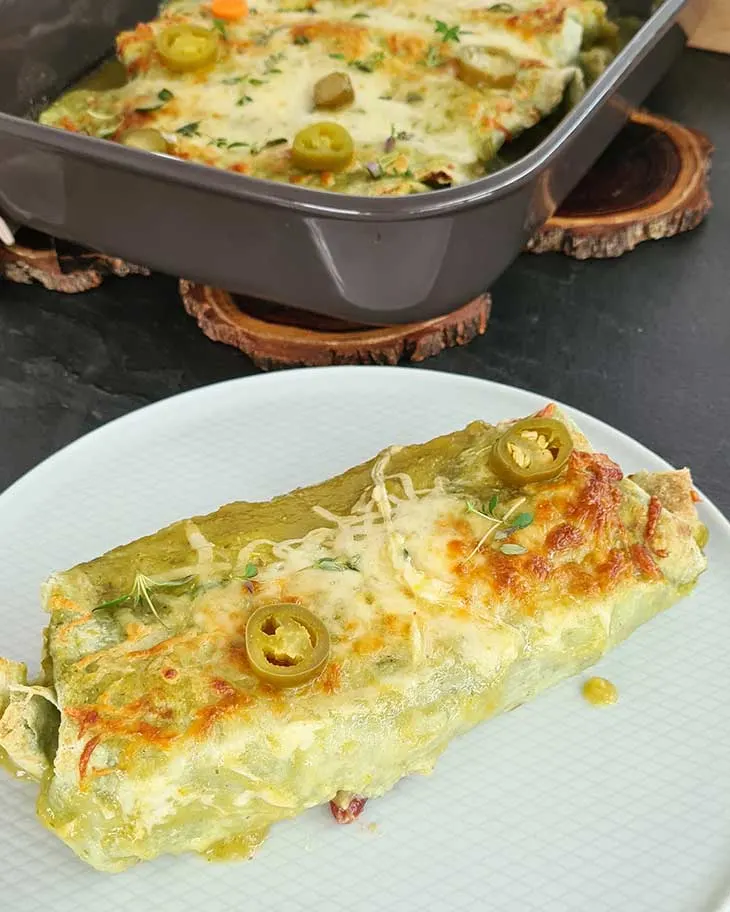 So, are you eager to try these vegan green enchiladas soon? I hope you are, 'cause they're just so good! If you decide to give them a try, don't forget to leave a comment here and tell me how it went. I'm so curious to find out!
Until then, I wish you happy cooking and the best of luck with folding the wraps!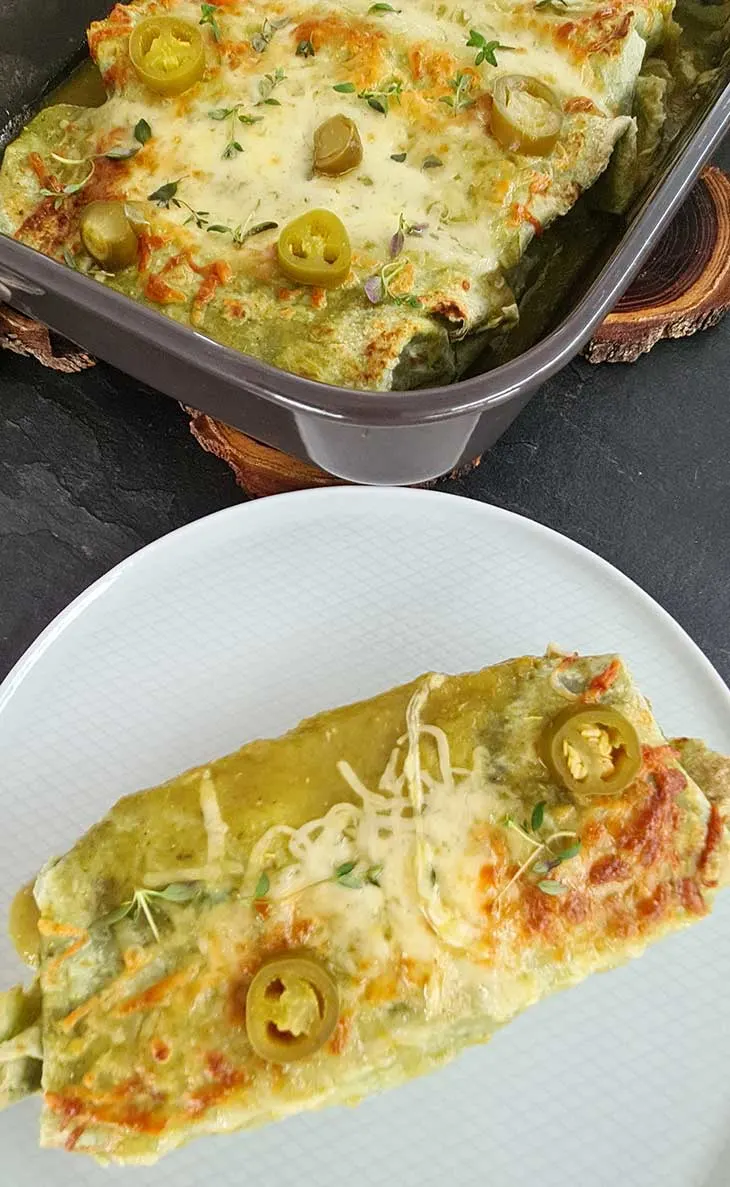 Yield: 4-8 people
Green Enchiladas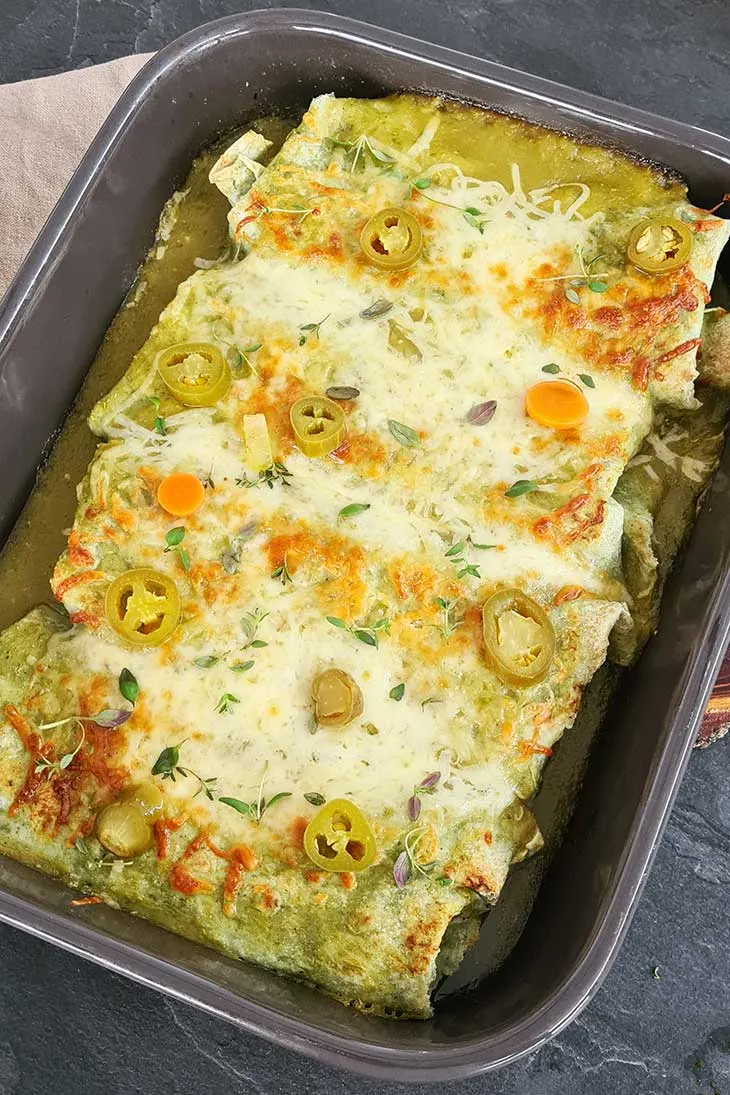 If you're craving some filling Mexican food, I have just the recipe for you! Here's how to make the best vegan green enchiladas – quick and delicious!
Ingredients
4 large tortilla wraps
1 can red kidney beans (400g | 15 ounces)
1 can salsa verde (400g | 15 ounces) - or you can make it at home using this recipe
400g (14 oz) frozen Mexican veggies mix - any brand you like. I used half a bag of Lidl Mexican mixed veggies, but you can use any brand. Mine contains baby corn, sweet corn, green beans, kidney beans, onion, red pepper and spices
2-3 tsp enchilada seasoning blend - if you don't have a seasoning blend, just add some pinches of chili powder, sweet paprika, cumin, salt, onion and garlic powder, oregano and ground black pepper
some grated cheese - you can use any melty cheese you want, be it vegan or dairy-based. I had some Asiago cheese and used that.
optional: toppings - pickled jalapeno slices and fresh oregano leaves or chopped cilantro
Instructions
Add the mixed Mexican veggies to a pan. Saute for 3 minutes then add some water. Add the spices and drained kidney beans can.
Cover with a lid and let the veggies steam for about 10 minutes.
Make the enchiladas by filling them with the beans and veggies filling. I divided the filling into four, in the pan, then used each quarter to fill an enchilada. If you want to see how you can wrap the enchiladas, check out the video I made for this Protein Power Vegan Enchiladas recipe.
Place the enchiladas into a ceramic oven dish (mine was perfect for 4 large enchiladas, about 25x35cm I would estimate).
Pour over the salsa verde.
Grate some dairy or vegan cheese on top.
Bake in the oven at 200C for 20-25 minutes - the cheese should be golden.
Serve with some sliced jalapenos on top and chopped herbs.
Nutrition Information
Yield
6
Amount Per Serving
Calories

377
Total Fat

10g
Saturated Fat

4g
Trans Fat

0g
Unsaturated Fat

5g
Cholesterol

14mg
Sodium

755mg
Carbohydrates

59g
Fiber

11g
Sugar

6g
Protein

17g
I strive to keep the information as accurate as possible but make no warranties regarding its accuracy. I encourage you to make your own calculations using your preferred nutrition calculator.