Are you a fan of tacos? Then you'll surely love this unique recipe for veggie taco cups! It's fun, it's delicious and it's super easy to make! Give it a try!
Lately, I have thought about South American cuisine. It may be the fact that the sun is shining more these days, or it may be the fact that I miss tacos.
Either way, today I want to inspire you to give taco cups a try! 🙂 This bite-sized dish is great if you are on the go and want to have a quick bite and not get messy. Cooking this is a fun way to engage with your kids if you wish to do more fun stuff together. If you do not have kids, then is the perfect snack for a movie night! 🙂
Tacos are a world-famous Mexican dish. They are easy to make, filling, quick and delicious, plus they contain all the magnificent flavors of the Mexican cuisine. Mexican food is all about simple ingredients and a whole lot of spices, that's why I love it so much!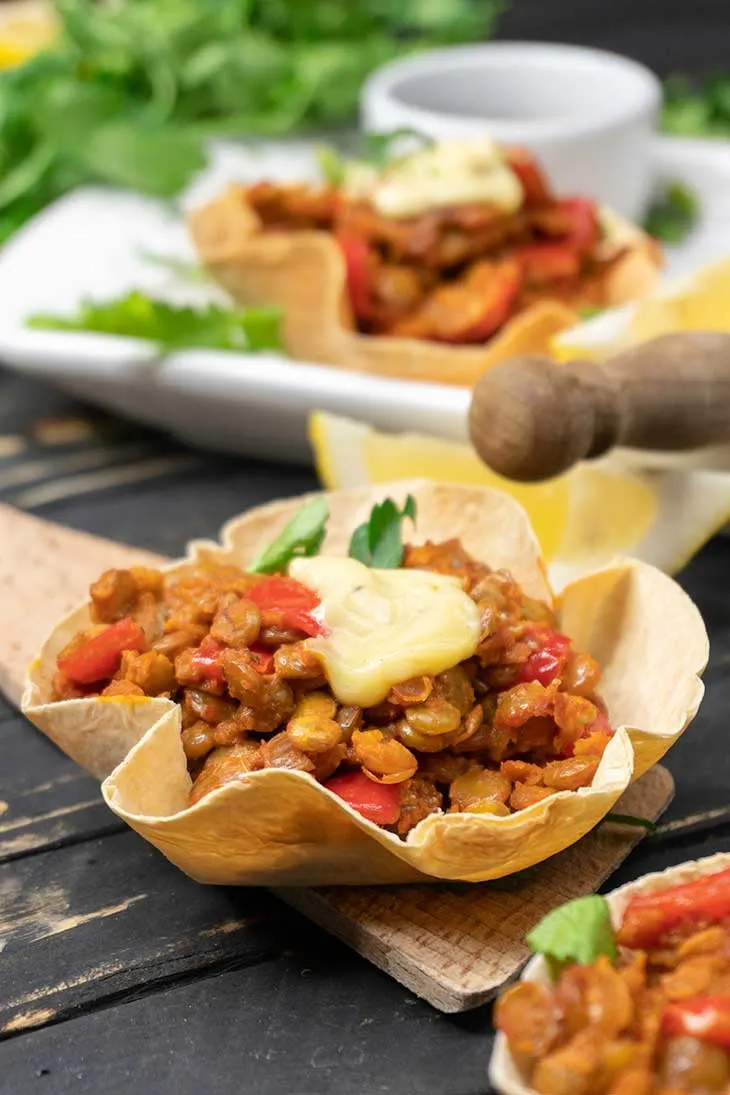 We can trace back Mexican cuisine as far as 9000 years when the agricultural communities like Maya were formed. The authentic Mexican food is a combination of dishes from ancient civilizations like Mayan and Aztec.
Later, when Spain invaded Mexico, new ingredients like cheese, wheat, garlic, and onion were introduced, which made the food more varied and tasteful.
Tacos are so amazing that they've become extremely popular all around the world now, but the first taco meal enjoyed by Europeans was a meal organized by Hernan Cortes in Coyoacan at the time of the Spanish conquistadors, documented by Bernal Diaz del Castillo. Nowadays, it is so unique that it has even got recognition from UNESCO in the Representative List of the Intangible Cultural Heritage of Humanity in 2010.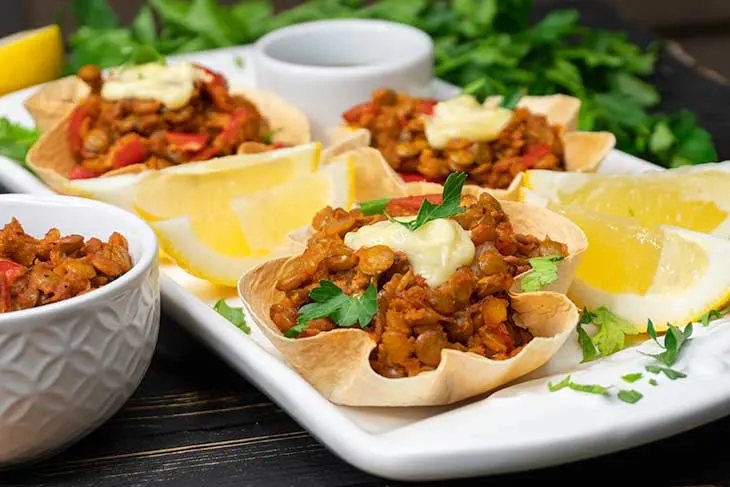 The traditional Mexican food consisted mainly of corn and beans. Chilies and a lot of spices were used to add flavor to the dishes. The meat was not common but the communities living near the seaside usually added some seafood in their mixes.
Tacos consist of small corn or wheat tortillas folded and filled with salsas, cheese, cream, and many other ingredients depending on your taste and preference. They're usually consumed without any cutlery in order to be fully enjoyed, topped with guacamole, cilantro, chili, onions, lettuce or tomatoes. Regardless of which way you like to enjoy your tacos, one thing is certain: this yummy Mexican dish is bursting with amazing flavors and it is so easy to make! 😉
Taco cups are so versatile that you can make about a thousand different variations just by mixing the toppings and stuffing. Black beans, olives, smoked or regular tofu, vegan mozzarella – whatever your preferences, they are the ultimate snack.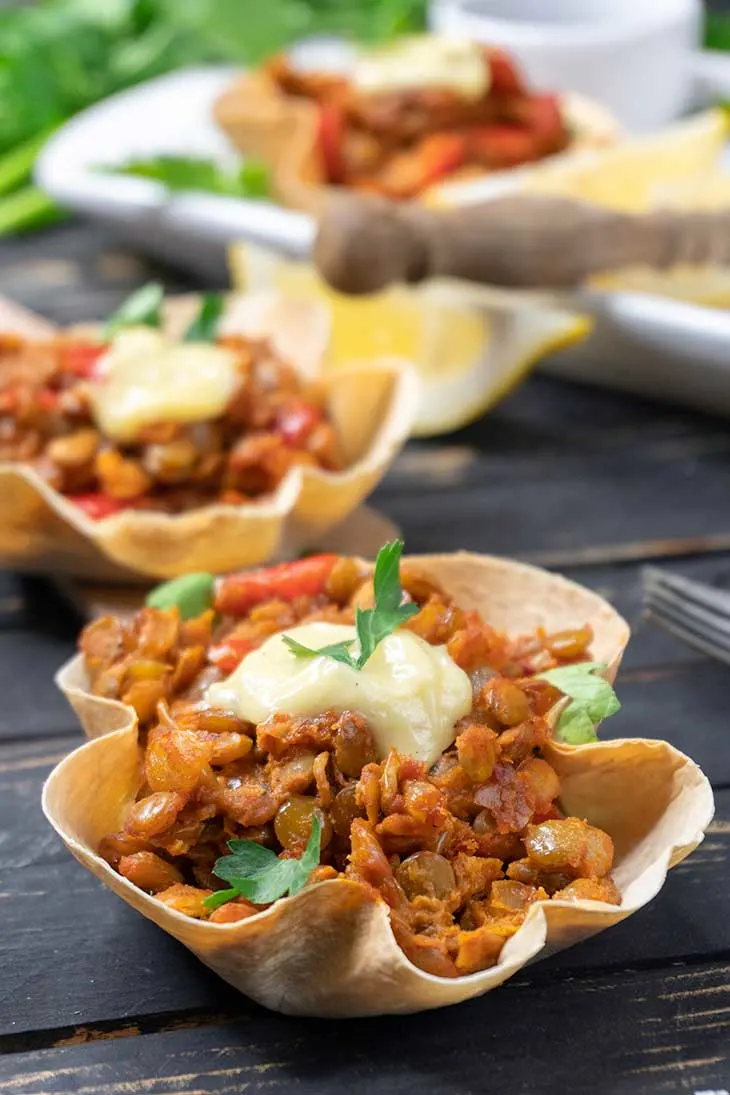 In today's recipe I used plenty of vegetables and green lentils to make sure I get the right amount of protein in my diet. This way, the taco cups are nutrient-rich and extremely flavourful!
Now, let's lets begin!
Taco cups are all about the crunchy cup itself, and the amazing toppings. Nail these two and you can call yourself a master chef!
To make taco cups, start by creating the actual "cups" using tortilla (I will explain the whole procedure down below). Then you can use my advised ingredient list or you can switch and swap the veggies according to your own preferences. I'm sure that, regardless of what you're going to add in these taco cups, they're going to end up delicious if you use the right spices! Yum, I start getting hungry just by thinking of these taco cups!
In the end, you can top everything with some homemade green salsa and chopped greens and enjoy this healthy delicious Mexican dish!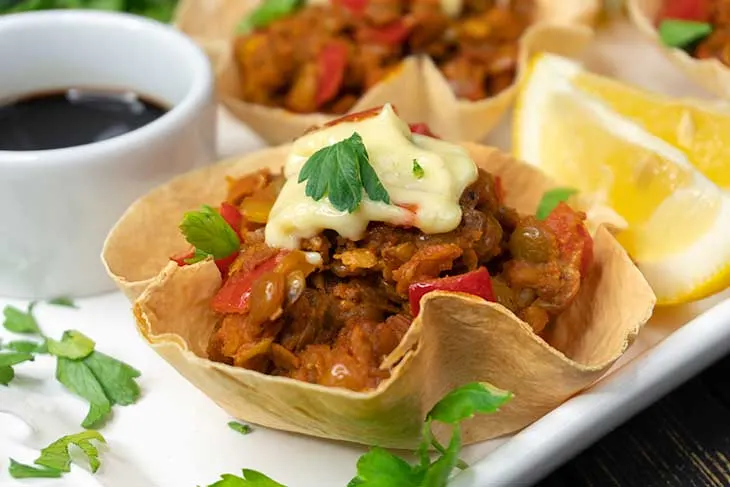 If you decided to try making these awesome taco cups (which I strongly advise you do!), please, let me know what you think of this recipe in the comments below. And don't forget to have some fun in the kitchen! 🙂
---
Personalized meal plans and workout videos | Get your customized meal plan today! [x_button shape="square" size="mini" float="none" target="blank" href="https://shop.gourmandelle.com/?utm_source=mainsite&utm_medium=site&utm_campaign=inpost" info="none" info_place="top" info_trigger="hover"]I WANT A MEAL PLAN![/x_button]
---
Yield: 6
Veggie Taco Cups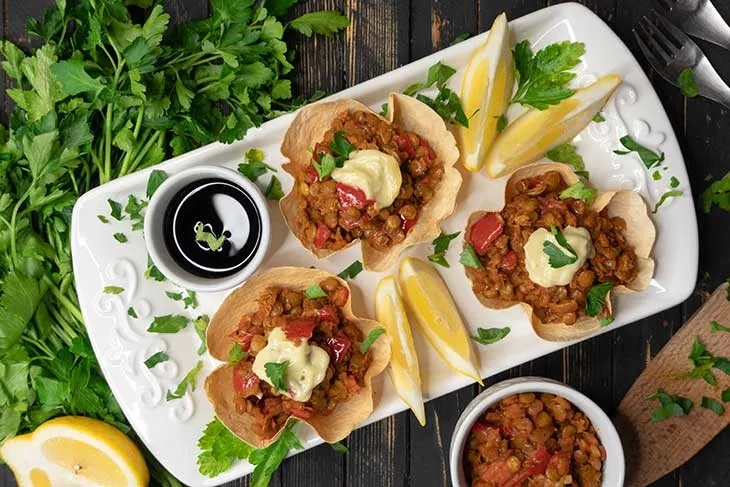 Are you a fan of tacos? Then you'll surely love this unique recipe for veggie taco cups! It's fun, it's delicious and it's super easy to make! Give it a try!
Ingredients
6 tortillas
1 yellow onion, chopped
3 garlic cloves, minced
300g (1 ½ cups) cooked green lentils, don't overcook them
2 medium red bell peppers, chopped
100g (½ cup) chopped cherry tomatoes
2 Tbsp tomato paste
1 tsp cumin powder
1 tsp turmeric
½ tsp smoked paprika
1 tsp brown sugar
¼ tsp red pepper flakes
2 Tbsp soy sauce
1 Tbsp balsamic vinegar
1 Tbsp vegan cream
1 Tbs vegan mayo, optional, for topping
1 Tbsp extra virgin olive oil
Instructions
Shape your tortilla cups and put the in oven-safe bowls or hand-crafted ones (use aluminium foil) and bake them at 200 degrees C for 10-12 min or until they turn golden brown.
In a pan, heat up your olive oil and sautee the onion and garlic.
Add the chopped bell peppers and cook for 2-3 minutes.
Add the tomatoes, tomato paste, lentils and bring everything to a simmer.
Add all your spices, soy sauce and balsamic vinegar and salt to taste.
Cook for 5 minutes, make sure there's no more liquid left, take off the heat and mix in the vegan cream.
Fill the tortilla cups with the mixture and top with vegan mayo (optional, but highly advised).
Nutrition Information
Yield
6
Serving Size
1 grams
Amount Per Serving
Calories

250
Total Fat

4g
Net Carbohydrates

39.5g
Protein

14g
I strive to keep the information as accurate as possible but make no warranties regarding its accuracy. I encourage you to make your own calculations using your preferred nutrition calculator.