Italian food lovers, this one's for you! Here's how to make the best spinach and ricotta cannelloni that taste absolutely amazing. Perfect for meal prep, too!
I'm a big fan of Italian cuisine. There's something so simple, yet extremely comforting when it comes to Italian dishes. Their use of fresh ingredients and subtle flavors. And I don't mean just the pizza and the pasta because, of course, Italian food is so much more than that.
There's the world-famous lasagna, there's risotto, gelato, polenta, caponata, pesto, there's the super simple and refreshing Caprese salad, tiramisu and so much more. Okay, maybe most of them include some kind of pasta or dough, but what's wrong with that?!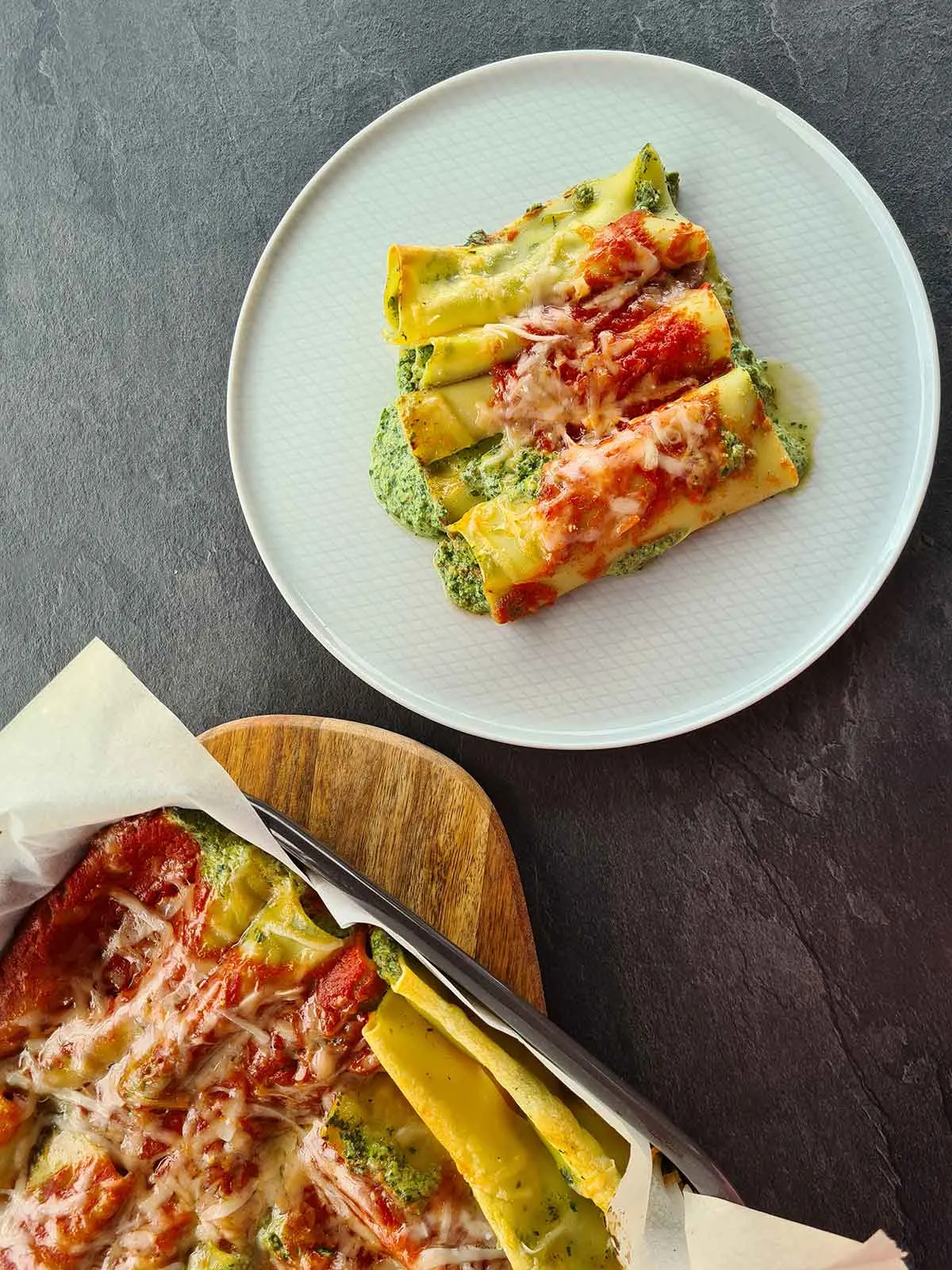 Today's recipe for spinach and ricotta cannelloni is a classic Italian dish that involves… pasta as well. But with a twist, and I will briefly explain below.
Cannelloni literally translates to "large reeds" or "large pipes" and their name perfectly illustrates their shape. Cannelloni are large tubes of pasta that are meant to be filled with some kind of meat (usually minced meat) or veggies, together with a tomato or cheese-based sauce.
Cannelloni are very similar to manicotti ("little sleeves"), but the latter are an American-Italian version of this type of pasta and they're also ridged and a bit thicker.
In short, cannelloni are soft, thin, and subtle, while manicotti are bigger and thicker. There's not that much of a difference between these two types of pasta and, if you ask me, this recipe can be made with either one of them with no problems! 🙂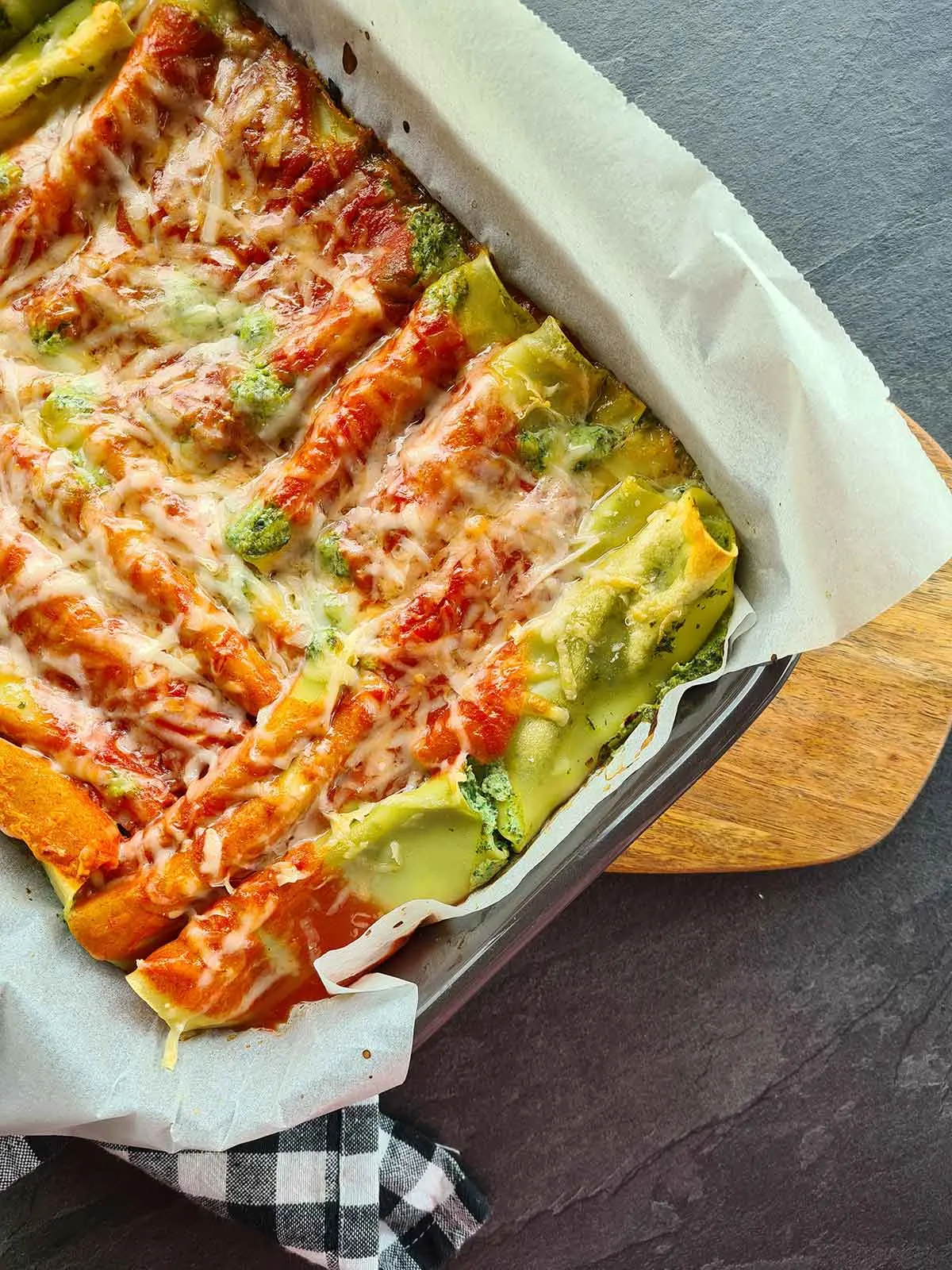 In fact, some people consider cannelloni to be pretty similar to lasagna sheets, although these two types of pasta are used in different ways. Lasagna is placed in sheets similar to sheets of paper in an oven tray, while cannelloni are stuffed tubes. One thing's for sure, though: you can use the same type of filling for both of them and the end result will be equally delicious!
Compared to other types of Italian pasta such as spaghetti, penne, fusilli, or tagliatelle, the special charm of cannelloni is the fact that the tubes are actually filled with the sauce mixture, making them so much more filling and flavorful. Then, cannelloni are placed in an oven tray and are baked to perfection, resulting in a creamy, yet crispy dish, wonderfully topped with tomato sauce and parmesan or mozzarella. This already sounds heavenly, right?! 🙂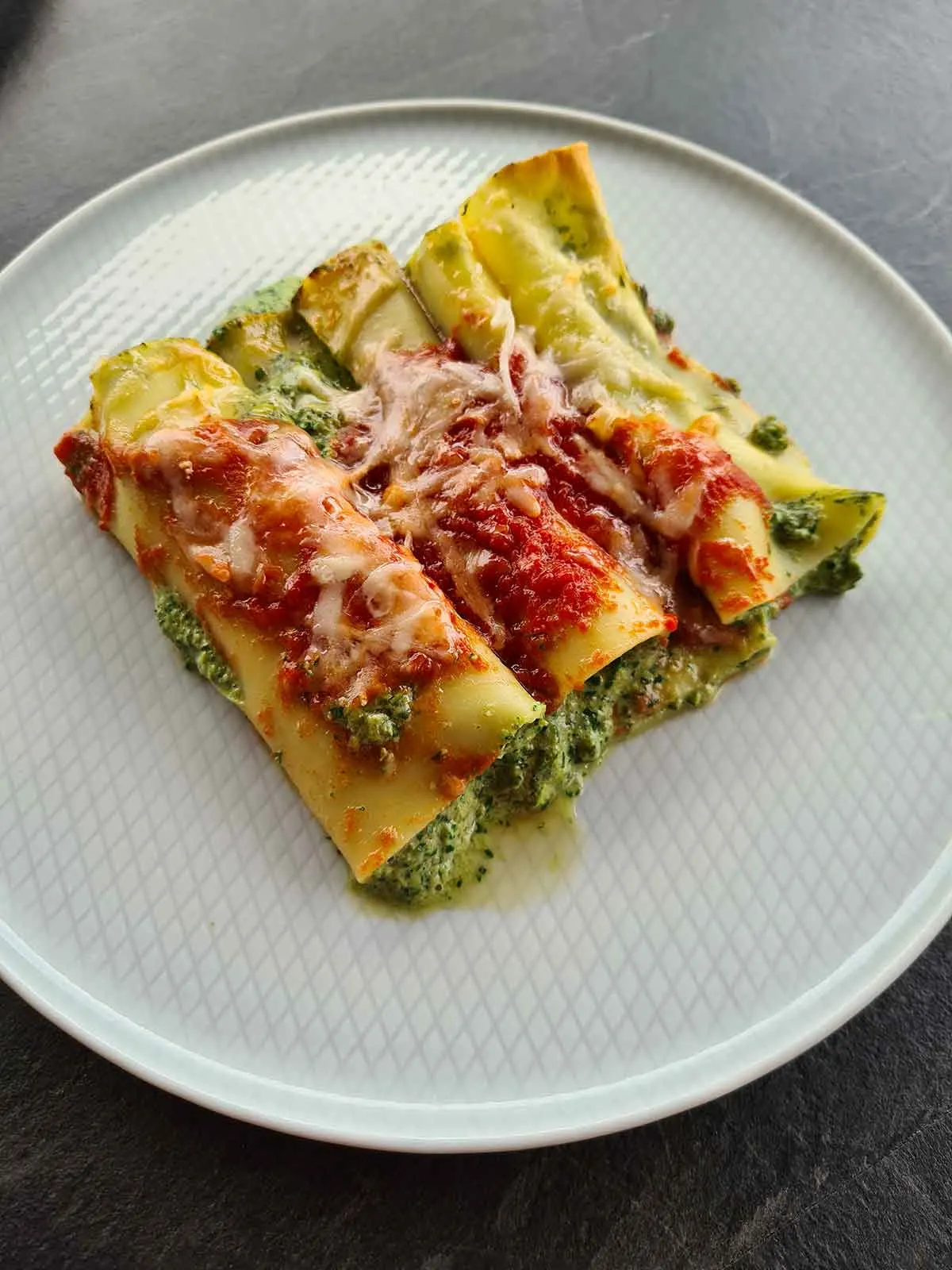 TIP: Cannelloni can be a bit challenging to fill, considering their shape. To make the process easier here's what I did: I prepared the creamy mixture in a blender, then I filled a ziplock bag with it. I sealed the bag, then I cut a corner, thus creating a quick, improvised piping bag. I used this bag to fill the cannelloni and it was really easy! In the past I used to fill them with a spoon and, trust me, the entire process took me 10 times more and it was kind of annoying as well. This ziplock bag is such a lifesaver, so make sure you use it too for this recipe!
Speaking of this recipe, let me tell you a little bit about the filling. I was craving something satiating and comforting, yet a bit fresh as well. So I combined some fresh spinach picked from my garden with some full-fat ricotta, one of the staple cheeses in Italian cuisine. I also used an egg to make the mixture stick together, as well as some garlic cloves (you gotta love some garlic in this combo!), dry herbs, salt, and pepper.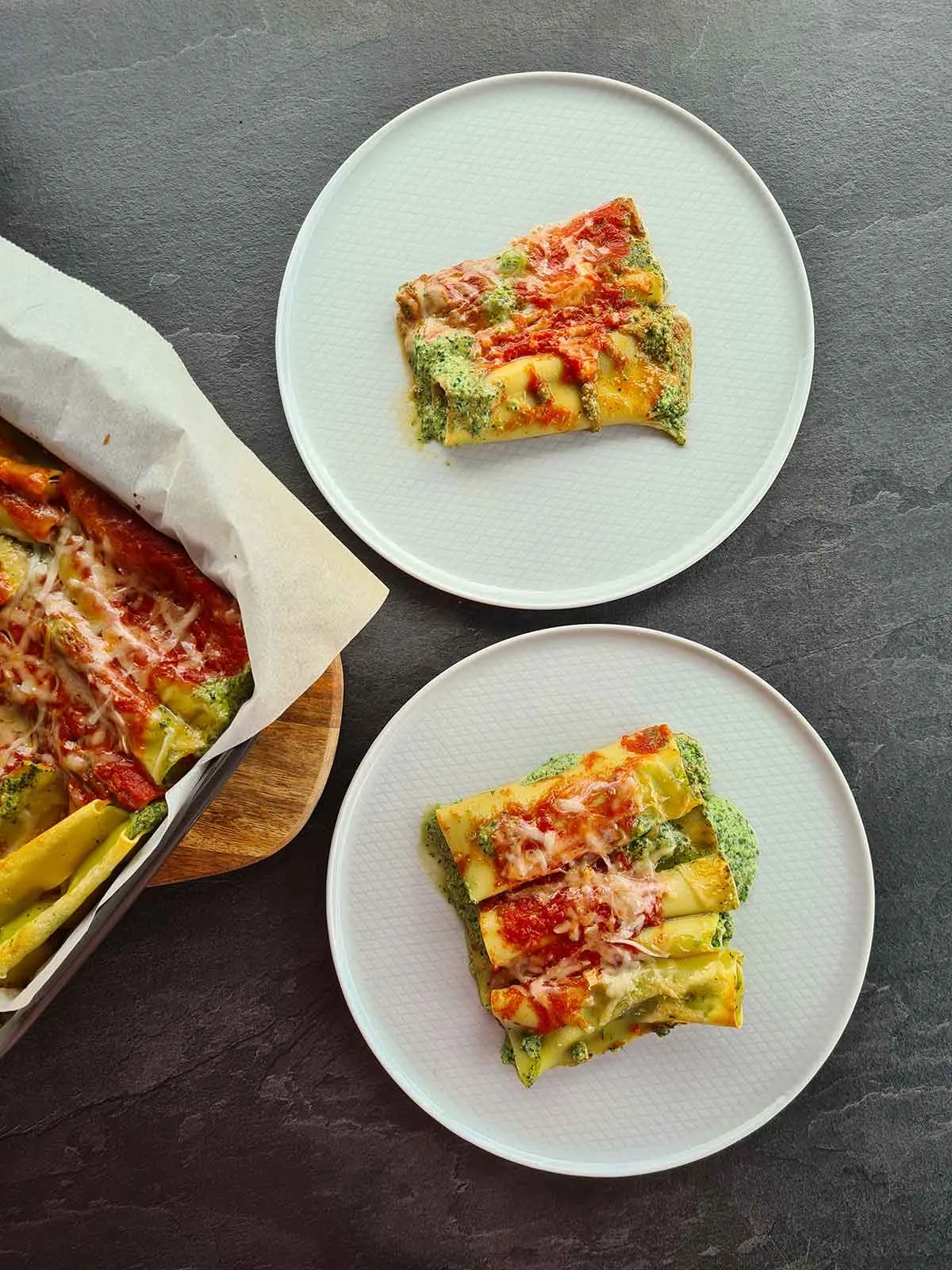 This spinach and ricotta cannelloni recipe ended up being super delicious and filling! I think it's absolutely amazing for meal prep too – just bake the entire composition in a ceramic baking pan and you'll have enough portions to last you for at least a couple of days. Then you can simply reheat your portion in the microwave or directly in the oven and the taste will stay the same.
In case you never tried making cannelloni before, this recipe will surely impress you! It has everything you'll ever need to make perfect cannelloni each and every time: a quick, yummy filling, step-by-step instructions, and a delicious topping as well, made of tomato sauce and grated mozzarella.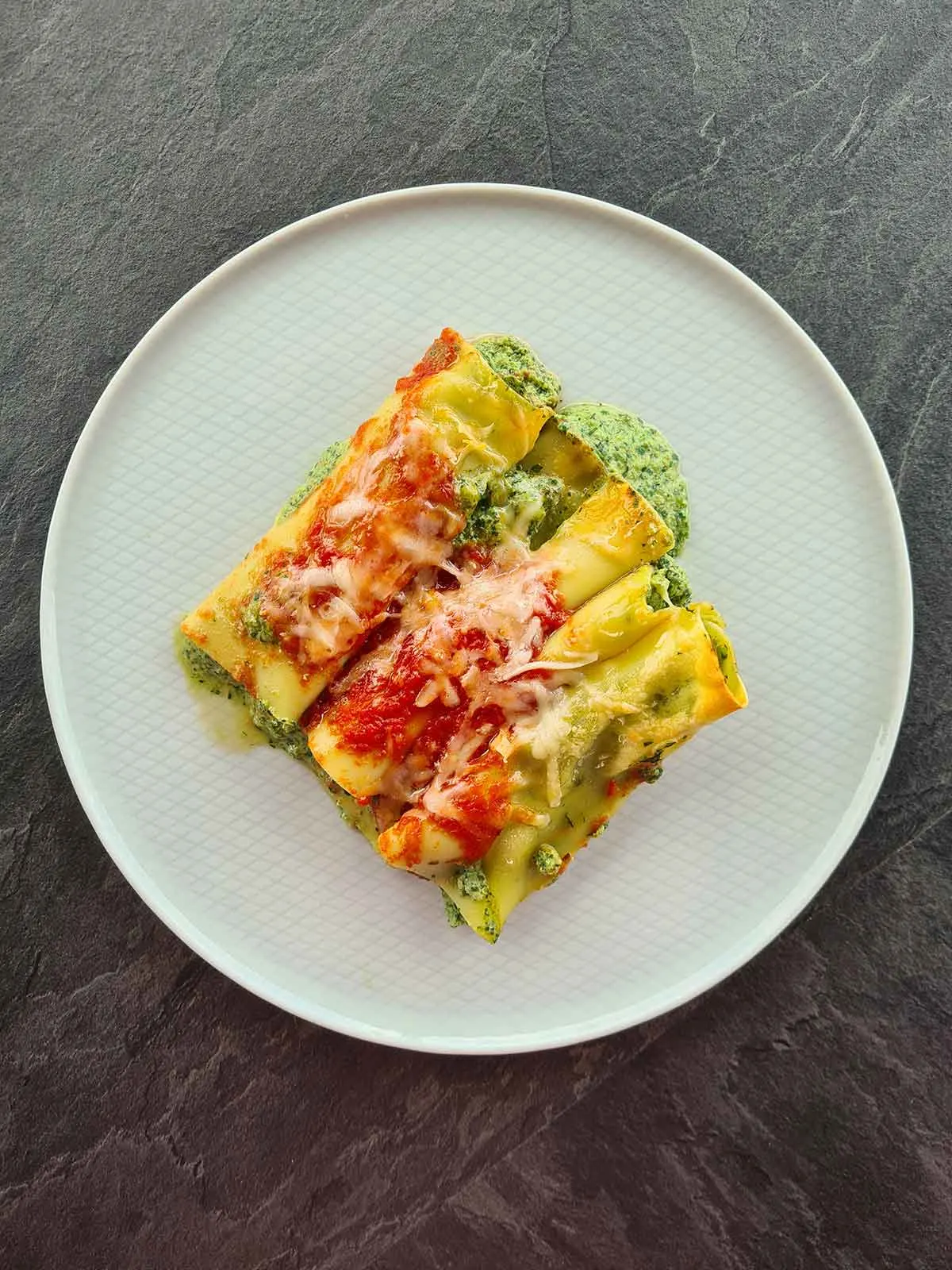 Seriously now, the hardest part of this recipe will be to wait 30 minutes for the entire dish to be done baking, the rest is super easy!
This recipe for spinach and ricotta cannelloni is perfect for a family dinner or gathering, as you'll have more than 8 portions at the end. As I mentioned before, cannelloni are absolutely delicious reheated as well, so you can easily take a portion to work in a Tupperware container. Easy and efficient, just how I like it!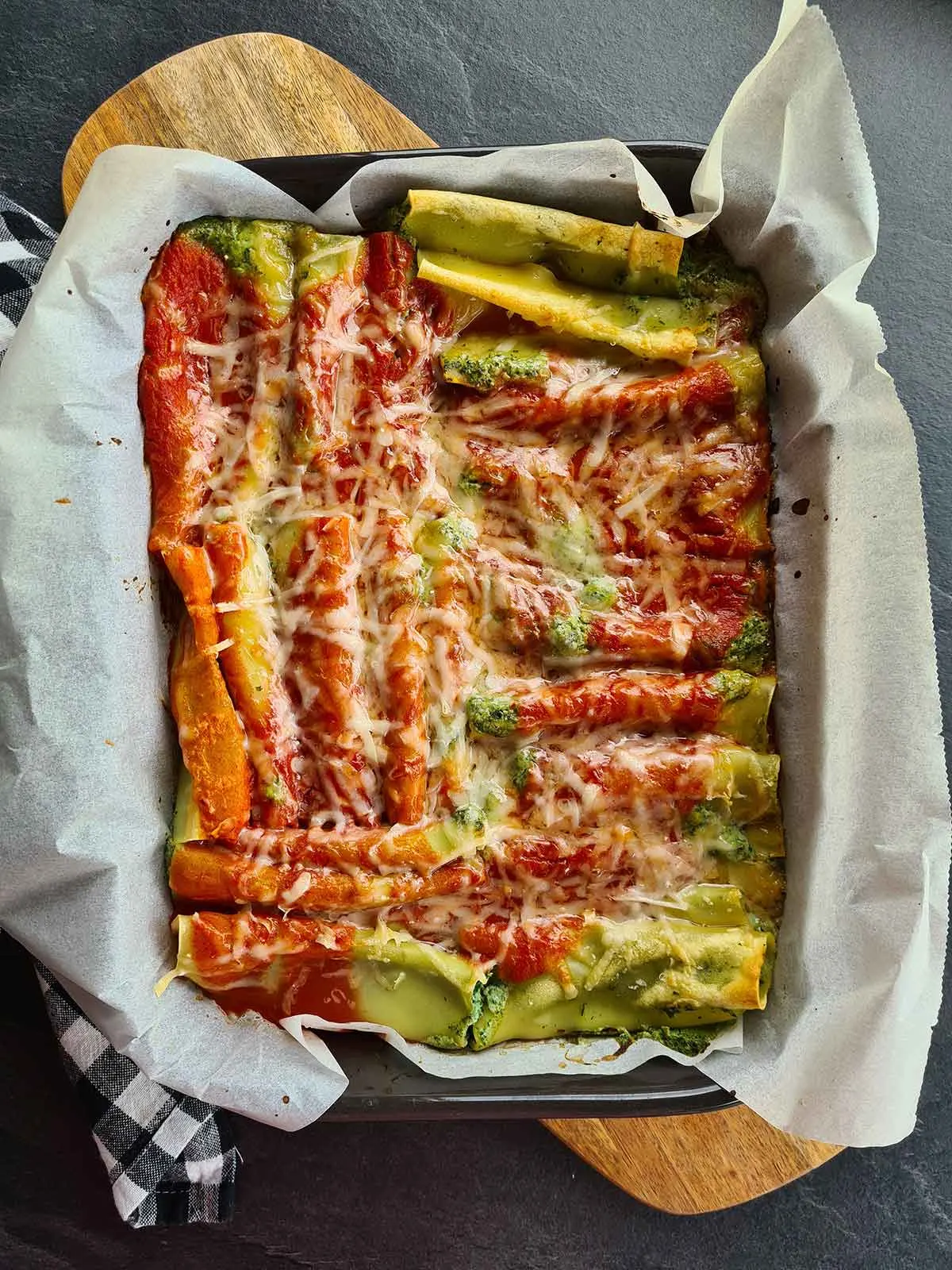 Okay, I'm convinced you're already eager to try this vegetarian spinach and ricotta cannelloni soon, so I'll stop with all the introductions and leave you with the step-by-step recipe below. Even if the process might sound a bit tedious to you, trust me when I say that it's actually not that complicated – and the results are definitely worth it!
In case you decide to give this recipe a try soon, don't forget to leave me a comment down below and tell me how it went. I'm always curious to read your opinions! 🙂
Happy cooking!
Yield: 8+
Spinach and Ricotta Cannelloni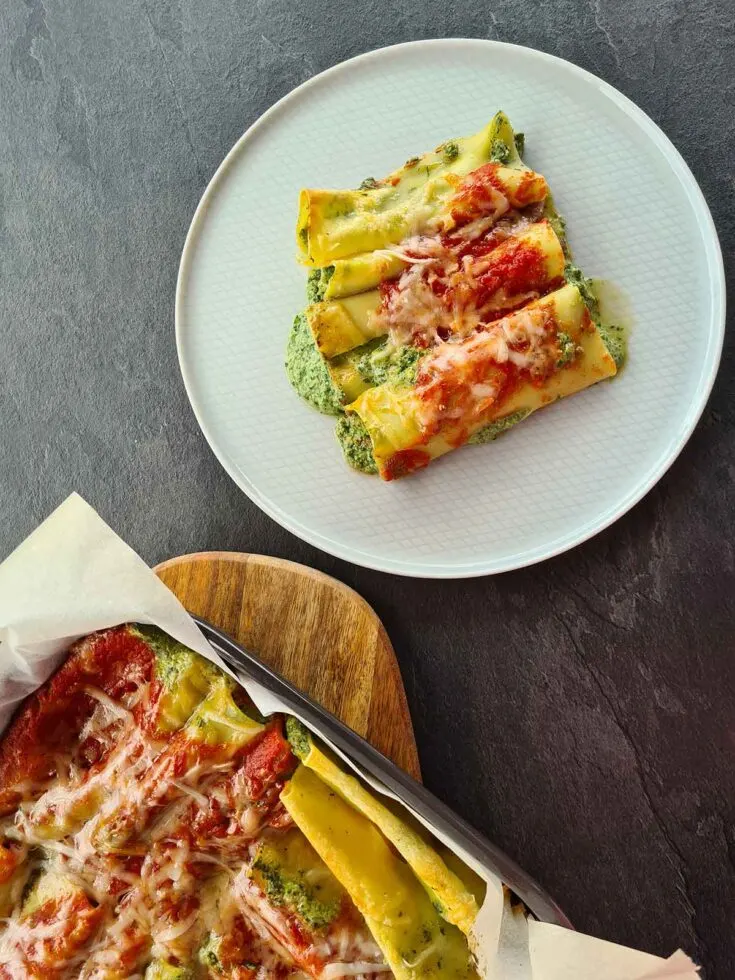 Italian food lovers, this one's for you! Here's how to make the best spinach and ricotta cannelloni that taste absolutely amazing. Perfect for meal prep, too!
Ingredients
For the spinach and ricotta cannelloni filling:
500g (2 cups) ricotta, full fat
300g (10 cups) fresh spinach
1 egg
3 garlic cloves
1 tsp dry basil
1 tsp dry oregano
salt and pepper, to taste
For the sauce:
approx. 800ml (27 oz) tomato sauce - I used a bottle
250ml (1 cup) water
2 tsp dry basil
salt and pepper, to taste
Cannelloni:
approx. 20 cannelloni tubes
230g (1 cup) grated mozzarella cheese
Instructions
To prepare the filling, simply add all ingredients to a food processor and blend until smooth.

Preheat oven to 180C/350F.

I used a ceramic baking pan that's around 30x25cm in size. Cover your baking pan with some parchment paper.

Mix the tomato sauce with the water, herbs, and spices. Spread 1/3 of the sauce at the bottom, evenly.

Transfer the filling to a large ziplock bag. Seal it and make a small cut on one corner. You will use this as a piping bag.

To transfer the filling easily, I placed the ziplock bag inside my blender recipient, margins rolled on the outside, so it can stand upright, and then simply poured the filling from the food processor in it.

Pipe the filling in the tubes and place them horizontally in the pan. I made two rows of about 10 tubes each.

Pour over the remaining sauce and sprinkle the grated mozzarella, then cover with a foil.

Bake for 25-30 minutes.
Nutrition Information
Yield
8
Amount Per Serving
Calories

833
Total Fat

45g
Saturated Fat

22g
Trans Fat

0g
Unsaturated Fat

20g
Cholesterol

240mg
Sodium

1627mg
Carbohydrates

57g
Fiber

7g
Sugar

12g
Protein

53g
I strive to keep the information as accurate as possible but make no warranties regarding its accuracy. I encourage you to make your own calculations using your preferred nutrition calculator.