You'll love the flavor of this roasted bell pepper tomato soup! Make this healthy and diet-friendly recipe, ideal for this season.
This roasted bell pepper tomato soup is one of my best tomato soups so far! It is currently in the first place, followed by my Creamy Peas Soup, Creamy Red Lentil Soup and Potato and Carrot Caraway Flavored Creamy Soup. Every time I make one of these soups I just can't stop eating! I always eat triple servings… they're addictive!
Very important!! I used corn because it adds some extra sweetness and texture to this tomato soup. If you live in US, Canada or any other country where you cannot buy organic, non-GMO corn it's better not to add corn at all. Avoid corn if it's GMO. Here is an article you should read: Monsanto GM corn caused tumors in rats.
Other than that, this roasted bell pepper tomato soup is amazing! Roasted red bell peppers have always been my favorite, and combined with the sweetness of roasted tomatoes, turned this soup into one of the best soups I've made. Give it a try!
Yield: 6+ servings
Roasted Tomato and Bell Pepper Soup with Crunchy Sweet Corn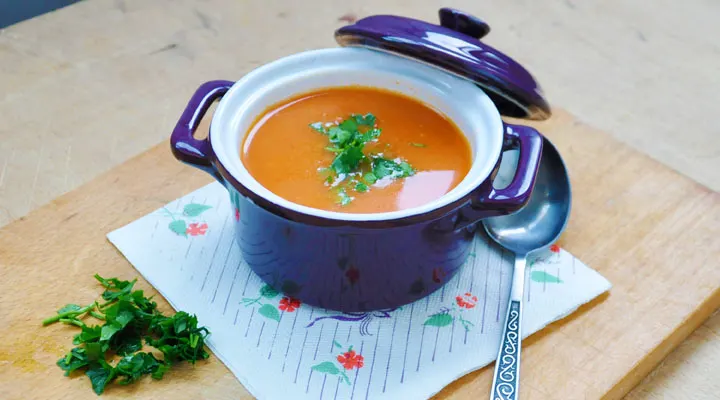 You'll love the roasted bell pepper tomato soup's flavor combined with the sweetness of corn and sour taste of vinegar. This red bell pepper tomato soup recipe is vegetarian, healthy and diet-friendly.
Ingredients
4 medium tomatoes, quartered
1 onion, chopped
1 red bell pepper, sliced
1 Tbsp extra virgin olive oil
165g (1 cup) cooked sweet corn, you can use canned corn – please use only non-GM corn; if you can't find any organic corn skip this ingredient
5 tbsp tomato paste
60ml (¼ cup) vinegar from pickles jar – this is sweeter, if you use apple vinegar add less: 1-3 Tbsps
salt and pepper to taste
parsley, for garnish
Instructions
Heat the oven.
Add the quartered tomatoes and sliced red bell pepper in an oven tray. Spray with olive oil and let them roast for about 20 minutes.
In a large pot, add some olive oil and chopped onion. Cook until golden.
Fill the pot with water – as much as you want, if you want it creamy use less water.
Add the roasted tomatoes and bell pepper in the pot.
Add salt, pepper, vinegar and tomato paste.
Boil for 5 minutes then romeove from heat. Let it cool for a couple of minutes.
Using a vertical blender, start blending very well.
Add corn and pasley.
Nutrition Information
Yield
6
Amount Per Serving
Calories

78
Total Fat

2.5g
Carbohydrates

12g
Protein

2g