This celeriac salad with avocado mayo dressing will even satisfy the taste buds of the pickiest eaters! This salad is both crunchy and moist and has a very interesting blend of flavors. Raw vegan and healthy too!
Avocado mayo is bliss! I just love it! I recently started eating more avocados, as I finally learned how to pick them right! Now I almost always have at least one avocado in the house. I usually add them to salads or use them in desserts, but I've never tried avocado mayo until now! Well, no more regular egg-based mayo for me from now on!
Why celeriac?
Celeriac is one of my favorite root vegetables. I love celeriac juice, celeriac salad, and celeriac soup! Everything with celeriac si simply great. What I don't like about it, though, is that it's pretty difficult to peel and grate. I always ask somebody else to grate celeriac for me :). By the way, have you ever tried celeriac puree? Pure awesomeness!

I'm sure you'll love this celeriac noodle salad as much as I do! It has such an amazing blend of textures. The crunchy celeriac noodles go great with the creamy avocado dressing and soft, pickled red bell peppers. The flavors are just perfect together. I also added some mustard in the avocado mayo and it made it even better! Plus, look at it! It has such lovely colors! 🙂
The corn flakes are entirely optional. I added them for two reasons: they look nice and they add some extra crunch.
This celeriac salad is raw vegan, macrobiotic and perfect for summer! It will be ready in 10-15 minutes and serves 4. Enjoy! 🙂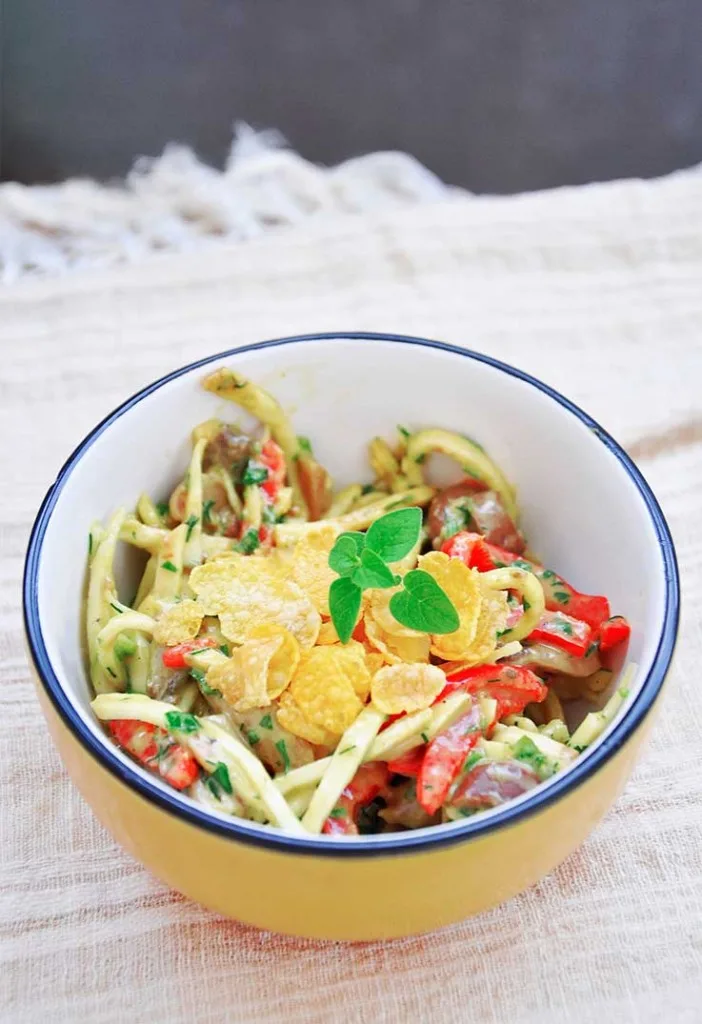 Yield: 4 servings
Celeriac Salad with Avocado Mayo Dressing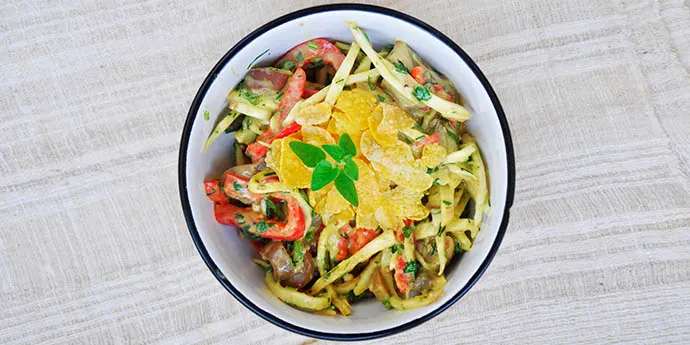 This celeriac salad with avocado mayo dressing is both crunchy and moist! Raw vegan too!
Ingredients
360-450g (4-5 cups) grated celeriac - grated using a mandoline, noodles
5-6 pickled red bell peppers slices, cut lengthwise
5g (½ cup) fresh parsley, chopped
corn flakes, optional, for some extra crunch
sea salt and ground pepper, to taste
Avocado mayo dressing:
1 ripe avocado
¼ lemon, juiced
½ tsp garlic powder
¼ tsp black pepper
¼ tsp sea salt
1 Tbsp mustard
1-2 garlic cloves, mashed
3 Tbsps olive oil
Instructions
Grate celeriac using a mandoline. Select the blade which will grate it in a thin, noodle-like shape. See the photos. Place the grated celeriac in a large bowl.
Add sliced pickled red bell peppers and fresh chopped parsley.
Make avocado mayo dressing: Add all ingredients except oil in the bowl of your food processor and blend until smooth. Drizzle the oil slowly into the processor while blending.
Add avocado mayo over the celeriac noodles in the bowl and mix.
When serving, add corn flakes on top. (optional)
Nutrition Information
Yield
4
Amount Per Serving
Calories

192
Total Fat

15g
Carbohydrates

12g
Protein

2g