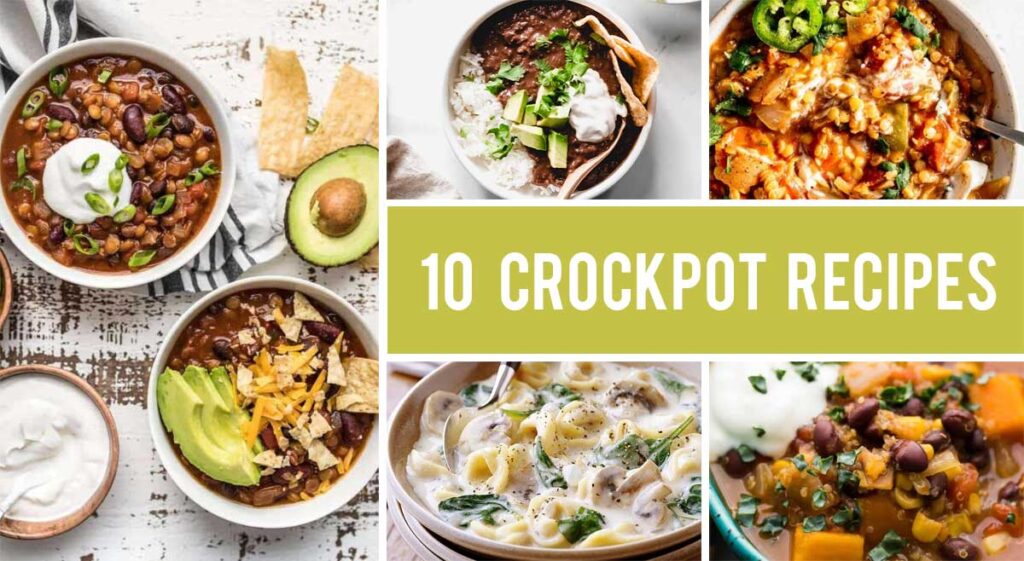 Looking for some Crockpot inspiration? I got you! Here are 10 easy vegetarian Crockpot recipes you'll want to save and try ASAP!
Crockpots are a staple in many homes. They're easy to use, convenient, and make delicious meals. They're also perfect for vegetarians! If you're looking for new Crockpot recipes to try, the list below has you covered!
Why should you use a Crockpot?
You may be wondering why you should use a Crockpot – also known as a slow cooker. The answer is simple: it's easy to use, safe and economical. You can make your favorite recipes in the Crockpot without worrying about burning food or ruining dinner by overcooking it. It's also super easy to clean!
Not convinced yet? No problem, let me tell you a couple more things about this awesome appliance.
First, they're super easy to use. You just plug them in and let them do their thing! Second, they're less expensive than other methods of cooking — you don't need to buy any special equipment or ingredients. Thirdly, with a Crockpot, you can reduce your cooking time by hours or even days! That's right: you can cram all the work into one afternoon and then set it aside until dinnertime rolls around tomorrow night.
Finally — and this is probably my favorite part about using a Crockpot — you can make healthy meals! When I make my vegetarian chili recipe in the slow cooker, it comes out thick and rich; if I were making it on the stovetop instead, I'd have to stir constantly while adding liquid each time there was a boilover during cooking, which means more time standing at the stovetop stirring instead of doing something else!
So, all this being said, the slow cooker is an amazing tool for busy people who want healthy meals and don't want to spend hours in the kitchen. And you all know I'm definitely one of these people! With a Crockpot, you just need to plug it in, add your ingredients and let it cook while you're at work or out of the house. When you come home and open the lid, you'll be greeted by a delicious meal that's ready to eat! How awesome is this?!
So there you have it: my list of reasons why Crockpots are awesome! I hope you're convinced that they're worth buying. If yes, it's time for some recipe inspiration!
Recipes you can make in a Crockpot
I know that, when you search on the web about which recipes you can make in a Crockpot, most of the results will include some kind of meat stew or meat roast. But I'm here to assure you that you can make plenty of vegetarian recipes with this handy appliance!
Here are some of the most popular vegetarian Crockpot recipes:
Vegetable stews – This type of recipe can be adapted to suit your taste and is a great way to use up vegetables that may be getting old in the fridge or freezer.
Vegetarian Chili – Chili is a filling recipe that works well on many occasions throughout the year and it's always a hit! It's delicious on its own or served with tortilla chips for scooping.
Vegetarian Sloppy Joes – Veggie sloppy joes in a Crockpot are healthier than their meat counterparts but just as flavorful — and they're super easy when made in your slow cooker!
This is also a great kitchen tool to use if you like to make homemade desserts. You can make cakes and pies in your Crockpot as well.
And if you're looking for actual recipes with ingredient lists and instructions, you'll find everything you need in my hand-picked list below. Scroll down to find 10 easy vegetarian Crockpot recipes you'll want to save. This recipe collection includes vegetarian Crockpot recipes that are super simple, but so good!
You can use these recipes for vegetarian slow cooker meals for your next family meal and they're perfect when you need a quick and easy dinner!
Happy cooking! 🙂
10 Easy Vegetarian Crockpot Recipes You'll Want To Save
Looking for some Crockpot inspiration? I got you! Here are 10 easy vegetarian Crockpot recipes you'll want to save and try ASAP!