Craving something delicious? Why not try these healthy vegan potato cutlets with mushroom stuffing? Delicious, filling and comforting – what's not to love here?
The term cutlet is used to refer to a boneless, thin cut of meat that is usually pan-fried. It originates from the French côtelette and it was first used in the year 1682.
The thinness of the cutlet is obtained, most of the time, by pounding the meat until it becomes even; they are then coated in breadcrumbs before cooking.
Cutlets are, a lot of the time, stuffed with vegetables and spices, and they evolved in such a way that a cutlet doesn't even have to contain meat anymore! The term is nowadays being used for stuffed potato cakes as well, so the recipe got easily 'veganized'.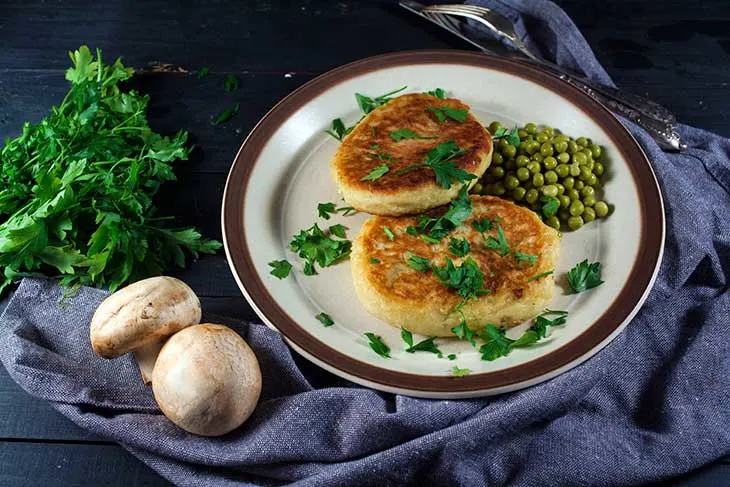 The origin of the potato cutlet is pretty much unclear, as they are popular in many of the world's cuisines including Indian, French, Italian and Russian! I chose to be inspired by the Russian version of potato cutlets which is called draniki.
It is believed, though, that the recipe of potato cutlets originates from the Indian subcontinent, where it's called aloo tikki, "aloo" meaning potato and "tikki" meaning cutlet in Hindi and Marathi.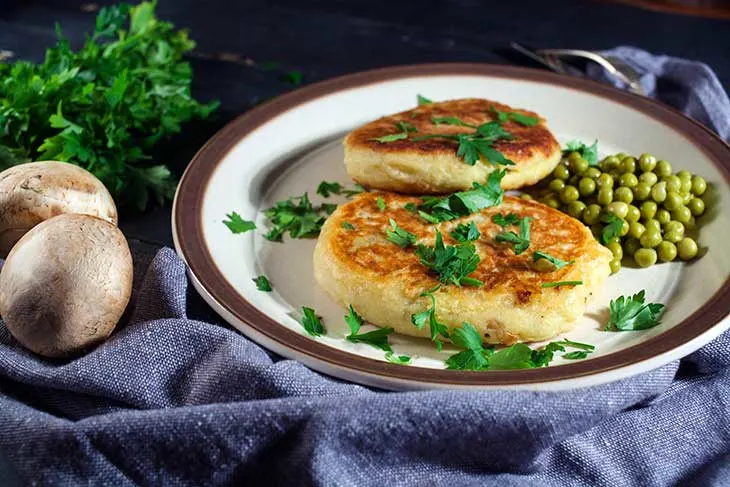 Though the recipe might vary a bit from country to country, especially when it comes to herbs and seasonings, the basics remain the same and the idea is pretty simple: mashed potatoes stuffed with your favorite filling (in this case we're talking about mushrooms, of course!), deep-fried.
Sounds fairly easy, but then again, most of the amazing things in this world are like that! Potato cutlets require very few ingredients, such as potatoes (obviously), onions, breadcrumbs… and, very important, spices and herbs. The combination of these is heavenly! 🙂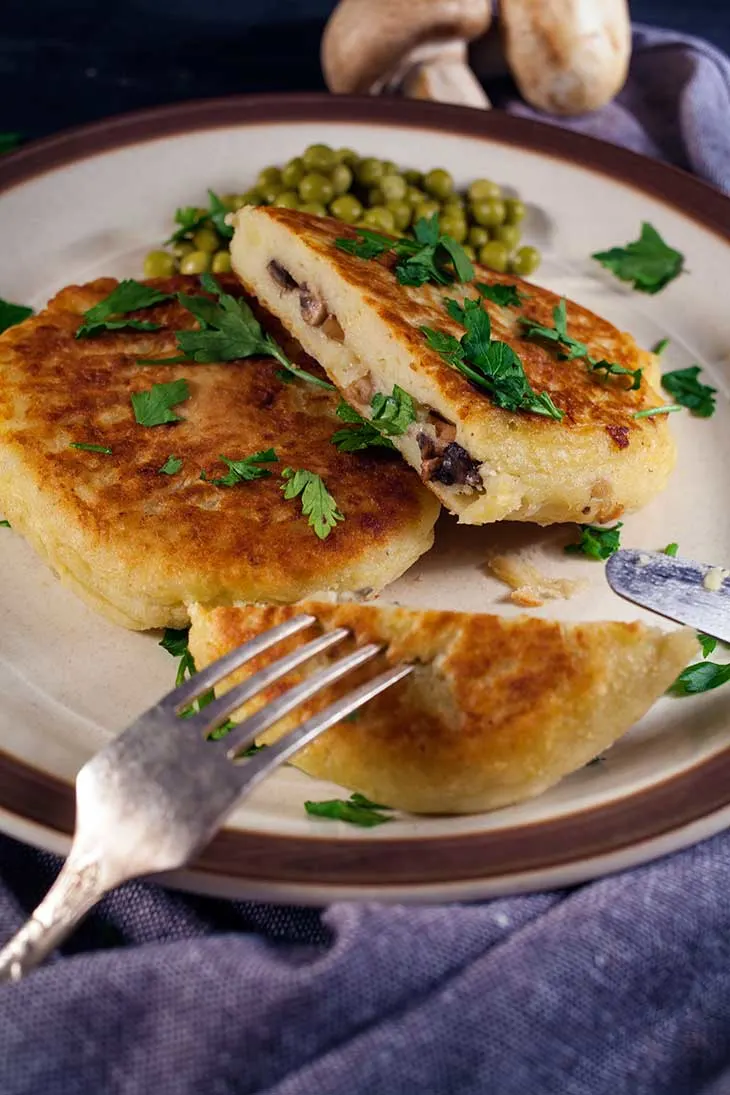 If you think you should avoid anything that contains white potatoes, I've got some news for you. Potatoes are not unhealthy, as we are sometimes made to believe – we just have to eat them in moderate portions.
If you do not eat huge amounts, potatoes won't make you fat either. You just have to be a little bit more careful. The potato is an amazing source of vitamin C, starch, thiamine, and niacin – quite impressive, right? And yet another reason for you to try this recipe! It's pretty healthy and nutritious, it's filling, it's hearty… and the best part of all? It's cruelty-free.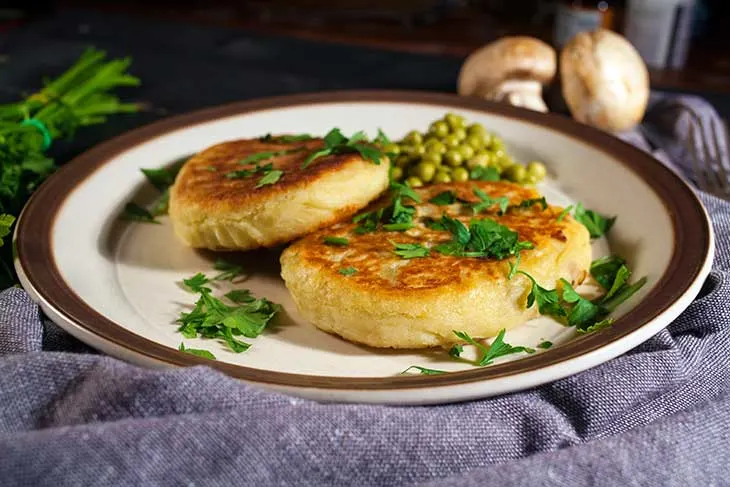 Basically, you can make potato cutlets by boiling some potatoes (smaller ones are preferable as they will reach the boiling point faster) and mashing them, then mixing with all sorts of herbs, spices, and seasonings, such as salt, pepper, coriander leaves, turmeric powder, red chili powder and so on.
Be sure not to skip the seasoning part as this is what really gives the cutlets a kick and makes the transition from ordinary and bland to mind-blowingly delicious! The mushroom filling is obtained by sauteeing some mushrooms into a pan alongside your favorite herbs – parsley works amazingly in this combination, for example.
Once you've got an even mixture, you take a spoonful of mashed potatoes, put some mushrooms inside and roll everything together. The mashed potatoes should act as a sort of pocket for the mushrooms. Once these pockets are done, you need to dust them with flour, breadcrumbs or a mixture of the two and fry them inside an oil bath. Or you can fry them in a pan if you would prefer a slightly healthier version!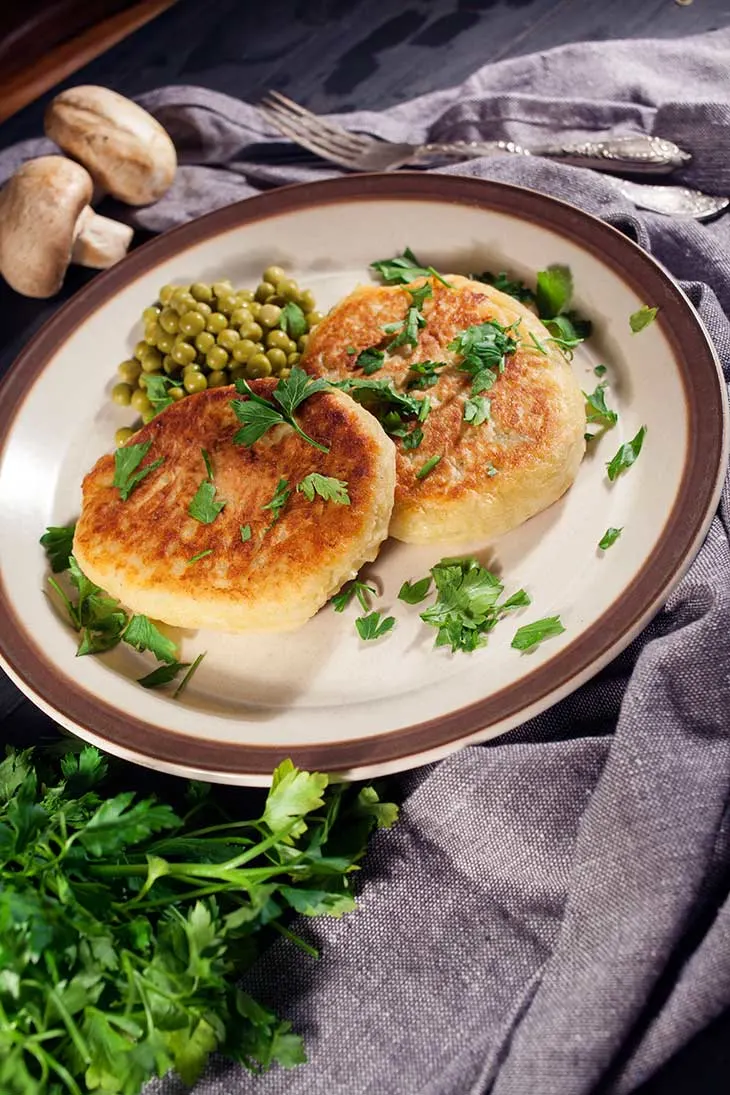 The result is one of the most amazing things you will ever taste and the most heavenly of textures. The cutlets should turn out extremely crispy on the outside (making a heavenly sound when bitten into), soft but still a bit chewy on the inside, with the occasional crunch from a piece of onion and the amazing juices of the mushrooms.
In my opinion, potato cutlets make for amazing comfort food. It's best when served warm, with some boiled green peas or even a delicious sauce on top of everything – the most common choices being saunth, tamarind and coriander-mint sauce, and sometimes yogurt (a plant-based alternative if you're vegan, of course!).
I promise this combination is a match made in heaven, as the cool yogurt provides an interesting contrast next to the hot patties. In Mumbai, the cutlets are served with spicy curry and various types of chutney.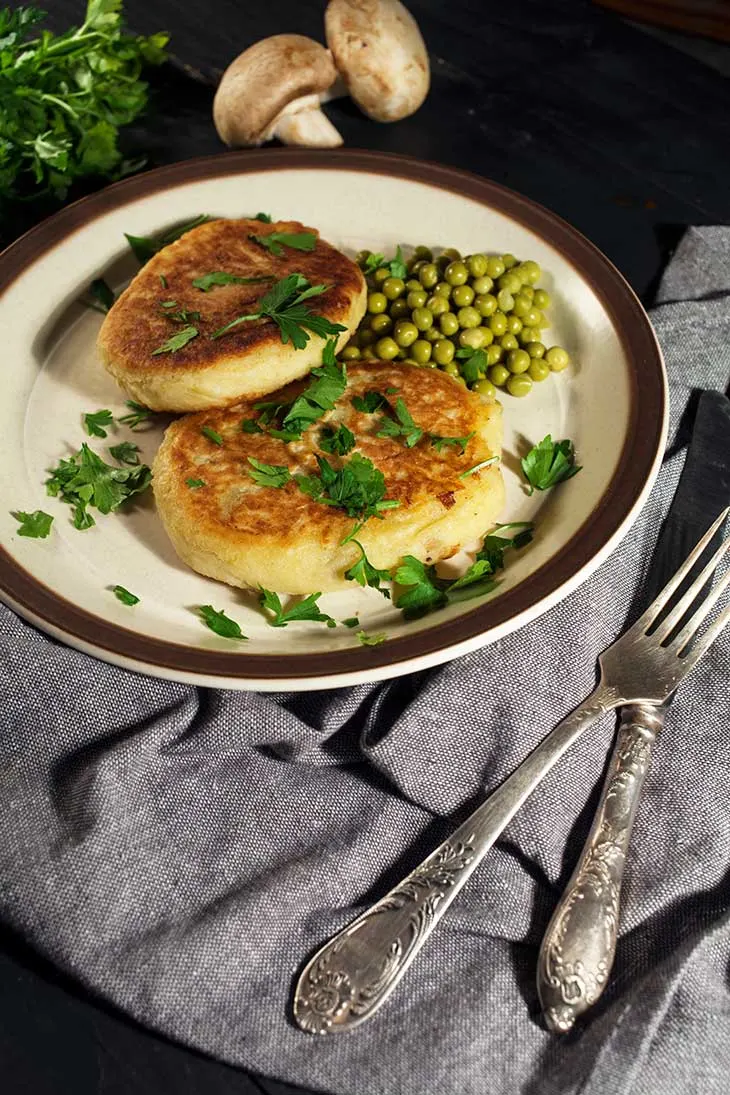 Street food versions of this comforting food are also available, especially on the streets of India, where the cutlets are quickly thrown inside of sandwiches or wraps. This makes for a healthy and filling lunch or breakfast on the go.
Potato cutlets with mushroom filling are usually eaten as an afternoon snack, alongside tea, or as a side dish along with rice and vegetables or lentils. If I were to be completely honest, though, I think once you have eaten one piece, you won't be able to stop, so the cutlets might turn into a main dish of their own – they're just that amazing! 🙂
If you want to get fancy, you can add some pomegranate seeds on top. Not only will they make this meal look super pretty and colorful, but the sweet, sour and savory combination is sure to wow everyone!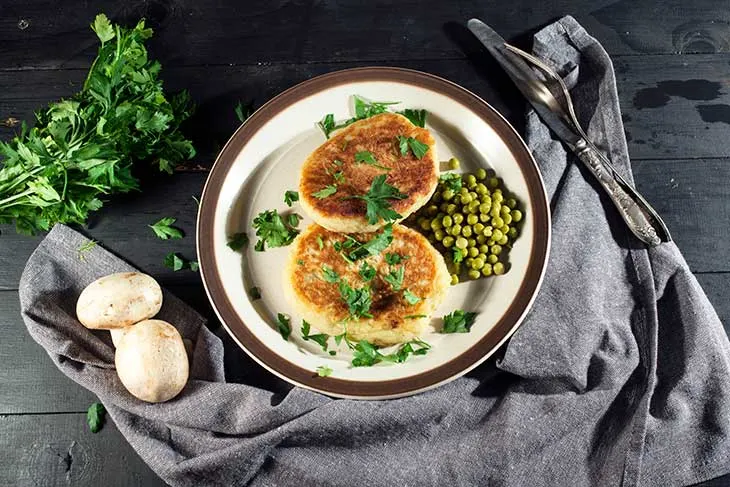 I believe these potato cutlets would make for an amazing appetizer, so why not give them a try? I promise you won't regret it – and neither will your loved ones!
Yield: 4+ servings
Potato Cutlets with Mushroom Stuffing - Draniki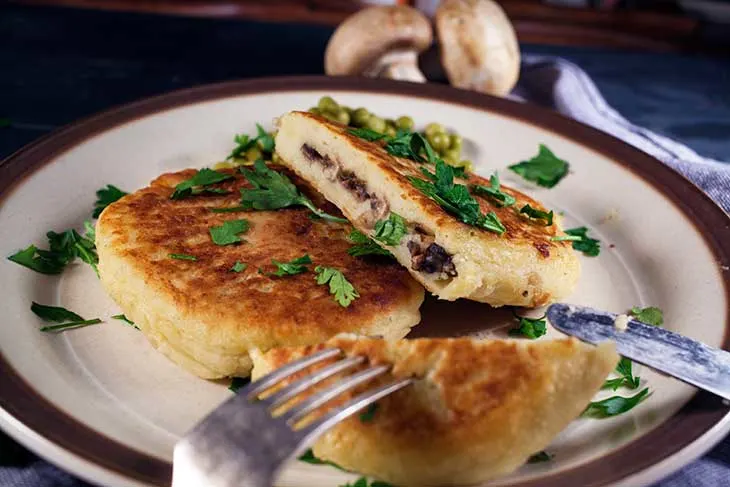 These vegan potato cutlets with mushroom stuffing are the perfect meal for families and gatherings if you want to impress your guests! Easy to make too!
Ingredients
5-6 large potatoes, 1kg
180g (2 cups) button mushrooms
1 large yellow onion
8 Tbsp flour - use GF if needed
2 Tbsp psyllium husks
1 tsp salt
1 tsp fresh black pepper
2 Tbsp olive oil
1 Tbsp fresh parsley, chopped
Instructions
Add the unpeeled potatoes to a large pot and cover with water.
On high heat, bring the pot to boil. Add salt.
Lower the heat and cook the potatoes on low about 15 minutes or until tender.
Discard the water. Fill the pot with cold water and start peeling the potatoes. Mash the potatoes until puree, with a masher.
Meanwhile, finely chop the mushrooms and onion.
Heat a pan on medium heat and add oil. Add the chopped onions saute for about a minute.
Add the mushrooms, salt, and pepper and continue to saute.
Cook for about 10 minutes. Set aside to cool.
To make the patties:
Add psyllium husks and flour to the potato puree and mix to incorporate.
To form the patties:
Dust a surface with flour. Add 1 Tbsp potato dough, place 2 tsp mushroom mixture to the center and fold the edges to cover the mushroom stuffing. Form a patty with both hands.
Heat a large pan with 1 Tbsp oil on medium heat.
Add the patties to the pan. Fry each side for about 5 minutes or until golden.
Serve with some chopped greens, peas, pickles or vegan sour cream.
Nutrition Information
Yield
4
Amount Per Serving
Calories

146
Total Fat

7.9g
Carbohydrates

16.3g
Protein

2.4g