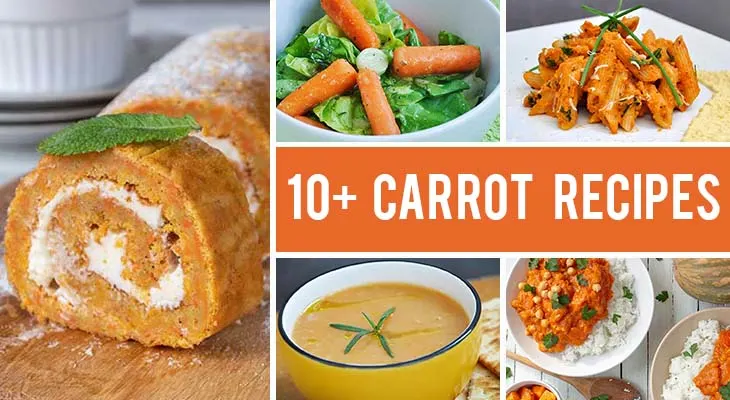 Are you looking for some recipe inspiration? In this list, you will find more than 10 recipes with carrots, both sweet and savory – yummy, super easy, and quick to make! Give them a try!
I'll say it right from the start: carrots are SO underrated!
No, really, it's true. Most people only use it in soups, especially cream soups, or in stews. And that's such a shame! I truly believe that, except for potatoes, carrots are one of the best vegetables in the world.
Carrots are orange root vegetables and their taste is sweet and mild, a bit similar to pumpkin or sweet potatoes, let's say. Which makes them ideal for both sweet and savory recipes – how awesome is that?! Just think about it: you can make a delicious salad with baby carrots and at the same time prepare some carrot cake with the leftovers. You can boil some creamy vegetable soup with potatoes, carrots, and other veggies and also make some carrot muffins for dessert. Or you can consume them raw, they're super good!
Carrot-themed meals, here I come!
Except for the fact that they're super yummy, very versatile and extremely easy to cook (regardless if you're boiling or roasting them), carrots are also very good for our health. In case you don't know anything about the benefits of consuming carrots, I'll list some ah-mazing facts below:
Carots are rich in beta carotene, a powerful antioxidant that is transformed into vitamin A once ingested. Amazing!
Carrots are 88% water, which makes them light and easy on the stomach;
They're rich in vitamin A (as I mentioned above), vitamin K1, potassium, biotin (a type of B vitamin) and vitamin B6. So several B vitamins, all much-needed in our bodies.
Carrots also contain lutein, which is very good for our eye health;
The lycopene found in carrots (and other red fruits and veggies as well) is said to reduce the risk of heart diseases and cancer;
A high intake of carrots will help with lowering your cholesterol levels;
Last but not least, carrots are low in calories, which makes everything even better!
See? I told you carrots are good for our health!
Oh, and did you know that carrots are not only orange-colored? There are also white carrots, yellow carrots and even purple carrots, which are my latest obsession. They're so beautiful!
What about cooking methods? As I mentioned above, carrots can be boiled (if you want to make a soup, for example), roasted (with some honey or maple syrup if you want to achieve THE perfect side dish), added as a side when making a roast, consumed fresh, grated into ribbons and added to a salad, steamed if you want to preserve ALL their nutrients – and more. They're so easy to cook, it will be nearly impossible not to fall in love with them!
And I cannot stress this enough: carrots are good in desserts too. Just think about carrot cake – how amazing is that?
If you're feeling inspired to try some incredible, vegan carrot recipes ASAP, you're in the right place. The list below will simply blow your mind! I have gathered below more than 10 (close to 20, actually) vegan recipes with carrots that will make you fall in love with this root vegetable. From a classic vegan carrot cake to a carrot cake Swiss roll, a spicy carrot sauce for your pasta, stuffed mushrooms and an easy vegan salmon made of carrot, I promise you'll find something for all tastes in my list below!
All recipes with carrots below are my own creations and I wholeheartedly recommend you try them today! Click on the button under each recipe in order to access it and don't be afraid to experiment in the kitchen some more.
Here we go:
10+ Sweet and Savory Recipes with Carrots
Are you looking for some recipe inspiration? In this list, you will find more than 10 recipes with carrots, both sweet and savory – yummy, super easy, and quick to make! Give them a try!