I never thought a pumpkin smoothie can be so good! I just recently started drinking smoothies for breakfast and I am absolutely in love with them! They're so filling and tasty, and when I know they're also packed with valuable nutrients, they make me feel even better 🙂
Here's the healthy smoothies I made so far: "Fiber Boom!" Banana Breakfast Smoothie, Immunity Booster Green Smoothie and Summer Watermelon & Oranges Smoothie. I'm also planning to make soon a protein smoothie, perfect for those of you who are working out and Vitamin C smoothie, filled with lots of delicious, high in Vit. C ingredients.
About this antioxidant pumpkin smoothie…I almost forgot that I had some frozen pumpkin in the fridge but my mom reminded me yesterday. So, today I decided to skip my all time favorite banana smoothie and try something new. It was amazing!!! Really! I'm not bragging, but you have to try it and see it yourself. It's like eating pumpkin pie! It's sweet, refreshing and gives you an instant energy rush!
Most of the ingredients in this antioxidant pumpkin smoothie are in the top 10 on ORAC scale which shows their antioxidant powers. I added a short description of the ingredients at the end of this post, so you'll know the benefits of each one of them.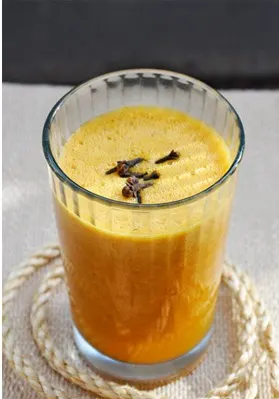 PUMPKIN
Pumpkin fruit is incredibly rich in vital antioxidants, and vitamins. It is very low calorie: 100 g fruit provides just 26 calories; however, it is rich in dietary fiber, anti-oxidants, minerals, vitamins. With 7384 mg per 100 g, pumpkin has very high levels of vitamin-A, providing about 246% of RDA. Vitamin A is a powerful natural anti-oxidant and is required by the body for maintaining the integrity of skin and mucous membranes. It is also an essential vitamin for good visual sight.
CINNAMON – 7th place on ORAC scale – Read more about cinnamon here.
Numerous studies show that cinnamon regulates blood sugar, making it a great choice for diabetics and hypoglycemics. It reduces LDL cholesterol levels. It has natural anti-infectious compounds. Cinnamon is effective against ulcer-causing H. pylori bacteria and other pathogens. It helps you lose weight and has amazing anti-cancer properties.
CLOVES – 2nd place on ORAC scale!
Clove is a natural antiviral, antimicrobial, antiseptic, and anti-fungal agent. It also holds aphrodisiac and circulation-stimulating capacities.The oil of cloves has been used in a variety of health conditions including indigestion, generalized stress, parasitic infestations, cough, toothaches, headaches, and blood impurities. It is also great for skin problems such as acne. Cloves can effectively cure many digestive problems such as flatulence, loose stools, indigestion, and nausea.
GREEN TEA
Green tea has a multitude of uses from lowering blood pressure to preventing cancer. Green tea increases the metabolism. The polyphenol found in green tea works to intensify levels of fat oxidation and the rate at which your body turns food into calories. It also helps regulate glucose levels. Green tea reduces bad cholesterol in the blood and improves the ratio of good cholesterol to bad cholesterol. It can apparently also help with wrinkles and the signs of aging.
GINGER – 27th on ORAC scale
Ginger aids digestion as it increases saliva and other digestive fluids, alleviating indigestion and associated problems such as flatulence. It is known to relieve nausea and morning sickness. Ginger also has anti-inflammatory qualities that relieve swelling and pain. As a tea, it eases headaches and sore throats and cures colds.
TURMERIC – 8th place on ORAC scale
Turmeric is an orange-colored Indian spice. Turmeric's powerful antioxidant properties fight cancer-causing free radicals and it is also one of the most potent natural anti-inflammatories available. Turmeric is a natural liver detoxifier and painkiller and speeds up wound healing and assists in remodeling of damaged skin.
GANODERMA
It has been demonstrated that Ganoderma boosts immunity and fights the proliferation of cancer cells. It also promotes blood flow and lowers oxygen consumption in the muscle of the heart. Ganoderma is a potent source of antioxidants and acts as a liver protectant.
Want to know more about ORAC scale? Read here.
Here's how I made this antioxidant pumpkin smoothie!
Yield: 2 glasses
Super Antioxidant Pumpkin Smoothie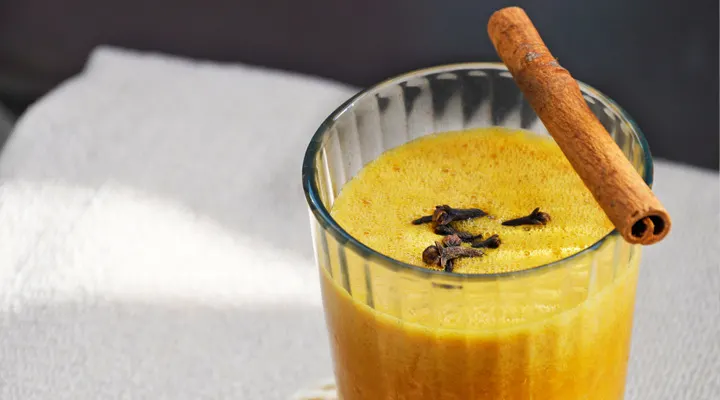 I never thought a pumpkin smoothie can be so good! You have to try it!
Ingredients
120g (1 cup) cubed pumpkin, frozen or fresh (I like it frozen)
360ml (1 ½ glass) cold green tea, unsweetened (It's best if you make this ahead and put it in the fridge to chill)
1 tsp cinnamon
⅓ tsp ground cloves
a pinch of ginger powder
½ tsp of turmeric, it doesn't change its taste, just adds more antioxidant goodness
a pinch of Ganoderma powder, optional – if you don't have it you can skip it
1 ½ Tbsp honey or ginger cold pressed syrup, I love ginger syrup!
Instructions
Place the frozen or fresh pumpkin in the blender, add green tea and blend until smooth. Add the rest of the ingredients and blend a little more.
Serve!
Nutrition Information
Yield
2
Amount Per Serving
Calories

33
Total Fat

0.3g
Carbohydrates

6.6g
Protein

1g