This stuffed zucchini with quinoa and lentils recipe is a low fat, low calorie, budget-friendly, vegan recipe with a high content of proteins and delicious taste and texture!
Don't you have a recipe which will always remind you of your childhood? Well, in my case, stuffed veggies will always remind me of my grandma and mom's cooking. I first learned how to make stuffed veggies from my mom, initially using meat and later on using vegan stuffings. Stuffed red bell peppers, stuffed zucchini, stuffed eggplants, you name it! They're all some of my all-time favorite meals :).
Today, I decided to make this stuffed zucchini with quinoa and lentils recipe. As usual, I wanted something delicious and very nutritious at the same time. You won't miss meat stuffing with this one! Quinoa and lentils are not only very high in proteins, but they also have an ideal texture, similar to the texture of meat-based stuffings.
The cooking and prepping process are really simple. It takes a little while to scoop out the insides of the zucchini, but other than that, your stove will pretty much do all the work for you. Nutritionally speaking, this recipe is low in calories, is absolutely fat-free, vegan of course and it's high in proteins. Plus, it's budget-friendly and ideal for whole families!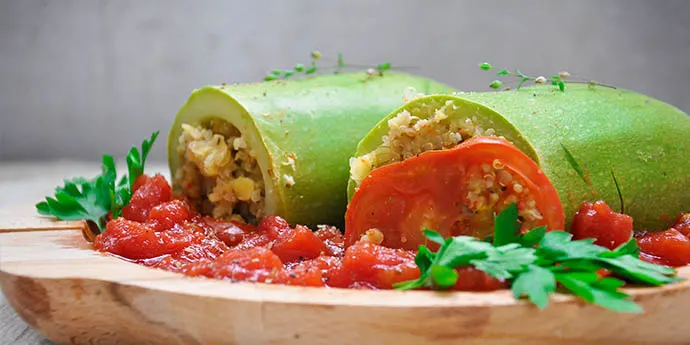 If you're looking for a way to improve your eating habits and add more vegetables and fruits to your cooking, then zucchini is one of the best choices for you. Not just because it yields many health benefits, but also because it's a very versatile ingredient that you can use in many different ways.
It is also known as courgette or summer squash and you can find it in yellow, light green or green. The largest producers of zucchini nowadays are Japan, China, Romania, Italy, Turkey, Egypt, and Argentina. Zucchini is a fruit, but it's best eaten in cooked dishes which is why it's treated very much like a vegetable. Just like cucumbers, all of its parts are edible.
If you want to take a look at its health benefits and ways to incorporate it into everyday life so you don't have any excuses not to eat it anymore, scroll down below the recipe.
Yield: 4 servings
Stuffed Zucchini with Quinoa and Lentils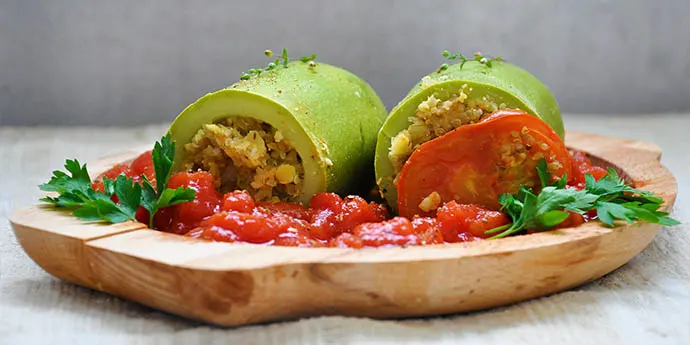 This stuffed zucchini with quinoa and lentils recipe is a low fat, low calorie, budget-friendly, vegan recipe with a high content of proteins and delicious taste and texture!
Ingredients
4 large zucchinis, cut in half
90g (½ cup) quinoa
100g (½ cup) red lentils
1 onion, chopped
1 medium carrot, grated
1-2 tomatoes, sliced
1 Tbsps natural Vegeta, optional
2 Tbsps fresh dill, chopped
1 tsp dry thyme
salt and pepper, to taste (note: Make the stuffing a little bit saltier)
Sauce:
225g (1 cup) tomato paste or canned tomatoes
2 garlic cloves, mashed
½ tsp ground pepper
Instructions
Rinse the zucchinis and cut them in half.
Scoop out their insides using a teaspoon. (Don't throw them away! You can use them to make veggie patties!
Boil quinoa and lentils for 10 minutes. They don't need to be fully boiled, that's why 10 minutes are enough.
In a separate bowl, mix boiled quinoa, lentils, chopped onion, grated carrot, chopped fill, salt, pepper and other spices.
Start stuffing the zucchinis, using a teaspoon.
Place them in a medium pot. They should be placed in a standing position, so the upper stuffing part wouldn't reach the water. Also, choose the right size for the pot, as the stuffed zucchinis should rest against one another.
Slice tomatoes. Place one thick tomato slice as a lid for each stuffed zucchini.
Add water, just enough to cover 2/3 of the zucchinis. Add 1/2 Tbsps salt in the water.
Place the pot on the stove and let it cook over medium heat for about 40 minutes. Cover with a lid.
In a separate bowl, start mixing the tomato paste with mashed garlic and ground pepper. This will be the sauce for the stuffed zuchinnis. Pour it over them before serving.
Nutrition Information
Yield
4
Amount Per Serving
Calories

174
Total Fat

3g
Carbohydrates

26.2g
Protein

10g
Zucchini Benefits
If you find yourself on a weight loss journey, Zucchini can be quite the help. It has very low calories but it makes you feel full for longer because it has a high water content and it's rich in fiber. This way, it helps you control your hunger and your cravings.
Zucchini is a great source of vitamin C and manganese, and also it's rich in vitamin A, potassium, magnesium, folate, copper and phosphorus. But the list doesn't end there! It's also has a high content of omega-3 fatty acids, zinc, niacin, protein, vitamin B1, vitamin B6, vitamin B2, and calcium. All of these vitamins and minerals make for a great boost to your health.
Zucchini is the best member of the squash family precisely because of its many benefits, including sugar, carbohydrates, soluble and insoluble fiber, sodium, minerals, amino acids and more. All of these ingredients help you strengthen your bones, metabolism, your brain, and they also improve your digestive system. They also promote heart health, and they help prevent cancer, diabetes and high blood pressure.
If you make zucchini a regular part of your diet, it will indeed help you prevent many diseases. High-fiber foods help prevent cancer, vitamin C, folate and beta-carotene helps protect cells and they also have anti-inflammatory properties which makes zucchini a natural option to treat osteoarthritis, asthma, and rheumatoid arthritis.
All in all, zucchini has been proven to be very beneficial for your whole body and your overall health!
General Facts about Zucchini
The world's largest zucchini on record was 69 1/2 inches long, and weighed 65 lbs.
Zucchini has more potassium than bananas!
The most flavorful zucchinis are the medium or small sized ones.
Zucchini is low in sodium, contain no saturated fats, and are cholesterol-free.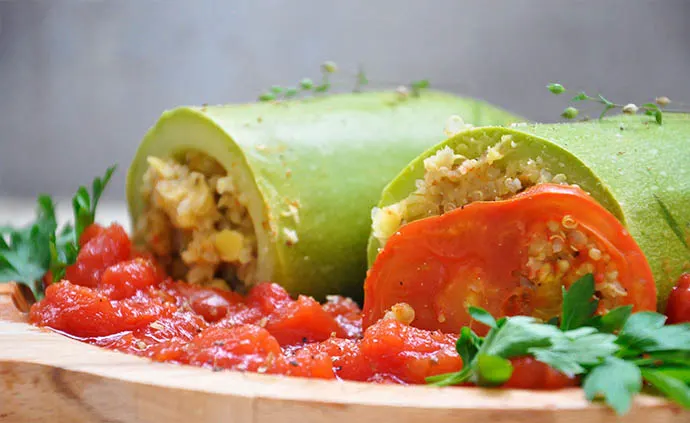 How to Use Zucchini
There are several surprising ways to include zucchini to your diet. One of them is using it as a substitute for pasta! Yes, that's right. You just have to slice it really thin to make zucchini noodles, sauté them and then pour your salsa over it and add some parmesan. There are only 25 calories in a zucchini, so imagine how many zucchini noodles you can eat and be guilty free!
You can make a stir-fry with your favorite vegetables to make a nice little side dish for lunch. You can also cook it along with onions and peppers so you can use it as a filling for cheese or bean quesadillas. Or you can use it as a topping for your sandwiches instead of mayo!
What's more, you can make veggie lasagna or moussakas with zucchini and eggplant! You can make your salsa with tomatoes, peppers, onions, and also add a bit of parmesan cheese. It's delicious and so flavorful! You can also add chopped zucchini to your scrambled eggs or omelets to make your breakfast a bit more interesting. Just make sure you chop them up thinly so it won't take too long to cook.
You can grate zucchini and use it to make the moistest meatballs you'll ever have in your life. Not to mention all the flavor you'll be adding! You can also make stuffed zucchini and use rice along with vegetables and maybe some meat to use as your filling.
Believe it or not, you can also add zucchini to your vegetable soups! It adds that very particular flavor and it makes it that much healthier. You can also grill zucchini and add it to pretty much anything! You can make veggie tacos with it, have it as a side dish, or as a healthy snack in the middle of the day.
There you have it! These are just a few of the ways you can start incorporating zucchini into your everyday life. Make sure you try it and once you get more familiarized with it you'll be adding it with ease every time you can.