Recipe for raw vegan Raffaello Bonbons, with coconut and almonds. Delicious is an understatement! Can you believe they're ready in only 10 minutes?!   |   Reteta raw vegana pentru bomboane Raffaello cu cocos si miez de migdale. Delicioase e putin spus! Si va vine sa credeti ca sunt gata in doar 10 minute?! 
  Recipe in English
  Reteta in Romana
You don't know how happy I am that I've discovered this amazing raw vegan dessert recipe for coconut Raffaello bonbons!!! I am CRAZY about Raffaello bonbons! And by crazy, I mean that I can't eat only one, or two, or three…no…I eat the whole box, alone! That's why I rarely buy them
 This weekend I craved for something sweet, and as always, when I want something sweet, I make myself a raw vegan dessert.
I saw that I had some coconut flakes and coconut butter in the pantry, and got the idea to make these awesome coconut Raffaello bonbons. These coconut bonbons have the exact same taste as the originals!! Seriously!!! It's amazing how some basic ingredients can make such a delicious, guilt-free, HEALTHY dessert
These raw vegan Raffaello bonbons have the same taste and crunchy texture as the real ones. The great thing is that they're ready in about 10 minutes! Yes! That easy!
Looking forward to reading your comments! Let me know how they turned out! ….I'm going to make another batch now..
Raw Vegan Raffaello Bonbons
Recipe for raw vegan Raffaello Bonbons, with coconut and almonds. Delicious is an understatement! Can you believe they're ready in only 10 minutes?!
Ingredients
4 Tbsps raw coconut butter

(creamy - leave it at room temperature for a couple of minutes)

1 cup raw coconut flakes + 4 more Tbsps for coating

(real ones, not those yucky colored flakes)

15 raw almonds

(preferably peeled ones)

2 Tbsp healthy sweetener of choice

(I used honey, but you can use agave or maple syrup)

1/2 tsp vanilla extract
Instructions
Put all ingredients in the blender, except almonds, and blend well until creamy.
Put the 4 Tbsps of coconut flakes in a small dish.
Make the bonbons. Use 1 tsp of cream per bonbon. Add one almond in each one of them and coat them in raw coconut flakes.
Put in fridge or eat right way, if you're impatient like I was :D
http://gourmandelle.com/bomboane-raffaello-raw-vegan-coconut-bonbons/
Copyright: 2014 Ruxandra Micu | www.gourmandelle.com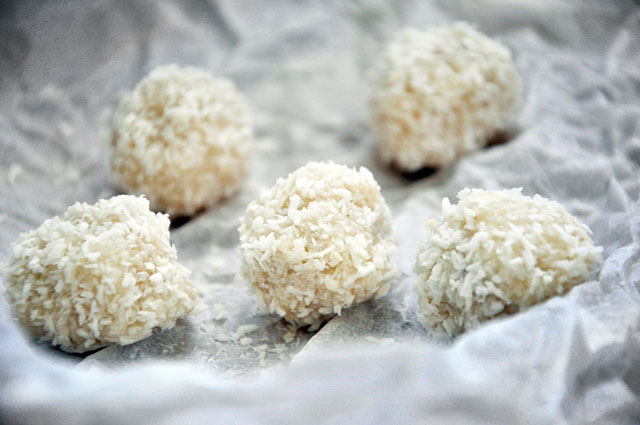 Nu am cuvinte sa descriu cat de fericita sunt ca am creat reteta asta de bomboane Raffaello raw vegane! Eu sunt innebunita dupa bomboanele Raffello si cand zic innebunita chiar asa e! Nu pot manca doar una, sau doua, sau trei… mananc o cutie intreaga deodata! De aceea evit sa mi le cumpar :D. Weekendul asta aveam pofta de ceva dulce, iar ca de obicei atunci cand am pofta de ceva dulce si rapid, fac un desert raw vegan. Mi-a venit ideea sa fac  bomboane Raffaello raw. Aveam niste fulgi de cocos si unt de cocos prin debara, asa ca am creat cea mai simpla reteta de bomboane Raffaello raw, si zic eu, si cea care seamana cel mai mult la gust cu originalele.
Dupa ce am facut reteta am mai cautat din curiozitate pe net alte variante de bomboane Raffaello raw. Am fost un pic surprinsa sa vad ca nu gasesc o reteta similara cu a mea, desi e tare simpla, si ca multe din asa zisele bomboane Raffaello raw vegane de pe net nu prea au nicio treaba cu adevaratele Raffaello, in ceea ce priveste gustul. Adica de ce ai adauga caju sau curmale in ele? Care e scopul?
Fara pic de modestie, ma laud si va zic sincer bomboanele astea sunt divine!!! Gustul si textura sunt in proportie de 90% identice cu cele de la originalele bomboane Raffaello. Singura diferenta este la textura unde nu mai apare si invelisul acela de napolitana  Se fac atat de usor si nu aveti nicio scuza ca sa nu va duceti sa le preparati chiar acum. Astept cu interes comentariile voastre. Sper sa va placa!
Bomboane Raffaello Raw Vegane
Ingrediente pentru vreo 15 bomboane Raffaello raw:
4 linguri unt de cocos [cremos - lasat la temperatura camerei sa se topeasca putin]
o cana de fulgi de cocos, pentru crema + 4 Linguri fulgi de cocos pentru decor [fulgi de cocos naturali - nu prostii colorate]
15 migdale crude [de preferat din acelea decojite]
2 linguri de indulcitor sanatos [eu am folosit miere, dar puteti sa folositi agave sau sirop de artar]
1/2 lingurita esenta de vanilie
Instructiuni: 
Pune-le pe toate in blender, in afara de migdale, si mixeaza-le bine de tot pana formeaza o pasta cremoasa si lipicioasa.
Pune cele 4 linguri de fulgi de cocos intr-o farfurie separata.
Fa bilutele. Foloseste aprox. 1 lingurita de crema la o bomboana Raffaello. Nu uita sa pui o migdala in centrul fiecarei bomboane si sa le tavalesti apoi prin fulgi de cocos.
Baga-le la frigider cateva minute inainte de a le manca. Poti sa le mananci si pe loc daca nu mai ai rabdare! Eu asa am facut cu prima serie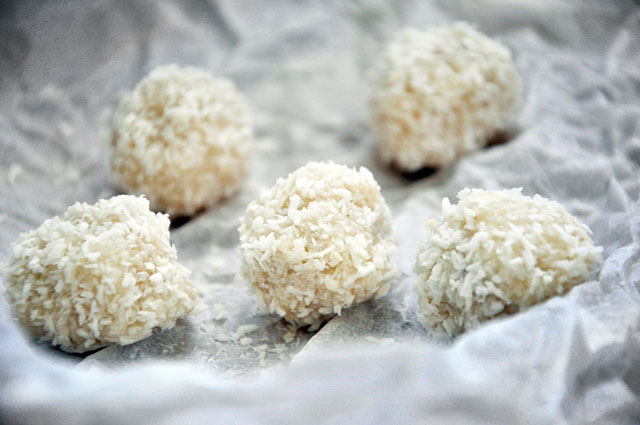 Cooksnaps