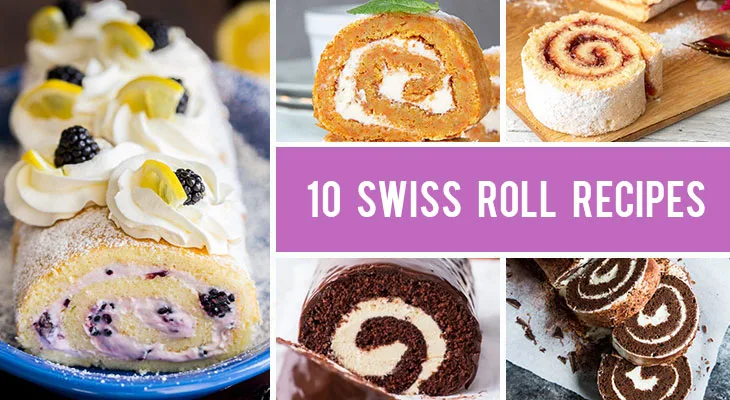 Are you looking for some recipe inspiration? In this list, you will find 10 Swiss roll recipes – flavorful, super easy, and quick to make! Give them a try!
Did you ever hear of Swiss rolls? If not, then you have no idea what you're missing out! 🙂
So what is a Swiss roll, exactly? Simple! It's a thin spongy cake rolled together with a delicious, creamy filling until you end up with a cylinder of yumminess. Then you cut it in slices and there you go, your dessert is ready! Even though it might sound complicated, it's actually extremely easy. It also sounds a bit sophisticated, I know, but nothing could be simpler in this world!
Oh, and by the way, Swiss rolls are not actually from Switzerland, as you might think. It is said that they originated in Austria actually!
And today's your lucky day because I want to show you just how amazing Swiss rolls actually are, I put together a list with great, easy-peasy recipes that will make the perfect sweet treat! You will find here 10 of my favorite Swiss roll recipes that I frequently prepare, especially when I have guests over. A Swiss roll is always impressive, trust me!
From chocolate Swiss rolls to vanilla and jam combinations, to fresh fruit and even a cookie butter Swiss roll, these recipes will provide just the inspiration you need for your next dessert!
Click on the linked titles in order to access these amazing Swiss roll recipes. You will find here many unique and delicious recipes created by some of my favorite food bloggers out there, but also 3 of my own recipes that I totally recommend you try.
NOTE: Please note that not all recipes in this list are vegan, although some of them are. You can always swap some ingredients to make them plant-based, so no worries about that!
Here we go:
Swiss Roll Recipes
If you're a carrot cake lover, then you must try this amazing carrot cake swiss roll! It has all the best flavors and textures that you normally experience when you indulge in a piece of carrot cake, only easier to eat! Light texture, yummy feeling… this Swiss roll has it all!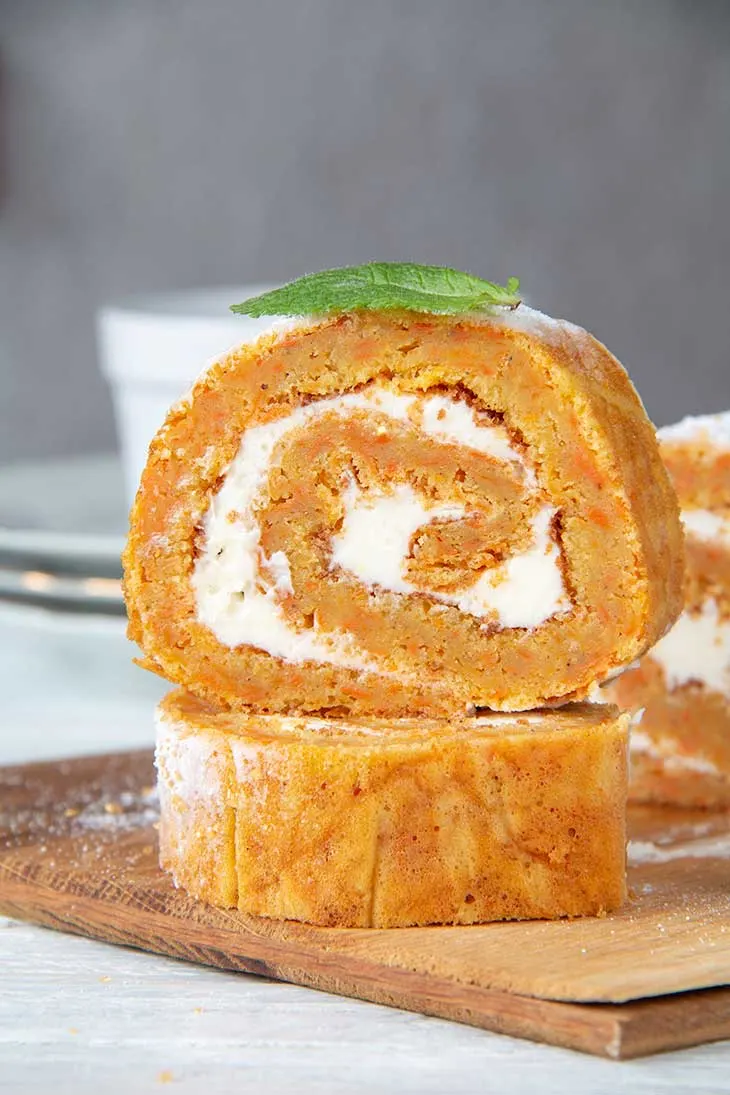 If you love vanilla, then you know that it goes really well with some jam, right? This awesome vegan vanilla Swiss roll with jam is the best of both worlds. It's sweet, it's spongy and it's extremely easy to make! I used strawberry jam for this specific recipe, but feel free to use any type of jam you love, the possibilities are endless and the end result will be just as good!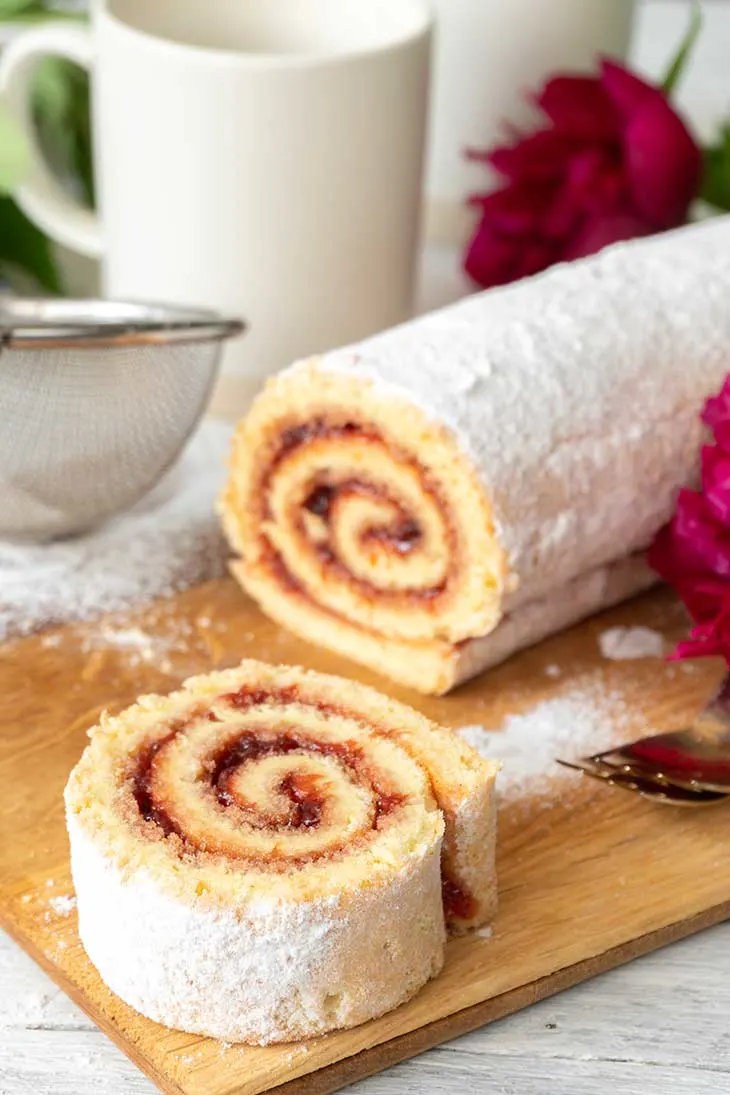 This one's for all chocolate lovers out there: double chocolate Swiss roll. So get ready for an overdose of chocolate, my friends! By the way, this recipe is both extremely delicious but also vegan and it only includes healthy ingredients. Just remember: moderation is key when indulging in sweets. Other than that, you'll be just fine!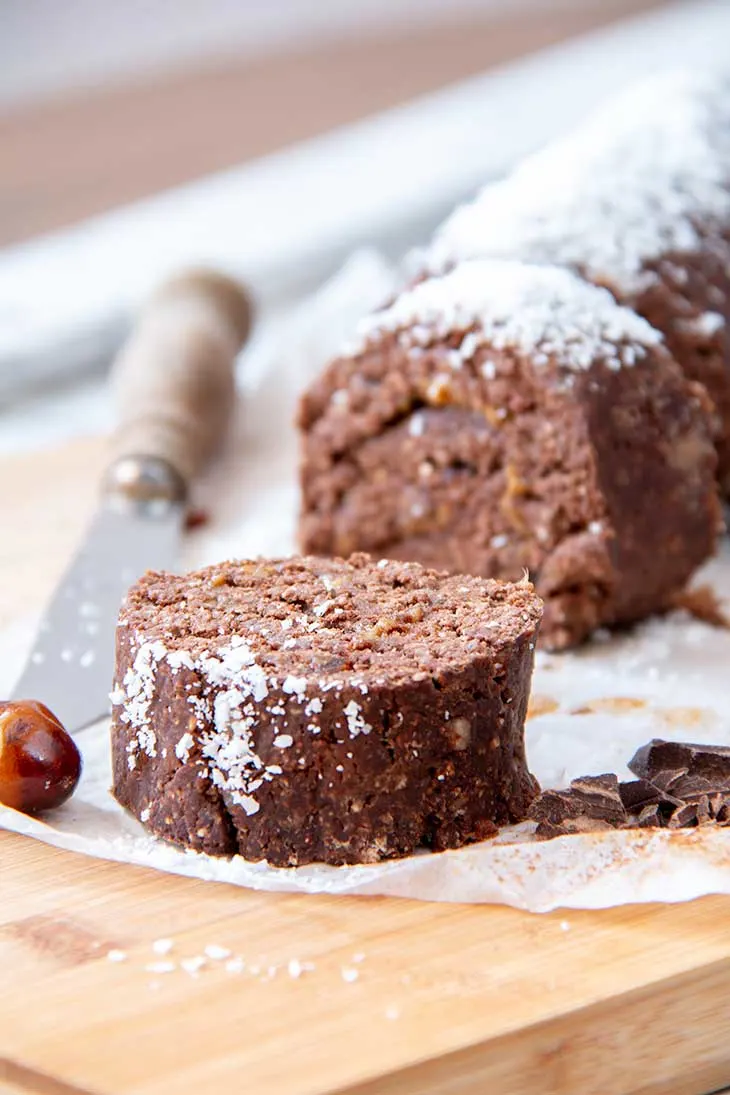 Here's another one for all my chocolate lovers out there! This chocolate Swiss roll has an amazing mascarpone whipped cream filling – what could be better than this, you may ask? Literally nothing, my friends! Give this recipe a try, maybe on a weekend when you have some friends over and get ready to impress everyone!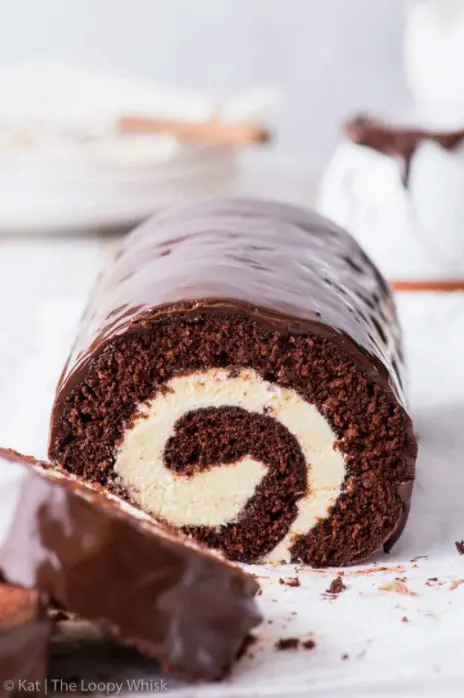 If you prefer a more refreshing Swiss cake (or cake roll, as some of you might know this type of dessert), then you have to give this blackberry lemon cake a try! The blackberry and lemon complement each other in a perfect way, creating a perfect recipe for summer! There's also a recipe explaining the step by step recipe, so you simply cannot fail!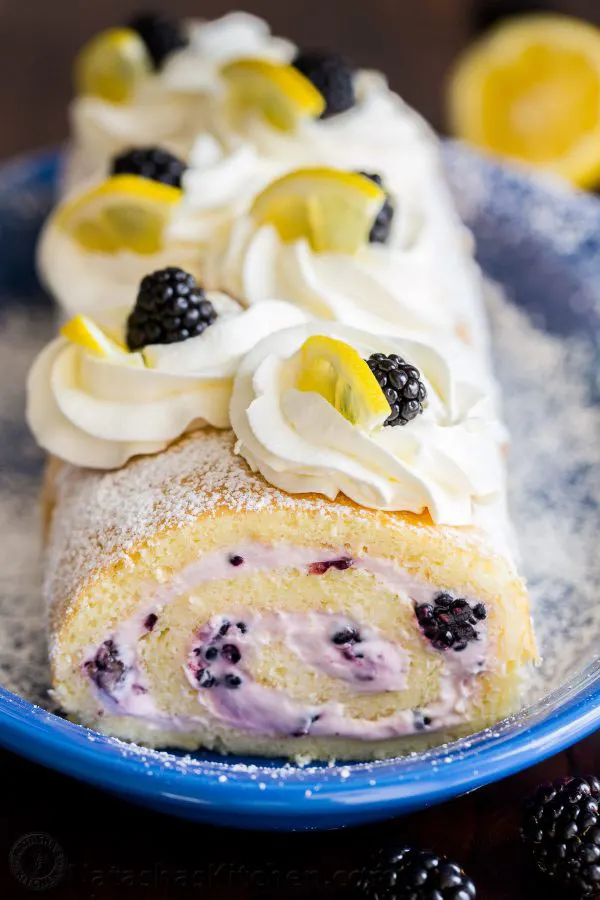 This one's all about lemon: tangy, sweet, and extremely refreshing. For me, this Swiss roll is ideal for a hot summer day, when all you can think about is lemonade. Why not make a lemon cake as well and indulge in a superb dessert? Lemon juice, lemon zest, and cream cheese filling. Sounds just perfect, right?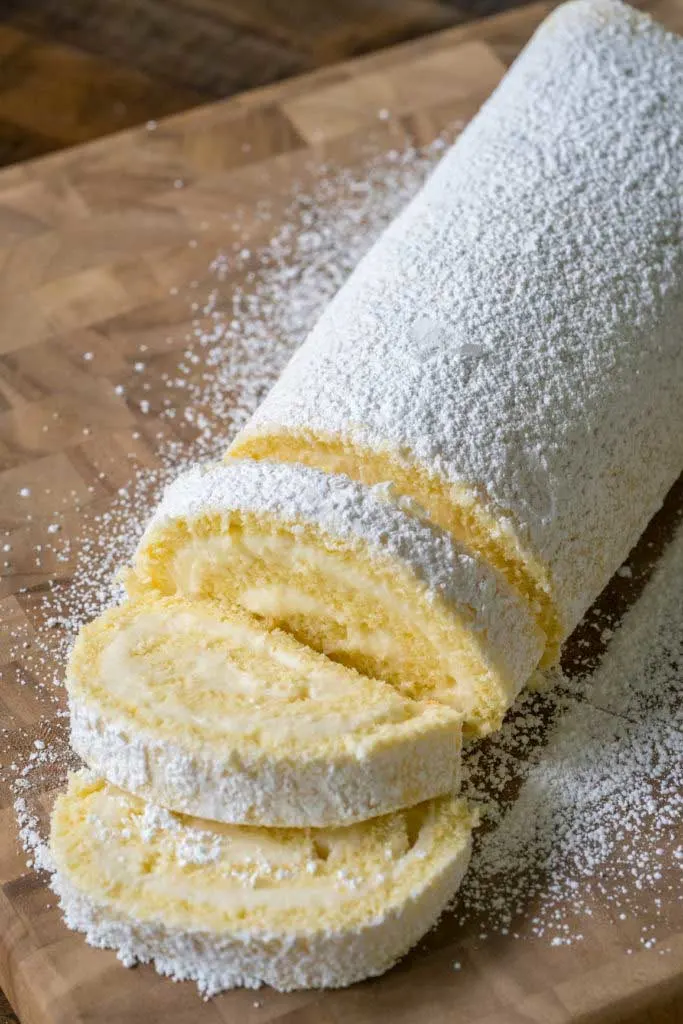 Here's a more special take on the classic Swiss roll. This 'giraffe' roll cake has a special batter that looks like a giraffe and, even though it might look complicated, the process of making it is actually super simple! Add some milk chocolate ganache as a filling and your special dessert is ready to be served and loved. Give it a try, I'm sure you won't regret it!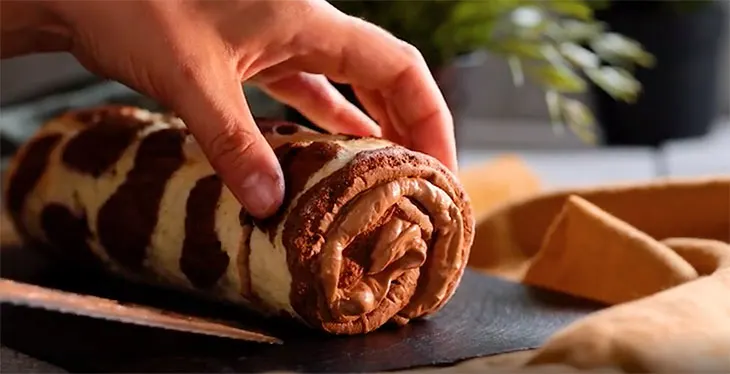 In case you want a super flavorful Swiss roll that's bursting with cookie butter taste, this recipe is for you! All you need are some Biscoff cookies and some patience and this yummy Swiss roll will be halfway ready. By the way, the cookie butter frosting is simply to die for! 🙂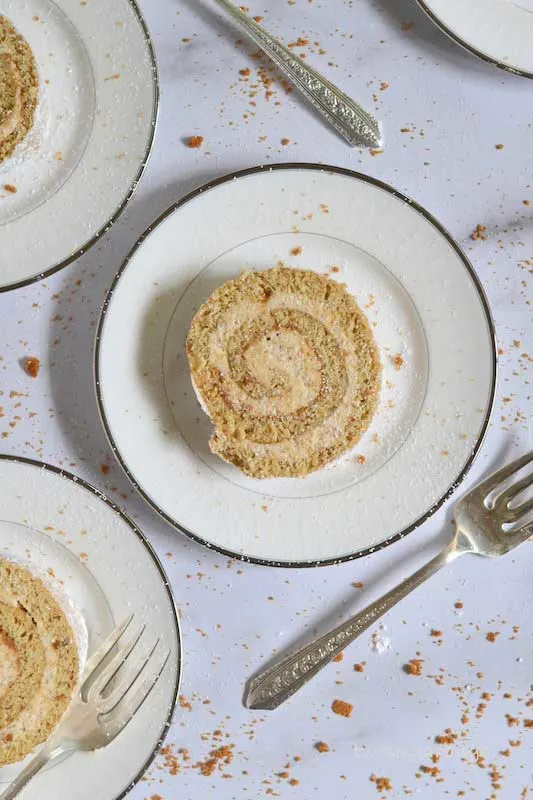 Japanese sweets are known for the airy, spongy texture and this fresh strawberry and cream cake roll is no exception! It's extremely subtle but the strawberry flavor is definitely there. So I recommend it if you're craving something sweet, but you don't want to go overboard with a full cake. If that's the case, then you should give this Swiss roll a try!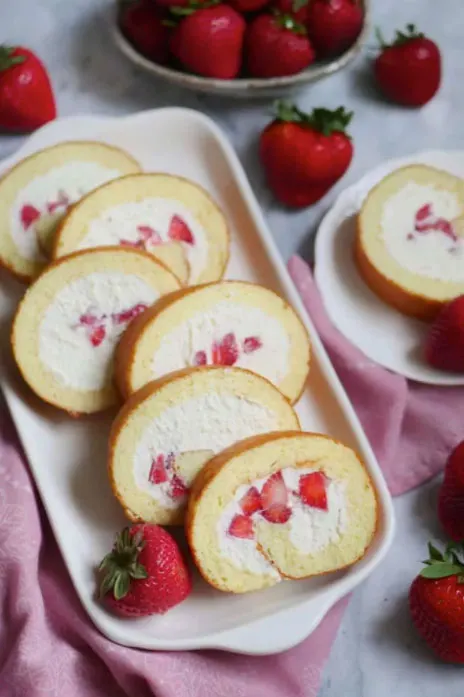 I love tiramisu a lot, so when I found this recipe for chocolate tiramisu Swiss roll I couldn't help myself but make it in a second. The taste is incredible and the mascarpone filling couldn't be more delicious than this. A match made in Heaven!