Cauliflower and Cheese Casserole is a healthy, vegetarian comfort food, easy to make and delicious! | Reteta vegetariana de budinca de conopida cu branza si marar, servita cu smantana proaspata.
  Recipe in English
  Reteta in Romana
This recipe was made by my mother. It was absolutely amazing! I'm not a cauliflower fan, I find it a bit tasteless, but this cauliflower and cheese casserole was just perfect! It goes perfectly with cheese and dill. So simple and delicious.
Dear vegs or non-vegs, you will definitely love this cauliflower and cheese casserole recipe! It's the perfect, healthy comfort food! Try it! Looking forward to your feedback! I'd love to make this again and maybe even improve the recipe so if you have any tips, let me know!
[UPDATE] As I gave up dairy recently, I also tried the vegan version for this recipe. I used tofu and mashed potatoes, to replace eggs and cheese. It turned out great! Hope you'll give it a try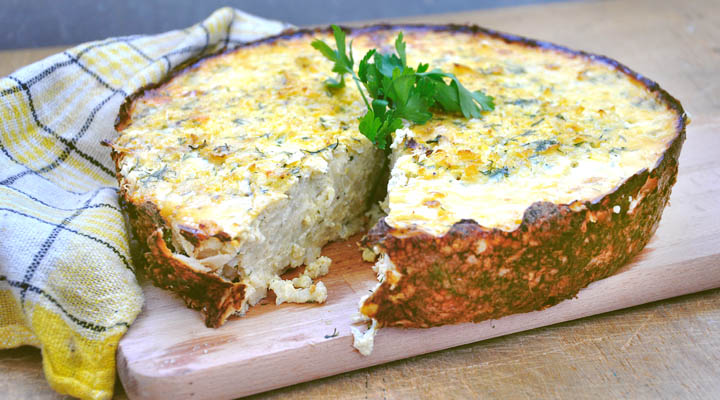 Cauliflower and Cheese Casserole
Cauliflower and Cheese Casserole is a healthy, vegetarian comfort recipe, easy to make and delicious!
Ingredients
1 medium cauliflower
200g cheese

(I used teleme cheese)

| or tofu

(I used smoked tofu)

5 eggs | or 3 potatoes, boiled and mashed
dill
sea salt, to taste
pepper, to taste
Instructions
There are two ways to cook the cauliflower.
With steamer: Just detach the florets and place them in the steamer. Steam for about 20 minutes.
Without steamer: Detach the florets and place them in a medium pot filled with water. Add salt in the water. Boil for 20-25 minutes.
Strain the cauliflower and place the florets in a bowl. Start mashing the florets using a fork.
Whisk the eggs in a medium bowl. /or/ Mash potatoes.
Add crushed teleme cheese/tofu, chopped dill, beaten eggs/mashed potatoes, salt and pepper.
Blend well together. Pour in a casserole and place in the preheated oven. Let it cook at 392 degrees for 20-25 minutes.
http://gourmandelle.com/cauliflower-and-cheese-casserole-healthy-comfort-food/
Copyright: 2014 Ruxandra Micu | www.gourmandelle.com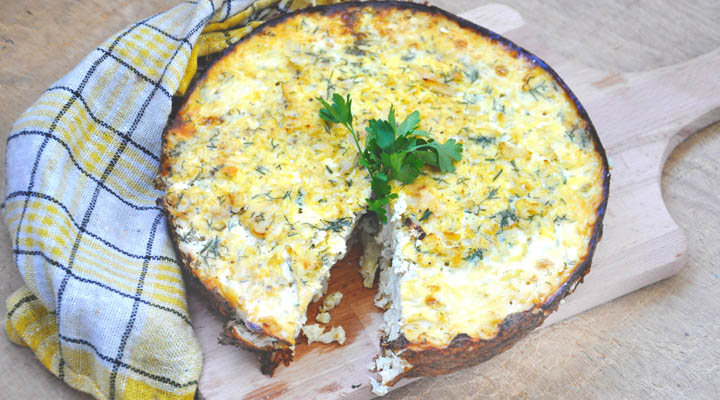 Want other ways to cook cauliflower? This Creamy Cauliflower Salad will become your favorite too!
Reteta aceasta de budinca de conopida cu branza a fost preparata initial de mama mea si a avut un super succes! De atunci am mai pregatit-o de vreo 4-5 ori. Nu ma prea omor eu dupa conopida insa combinatia asta este absolut delicioasa. Merge la fix cu smantana grasa de tara, proaspata si naturala. Eu de curand am renuntat la lactate, asa ca aveti mai jos si un update pentru a face reteta vegana.
Fie ca esti vegetarian, fie ca nu, budinca de conopida cu branza iti va placea cu siguranta. Astept parerile voastre dupa ce o preparati
[UPDATE] Deoarece am renuntat la lactate de curand, am incercat sa fac si varianta vegana a acestei retete. Am folosit tofu afumat si cartofi fierti pentru a inlocui ouale si branza. A iesit perfect! 
Budinca de conopida cu branza
Ingrediente:
o conopida medie
200g branza telemea veche | sau 200g de tofu (am folosit tofu afumat)
5 oua | sau 3 cartofi mari, fierti si pasati
o legatura de marar
sare si piper dupa gust
smantana (optional)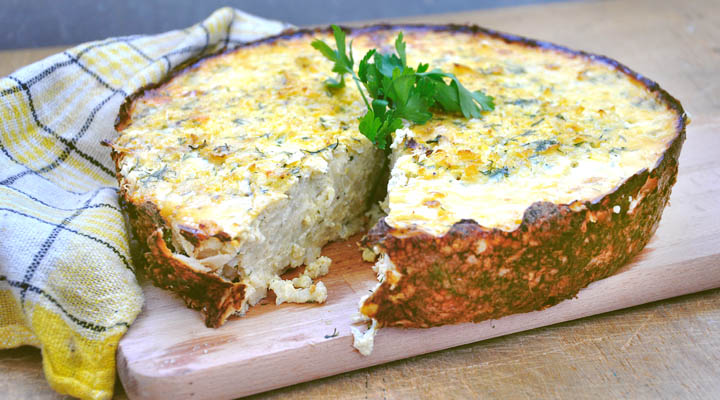 Instructiuni:
Spala bine conopida si rupe-o in manunchiuri mici.
Exista doua metode de a gati conopida, alege-o pe cea mai convenabila pentru tine: 1. cu ajutorul unui cuptor cu aburi: manunchiurile mici de conopida se pun la aburit 20 de minute 2. prin fierbere: 20-25 de minute
Dupa ce e gata, strecoara conopida si pune-o intr-un bol mare. Paseaz-o cu furculita sau cu blenderul vertical.
Intr-un alt bol, bate bine ouale (sau se paseaza cartofii fierti) si apoi adauga-le peste conopida. Paseaza cu furculita telemeaua/tofu si impreuna cu mararul maruntit, sarea si piperul, adauga-le peste conopida.
Amesteca toate ingredientele bine si pune-le intr-o forma de copt sau un vas inalt de yena.
Baga-le in cuptorul pre-incins la 180C si lasa-le sa se rumeneasca aproximativ 20 de minute.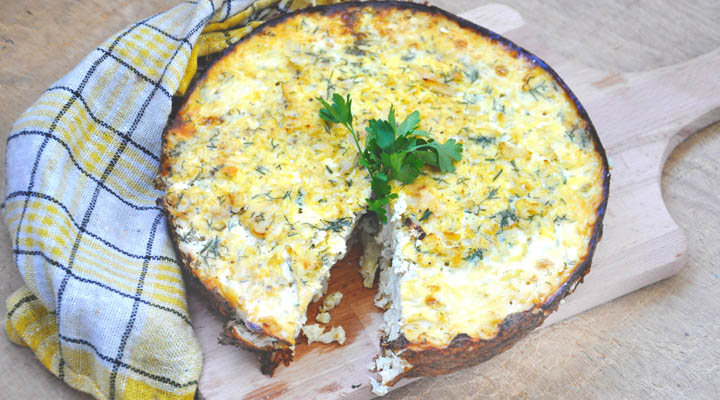 Cauti alte retete cu conopida? Incearca si Salata cremoasa de conopida.