These gluten-free banana muffins are not only easy to make, but also sugar-free! The banana chocolate cream is made with carob powder, so it's healthy too!
I have become a huge baking fan and I can't believe I'm even saying this now! 😀 Since going gluten-free I've been experimenting with lots and lots of new recipes and baked goodies are among them. I never thought baking can be so easy, especially if you're lucky enough to discover some failproof basic recipes you can use over and over again. Now I'm thinking of going to the next level! I want to try even more difficult baking recipes, made gluten-free of course! Wish me luck! 😀
In most cases, baking is not healthy at all. Most of the time, baked goodies are just empty calories, abundant with sugar or salt and other unhealthy stuff. Well, not for me! I try to make baking as healthy as I can. This time, I made these gluten-free banana muffins and they're refined sugar-free too! I wish I could say they are vegan, but I still have more to learn until I master my vegan baking skills. So, until then, I'll use eggs in my recipes, but no dairy!
These gluten-free banana muffins are moist, sweet..but not too much, and have a warm, carob-banana filling which I love! I really hope you'll give them a try, even if you don't have any great baking skills. This is a really simple recipe, anyone can bake! 🙂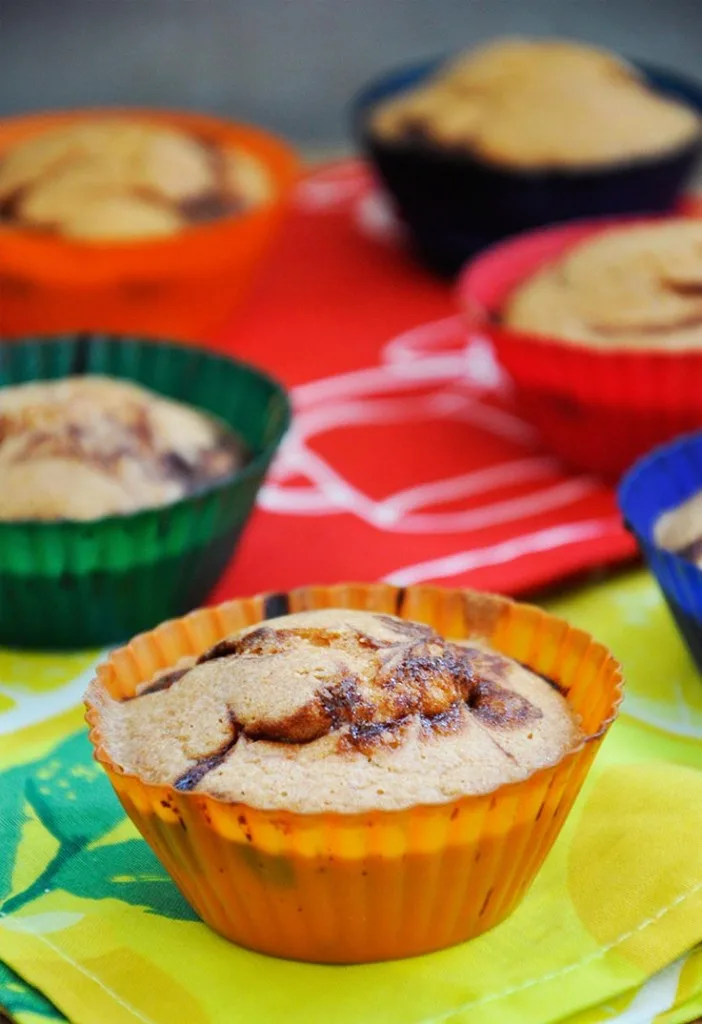 Yield: 12 muffins
Gluten-Free Muffins with Banana Chocolate Cream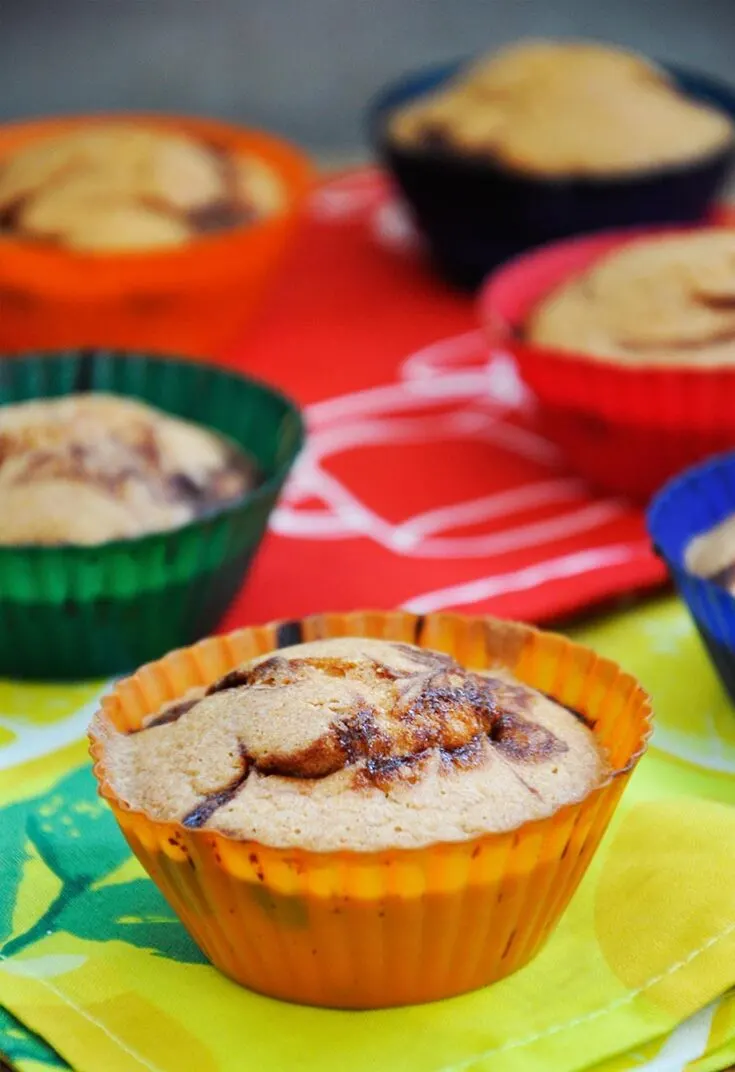 These gluten-free muffins with banana chocolate cream are not only easy to make, but also sugar-free! The banana chocolate cream is made with carob powder.
Ingredients
Batter:
120g (1 cup) Schar gluten-free flour, if you're not gluten intolerant, you can use regular flour as well
4 eggs
10g (2 tsp) baking powder
120ml (½ cup) grapeseed/sunflower oil
4 Tbsps stevia powder, or 5 Tbsps sugar
1 tsp vanilla extract
1 tsp rum extract
Cream filling:
2 very ripe bananas
2 Tbsps carob powder
2 Tbspsstevia powder, or the same amount of sugar - the filling has to be a bit sweeter, because the batter is semi-sweet
Instructions
Separate egg whites from egg yolks.
Whisk egg whites in a large bowl. (you can use a hand mixer or a food processor too)
Add stevia powder, vanilla and rum extract. Mix.
Combine gluten-free flour with baking powder.
Add beaten egg yolks and combine together with the foamy egg whites using a spatula.
Start adding flour in the bowl, little by little, while continuously incorporating using a spatula.
When all flour is incorporated, add oil.
Mix easily until well blended together.
Grease a 12-muffins tray with some oil and powder it with flour, or use paper muffin cups and skip the greasing part.
Add 1 Tbsp of batter in each muffin cup.
Add bananas, carob powder and stevia powder in the blender. Blend until smooth.
Add about 1 Tbsp of filling in each cup.
Cover with another 1 Tbsp of batter.
If bits of chocolate cream are still visible, you can use a toothpick and create cute swirls on top.
Bake in the preheated oven at 180C for 25min. Check with a toothpick if ready.
Notes
Very important! I know that stevia powder is supposed to be 300 times sweeter than sugar...well the brand that I'm using is not. I found out that stevia powder is sweeter than sugar when sweetening liquids, but when baking though, it has almost the same sweetness as sugar. Maybe it has something to do with the temperature, I don't know. So, the quantities mentioned are almost the same with the quantities I use for regular sugar.
Nutrition Information
Yield
12
Amount Per Serving
Calories

137
Total Fat

3g
Saturated Fat

1g
Trans Fat

0g
Unsaturated Fat

2g
Cholesterol

62mg
Sodium

26mg
Carbohydrates

27g
Fiber

1g
Sugar

3g
Protein

5g
I strive to keep the information as accurate as possible but make no warranties regarding its accuracy. I encourage you to make your own calculations using your preferred nutrition calculator.