Can you believe this is a sugar-free meringue tart?! Plus, this meringue tart is also gluten-free and dairy-free, so it's pretty much an awesome diet-friendly, guilt-free dessert!
I just fell in love with Green Sugar! I was looking for a great substitute for refined sugar in baked goodies, but I never seemed to find a good one. I tried coconut sugar, molasses, brown sugar, but all of these are good only in dark colored desserts, such as chocolate goodies. Last week I was contacted to make a review for Green Sugar, a 0-calorie healthy sweetener made of stevia extract and erythritol. I accepted and I'm glad I did!
Firstly, I was worried about the taste. I've been using liquid stevia extract for a while, mainly for sweetening tea or other liquids. I've never used it in desserts because the taste is not really that good. It has a somehow bitter taste. The great thing about the Green Sugar products is that they're based on stevia extract, but they're also combined with erythritol, a natural sweetener extracted from organic non-GMO corn. This combination makes it sweet like sugar, but without the subtle bitter taste stevia has.
One other great thing about it is that it has 0 calories!! Yes, you've heard it right, it's not only healthy but it won't make you fat either! This is my dream. Now I can eat all the sweets I want without getting fat! Hehe 😀
The ultimate test for this healthy sweetener was to use it to make meringue. And it passed the test with a perfect score! I made a great meringue with it. So, it's good for any kind of dessert you want to make. Just use it like regular sugar.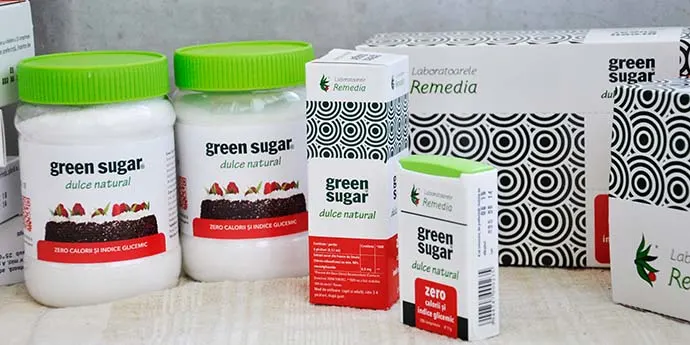 That being said, if you want a healthy, guilt-free dessert, you should definitely give this sugar-free meringue tart a try! The slightly sour taste of the apricots goes great with the sweetness of the foamy meringue. Plus the textures go very well together.
This meringue tart is also gluten-free and dairy-free. The crust is made with carrots and zucchinis, so it's a great way to trick your kids into eating more veggies :). It's not difficult to make at all. Hurry up and start baking it! 🙂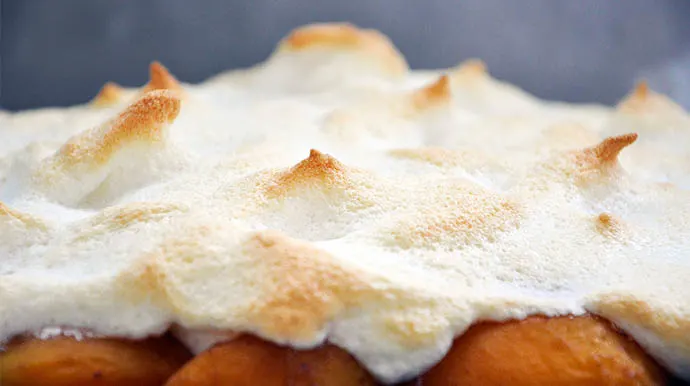 Yield: 8
Sugar-Free Meringue Tart with Apricots | Gluten-Free | Dairy-Free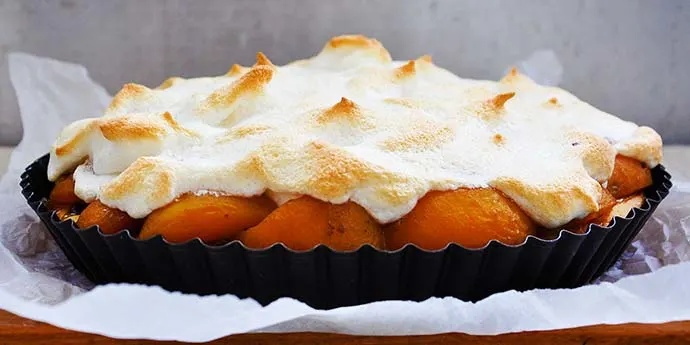 Can you believe this is a sugar-free meringue tart?! Plus, this meringue tart is also gluten-free and dairy-free, so it's pretty much an awesome diet-friendly, guilt-free dessert!
Total Time
1 hour
5 minutes
Ingredients
Crust:
2 carrots, grated
2 small zucchinis, grated
4 egg yolks
1 tsp baking powder
1 Tbsp stevia powder
1 tsp vanilla extract
200g (7 oz) Schar gluten-free flour
Composition:
approx. 10 big apricots, sliced and pitted
80g (½ cup) raisins
4 Tbsps stevia powder
200ml (6.7 oz) water
1 tsp ground cloves
Meringue:
4 egg whites
1 Tbsp stevia powder
1 tsp vanilla extract
Instructions
Pre-heat oven at 392F/200C.
Grease the tart form with some oil. Mine is approx. 30cm in diameter.
Separate egg yolks from the egg whites.
Crust:
Blend together all crust ingredients, except flour. After they are well blended together, start adding the gluten-free flour mix, little by little, until it is well incorporated.
Pour the composition in the tart form and put it in the oven. Let it bake for 40 minutes.
Composition:
Put the sliced apricots in a skillet over medium heat. Add Green Sugar, raisins, water, and cloves. Stir continuously until the water pretty much evaporates.You'll get a sticky syrup texture and slightly cooked apricots.
Sugar-free meringue:
Whisk egg whites until foamy. Add Green Sugar and vanilla extract. Blend together slowly, so you won't lose the air bubbles.
When ready, take the tart out of the oven. Add the composition and top it with the foamy meringue. Put it in the oven for another 10 minutes at a maximum temperature of 150C/302F.
Nutrition Information
Yield
8
Amount Per Serving
Calories

127
Total Fat

3g
Saturated Fat

1g
Trans Fat

0g
Unsaturated Fat

2g
Cholesterol

92mg
Sodium

102mg
Carbohydrates

30g
Fiber

2g
Sugar

5g
Protein

6g
I strive to keep the information as accurate as possible but make no warranties regarding its accuracy. I encourage you to make your own calculations using your preferred nutrition calculator.