Chocolate Covered Frozen Banana and Peanut Butter Bites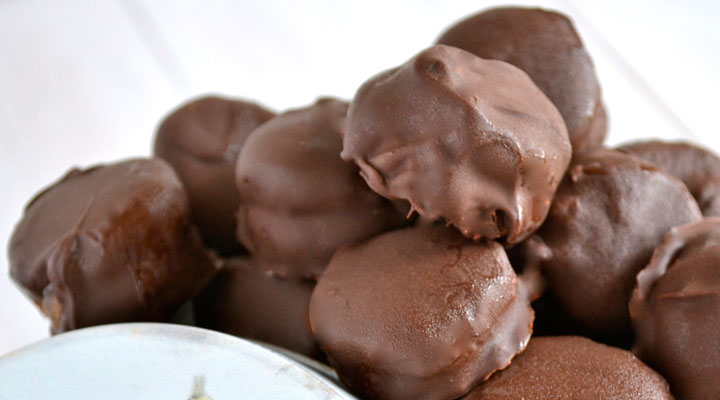 Recipe also on Marie's blog: http://bit.ly/QyWwjt
The title says it all. It's pure happiness : a crunchy chocolate cover with a frozen banana and peanut butter core. Decadent and chilling at the same time. If you've been suffering from the heat wave, this is kind of the perfect treat for you.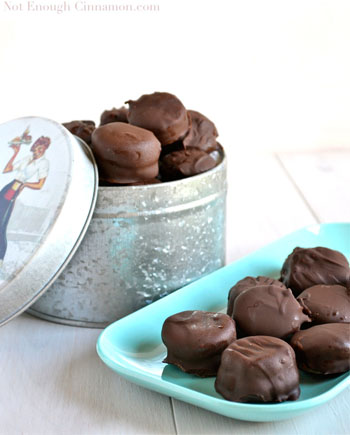 I've always loved frozen bananas, I think it's  the perfect snack or easy dessert. Add some peanut butter and I'm a happy woman. And if you like portion control as I do, those bites are your new best friends! But be careful, they are highly addictive, I'm warning you. You might not be able to eat just one or two peanut butter bites (I'm guilty for that one….). The nutritional info is for two bites because I'm pretty sure you won't eat just one. Make sure you have some kids/friends/family around.
This peanut butter bites recipe calls for melted chocolate, so check out this article if you want to learn how to correctly melt you chocolate. Other than that, it's super easy! To dip in chocolate, I've used two forks. You don't need fancy equipment.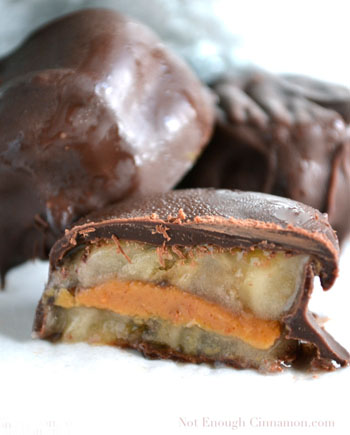 Make sure to choose medium ripe bananas. Unripe bananas would be tasteless and fully ripped bananas too difficult to handle.
Ingredients for about 15 bites:
Directions:
Arrange half of the banana slices on a baking sheet with parchment paper, and spread peanut butter on them.
Top with the other half of banana slices and put in the freezer for about one hour.
Melt 2/3 of chocolate (about 6.5 oz). When still hot, add in remaining chocolate and stir until smooth and shiny (it's called tempering chocolate).
Remove bananas from the freezer and dip them into chocolate. You have to work quickly before the sandwiches start to defrost and get mushy. Remove excess chocolate and put back on the baking sheet.
Freeze at least 3 hours or until ready to serve.
If they're too hard to be eaten right out of the freezer, let them sit for a few minutes at room temperature.
Hi, I'm Marie, a French foodie currently living in Sydney, Australia. I love to cook and create very eclectic recipes, from Asian to Italian cuisine, with a weakness for the good old american classics. And I'm a big cinnamon fan too, in case you couldn't tell from the name of my blog!
Latest posts by Not Enough Cinnamon (see all)