Discover the entire series of posts "What I eat in a day" here .
Breakfast
Today I started the day with scrambled eggs with ramps pesto, made from two large ECO eggs, in which I put 1/2 teaspoon of ghee to grease the pan and 1 tablespoon of ramps pesto from Nera Plant. I discovered this Romanian brand a few weeks ago, looking for natural tinctures and syrups. I warmly recommend it and I will even make a separate post to show you what I ordered from them. The products are made by the nuns from Nera monastery and are very high quality and carefully handcrafted.
I even placed a second order a couple of days ago, this time for their handmade creams. I will tell you more in detail separately and I will update this article with the link.
In addition to the scrambled eggs, I put two slices of soy ham from the Romanian brand Iezeress. I'm not a fan of Deli meats, be they vegan, but I saw these products on a Facebook group and I wanted to test them. I ordered almost every one of their products but I haven't tested them all yet. So far it's kind of hit and miss, some are ok, some are so-so. They still have to work on packaging, branding and some of the recipes.
This vegan ham was good. It's tasty. I also tested the vegan dry salami from them and it was very good, as well as the chicharrones. What I didn't like from what I tested so far was the vegan steak, which is packaged in a jar and comes in a rather sweet sauce. I would recommend them to change the recipe, to make the pieces bigger, flatter, and to be without sauce.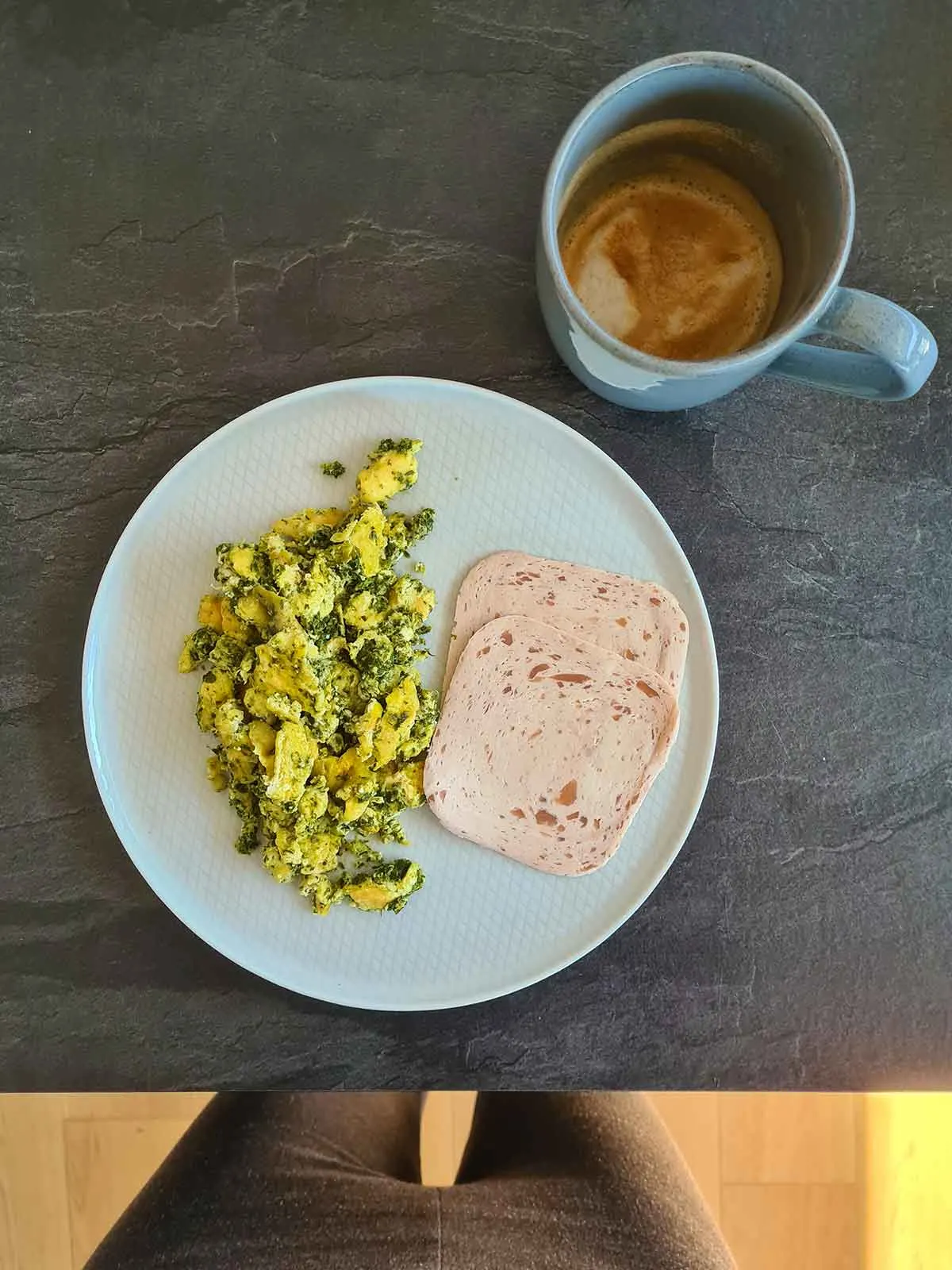 I also made myself a coffee with vegetable milk. I don't drink coffee every day, but sometimes I feel like it. I use vegetable milk from Olympus – Corpos Almond. It seems to be the best vegetable milk tested so far and I've tried many. From the taste, the price, to the texture or the degree of foaming in the coffee, it is perfect. There are other veg milks I like, e.g. sometimes I buy Adez or Joya, but by comparison, the one from Olympus is in the first place.
I like coffee with frothy and sweet milk, so I also pamper myself with a drop of salted caramel syrup from Monin. I have more syrups from this brand because I have a pretty well-stocked bar and I also like to experiment with cocktails. I will soon buy a Pumpkin Spice syrup, as last fall I missed the stock and bought a Winter Spice syrup instead. That one is good but I'm not a huge fan of gingerbread flavor, so I still have more than half a bottle remaining to this day. The salted caramel one is WOW and the bottle is almost empty. I also sometimes put in ice cream made from bananas, just a teaspoon, for flavor. It's a good trick to get a simple banana ice cream out of anonymity.

Ever since autumn came, I have started my ritual. I start a process of 'vitaminization' and strengthening my immunity, I do this every year and no disease has affected me. Sea buckthorn juice is part of this health-boosting ritual. This year I bought two large bottles of sea-buckthorn juice from Orange Valley. I ordered them online. It is very good, it is not diluted, I recommend it. In addition to sea buckthorn juice in the morning, I also take sea buckthorn with honey, drink certain teas and take tinctures or certain vitamins. If you are interested in the subject, leave me a comment and I can detail it in a separate post.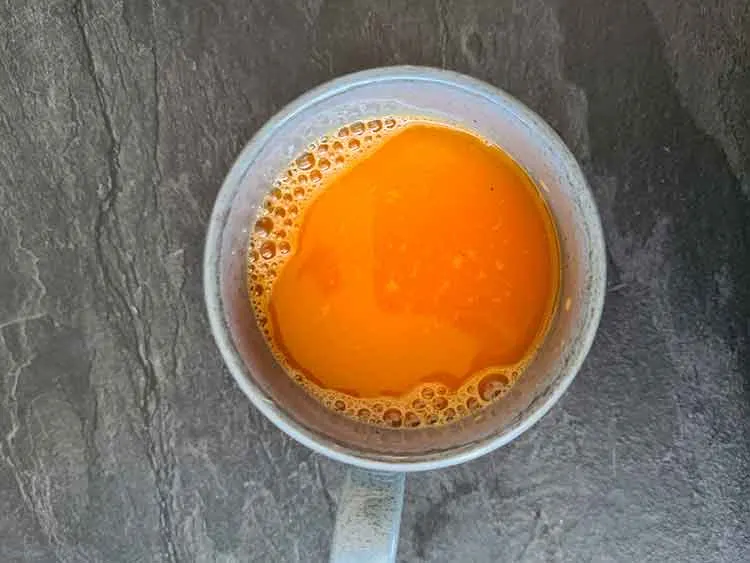 Lunch
For lunch, we indulged in some protein pasta with ramps pesto, capers, green pepper, grated Pecorino Romano, and vegetable cream from Alpro Rice. In Costin's case, I also put some shrimp.
This protein pasta is a recent discovery, since my last order from Vegis, and it will definitely become a staple food in my pantry. It's from MAXSPORT and they have several types of different protein pasta to choose from. I bought a package from each type, but I'm already preparing to place another order so I'll have more in the house. The ones tried today were green soy fettuccine and they have 42% protein! To my surprise and the taste was very good. Honestly, I didn't expect it, because I had tried some chickpea protein pasta in the past, which was a bit of a horror experience, but I was pleasantly surprised by these and I'm curious to test the others.
The ramps pesto is the one mentioned at breakfast, from Nera Plant. Of course, you can also use normal basil pesto, in which case I would recommend you to add some garlic in order to achieve the similar flavor.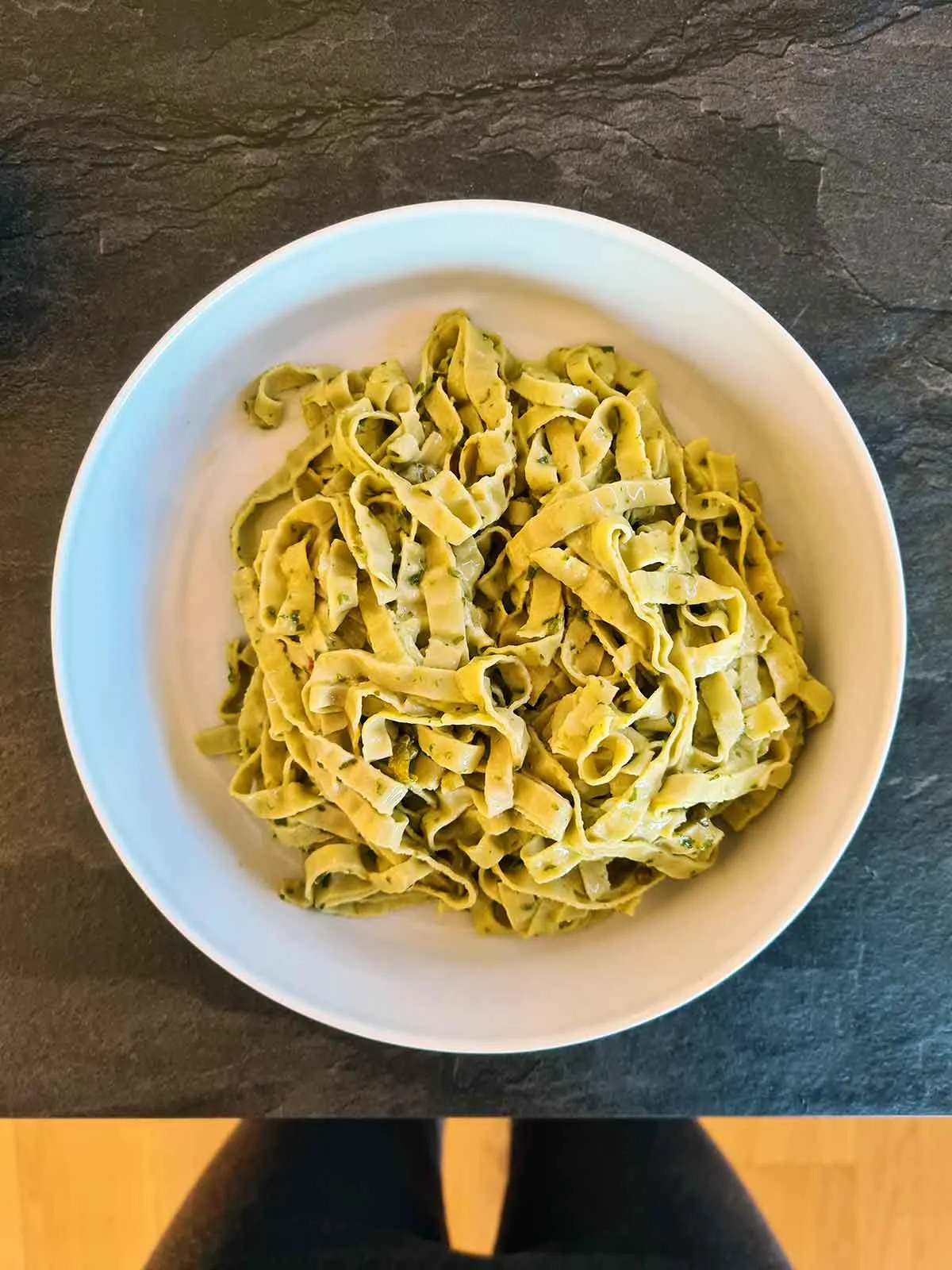 Dinner
For dinner, we simplified the meal and ate a large salad with herbs and different leafy greens from the garden, cucumbers, cherry tomatoes, and a simple dressing of lemon juice and olive oil.