This gluten-free green pea tart recipe is just perfect for this season! It has a fresh taste, it's easy to make and I'm sure you'll love it too!
The same week I made this vegan tomato tart, I also made this green pea tart, along with some other awesome tart recipes I didn't have time to photograph. It was Tart Baking Day every day! 🙂 It all started with me trying to make gluten-free puff pastry which was a HUGE FAIL, but that's a story for another time. 🙂
I love this simple tart recipe, with an extra-easy gluten-free tart crust. It was one of my favorite tart recipes I made that week. Plus, it's vegan too! 🙂
I find the combination between green peas and mint absolutely divine! I've used it in a couple of recipes so far, like this delicious warm green peas salad, and I love it!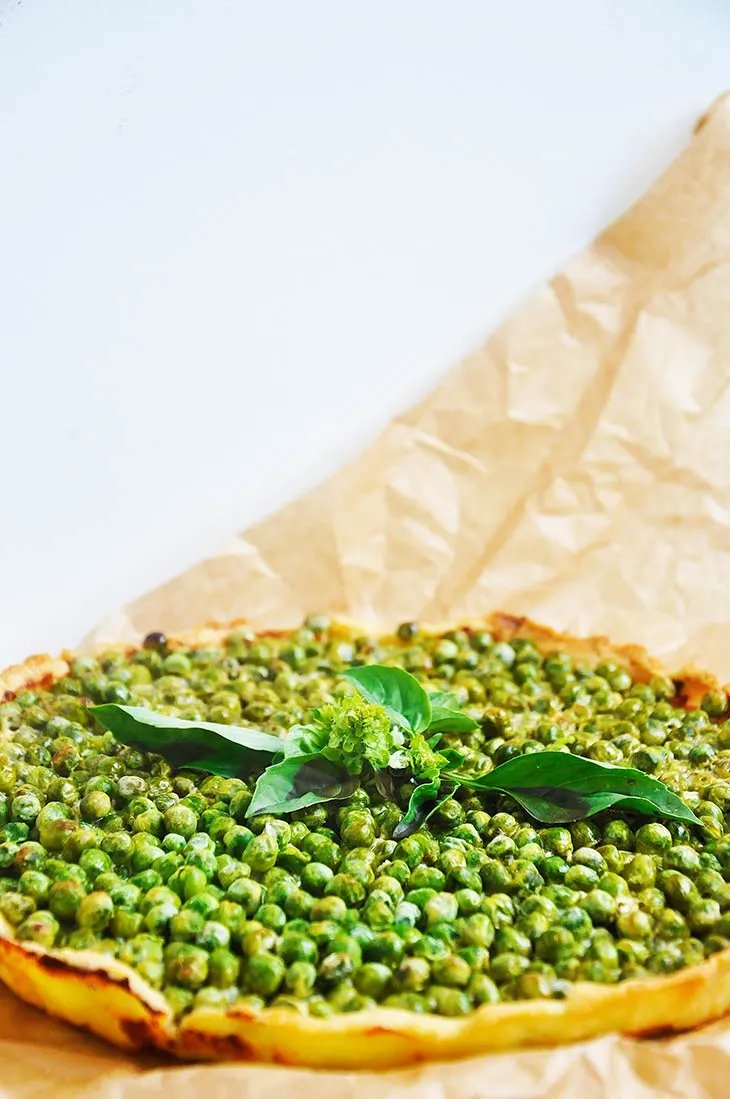 I'm sure you'll love this easy green pea tart too. The tofu cream tastes like cheese! You won't believe how good it is. If you're not vegan and don't like tofu (although I don't understand why anyone would hate ?! :)it ) then you can also use feta cheese or ricotta. Or why not, both combined. It will be just as good.
So, here it is! Enjoy my green pea tart recipe. If you give it a try, let me know if you liked it in the comment section below. Hugs! 😀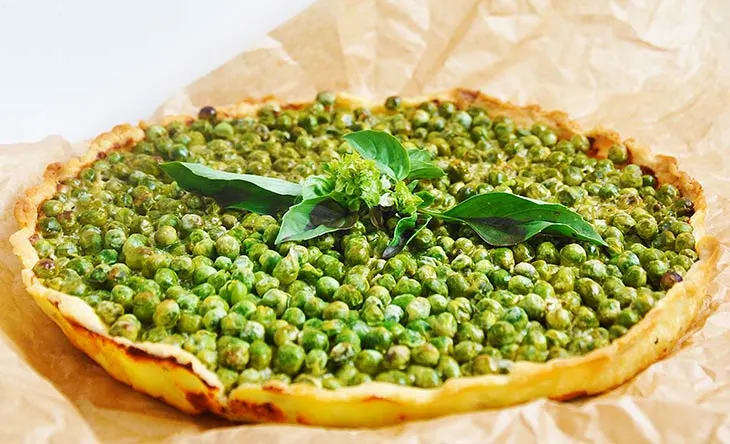 Yield: 4-6
Gluten-Free Green Pea Tart with Mint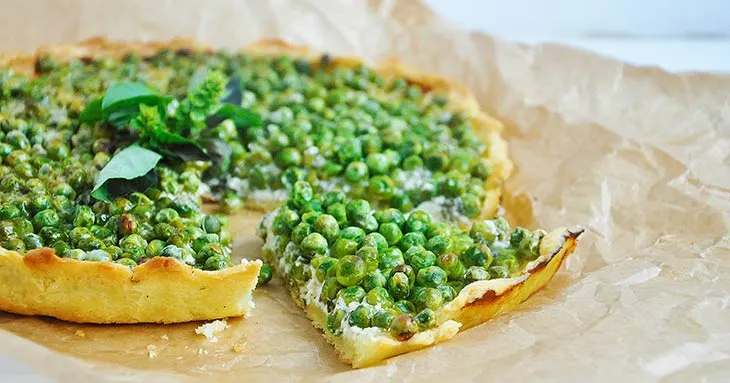 This gluten-free green pea tart recipe is just perfect for this season! It has a fresh taste, it's easy to make and I'm sure you'll love it too!
Ingredients
Crust:
120g (1 cup) gluten-free flour, I used GF flour by Schar
4 large Tbsps coconut oil, softened at room temperature (or regular butter, if you're not vegan)
80ml (⅓ cup) water
½ tsp baking soda
Toppings:
500g (17.5 oz) frozen green peas
250g (1 cup) firm tofu, drained (If you're not vegan you can use feta cheese too, or ricotta)
12g (½ cup) chopped fresh mint leaves + some more for garnishing, I forgot to leave some for garnishing so I put basil instead
1 onion, chopped
2 tsps oregano
Instructions
Heat oven at 375F.
Add all crust ingredients in a medium bowl. Mix them well using a fork.
Place the bowl in the fridge for a couple of minutes.
Add mint, onion, tofu, oregano in the food processor. Blend until smooth. Don't add any extra salt, I find tofu salty enough. So is teleme cheese if you want to use it instead. If you use ricotta, then you should add some salt.
Take the bowl out of the fridge.
Grease a tart pan with some coconut butter.
Now, if you want to make this tart quickly, proceed to the next steps. If you want to be able to shape the tart dough, you'll have to leave it in the fridge for at least 30 minutes.
Pour the crust dough into the pan.
You'll see that the crust dough will be extra sticky and wet. This is how it is supposed to be. You'll get an incredibly tender tart crust. Start spreading it all over the pan using a fork or a spoon. (Alternatively, you can leave it the fridge for about 30 minutes. It will get easier to shape)
Add tofu cream and spread it evenly.
Add green peas.
Drizzle with some olive oil on top.
Bake in oven for ~30 minutes.
Notes
I used a tart form with approx. 30cm in diameter.
Nutrition Information
Yield
6
Amount Per Serving
Calories

261
Total Fat

12.2g
Carbohydrates

27g
Protein

10.7g