Don't let the appearances fool you, this immunity booster green smoothie is delicious, packed with nutrients and will get you back on your feet in no time!
I've been having some minor health problems lately. My immunity seems to be a bit low and I've been catching colds way too often. This is the main reason I don't like winter…not so many fruits and vegetables available at my local farmers' market and also because it's too cold outside, I don't feel like eating raw and prefer cooked meals instead.
I recently found an awesome Romanian website which sells all kinds of plant based powders like Spirulina or Chlorella powder and even "not-so-common" plants like Catuaba or Brahmi. I've been taking spirulina pills but they seem so expensive compared to these powders! 1 spirulina capsule usually contains 500mg-1g of spirulina powder and I paid less than 10$ for 125g!! Unfortunately, I don't know if they ship internationally but if you want I'll ask. Anyway, they import most of their products from UK as I've seen so I'm sure you'll find some great websites where you can buy these healthy powders at affordable prices.
Now, about this immunity booster green smoothie … It does look a bit GROSS right?! 😀 Yep, I know it's not very appealing but TRUST ME it's DELICIOUS!!! Don't let the appearances fool you because this immunity booster green smoothie is pure awesomeness!! I usually drink about 1 glass and a half of green smoothie each morning and the great thing is that it's ready in less than 5 minutes! I add lots of powders because I need a quick immunity boost but it's not necessary to add all of them. In the ingredients list below I'll put a number after each ingredient: 1 means it's very important, 2 – important but can be skipped if you don't have it, and 3-optional.
Very important!! Keep in mind that you should respect the recommended dosage for each one of these powders. For spirulina and chlorella, it's ok if you add a bit more but for Ginkgo Biloba or Catuaba this can be dangerous! I consider that it is enough to drink one smoothie like this per day in order to increase your immune system's power. If you want to know more about each ingredient in this smoothie, read the brief descriptions below.
Here are other healthy smoothies I made so far: "Fiber Boom!" Banana Breakfast Smoothie, Super Antioxidant Pumpkin Smoothie and Summer Watermelon & Oranges Smoothie.
Yield: 2 glasses
Immunity Booster Green Smoothie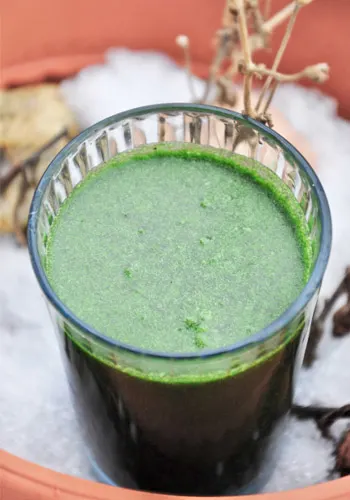 Don't let the appearances fool you, this immunity booster green smoothie is pure awesomeness!!
Ingredients
2 bananas
500ml (2 glasses) water
1 tsp Echinacea tincture or extract
½ tsp Spirulina powder
½ tsp Chlorella powder
⅓ tsp Barley grass powder
⅓ tsp Wheat grass powder
1g Catuaba bark powder
120mg Ginkgo Biloba powder – just a tiny pinch
1 g Ginseng powder
1 tsp raw organic coconut oil
2 tsp Ginger syrup – you can add any other healthy sweetener
Instructions
Just throw them in your blender and blend well.
Nutrition Information
Yield
2
Amount Per Serving
Calories

258
Total Fat

2.5g
Carbohydrates

31.5g
Protein

2.3g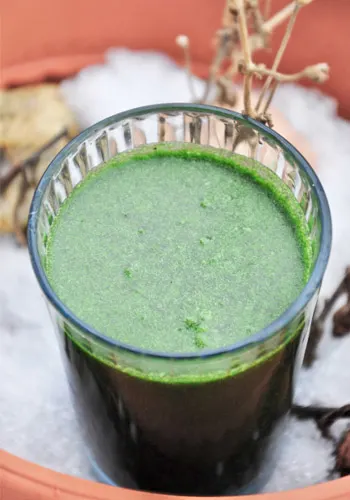 ECHINACEA
This herb boosts the immune system and reduces many of the symptoms of colds, flu and some other illnesses, infections, and conditions. Echinacea can reduce a person's chances of catching a cold by approximately 58%.Echinacea is also known as a "blood purifier" and recommended in infections.
COCONUT OIL
Coconut oil has been found to benefit digestive disorders including irritable bowel syndrome and microbial related tummy bugs. Coconut oil also protects against insulin resistance, reducing the risk of type 2 diabetes. It is made up of healthy fats lauric acid, caprylic acid and capric acid which contain antifungal, antibacterial, antiviral prosperities to boost the immune system. Coconut oil also boosts metabolism and helps you lose weight.
Spirulina is an algae and is one of the richest beta carotene foods. Spirulina is an ideal anti-aging food; concentrated nutrient value, easily digested and loaded with antioxidants. Beta-carotene is good for healthy eyes and vision. Spirulina beta carotene is ten times more concentrated than carrots.
CHLORELLA
Chlorella contains all the B vitamins, vitamin C, vitamin E, and the major minerals. It has been found to improve the immune system, improve digestion, detoxify the body, accelerate healing, protect against radiation, aid in the prevention of degenerative diseases, help in the treatment of Candida albicans, relieve arthritis pain and helps you in your weight loss process.
Barley grass powder is very easily digested and has very strong alkalizing effects on the body. Barley grass is helpful against diabetes, asthma, reduces inflammation, reduces low-density lipoprotein (LDL) cholesterol (the 'bad' cholesterol) levels, improves skin health, helps in cell DNA repair and acts as a free radical scavenger. It is also recommended for cancer patients as it has great anti-tumoral properties. These are just some if it's wonderful benefits!
Wheatgrass Juice is one of the best sources of living chlorophyll available, which has the ability to draw toxins from the body like a magnet. It is very high in vitamins A, B-Complex, C, E and K, contains beta-carotene, cleanses, purifies and feeds the body by activating the white blood cells, which boost the body's immune system.
Catuaba bark is for enhancing the libido and enhancing the mood, aiding with symptoms of depression and anxiety. Catuaba bark is also said to have antibacterial and antiviral properties and it's great for treating infections.
Ginkgo Biloba has shown to benefit circulatory disorders, improving all over blood flow, especially to the brain.Ginkgo Biloba also contains antioxidants known to fight cell damage. This herb has shown effective in the treatment and prevention of Alzheimer's disease and dementia.The respiratory system can benefit from Ginkgo Biloba. Asthma has shown to improve after being treated with this natural herb, benefiting bronchitis. Allergies have also shown to improve from Ginkgo Biloba use. VERY IMPORTANT! Don't use Ginkgo Biloba over long periods of time and never use more that the recommended dosage (120mg). A 1-month treatment, 2-3 times per year is enough.
Ginseng can be used to improve the health of people recovering from illness. Ginseng can be used to help with erectile dysfunction, hepatitis C, and symptoms relating to menopause, and can also be used for lowering blood glucose levels and controlling blood pressure. It has also been shown to reduce the levels of stress in both men and women.