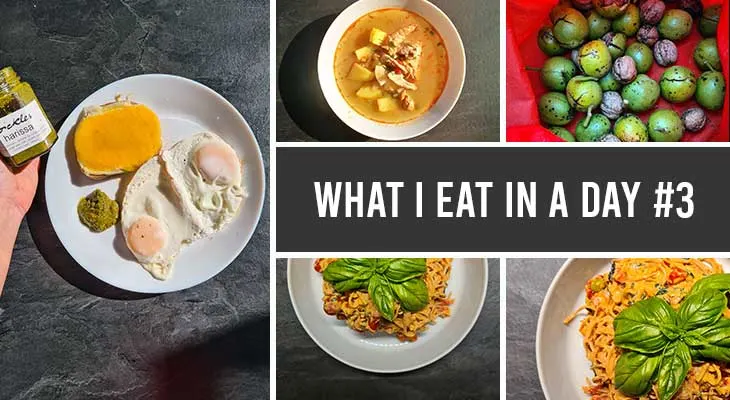 Discover the entire series of posts "What do I eat in a day" here .
Breakfast
Today for breakfast I had the craving for a slice of toast with melted cheese and sunny-side-up eggs. As simple as it is, it is delicious and it is very suitable even for those of you who manage your daily caloric intake. Estimated, the total caloric intake is around 380-400kcal. As I told you before, I am currently paying more attention to what I eat and choose protein-rich foods. This is a high-protein breakfast, quick and easy to make and very satisfying.
I rarely eat bread, so I usually buy bread from Vel Pitar – Whole Wheat (I think it's the best-sliced ​​bread on the market, in Romania) that I keep in the fridge so it doesn't spoil. For both of us, a whole bread lasts about 2 weeks. I used a single slice of whole wheat bread.
Because I ran to Lidl yesterday and couldn't resist not buying something from the cheese aisle, I indulged myself with some slices of Gouda, Maasdam, and aged Cheddar. For this toast, I used half a slice of Cheddar and half a Maasdam. I simply put them over the slice of bread and baked it in the oven for a few minutes, using the convection top grill function.
I also fried two eggs, sprinkled with a little salt, and served them with some harissa sauce that I bought last weekend when we had brunch at Pickles.
By the way, I recommend this chic little restaurant in the Rosetti area. I ate a grilled cheese sandwich with chanterelle mushrooms which was amazing and for the first time, I tried the fried pickles. Crazy good!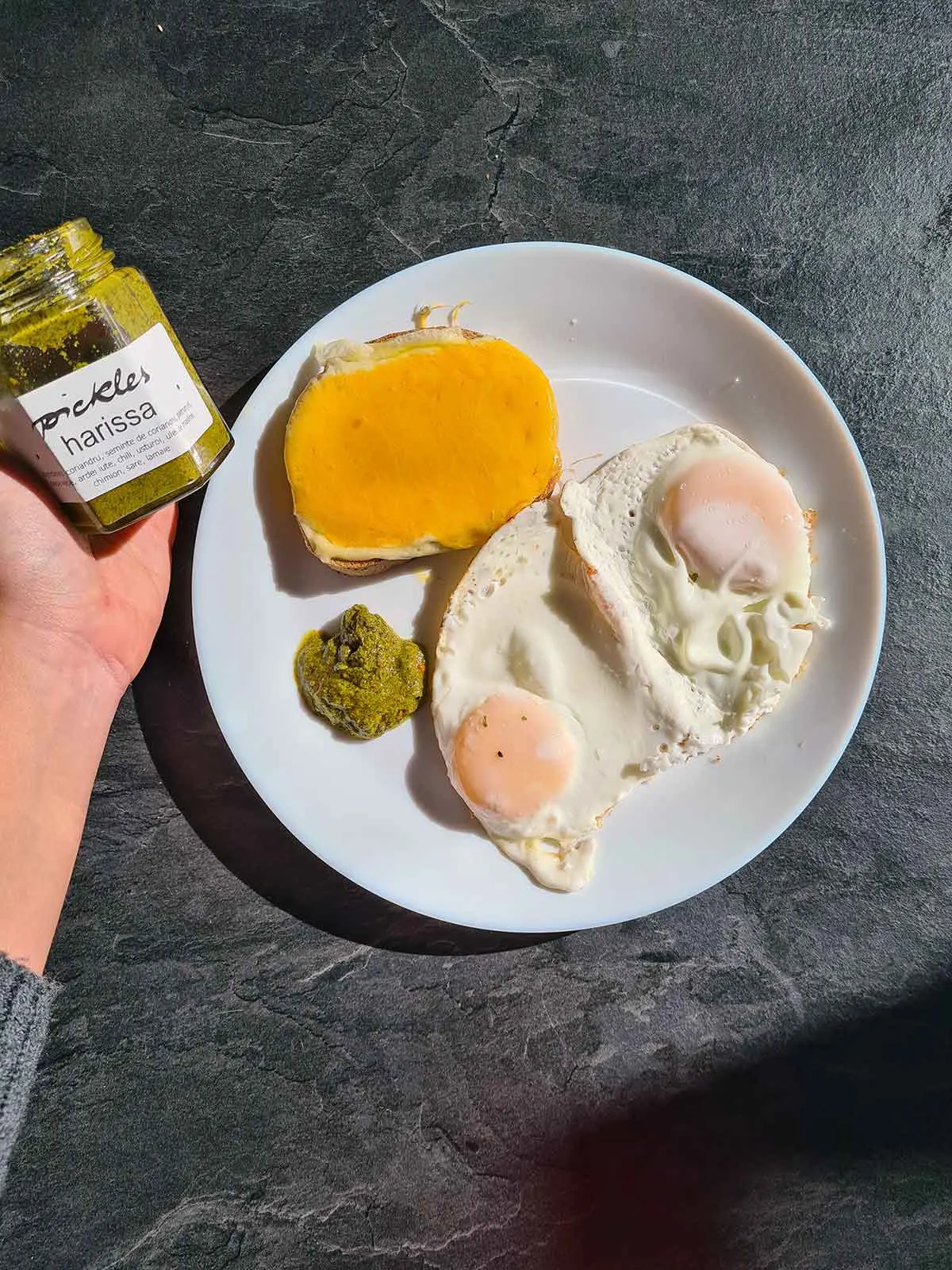 Lunch
For lunch, I made a simple soup with potatoes and soy, made sour with the remaining juice from a jar of pickles and flavored with smoked paprika. I also added a handful of dehydrated vegetables (I really like the ones from Niavis). To imitate the meat, I added half a bag, about 50g, of textured soy protein – noodles. As for the herbs, I thought it went very well with chopped dill. I didn't have it fresh so I used it dry.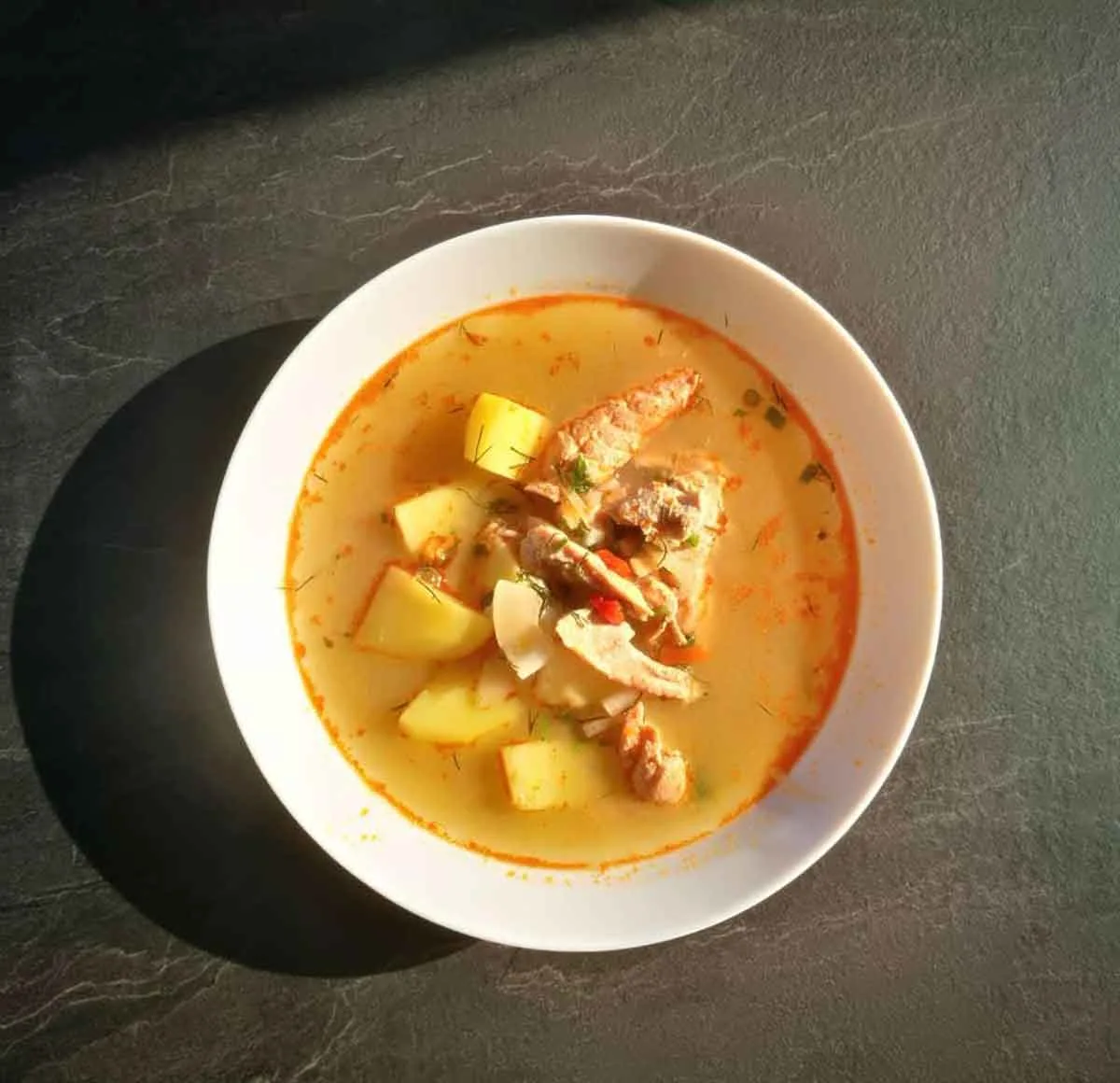 Snack
We went to pick the fallen walnuts in the garden and as a snack, we enjoyed the wonderful taste of fresh walnuts.
Caution – use gloves when cleaning the nuts shells. I learned it the hard way. :)) Also, when they are fresh, it is good to peel the skin also. They are much sweeter this way.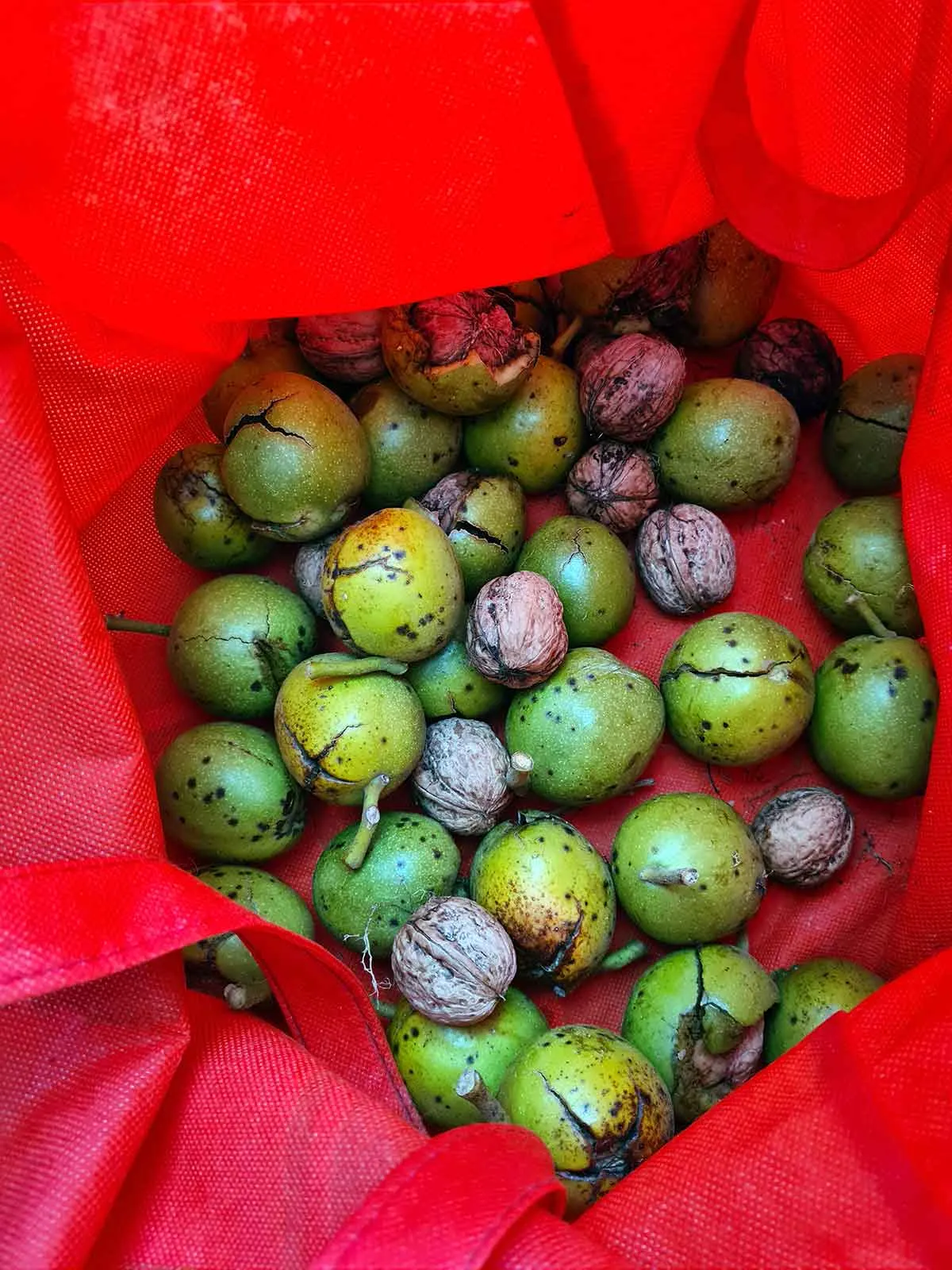 Dinner
Here's another protein pasta meal, similar to the one I showed you in the second article of this series. I love this new brand I discovered, MAXSPORT – they have amazing protein-rich pasta with over 40% protein! This time I tried Adzuki bean pasta.
Inspired by the reddish color of Adzuki bean pasta, I decided to combine them with cherry tomatoes and basil. I had some already roasted cherry tomatoes in the freezer, with garlic, spices and a little olive oil, so I used those directly from the bag. You can also use fresh tomatoes, just add fresh basil, sliced ​​garlic and a little olive oil to the mix. Cook them until they soften and only after add the pasta. For the cream sauce, I used Alpro Rice Cuisine.
I hope these ideas inspire you! 🙂