Recipe for vegan chocolate muffins with caramelized walnuts, made healthier using carob powder, mollasses and whole grain flour.  |  Reteta pentru briose vegane cu ciocolata, pudra de roscove si nuci caramelizate, facute intr-o varianta mai sanatoasa cu unt de cocos, melasa si faina integrala. 
  Recipe in English
  Reteta in Romana
A few days ago I was pinning on  Pinterest, when I saw a vegan chocolate muffins recipe, similar to this one. I'm not a huge baking fan. I never follow exact measurements when cooking, and that's why I don't like baking very much. We all know that you have to follow the exact measurements when baking, or else you'll fail big time!  Eh, I decided to give it a try because I was badly craving something sweet.
This Vegan Chocolate Muffins with Caramelized Walnuts recipe is a healthier version of the basic chocolate muffins recipe. First of all, I made it vegan. I also used coconut butter, mollases, carob intead of cocoa, dark chocolate and whole grain flour. Btw, I never thought flaxmeal is such a good egg replacement!
These vegan chocolate muffins are pretty easy to make. The prep time can't take longer than 15 minutes, and the baking takes about half an hour.
Hope you'll give it a try!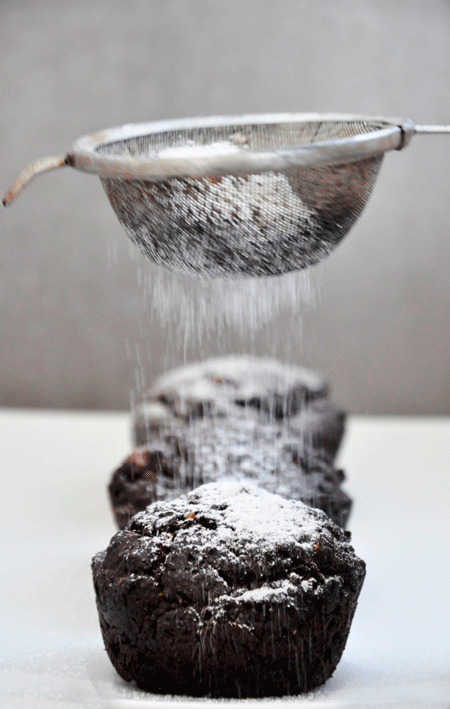 Vegan Chocolate Muffins with Caramelized Walnuts
Recipe for vegan chocolate muffins with caramelized walnuts, made healthier using carob powder, mollasses and whole grain flour.
Ingredients
1/2 cup coconut butter
1/4 cup molasses
2 Tbsps psyllium husks or ground flaxseed + 6 Tbsps water = awesome vegan egg replacement for 2 eggs!
1 tsp vanilla extract
3/4 tsp baking powder
a pinch of baking soda
1/2 cup carob powder
3/4 cup whole grain flour of choice

(I used whole wheat flour but you can use a GF one)

1 Tbsp brown sugar
1/3 cup walnuts, chopped
1/2 cup chocolate flakes/chips
Instructions
Preheat oven to 350 F and grease the muffin tins with some coconut butter. Alternatively, fit each with a paper liner.
Prepare flax/psyllium eggs in a small bowl and let them rest for 5 minutes.
Add 1 Tbsp of brown sugar in a skillet over low temperature. Add chopped walnuts and caramelize them.
Place coconut butter in a large mixing bowl (it should be creamy so leave it at room temperature for a couple of minutes). Stir in the flax eggs, molasses, vanilla extract, baking powder, baking soda and carob powder. Whisk to combine. Add the flour and mix well. Stir in caramelized walnuts.
Scoop batter evenly into the muffin tins. Add a little at first, just enough to cover the bottoms. Add chocolate flakes/chips, then pour in the remaining batter. Be careful to fill only 3/4 of each muffin tin.
Bake for half an hour.
http://gourmandelle.com/briose-vegane-cu-ciocolata-vegan-chocolate-muffins-caramelized-walnuts/
Copyright: 2014 Ruxandra Micu | www.gourmandelle.com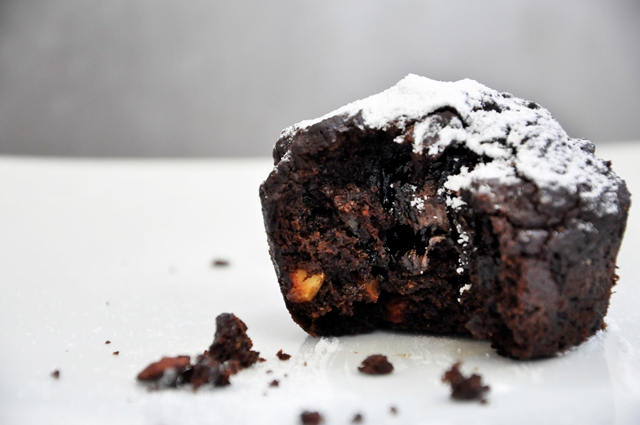 Stateam zilele trecute si admiram retetele de pe Pinterest, cand am zarit o reteta similara cu aceasta pentru briose vegane cu ciocolata. Nu prea ma dau eu in vant dupa deserturile ce necesita coacere. Eu nu gatesc urmand cantitati exacte, ci mai mult dupa ochi, iar in cazul deserturilor de genul asta, daca nu urmezi cantitatile exacte de faina, unt etc. o dai sigur in bara!  Eh, am zis sa le fac ca tot aveam pofta de ceva dulce si bineinteles, am mai adaptat reteta dupa bunul plac.
Reteta asta de briose vegane cu ciocolata este o varianta mai sanatoasa, intrucat am folosit faina integrala, unt de cocos, ciocolata neagra si carob in loc de cacao. De asemenea, fiind vegana, nu am adaugat oua. Chiar am fost extrem de placut surprinsa sa vad cat de bine merg taratele de psylium sau semintele de in macinate, pe post de inlocuitor de ou.
Briosele se fac destul de rapid. Partea propriu-zisa de preparare nu dureaza mai mult de 15 minute. Coacerea mai dureaza inca jumatate de ora, timp in care nu trebuie sa stai sa le pazesti.
Sper sa va placa reteta mea de briose vegane cu ciocolata!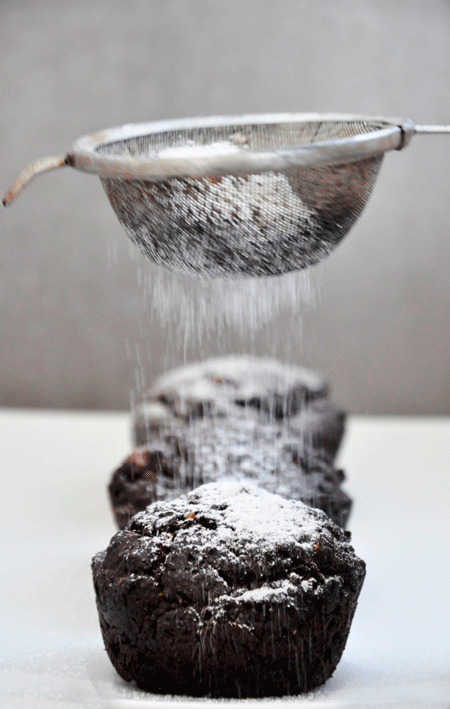 Briose vegane cu ciocolata si nuci caramelizate
Ingrediente pentru vreo 8 briose vegane cu ciocolata:
1/2 cana unt de cocos
1/4 cana melasa sau zahar brun cu continut mare de melasa
2 Lg tarate de psyllium sau seminte de in rasnite + 6 Lg apa = inlocuitor pentru 2 oua
1 lg esenta de vanilie
3/4 lg praf de copt
un varf de cutit de bicarbonat de sodiu
1/2 cana pudra de roscove (carob)
3/4 cana faina integrala
1 Lg zahar brun
1/3 cana nuci, maruntite
1/2 cana fulgi de ciocolata (puteti taia o ciocolata neagra in bucatele mici)
Instructiuni:
Preincalzeste cuptorul la 180C. Unge tava de briose cu unt de cocos.
Pregateste "ouale" vegane: 2 Lg tarate de psyllium sau seminte de in rasnite + 6 Lg apa = inlocuitor pentru 2 oua.
Intr-o tigaie mica, adauga o lingura de zahar brun. Da focul incet ca sa nu se arda. Adauga nucile maruntite si caramelizeaza-le.
Intr-un bol mare adauga untul de cocos (trebuie lasat un pic la temperatura camerei astfel incat sa fie cremos). Adauga ouale vegane, esenta de vanilie, melasa, praful de copt, bicarbonatul de sodiu si pudra de roscove. Amesteca bine folosind mixerul de mana. Adauga treptat faina si incorporeaz-o bine. Adauga nucile caramelizate si amesteca.
Adauga foarte putina compozitie pe fundul fiecarei forme de briosa din tava. Presara fulgi de ciocolata si completeaza apoi cu restul de compozitie, astfel incat fiecare forma sa fie umpluta pe trei sferturi.
Baga la cuptor vreo 30 de minute. Verifica cu o scobitoare inainte de a le scoate din cuptor. Inteapa-le – daca scobitoarea iese curata inseamna ca sunt gata.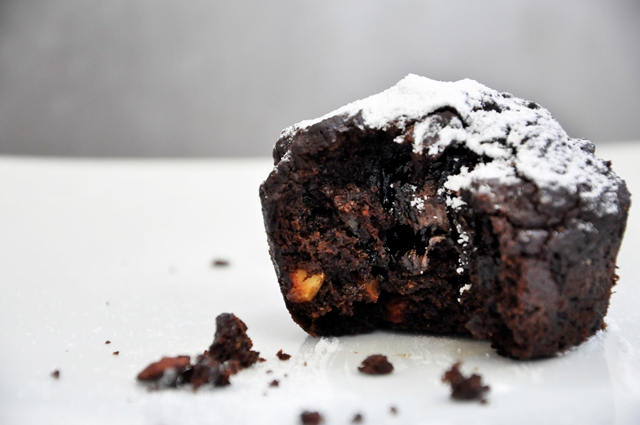 Cooksnaps