Many people have asked me what my daily menu looks like, so I decided to create weekly healthy menu plans for everyone who wants to eat healthy, vegan/vegetarian foods. The vegetarian family meal plan menu is from Monday to Sunday and each day has 6 recipes divided into breakfast, lunch, snacks and dinner. Sunday is a special day and so a delicious dessert will be featured. The vegetarian family meal plan also has photos of each featured recipe. Some recipes can be found here on Gourmandelle, while others are from different food blogs around the web.
What do you think of this vegetarian family meal plan? Is this weekly menu helpful?
Monday
Breakfast
Home Made Granola with Goji Berries and Fresh Cranberries
Lunch
Green Bean Salad with Sun Dried Tomatoes and Basil
Snacks
Guacamole Bruschetta with Baked Cherry Tomatoes  

Dinner
Basic Stuffed Portobello Mushrooms

Tuesday

Breakfast
Thin Green Spinach and Herb Omelettes
Lunch
Basil Tagliatelle with Roasted Red Bell Pepper Salad
Snacks
Savory Tomato & Basil Bruschetta with Balsamic Vinegar
Dinner
Stuffed Aubergines with Garlic Sauce

Wednesday

Breakfast
Lunch
Roasted Tomato and Bell Pepper Soup with Crunchy Sweet Corn
Lemon Cilantro Avocado Pasta Salad
Snacks
Raw Vegan Carob & Almonds Bon Bons
Dinner
Veggies Gratin With Crispy Golden Parmesan Topping

Thursday

Breakfast
Lunch
Spring Vegetable Soup with Pesto
Snacks
Dinner

Friday

Breakfast
Super Antioxidant Pumpkin Smoothie
Lunch
Vegetarian "Beef" Burger | Azuki Beans Veggie Burger
Snacks
Avocado/Ricotta/Tomato Sandwich
Dinner
 Vegetarian Mushroom and Brown Rice Dolmas

Saturday

Breakfast
Lunch
Jerusalem Artichokes (Sunchokes), Potatoes, Garlic Soup
Grated Cauliflower Salad Recipe with Peppers, Carrots & Capers
Snacks
Dinner
Sunday

Breakfast
Lunch
Creamy Mushroom Soup with Thyme & Garlic Flavored Baguette
Snacks
Sunday's Special Dessert
Gooey Chocolate Skillet Cake Ice Cream Sundae
Dinner

Change your lifestyle... today!
Eat better and enjoy cooking! Get personalized recipes and easy-to-use grocery lists in your own meal plan fit for your needs!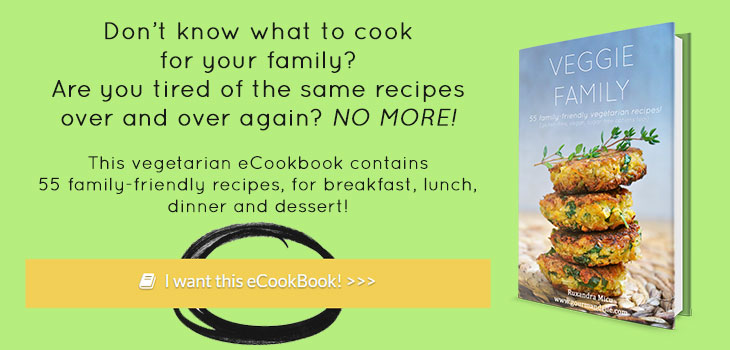 Weekly Vegetarian Family Meal Plan [links]
was last modified:
January 28th, 2016
by