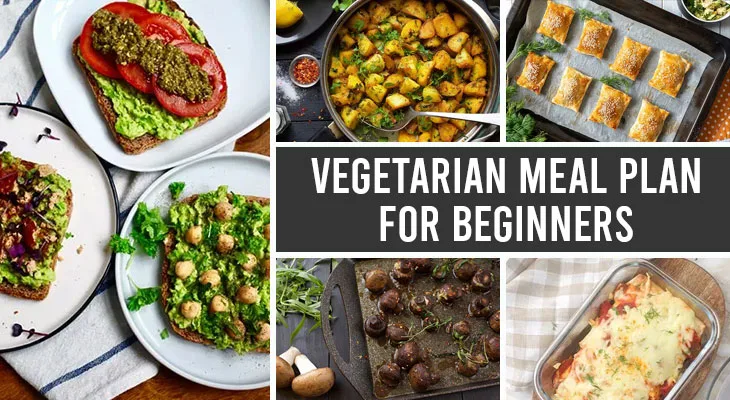 If you need a vegetarian meal plan, you have come to the right place. Here is a quick 7-day vegetarian meal plan with beginner-friendly recipes.
Many people believe that a meatless diet is deficient in protein, but this is just a big myth! The biggest obstacle many face when deciding to eliminate meat from their diet is finding a variety of rich and nutritious dishes that fit into the vegetarian regimen that goes beyond vegetables and fresh fruits.
To solve this problem, I have prepared a list of vegetarian meals for the 7 days of the week. That way, I can give you a little help and a little push to encourage you to start with options for your new lifestyle, as well as some ideas for a vegetarian diet for weight loss!
A 7-Day Vegetarian Meal Plan at Home
Day 1
If you are a breakfast lover, you will love this overnight oat. Prepare this fantastic breakfast ahead of time with no cooking involved. It only takes 5 minutes to combine oat flakes with almond milk, organic chia seeds, natural sweetener and fruit of choice.
Then leave it in the refrigerator overnight, and in the morning it will be ready to enjoy. Serve with your favorite fruits and nuts, and start your day with a meal of wonderful taste!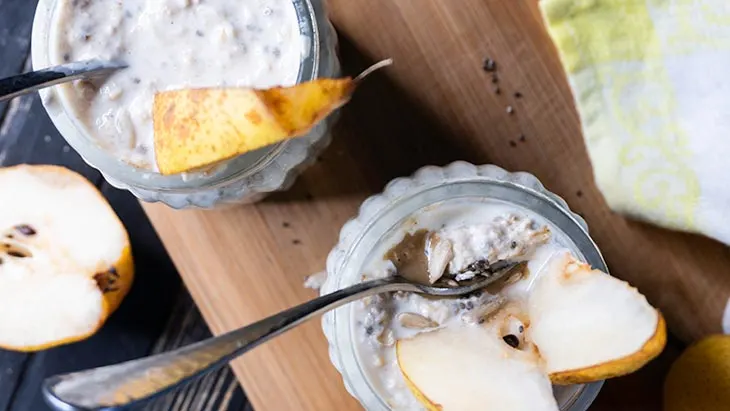 For lunch, you can enjoy a quick soup recipe made with mushrooms and flavored with Asian spices. This soup will last you for 2-3 days, so lunch is covered for the next couple of days as well.
Dinner is light, comfy and easy to make – garlicky sweet potatoes. Just slice some sweet potatoes, season them with spices and lots of garlic and roast them in the oven.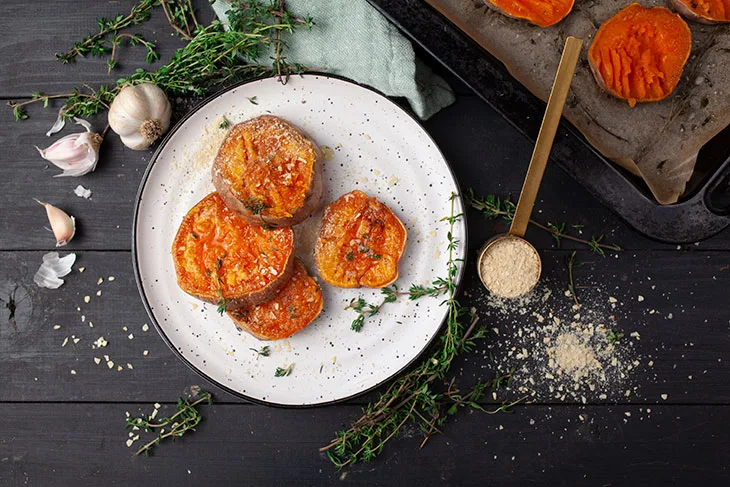 Day 2
You can try this spinach and truffle cheese omelet with veggies for breakfast/brunch. To create this fantastic recipe, eggs are seasoned with smoked Maldon salt, then cooked and filled with a savory mixture of spinach and melted truffle cheese. Serve with fresh greens.
All the ingredients in this recipe provide a very complete meal, as it has protein, healthy fats, and healthy carbs from the greens.
Alternatively, you can try a vegan omelet option, made with chickpea flour and lots of veggies and spices.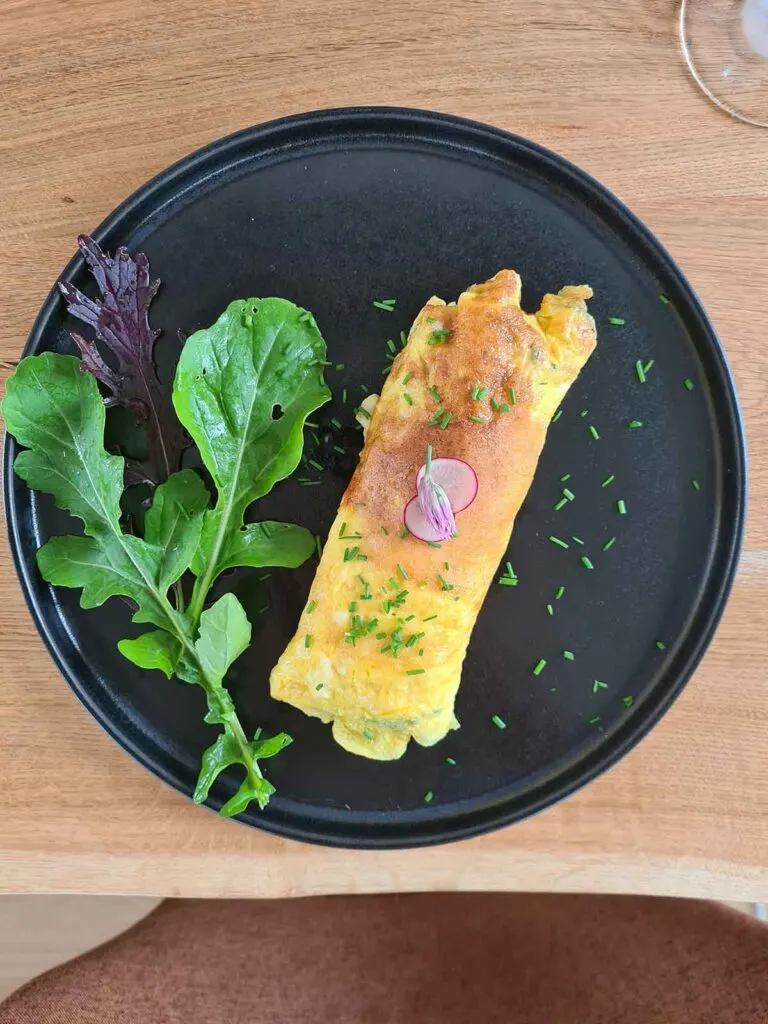 For lunch, you can enjoy the asian mushroom soup from Day 1, and pair it with a delicious faux tuna sandwich.
For tonight's dinner you can make a savory burrito casserole which will last you or a couple of days as well. You can enjoy it for lunch or dinner in the next days. This will save you some precious cooking time, as all you'll have to do it reheat it. Plus, it actually tastes even better when reheated as the flavors intensify in the next couple of days.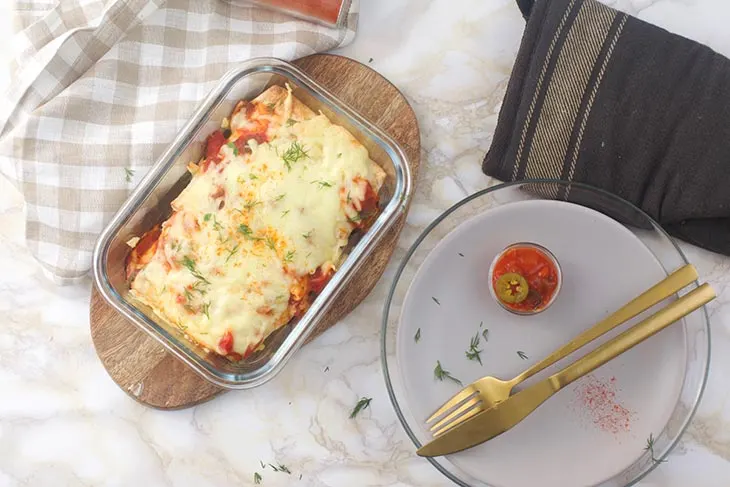 Day 3
Sweet potato toast with avocado and poached eggs has a delicious mix of flavors and is a complete and nutritious breakfast.
Peel the sweet potatoes and cut them into slices. Put them on a baking sheet with a little salt, garlic powder, pepper, and a drizzle of oil. Stir until all the sweet potatoes are well coated, and then bake at 220 °C for 40 minutes.
When the sweet potato is ready, remove it from the oven and spread the avocado on the toast, and add a little salt. You can poach one or two eggs and put them on top. Do the same thing with the other egg.
For lunch you can enjoy what's left of the Asian mushroom soup as well as some leftover burrito casserole.
Dinner can be the same burrito casserole ( I promise you'll not get tired of it, it's so good!) paired with a fresh greens salad.
Day 4
Breakfast today is quick and simple. Make a delicious avocado toast with any toppings you like: tomatoes and pesto, smoked tofu and paprika or lettuce and chickpeas. Tip: Toast the slices of bread for a crunchier texture.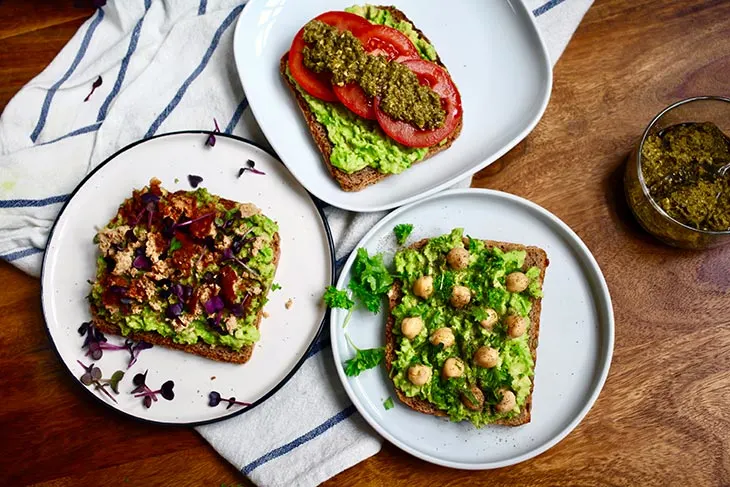 If you want to have an option for planning several meals ahead, you can make a delicious stew with lentils, vegetables, and spices and enjoy it in the next couple of days when you don't feel like cooking or use it as a side for another meal.
For dinner you can enjoy the same lentil stew, but this time pair it with some roasted mushrooms for some extra protein.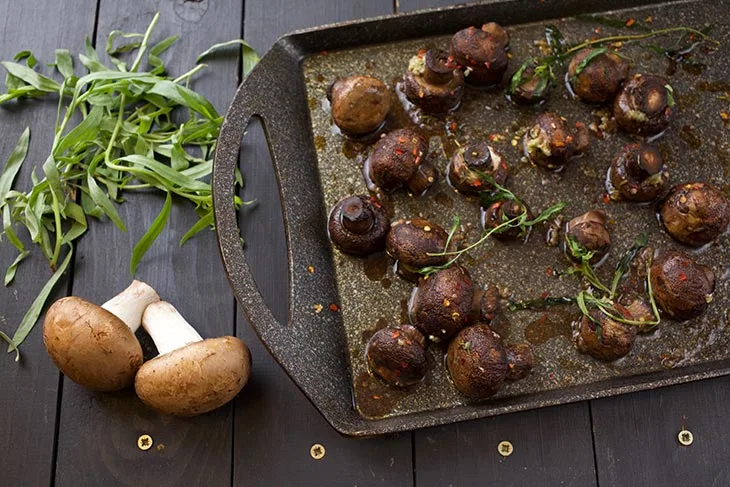 Day 5
This morning you'll do some breakfast meal prep with these savory hot pockets. You can make several and enjoy them in the next couple of days.
For lunch, it's time for another soup to last you until the end of this week. Make a cream of vegetables soup and serve it with some garlicky croutons.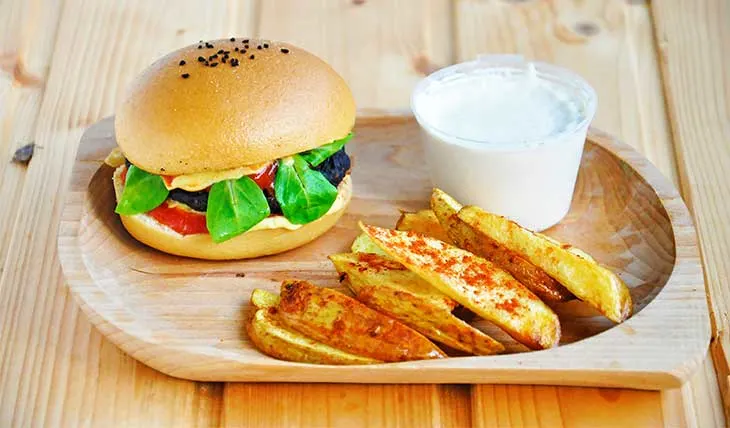 Veggie burger with salad for dinner it's on the menu today. It's true that healthy eating means having to give up some of our favorite foods, especially if you are just starting a vegetarian lifestyle. The good news is that you can adapt these foods to fit your diet.
You can make these burgers with any type of cooked beans you like. Just puree them, add sautéed vegetables (onion, garlic, bell pepper), and then add salt, pepper, a little flour, and an egg. Shape it into a hamburger and cook it in a frying pan. You can serve it with potatoes.
Day 6
Enjoy the breakfast hot pockets from the previous day. They will give you the much needed energy to kickstart your day.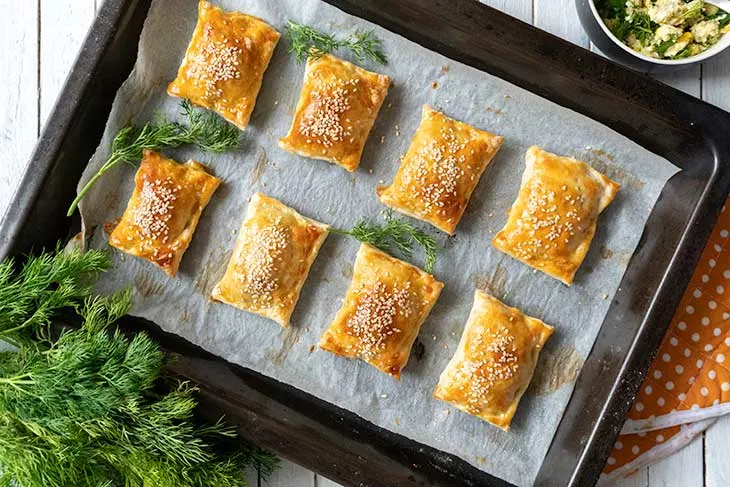 If you like ice cream, you can make it at home. It is healthier, and it has a great taste too! You just need frozen bananas, heavy cream, cocoa, and a sweetener if you don't want to add sugar. Blend all the ingredients and freeze them for 4 to 8 hours. You can also use other fruit instead of cocoa, such as strawberries. This can be your sweet treat for today.
For lunch, enjoy the creamy veggie soup from yesterday and for dinner you can eat some leftover black bean patties with a side of roasted potatoes. No burger bun this time. A quick greens salad can also be an option.
Day 7
Breakfast hot pockets for breakfast or make yourself a quick smoothie with fresh fruits. Make sure you add a veggie as well. Boiled beetroot is amazing, not only healthy but delicious too and can turn any bland-looking smoothie to a vibrant dessert-like drink.
Caesar salad is one of the quickest, easiest, and most classic salads for lunch. You only need lettuce, croutons, cheese, mayonnaise dressing, and tofu to add protein and make it a much more complete salad. You can bake your croutons or buy them already made, whichever is more convenient for you.
Relax and enjoy some spicy potatoes for dinner while you end the week watching your favorite TV show.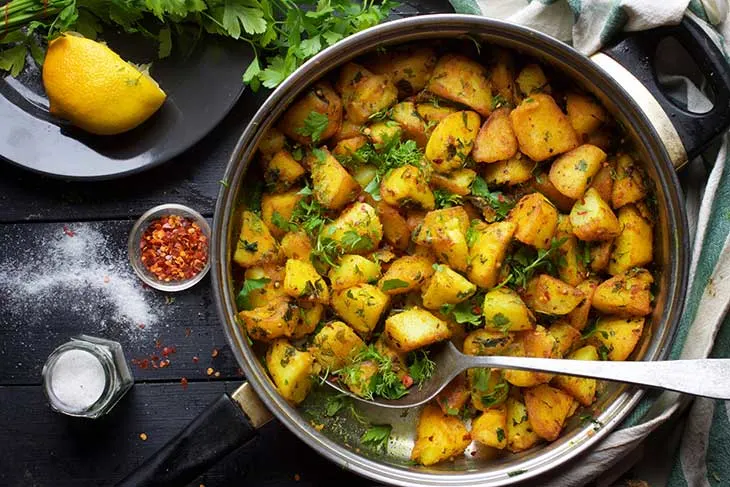 Benefits of a Vegetarian Diet
Prevention of heart disease
The vegetarian diet prevents heart disease. Given that meat is a major source of cholesterol and saturated fat, vegetarians are less prone to suffer from heart diseases, as whole foods, and plant-based foods contain no cholesterol natively, this opinion is also backed by HealthCanal.com.
Prevention of osteoporosis
Animal products can cause bone decalcification so the meat can promote osteoporosis. This disease is less common in countries where vegetarianism predominates when compared to others, even if the calcium intake is higher.
More Vitamins
According to Harvard, "compared with meat eaters, vegetarians tend to consume less saturated fat and cholesterol and more vitamin D, C, and E, dietary fiber, folic acid, potassium, magnesium, and phytochemicals (plant chemicals), such as carotenoids and flavonoids."
Budget Friendly
The vegetarian diet is, in essence, cheaper than the conventional diet. It is also going to depend on the food choices you make for your shopping list, just like the conventional diet. If you want to eat avocados, macadamia nuts, and fresh raspberries every day, of course, it's going to be more expensive.
Just as if someone who eats animal products chooses oysters, crayfish, and beef steak to eat every day. Still, a kilo of vegetables is a lot cheaper than a kilo of animal protein.
Conclusion
For a diet of this type to be balanced and contain all the nutrients necessary for the body, you need planning and a thorough knowledge of the nutrients to be consumed; that way, this type of diet can be appropriate for almost all stages of life.
Of course, it is advisable that you learn about this type of diet with a nutrition expert to identify the nutrients to which you should pay particular attention.
If you don't have much time to prepare a vegetarian diet daily, greens powder is also a great alternative. The recent article of Lindsey Desoto, RDN showed how greens powders are an excellent option for those looking to fill nutrient gaps in their diet or who need an extra nutritional boost, so you might want to incorporate these powdered greens in your diet.