Reteta simpla vegetariana / vegana de primavara, pentru cartofi noi la cuptor, cu rosii cherry coapte, morcovi baby si verdeturi aromate. | This is a Spring roasted veggies vegetarian recipe, simple and delicious! 
  Recipe in English
  Reteta in Romana
I couldn't wait to eat baby potatoes this year and today I finally bought some from the farmer's market. They were great! Tiny, delicious roasted potatoes with summer veggies, what can be better than this?! This is the easiest roasted veggies recipe ever! It's ready pretty fast and doesn't need a lot of prep.
Tip! Choose really small baby potatoes. They're a lot better than the bigger ones. Also, if you want some extra crunchiness, you can fry them a little in some extra virgin olive oil in a frying pan. This is not really necessary.
I can't wait to make this again! It was a succes
Looking forward to reading your comments!

This is a Spring roasted veggies vegetarian recipe, simple and delicious!
Ingredients
1,5 kg baby potatoes
2 cups frozen baby carrots
greens – parsley and dill
cherry tomatoes
salt and pepper, to taste
olive oil
1 tsp thyme
rosemary, fresh or dry, about 1 tsp if you use dry

Sauce (optional):

1 cup sour cream
half a bunch of parsley, chopped
1 tsp sweet paprika
Instructions
Rinse the baby potatoes very well and cut them in 4 or 2, as needed.
Coat the oven tray in some olive oil.
Optional: This step is not really necessary! If you want some extra crunchiness youc an fry the potatoes a little bit in some olive oil (10 minutes) and them put them in the tray,
Put the potatoes in the oven tray. Add baby carrots and cherry tomatoes.
Season with salt, pepper, rosemary and thyme.
Add more olive oil on top and place in oven at 200C for about 35 minutes.
When ready, add chopped herbs on top.

For the sauce:

Mix the sour cream with the chopped parsley and sweet paprika. Serve on top of the roasted veggies.
http://gourmandelle.com/legume-de-primavara-rosii-cherry-morcovi-si-cartofi-noi-la-cuptor-spring-roasted-veggies/
Copyright: 2014 Ruxandra Micu | www.gourmandelle.com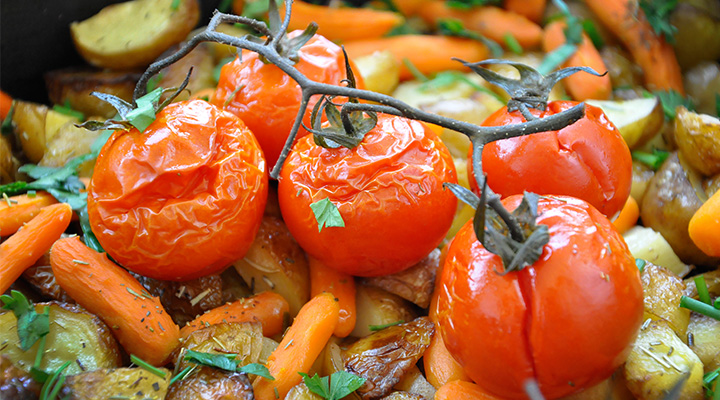 De abia am asteptat sa apara cartofii noi pentru a pregati aceasta simpla si aromata reteta de legume de primavara la cuptor. Dupa mine asta este cea mai usoara metoda de a gati cartofi noi la cuptor. Merg de minune alaturi de rosii cherry zemoase, morcovi baby dulci, verdeturi de primavara si ierburi aromatice. Nu necesita prea multa munca, arunci legumele in tava, le asezonezi si gata!
Sfat! Alege cartofi micuti, cu cat sunt mai mici si mai dragalasi cu atat mai bine :D. Daca vrei 'some extra crunchiness' poti sa ii tragi in tigaie in ulei de masline pentru a le da o crusta crocanta. Nu este neaparat necesar, sunt la fel de buni si daca ii bagi la cuptor pur si simplu
De abia astept sa mai prepar aceasta reteta de cartofi noi la cuptor. Sper sa va placa si voua si sa o incercati!

Legume de primavara – rosii cherry, morcovi si cartofi noi la cuptor 
Ingrediente pentru o tava de cartofi noi la cuptor (aprox. 6 portii):
1,5 kg cartofi noi (micuti si draguti)
2 cani morcovi baby congelati
verdeturi – patrunjel, marar
rosii cherry
ulei de masline
sare si piper dupa gust
rozmarin uscat sau proaspat, eu am folosit uscat aprox. 1 lg
1 lg cimbru uscat
Sos (optional): 
1 cana smantana
jumatate de legatura de patrunjel
1 lg boia dulce
Instructiuni:
Spala bine cartofii noi si taie-i in 4 sau in 2, in functie de marime.
Unge o tava cu putin ulei de masline. 
Pune cartofii in tava. Adauga morcovii baby si pe deasupra pune rosiile cherry.
Asezoneaza cu sare, piper, cimbru si rozmarin.
Stropeste-le cu ulei de masline si baga-le la cuptor la 200C pentru aprox. 35 de minute.
Dupa ce le-ai scos din cuptor, presara verdeturi proaspat taiate pe deasupra.
Pentru sos: Amesteca smantana cu boiaua dulce si cu patrunjelul maruntit. Se serveste peste deliciosii cartofi noi la cuptor.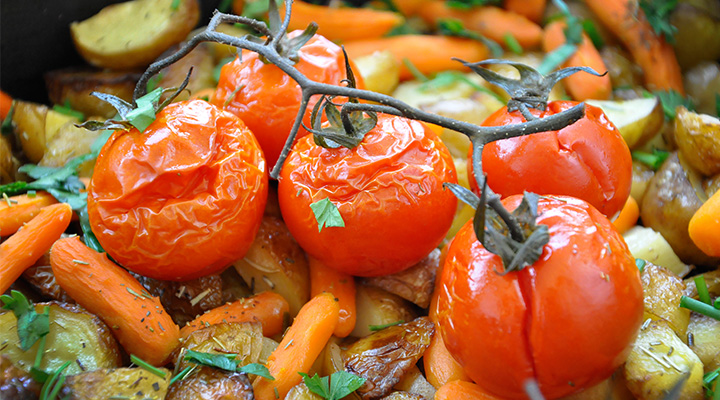 Cooksnaps