Are you looking for a quick and festive Easter dessert that everyone will like? Try these peanut butter eggs! These sweet delights are the perfect addition to the Easter menu and will surely satisfy even the most demanding of guests.
If you are a big fan of the creamy taste of peanut butter and chocolate, then look no further. Reese's Peanut Butter Cups were the inspiration for this amazing peanut butter chocolate eggs recipe for Easter. These chocolate eggs flavored with peanut butter are so delicious and satisfying that they will surely be everyone's favorite at the Easter table. They will certainly not last long before being enjoyed.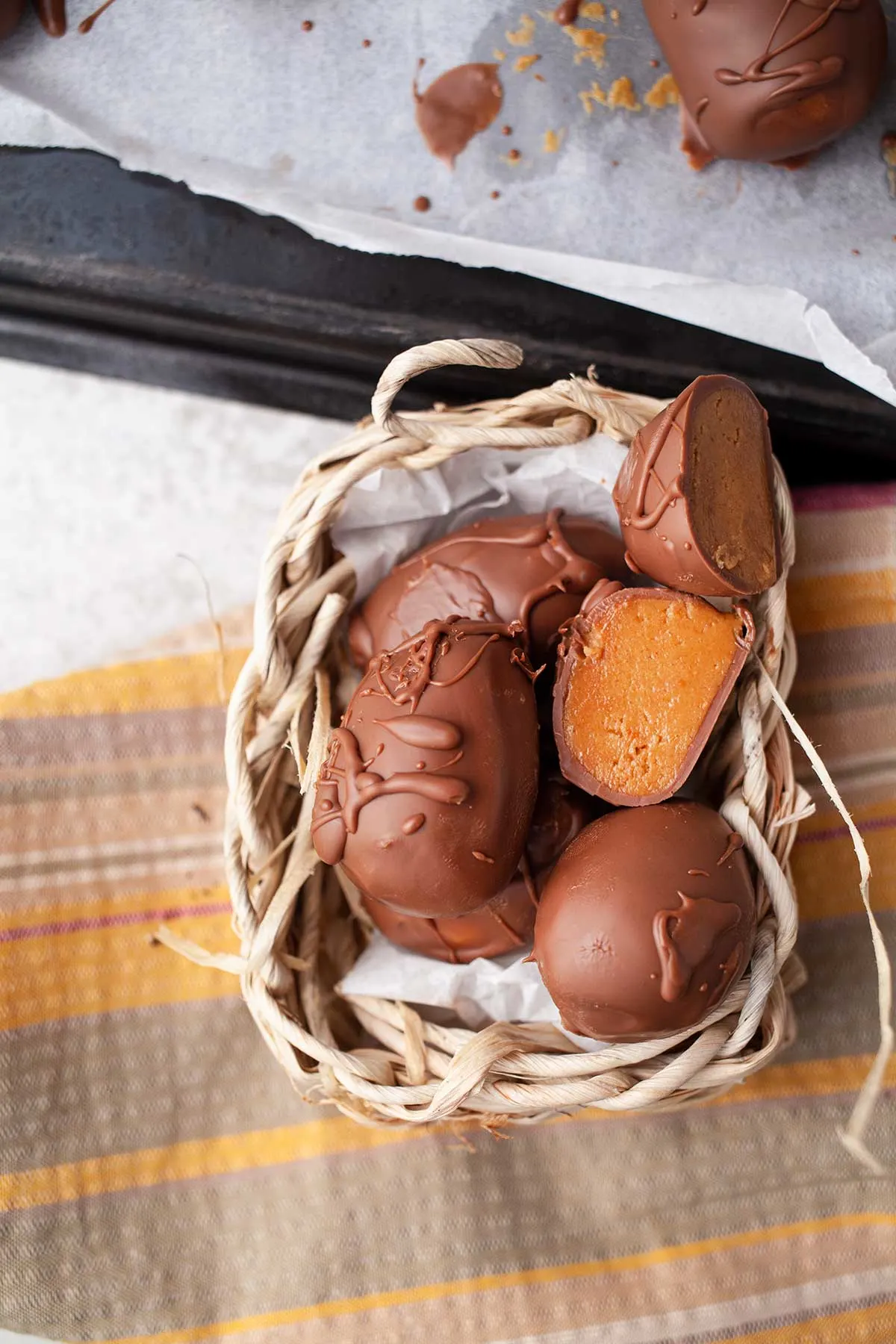 This recipe is easy to make and does not require complex ingredients. In addition, it is perfect to be prepared with children and the family. It will definitely be a fun activity, and the end result will be a sweet that will make your taste buds tingle with joy.
These homemade peanut butter eggs are a delicious and nostalgic treat perfect for Easter! These old fashioned peanut butter eggs are sweet, creamy, and peanut buttery, with a melt-in-your-mouth texture that is simply irresistible. Whether you enjoy them straight out of the fridge, melted on toast, or crumbled on top of ice cream, these homemade PB chocolate eggs are sure to be a crowd-pleaser.
What's great about this recipe is that it doesn't require cream cheese or shortening, making it a healthier alternative to store-bought peanut butter eggs. Plus, they're incredibly easy to make with just a few simple ingredients that you probably already have in your pantry.
Peanut Butter Eggs Variations
If you are not a fan of peanut butter, you can try the ideas below.
Fruity flavours: you can add fruit essence such as raspberry, strawberry or mango to add a sweet and fruity note.
Nuts: to intensify the peanut butter flavor, you can add ground nuts, such as hazelnuts, walnuts or almonds.
Spices: you can add spices, such as cinnamon, vanilla or nutmeg, to add a warm and aromatic taste.
Coffee: for coffee lovers, you can add coffee powder or coffee essence to add a subtle coffee taste.
However, it is important to remember that some flavors can be strong, so it is recommended to add them gradually and try several combinations to find the most delicious one.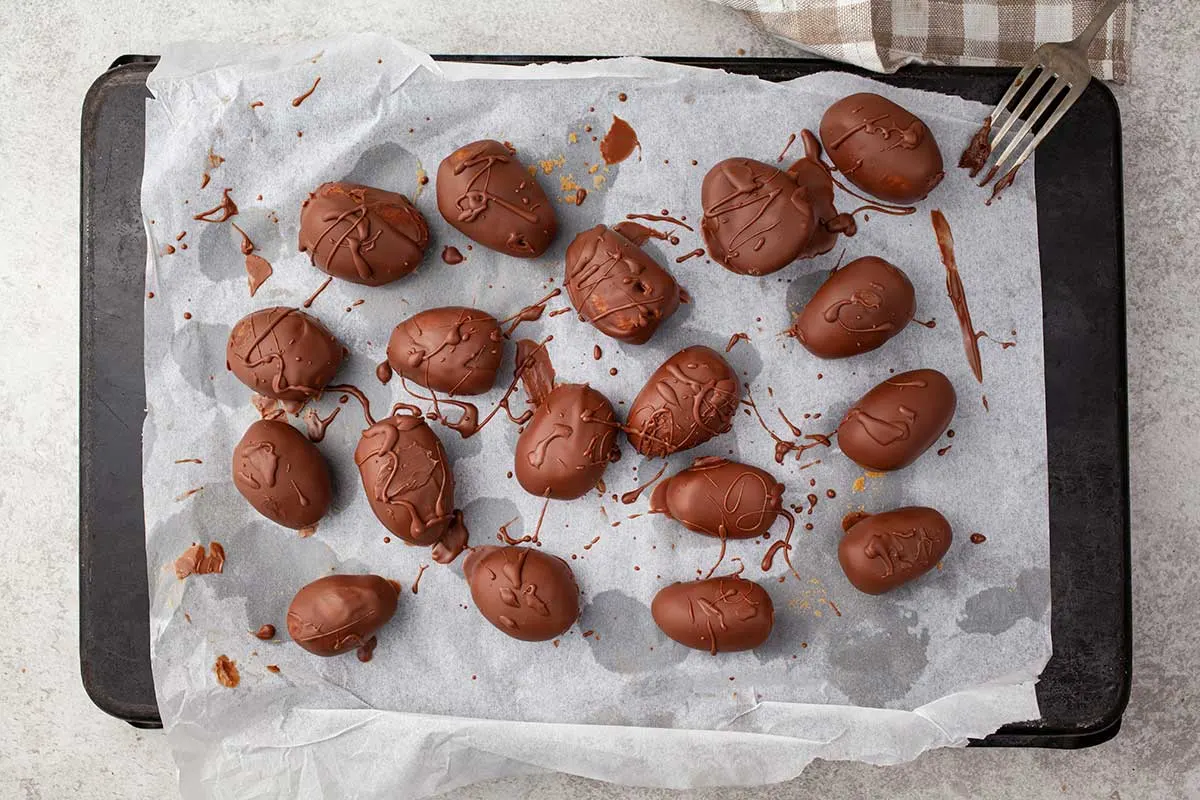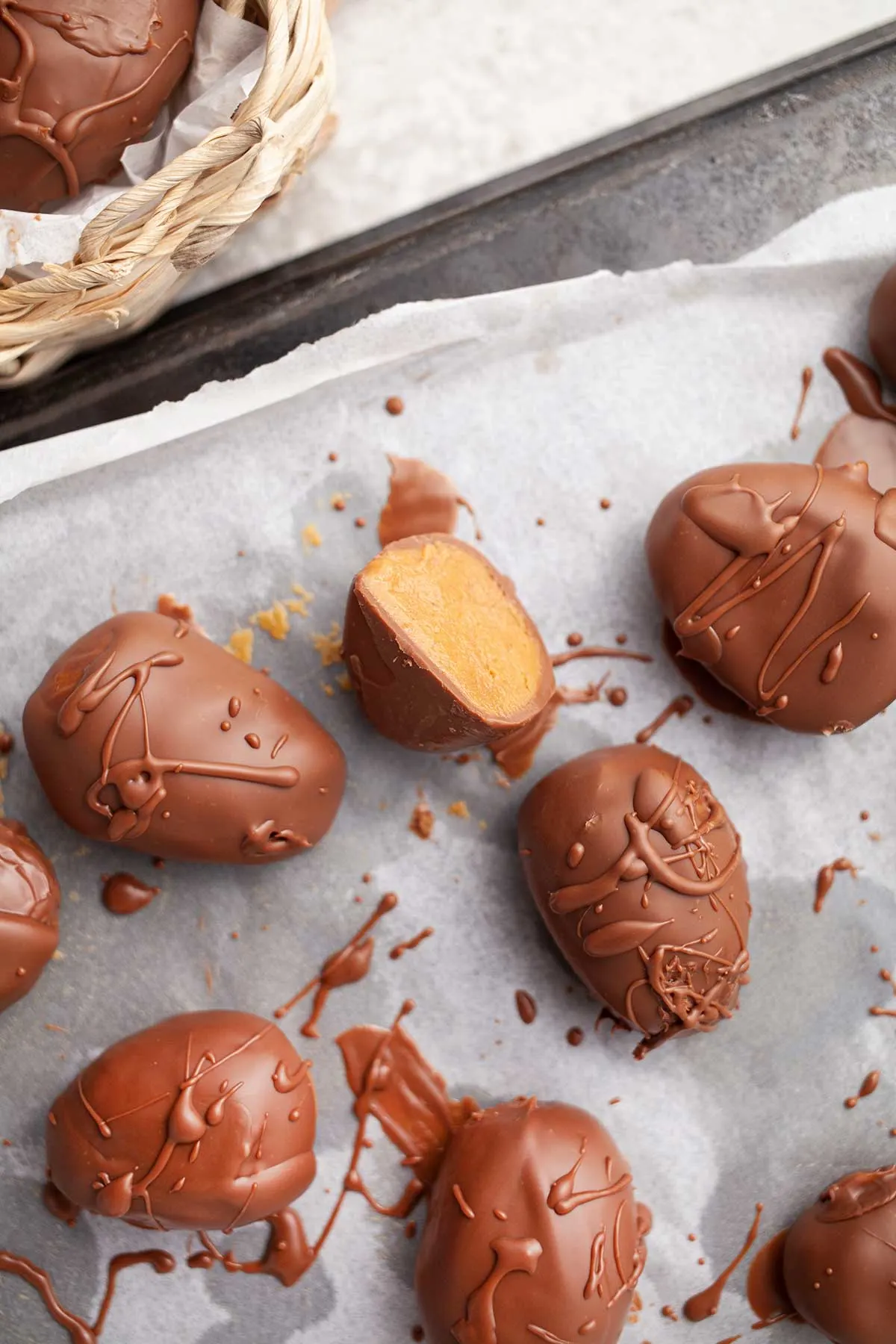 Tips for making the best chocolate eggs for Easter
Here are some tips that can help you prepare a delicious peanut butter chocolate cake for Easter:
Use quality ingredients: choose good quality chocolate and peanut butter without additives to get the best taste and texture.
Keep the ingredients at room temperature: both the chocolate and the peanut butter must be at room temperature to mix and homogenize well.
Mix well: when mixing the chocolate and peanut butter, make sure to combine them well so that there are no unmixed pieces of chocolate or peanut butter.
Add additional flavors: to add an additional flavor, you can try adding vanilla extract, almond essence or cinnamon.
Decorate carefully: after filling the chocolate eggs with the peanut butter mixture, you can decorate with toppings, such as chocolate flakes or chopped almonds.
By following these tips, you'll be sure to make the best peanut butter chocolate chip cookie for Easter!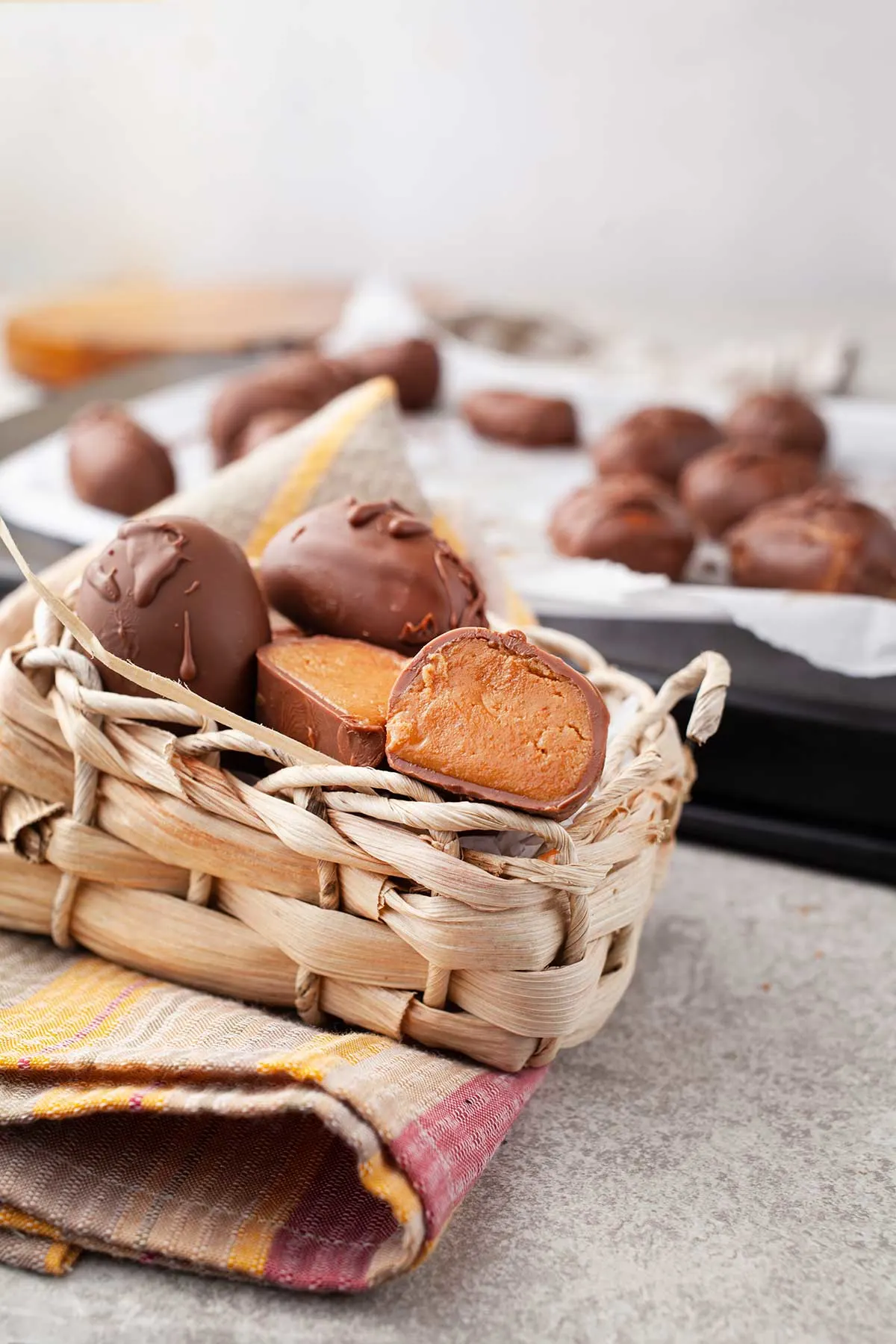 How much protein is in a peanut butter chocolate egg?
The amount of protein in a peanut butter egg can vary depending on the recipe. However, on average, a homemade peanut butter egg can contain about 4-5 grams of protein per serving. It is important to remember that the amount of protein can vary depending on the ingredients used, such as the amount of peanut butter and chocolate used in the recipe.
I hope you liked this recipe for chocolate eggs with peanut butter and that it inspired you to spend time in the kitchen before the holidays. Try to share your creations with your loved ones and give them a sweet and delicious Easter gift. Whether you choose to use classic flavors or experiment with new flavors, these peanut butter chocolate eggs are sure to be a great addition to your holiday table. I wish you a happy Easter full of sweets!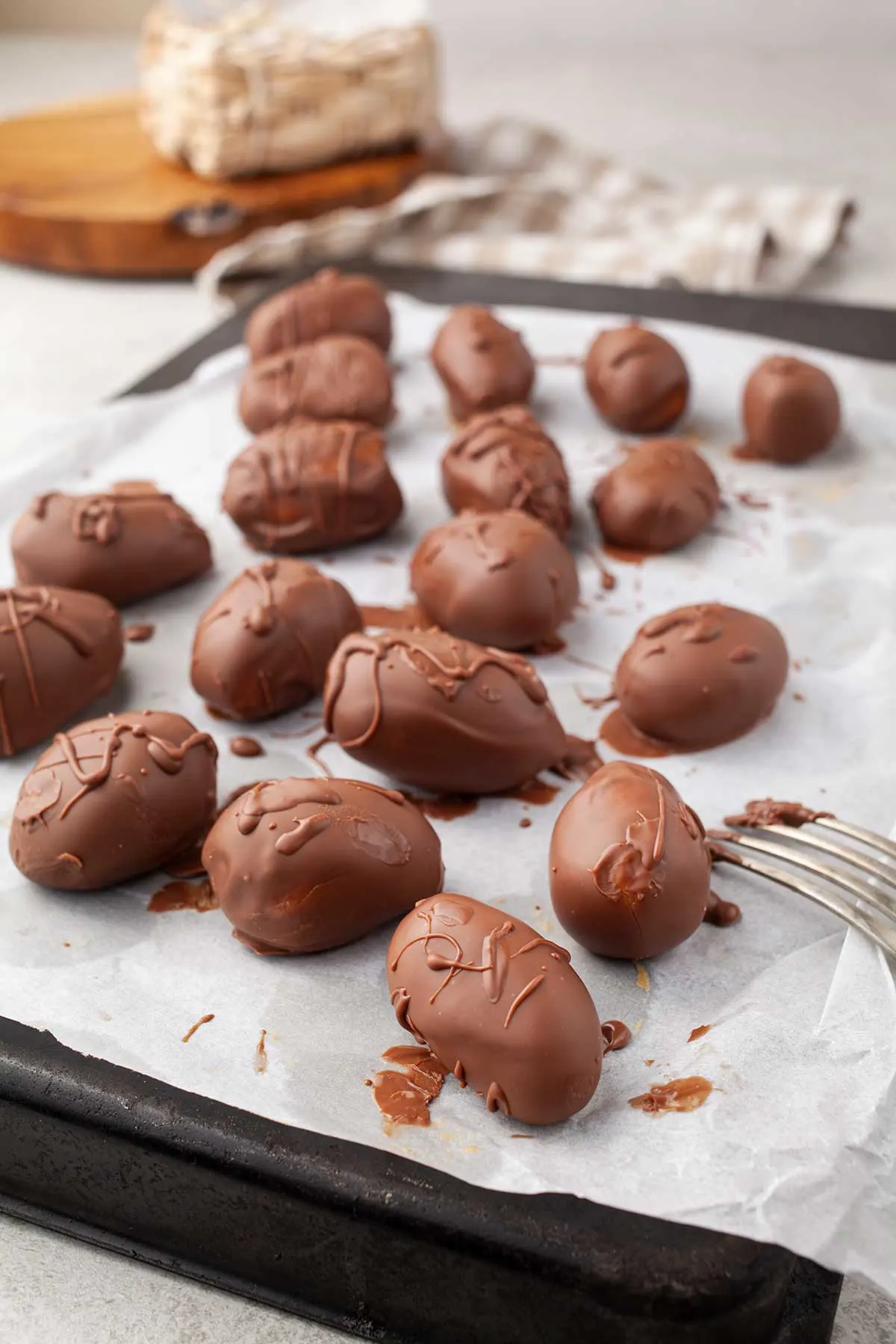 Yield: about 20 eggs
Peanut Butter Eggs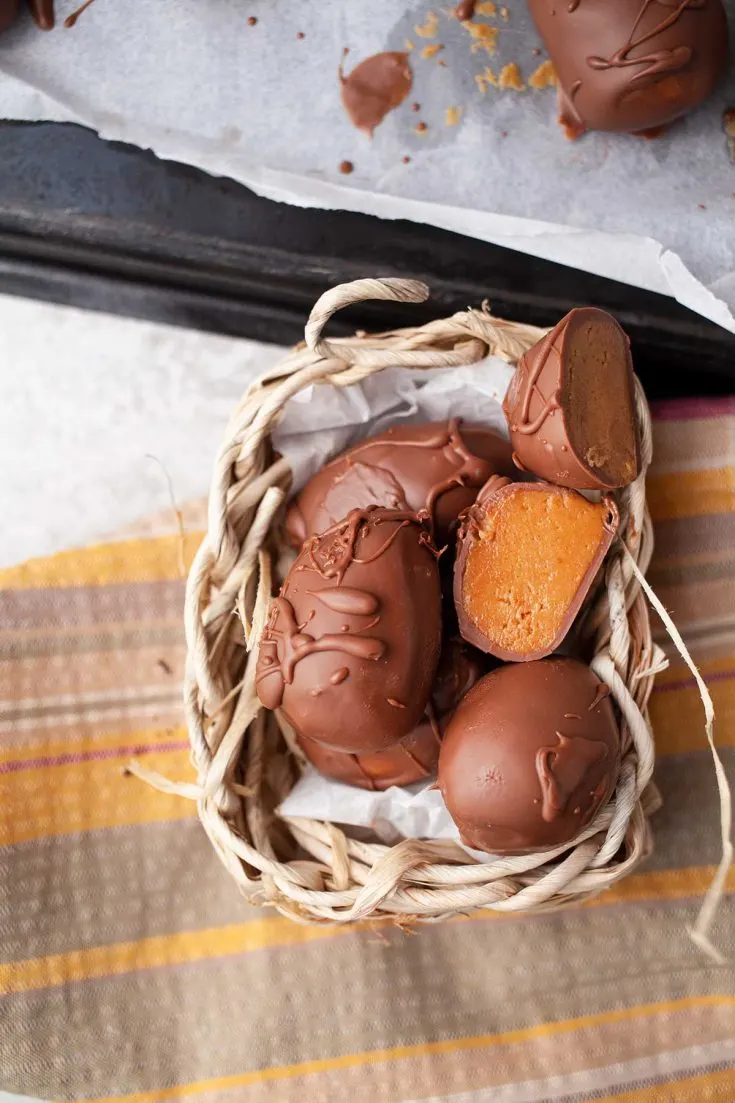 Are you looking for a quick and festive Easter dessert that everyone will like? Try these peanut butter eggs!
Additional Time
30 minutes
Total Time
1 hour
10 minutes
Ingredients
1 cup peanut butter
¼ cup vegan butter, softened, at room temperature (or regular butter for non-veg version)
¼ cup brown sugar
½ teaspoon natural vanilla extract
¼ teaspoon salt
1 ¼ cup powdered sugar
1 teaspoon of coconut oil
1 ½ cups chocolate chips
Instructions
Cover a large tray with baking paper.
In a small saucepan, add peanut butter, vegan butter, brown sugar, vanilla and salt.
Mix the ingredients.
Put the saucepan on low-medium heat for 5-6 minutes, until the ingredients melt and turn into cream. Mix the composition to incorporate completely.
Remove the mixture from the heat, let it cool for a few minutes and start adding the powdered sugar.
Add the powdered sugar gradually, and mix continuously for a desired result and creamy composition.
Let the composition return to room temperature, around 20 minutes.
Use a large spoon to measure the size of each egg.
Take the composition and form an "egg" with the help of your palms.
Place the egg on the lined tray prepared in advance and continue until the dough is finished.
Put the tray with peanut eggs in the freezer until they harden. It can take from 15 to 25 minutes.
In the meantime, prepare the chocolate glaze.
Put the chocolate and coconut oil in a bowl and put the bowl in the microwave or use the bain-marie method to melt the ingredients. Mix well so that the chocolate and oil are incorporated.
Dip the frozen eggs, one by one, into the chocolate mixture using a fork. Allow the excess chocolate to drain and place the egg back on the tray.
After all the eggs are glazed, put the tray in the fridge for at least 30 minutes.
Nutrition Information
Yield
20
Serving Size
1
Amount Per Serving
Calories

197
Total Fat

13g
Saturated Fat

4g
Trans Fat

0g
Unsaturated Fat

7g
Cholesterol

0mg
Sodium

90mg
Carbohydrates

21g
Fiber

2g
Sugar

17g
Protein

3g
I strive to keep the information as accurate as possible but make no warranties regarding its accuracy. I encourage you to make your own calculations using your preferred nutrition calculator.