In this article you'll find out how to stay on healthy vegetarian diet in college and maintain an overall healthy lifestyle. Everybody's heard of the "Freshman 15." Horrors are spread through the high school senior class about the negative effects that come with the stress of college. It's difficult to stick to any health goals when you have a dining hall and food court filled with deliciousness, especially when you gain the freedom that comes with going off to college. If you want to stay on the health track with a vegetarian diet, here are some essential rules.
Tip 1 for a healthy vegetarian diet in college – Add Variety into Your Life
College vegetarians often find that their dining hall options are limited. That's why so many students end up eating out multiple times a week. Not only can eating out regularly be unhealthy, but it can also end up costing you hundreds of dollars more a month than you need to spend. The limited options available for vegetarians can sometimes send people straight into the warm embrace of unhealthy snacks like chips and candy; however, if you are willing to expand your horizons a bit, you'll be able to avoid that additional 15 pounds most Freshmen gain during their first year of college. It's vital not to eat the same thing every day. Although the dining hall might only have one or two vegetarian main courses, if you don't mix it up, you'll get bored. Boredom can lead to snacking and that's the last thing you want. Look for the side dishes that are offered. A different fruit or vegetable on the side of your main course might be all you need to keep it interesting.
Tip 2 for a healthy vegetarian diet in college – Supermarket Shopping
The dining hall and food court is convenient, but it just isn't good enough for a healthy vegetarian. If options are too limited, you will need to stock up on good food for yourself. Since you probably don't have a fridge in your room, you will likely need to buy non-perishable food. Stick with small side options that will keep you happy when the boring vegetarian options are getting to you.
Tip 3 for a healthy vegetarian diet in college – Choose the Right Food
Temptation to choose the wrong foods will be everywhere. There will be times that you are so stressed from college life that you'll want to reach for the comfort food. Everyone you know will be binge eating on salty and sweet snacks. If you purchase the right foods, your temptation will decrease. Choose things that are satisfying and filling. Rice, oatmeal and other pre-packaged items are also good alternatives.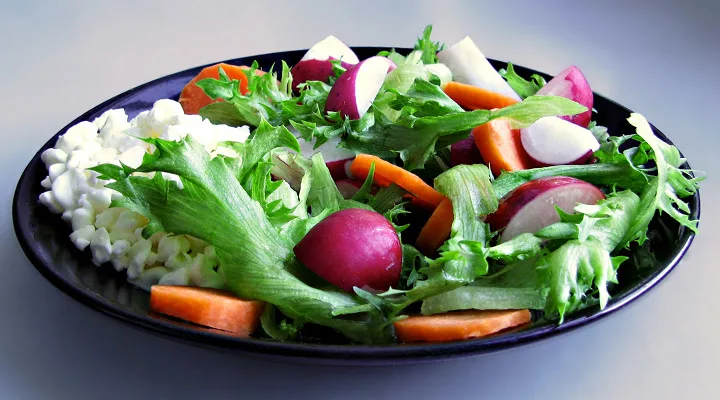 Tip 4 for a healthy vegetarian diet in college – Your Energy Up
As any vegetarian knows, it can be difficult to stay energized on this diet. You'll need your energy for your classes and the rest of college life. Mineral supplements and multivitamins are a must. Smoothies and juice with vitamins and protein will be a lifesaver. Try to keep away from sugar as much as possible because it can zap your energy. The more you stay away from junk food, the happier you will feel.
Tip 5 for a healthy vegetarian diet in college – Preparation Is the Key
The best way to ensure that you will stay healthy is to prepare a whole week's meals on the weekend. When you're tired from classes, you won't feel enticed to pick the easiest food option. If you are willing to keep an open mind and plan ahead with your meals during your college years, you will be a much happier and healthier individual. As some foods can cause more stress, making healthy food choices is crucial, especially when it comes to performing well in school.
Virginia Cunningham is a freelance writer from Los Angeles who specializes in health & wellness. She covers everything from alternative medicine to sustainability. A health-conscious individual, she always tries to make the best choices when it comes to fueling her mind and body