Egg-in-a-Hole or Egg Toast is a quick vegetarian breakfast and brunch recipe.  |   Reteta vegetariana pentru mic dejun rapid sau brunch – ou prajit in paine toast. 
  Recipe in English
  Reteta in Romana
First of all, this recipe was made by COSTIN and not me! There, I said it Costin!
But, how did this happen? Well, a couple of days ago I was browsing Pinterest for some food inspiration and Costin was standing by my side, working. Suddenly, he sees this egg-in-a-hole recipe and with a sweet voice he tells me "I'll make this recipe for breakfast tomorrow, BUT…will you tell your readers that I've made it?". "Of course!" I replied enthusiastically.
For your better understanding, usually as soon as I open my eyes [he always wakes up before me] I hear him whispering in my ear "Mmm.. I'd love to eat your delicious scrambled eggs with cheese recipe…wouldn't you?". Pleasant? NO! Annoying? YES!
It's like he's trying to hypnotize me or something. Anyway, he suceeds. Well, last Sunday I was spoiled. It wasn't the first time he did such a nice gesture of course! [I had to say this too or else he won't stop nagging me :D] He does this from time to time…aham..RARELY!
This egg-in-a-hole recipe was fantastic! It's a super simple recipe. Actually it doesn't even need any directions, I think it's easy to figure out how to do it from the photos.
P.S. I make fried eggs in VERY little oil, max. 1 tsp per whole skillet, and they are always great. I simply cannot understand how some people fry them in lots and lots of oil. WHY! Disgusting.. So, this recipe is actually low calorie, low fat and even healthy if you use ecological eggs, like I did.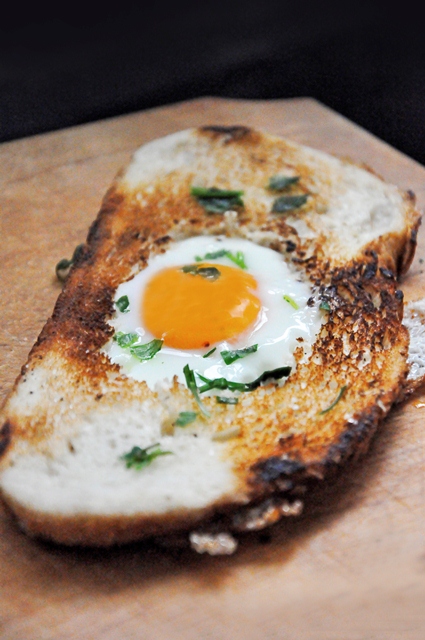 Egg-in-a-Hole or Egg Toast quick vegetarian breakfast and brunch recipe.
Ingredients
2 large slices of whole grain bread
2 eggs
just a little bit of olive oil
2 Tbsps chopped parsley
salt and ground pepper, to taste
Instructions
Place the bread slices in the heated oven for 2 minutes. Alternatively, you can use the toaster, of course.
Grease a non-stick skillet with some olive oil.
Make holes in the two slices of bread.
Put the bread slices of bread in the skillet.
Crack eggs and put them in the holes.
Cover with a transaprent lid and let them cook until ready, 2-3 minutes.
Season with salt and pepper and sprinkle with fresh chopped parsley. Enjoy!
http://gourmandelle.com/mic-dejun-rapid-ou-prajit-in-paine-egg-toast-hole/
Copyright: 2014 Ruxandra Micu | www.gourmandelle.com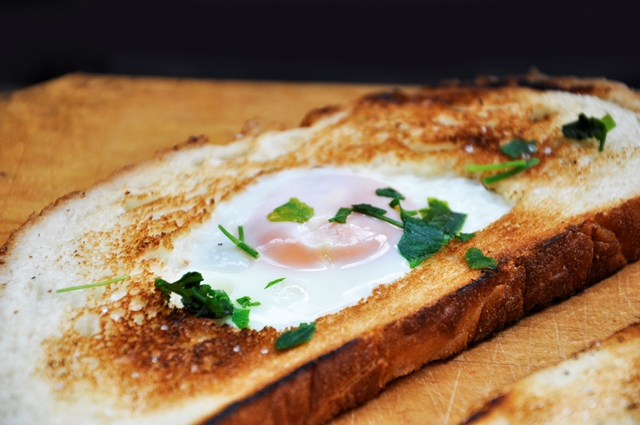 Trebuie sa incep aceasta postare prin a spune tare si raspicat: reteta asta de ou prajit in paine este facuta de COSTIN! Gata Costin am spus-o!
Dar cum s-a intamplat? Zilele trecute ma uitam pe Pinterest dupa putina inspiratie culinara. Costin statea langa mine si lucra. Deodata zareste reteta asta de ou prajit in paine si cu o voce senina imi spune "O sa pregatesc eu reteta asta pentru micul dejun de maine, dar…ma treci pe mine ca autor pe blog…da?!". "Normal!" i-am raspuns eu, bucuroasa la gandul ca o sa ma trezesc si eu intr-o dimineata fara sa fiu nevoita sa pregatesc de mancare.
Ca sa intelegeti, de obicei imediat cum fac ochi [el se trezeste mereu inaintea mea] aud o voce mieroasa care imi sopteste la ureche "Mmm..ce pofta as avea de o omleta cu branza, asa buna cum o faci tu!". Placut? Hmm..nu. Enervant? Da! Parca ar incerca sa imi spele creierul si sa ma programeze.
Ei, bine…duminica dimineata am fost rasfatata. Nu a fost pentru prima oara bineinteles [tre' sa o zic si pe asta ca altfel o sa imi sara in cap :D] mai gateste si el cand il apuca cheful…aham..RAR!
Reteta de ou prajit in paine a fost extraordinara! Chiar am fost foarte placut surprinsa. Este o reteta de mic dejun extrem de simpla, de fapt nici nu prea are nevoie de indicatii, cred ca va dati seama cum se face doar din poze; iar daca o faceti folosind oua de tara asa cum am facut-o eu, cu atat mai bine!
P.S. Eu prepar ouale prajite cu ffffff putin ulei, maxim o lingurita in toata tigaia, si ies extraordinare de fiecare data. NU pot sa inteleg cum fac unii oameni ouale prajite in baie de ulei. O Doamne…! Asa ca reteta asta are putine calorii si este si este si saraca in grasimi.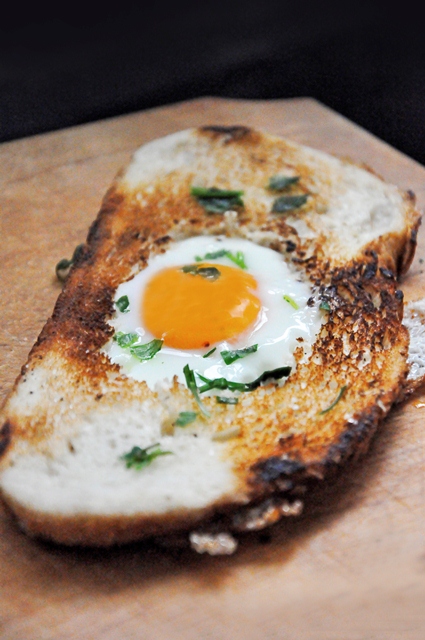 Mic dejun rapid. Ou prajit in paine
Ingrediente pentru 2 portii:
2 felii mari de paine integrala, cu sau fara gluten
2 oua, ecologice de preferat
cativa stropi de ulei de masline
2 linguri de patrunjel maruntit
sare si piper macinat, dupa gust
Instructiuni:
Baga feliile de paine la cuptor pentru vreo 2 minute. Se poate folosi si toasterul bineinteles.
Unge o tigaie cu putin ulei de masline.
Fa gaurile in feliile de paine, cat sa incapa oul acolo.
Pune feliile de paine, usor crocante, in tigaie si stropeste-le cu putin ulei de masline.
Sparge ouale fix in gaurile din feliile de paine. si acopera cu un capac cateva minute [capacul transparent este ideal, astfel vedem cand sunt gata ouale].
Asezoneaza cu sare si piper si serveste-le cu verdeata proaspata peste.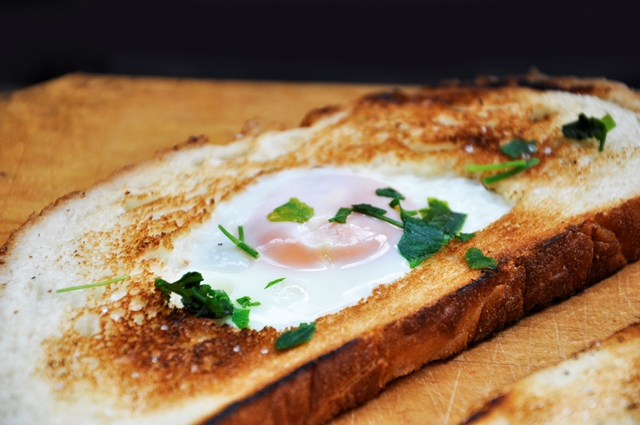 Cooksnaps