Change language | Schimba limba: Romanian
 Egg-in-a-Hole or Egg Toast is a quick vegetarian breakfast and brunch recipe.  This is the perfect vegetarian breakfast for a sunny Sunday morning! 
First of all, this recipe was made by COSTIN and not me! There, I said it Costin!
But, how did this happen? Well, a couple of days ago I was browsing Pinterest for some food inspiration and Costin was standing by my side, working. Suddenly, he sees this egg-in-a-hole recipe and with a sweet voice he tells me "I'll make this recipe for breakfast tomorrow, BUT…will you tell your readers that I've made it?". "Of course!" I replied enthusiastically.
For your better understanding, usually as soon as I open my eyes [he always wakes up before me] I hear him whispering in my ear "Mmm.. I'd love to eat your delicious scrambled eggs with cheese recipe…wouldn't you?". Pleasant? NO! Annoying? YES!
It's like he's trying to hypnotize me or something. Anyway, he suceeds. Well, last Sunday I was spoiled. It wasn't the first time he did such a nice gesture of course! [I had to say this too or else he won't stop nagging me :D] He does this from time to time…aham..RARELY!
This egg-in-a-hole recipe was fantastic! It's a super simple recipe. Actually it doesn't even need any directions, I think it's easy to figure out how to do it from the photos.
P.S. I make fried eggs in VERY little oil, max. 1 tsp per whole skillet, and they are always great. I simply cannot understand how some people fry them in lots and lots of oil. WHY! Disgusting.. So, this recipe is actually low calorie, low fat and even healthy if you use ecological eggs, like I did.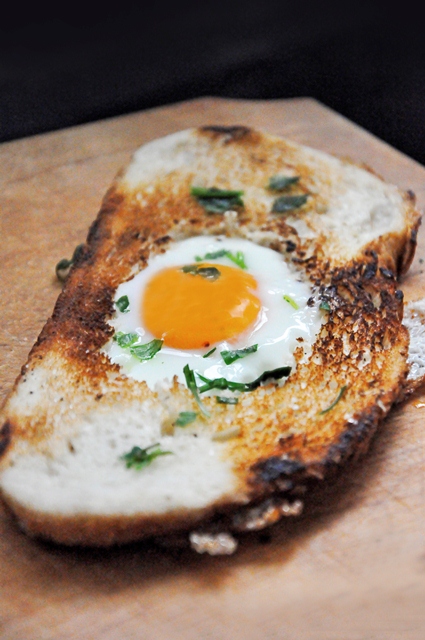 Egg-in-a-Hole
Egg-in-a-Hole or Egg Toast quick vegetarian breakfast and brunch recipe.
Ingredients
2 large slices of whole grain bread
2 eggs
just a little bit of olive oil
2 Tbsps chopped parsley
salt and ground pepper, to taste
Instructions
Place the bread slices in the heated oven for 2 minutes. Alternatively, you can use the toaster, of course.
Grease a non-stick skillet with some olive oil.
Make holes in the two slices of bread.
Put the bread slices of bread in the skillet.
Crack eggs and put them in the holes.
Cover with a transaprent lid and let them cook until ready, 2-3 minutes.
Season with salt and pepper and sprinkle with fresh chopped parsley. Enjoy!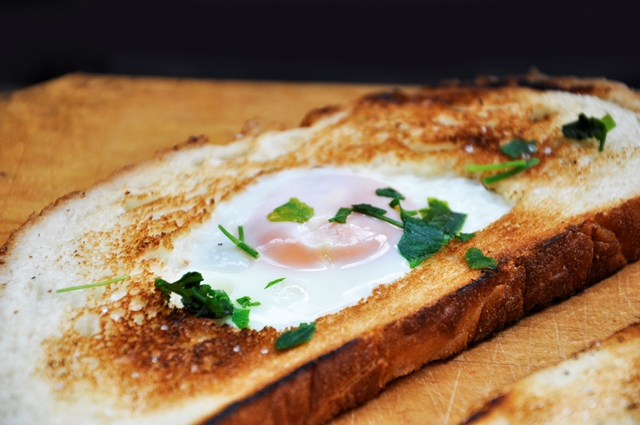 Egg-in-a-Hole | Quick Egg Breakfast
was last modified:
May 15th, 2014
by