Change language | Schimba limba: Romanian
 This is a recipe for raw vegan chocolate and raspberry cake, ready in less than half an hour!  You can make this raw vegan chocolate cake with other berries too! 
The first time I made this raw chocolate cake recipe was two years ago, for my 20th birthday party. That was the first time I made a raw vegan dessert. Since then, I absolutely fell in love with raw vegan desserts! This became my favorite raw chocolate cake recipe ever! It's so easy to make and it's crazy good! You'll have to make it and see for yourself!
UPDATE! I've made this raw chocolate cake recipe so many times! It's one of my favorite raw chocolate cakes recipes. I've tried it with wild berries, blackberries and strawberries. Check out some photos below and see how it turned out wtith strawberries. This time I didn't use 2 crust balls, just one. I wanted it to be creamier so I didn't add a middle layer crust.
Raw Vegan Chocolate and Raspberry Cake
Recipe for raw vegan chocolate and raspberry cake, ready in less than half an hour!
Ingredients
Crust
2 cups raw walnuts
½ cup raw cocoa / carob powder
a pinch of sea salt
1 cup dates, pitted
Chocolate cream
¼ cup honey (or any other healthy sweetener)
3 bananas, ripe
⅓ cup cocoa/carob
2 Tbsps psyllium husks
Garnishing and filling
about 1½ cups raspberries
5 tbsp dark chocolate flakes( I used 85% cocoa)
Instructions
Place the walnuts, salt, dates and carob/cocoa in your food processor and blend well until you get a soft and sticky paste.
Divide the mixture in two and form two balls. Place these balls in the fridge.
Place the bananas, carob/cocoa, psyllium husks and honey in your food processor and mix well until you get a smooth paste.
Cover the cake form with a plastic wrap. Put one crust ball in your cake form and spread it evenly. Tip: Place a piece of plastic wrap over the crust and start pressing and spreading. This way it won't stick to your fingers and you'll manage to spread it evenly really quick.
Spread some chocolate cream on top (6-7 tbsp). Sprinkle the raspberries and press them gently into the chocolate cream.
Place the other dough ball on top and spread it, but be careful not to crush the raspberries. (You can place it between two plastic wraps and stretch it evenly and after that, place it over the raspberries – without the plastic wraps, of course. It is easier this way and you won't crush the raspberries.)
Add the remaining chocolate cream.
Garnish with raspberries and dark chocolate flakes.
Put in fridge for at least 2 hours before serving.
UPDATE – Raw Chocolate Cake with Strawberries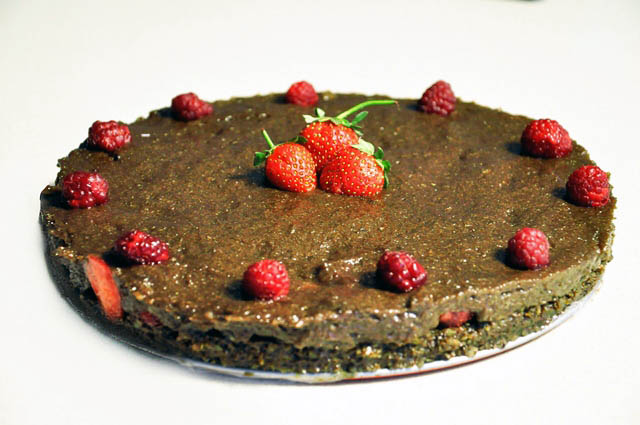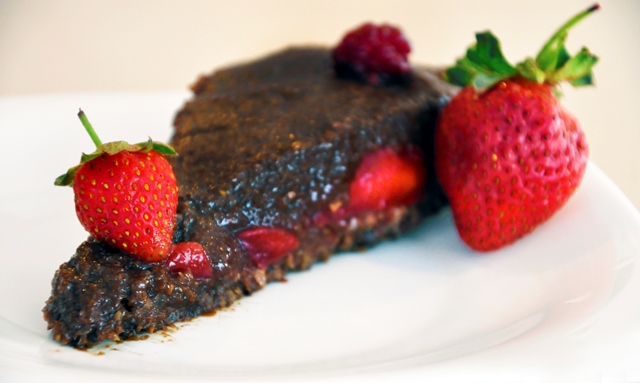 Carob fan? See these awesome recipes using carob instead of cocoa: Biscuit Salami [no bake, sugar free, vegan] | Salam de Biscuiti, The Healthiest and Most Delicious Breakfast..and it's Ice Cream!, Raw Vegan Chocolate Ice Cream Cupcakes.
Raw Vegan Chocolate and Raspberry Cake [UPDATED]
was last modified:
May 15th, 2014
by