Recipe for raw vegan chocolate and raspberry cake, ready in less than half an hour!   |   Reteta sanatoasa de tort raw vegan de ciocolata cu zmeura, care este gata in mai putin de jumatate de ora! 
  Recipe in English
  Reteta in Romana
The first time I made this raw chocolate cake recipe was two years ago, for my 20th birthday party. That was the first time I made a raw vegan dessert. Since then, I absolutely fell in love with raw vegan desserts! This became my favorite raw chocolate cake recipe ever! It's so easy to make and it's crazy good! You'll have to make it and see for yourself!
UPDATE! I've made this raw chocolate cake recipe so many times! It's one of my favorite raw chocolate cakes recipes. I've tried it with wild berries, blackberries and strawberries. Check out some photos below and see how it turned out wtith strawberries. This time I didn't use 2 crust balls, just one. I wanted it to be creamier so I didn't add a middle layer crust.
Raw Vegan Chocolate and Raspberry Cake
Recipe for raw vegan chocolate and raspberry cake, ready in less than half an hour!
Ingredients
Crust

2 cups raw walnuts
1/2 cup raw cocoa / carob powder
a pinch of sea salt
1 cup dates, pitted

Chocolate cream

1/4 cup honey (or any other healthy sweetener)
3 bananas, ripe
1/3 cup cocoa/carob
2 Tbsps psyllium husks

Garnishing and filling

about 1 1/2 cups raspberries
5 tbsp dark chocolate flakes( I used 85% cocoa)
Instructions
Place the walnuts, salt, dates and carob/cocoa in your food processor and blend well until you get a soft and sticky paste.
Divide the mixture in two and form two balls. Place these balls in the fridge.
Place the bananas, carob/cocoa, psyllium husks and honey in your food processor and mix well until you get a smooth paste.
Cover the cake form with a plastic wrap. Put one crust ball in your cake form and spread it evenly. Tip: Place a piece of plastic wrap over the crust and start pressing and spreading. This way it won't stick to your fingers and you'll manage to spread it evenly really quick.
Spread some chocolate cream on top (6-7 tbsp). Sprinkle the raspberries and press them gently into the chocolate cream.
Place the other dough ball on top and spread it, but be careful not to crush the raspberries. (You can place it between two plastic wraps and stretch it evenly and after that, place it over the raspberries – without the plastic wraps, of course. It is easier this way and you won't crush the raspberries.)
Add the remaining chocolate cream.
Garnish with raspberries and dark chocolate flakes.
Put in fridge for at least 2 hours before serving.
http://gourmandelle.com/raw-vegan-chocolate-and-raspberry-birthday-cake/
Copyright: 2014 Ruxandra Micu | www.gourmandelle.com
UPDATE – Raw Chocolate Cake with Strawberries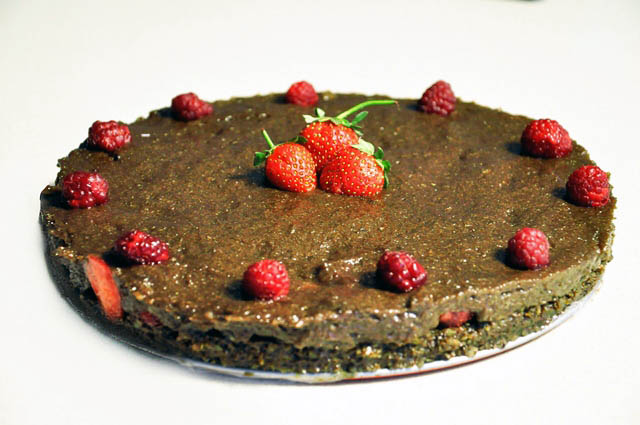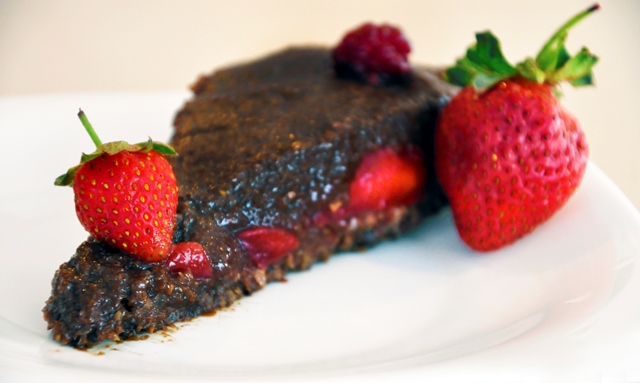 Carob fan? See these awesome recipes using carob instead of cocoa: Biscuit Salami [no bake, sugar free, vegan] | Salam de Biscuiti, The Healthiest and Most Delicious Breakfast..and it's Ice Cream!, Raw Vegan Chocolate Ice Cream Cupcakes.
Prima oara cand am facut acest tort raw vegan cu ciocolata si zmeura, a fost cu ocazia zilei mele de nastere, cand am implinit 20 de ani. Tot atunci a fost pentru prima oara cand am facut o reteta de desert raw vegan.  Din acea zi m-am indragostit eu de deserturile crude, vegane. Sunt nemaipomenite! Ce imi place cel mai mult la deserturile raw vegane, este ca se prepara extrem de usor! Parca e o joaca de copil! Plus ca, sunt sanatoase! Asta sa nu va faca sa credeti ca nu au calorii si ca nu ingrasa…Fals! Moderatia este cheia in toate, dar macar daca tot mananci ceva calorios, sa stii ca e si sanatos si plin de nutrienti, nu doar calorii goale.
Acest tort raw vegan cu ciocolata se face extrem de simplu. De atunci l-am mai incercat cred ca de pe putin 5-6 ori! Am folosit si mix de fructe de padure si capsuni in loc de zmeura. A iesit la fel de bun! Sper sa va placa!
UPDATE! Am facut reteta asta de tort raw vegan cu ciocolata de nenumarate ori! Este reteta de tort cea mai usoara si mai gustoasa si una din preferatele mele. Am incercat-o si cu mure, mix de fructe de padure si capsuni. Gasiti mai jos cateva poze de la varianta cu capsuni. A iesit minunat! De data asta nu am mai folosit doua straturi de blat, ci doar unul, cel de baza, eliminand astfel blatul de la mijloc. Am vrut sa fie mai cremos
Tort raw vegan de ciocolata cu zmeura
Ingrediente: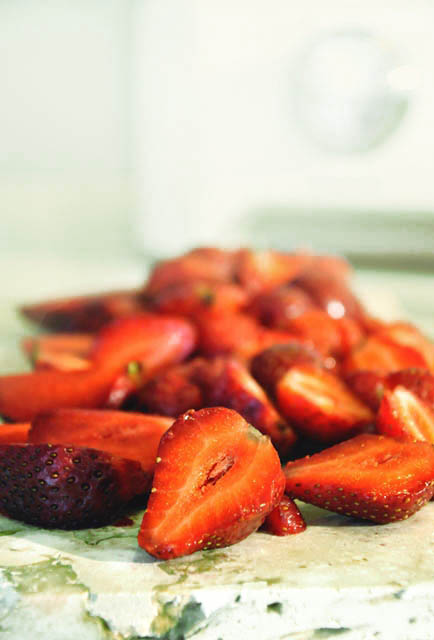 Blat
 2 cani nuci (pot fi nuci romanesti, migdale, alune de padure…etc)
o cana de curmale fara samburi, hidratate 20 de minute
1/2 cana pudra de roscove/carob
un praf de sare
Crema de ciocolata
1/4 cana miere, sau orice alt indulcitor sanatos
3 banane, foarte coapte
1/3 cana pudra de roscove / carob
2 Linguri tarate de psyllium
Decoratii si umplutura
o cana si jumatate de zmeura (sau alte fructe precum: mix de fructe de padure, capsuni, mure, coacaze etc.)
5 Linguri fulgi de ciocolata neagra, 85% cacao
Instructiuni:
Pune nucile, sare, curmalele si pudra de roscove pentru coca in robotul de bucatarie. Mixeaza-le bine pana formeaza o pasta moale si lipicioasa.
Imparte compozitia in doua, si formeaza doua bile de coca. Pune-le la frigider deocamdata.
Pune bananele, pudra de roscove pentru crema, taratele de psyllium si mierea in robotul de bucatarie. Mixeaza-le pana devin cremoase.
Tapeteaza forma de tort cu o folie de plastic. Scoate o bila de coca din frigider si pune-o in forma de tort. Apas-o si uniformizeaz-o pentru a forma blatul.
Adauga vreo 6-7 linguri de crema de ciocolata peste, in asa fel incat sa acopere blatul cu o grosime de vreo 2cm.
Arunca peste zmeura si distribui-o uniform pe toata suprafata. Nu uita sa iti pastrezi cateva zmeurici pentru decorat! Atentie, nu apasa prea tare zmeura pentru a nu o turti.
Cu un facalet, intinde cealalta bila de coca. O poti pune intre doua folii de plastic pentru a nu se lipi de facalet. Pune-o in forma de tort, peste crema si zmeura, si intinde-o uniform.
Adauga restul de crema de ciocolata.
Decoreaza cu zmeura si fulgi de ciocolata.
Tortul raw de ciocolata se baga la frigider vreo 2 ore, pana se incheaga bine.
UPDATE - Tort raw vegan de ciocolata si capsuni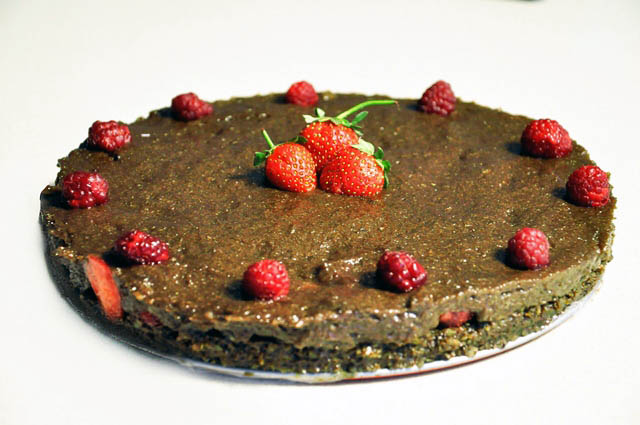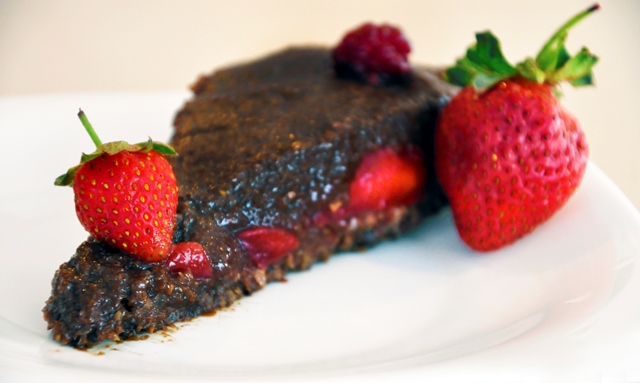 Cooksnaps