You'll love the roasted bell pepper-tomato flavor combined with the sweetness of corn and sour taste of vinegar. This is a great vegetarian, healthy and diet-friendly bell pepper tomato soup recipe.  | Reteta vegetariana / vegana, de post, pentru supa acra de rosii coapte si ardei gras, cu porumb dulce. 
  Recipe in English
  Reteta in Romana
This is one of my best tomato soups so far! It is currently on the first place, followed by my Creamy Peas Soup, Creamy Red Lentil Soup and Potato and Carrot Caraway Flavored Creamy Soup. Everytime I make one of these soups I just can't stop eating! I always eat triple servings, they're addictive!
Very important!! I used corn because it gives an extra taste and texture to this tomato soup. If you live in US, Canada or any other country where you cannot buy organic, non-GM corn it's better not to add corn at all. Avoid corn if it's GM. Here is an article you should read: Monsanto GM corn caused tumors in rats.
Roasted Tomato and Bell Pepper Soup with Crunchy Sweet Corn
You'll love the roasted tomato and bell pepper flavor combined with the sweetness of corn and sour taste of vinegar. This is a great vegetarian, healthy and diet-friendly tomato soup recipe.
Ingredients
4 medium tomatoes, quartered
1 onion, chopped
1 red bell pepper, sliced
1 tbsp extra virgin olive oil
1 cup cooked sweet corn

(you can use canned corn – please use only non-GM corn; if you can't find any organic corn skip this ingredient)

5 tbsp tomato paste
1/4 cup vinegar from pickles jar –

this is sweeter (if you use apple vinegar add less: 1-3 tbsps)

salt and pepper to taste
parsley, for garnish
Instructions
Heat the oven.
Add the quartered tomatoes and sliced red bell pepper in an oven tray. Spray with olive oil and let them roast for about 20 minutes.
In a large pot, add some olive oil and chopped onion. Cook until golden.
Fill the pot with water – as much as you want, if you want it creamy use less water.
Add the roasted tomatoes and bell pepper in the pot.
Add salt, pepper, vinegar and tomato paste.
Boil for 5 minutes then romeove from heat. Let it cool for a couple of minutes.
Using a vertical blender, start blending very well.
Add corn and pasley.
http://gourmandelle.com/roasted-tomato-and-bell-pepper-soup-with-crunchy-sweet-corn/
Copyright: 2014 Ruxandra Micu | www.gourmandelle.com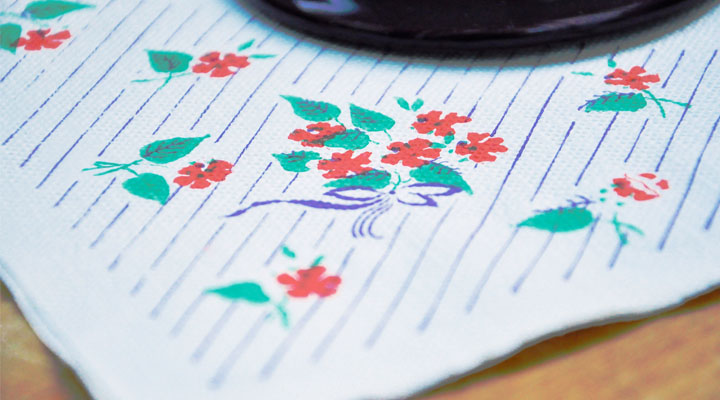 I love the napkins from my grandma's collection. I have over 200 napkins with different designs. She used to go to restaurants a lot when she was young. She passed her collection to me
Asta este una din cele mai bune supe de rosii pe care le-am incercat! Printre supele mele preferate se mai numara si Supa crema de mazare verde, Supa crema de linte rosie si Supa crema de cartofi cu chimen. O sa va placa cu siguranta aceasta supa acra de rosii. De fapt, este dulce acrisoara si are un ingredient surpriza – porumb dulce! Este o combinatie inedita dar destuld e reusita zic eu
Foarte important! Folositi otet din borcanul de castraveciori murati. Acesta e mai dulceag si mai aromat. Altfel riscati sa acriti prea tare ciorba.
Supa acra de rosii si ardei gras
Ingrediente pentru >8 portii de supa acra de rosii:
4 rosii, taiate in 4
o ceapa, maruntita
un ardei gras rosu, feliat
1 Lg ulei de masline
1 cana porumb fiert
5 Lg pasta de tomate
1/4 cana otet din borcanul de muraturi
sare si piper dupa gust
patrunjel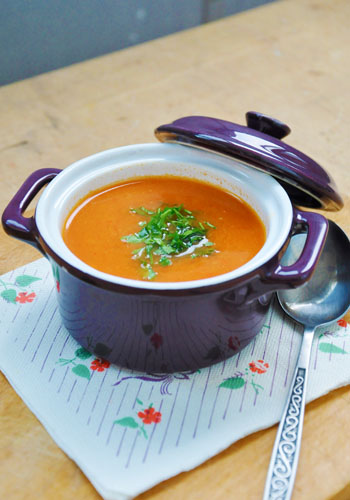 Instructiuni:
Incalzeste cuptorul la 200C.
Pune intr-o tava rosiile taiate in 4, alaturi de ardeiul gras feliute. Stropeste-le cu putin ulei de masline si lasa-le sa se rumeneasca aproximativ 20 de minute.
Intr-o cratita, incinge putin ulei de masline si adauga ceapa maruntita. Caleste-le putin dupa care umple cratita cu apa.
Adauga rosiile si ardeiul gras, sare, piper, otet si pasta de tomate.
Fierbe-le inca 5-10 minute.
Folosind un blender vertical, paseaza-le bine.
Adauga porumbul fiert si presara patrunjel proaspat tocat.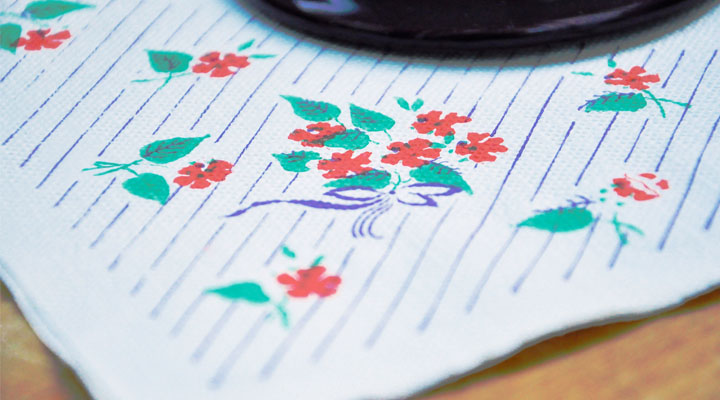 Iubesc colectia de servetele de hartie a bunicii mele. A colectionat peste 200 de servetele de la tot felul de restaurante la care mergea in tinerete!