I promised you I will make some free vegetarian meal plans and here they are! It was a lot of work, but I really hope these will help you plan your meals and eat healthier.
I created a new Vegetarian Meal Plans Page. On that page you'll find free meal plans, delivered weekly, for vegetarians and vegans or people who just want to eat healthy! The free vegetarian meal plans can be easily filtered by categories. Click on a category and find weekly, free vegetarian meal plans with printable PDFs. Some of these free vegetarian meal plans are recipe link lists and others (most of them) are printable PDFs, nicely structured and adapted for your needs.
The first printable meal plan I share with you, is this weekly vegetarian meal plan for students. I know how busy students are, as I am a student myself, and they often tend to find various excuses for their unhealthy way of living. Well, dear friends you've ran out of excuses now! This free vegetarian meal plan is dedicated to students who want to eat healthy and not spend a lot of time in the kitchen.
What are the best features of this free vegetarian meal plan for students?
All recipes are super easy to make and have 5 main ingredients or less.
Breakfast takes less than 10 minutes to make.
Lunches are made of quick sandwiches + easy salads. You can make the lunch ahead. Make them in the evening. You can put the salads in small jars or plastic casseroles.
Dinners take less than half an hour to prepare.
Full meals! Breakfasts, lunches and dinners are made of two dishes, a main and a side dish/snack.
You get 7 breakfast, 7 lunch and 7 dinner meal ideas, that equals to 21 recipes!
All of these recipes are healthy!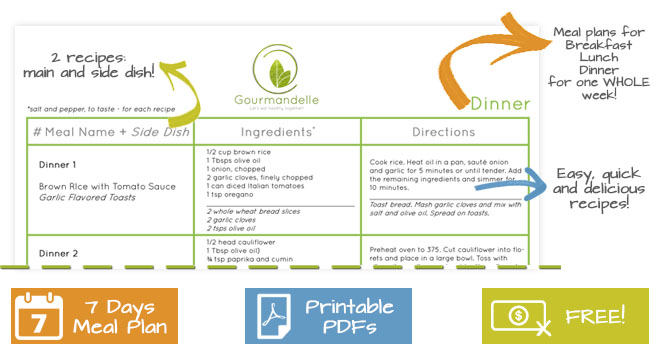 Download the vegetarian meal plan for students – for FREE! "Pay" with a Tweet/Facebook/G+ Share. You'll get the download link instantly, right after the tweet/share/G+.
Get the file by sharing, using one of the buttons below. Sharing is caring! 🙂
UPDATE: The link will open the PDF viewer – click on the Save button (down right corner). For some, the share may not work because of your browser settings. If you subscribe to my newsletter, you will receive the download links of ALL my meal plans, "share-free"!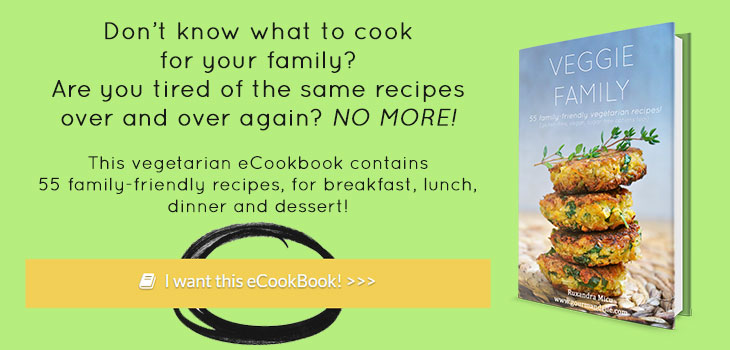 Weekly Vegetarian Meal Plan for Students No.1 – FREE Printable
was last modified:
August 6th, 2016
by