This is a delicious and healthy vegetarian soup recipe for yellow peas soup with veggies and saffron. | Reteta vegetariana de supa crema de mazare galbena cu sofran si crutoane. 
  Recipe in English
  Reteta in Romana
I love creamy soups and this is not a secret anymore! And by love I mean I am absolutely crazy about them! Everytime I make a new recipe of creamy soup I eat double or triple servings. I even created my own top 5 best creamy soups:
3. Yellow Peas Soup – straight to 3rd place, the green peas soup will remain my all time favorite
4. Potato and Carrot Caraway Flavored Creamy Soup
5.  Mushroom Creamy Soup with Garlic Flavored Baguettes
I always look for new creamy soup recipes to try but I always create my own version and add new ingredients. Btw, I always see creamy soup recipes that are so thick they almost look like a purée. Seriously, who likes that?! If I want to eat a veggie purée, I'll eat a veggie purée, but soup is supposed to be liquid, right? I'd really like to know your opinion on this. How do you like your creamy soups?
Now, about this yellow peas soup recipe… I bought some dry yellow peas recently and had no idea what to do with them. I remembered yesterday about how much I loved the green peas soup and decided to make yet another creamy soup. I figured it will be just like making lentils soup. Well, the difference was that you have to boil the yellow peas for about an hour unlike the lentils which are ready in less than 20 minutes.
I love its color! I added just a pinch of turmeric and garnished it with saffron. I think this yellow peas soup goes well with saffron but we all know how expensive it is, so if you don't have any don't worry, this yellow peas soup is great with sour cream or croutons too.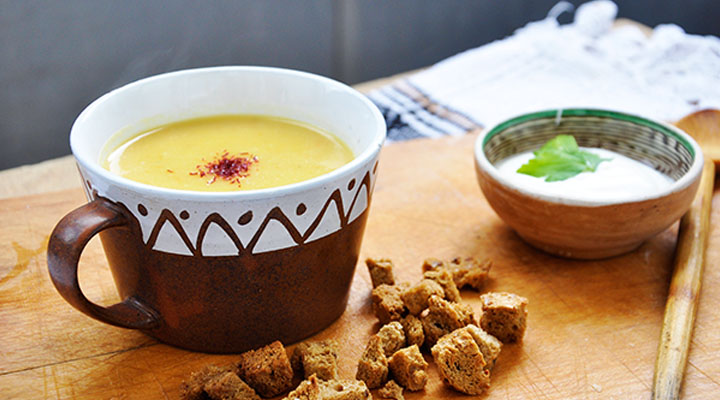 Yellow Peas Soup with Saffron and Crispy Croutons
This is a delicious and healthy vegetarian soup recipe for yellow peas soup with veggies and saffron.
Ingredients
250g dry yellow peas
3 medium potatoes, cubed
1 onion, quartered
1 carrot, sliced
1 cup chopped celery root
butter or olive oil, abut 2 tbsps
sea salt and white pepper, to taste
a pinch of turmeric
whole grain croutons (optional)
saffron (optional) – for garnish
sour cream (optional)
parlsey (optional) – for garnish
Instructions
Put the peas in a pot, covered with water, and let it boil for about 40-50 minutes. Replace the water in the pot with fresh water after half an hour; this way it won't cause any bloating as it usually has the same effects as beans.
After 50 minutes, add cubed potatoes, sliced carrot, celery, onion, salt and pepper. Boil for anouther 20 minutes. Add more water if needed, just enough to cover the veggies (don't add too much or the soup will be too liquid, you can adjust it's thickness later).
Remove from heat and add olive oil or butter and turmeric and stir well.
Using a vertical blender, start blending until the soup is creamy.
Garnish with saffron, parsley, sour cream or croutons…your choice :)
http://gourmandelle.com/yellow-peas-creamy-soup-with-saffron-and-crispy-croutons/
Copyright: 2014 Ruxandra Micu | www.gourmandelle.com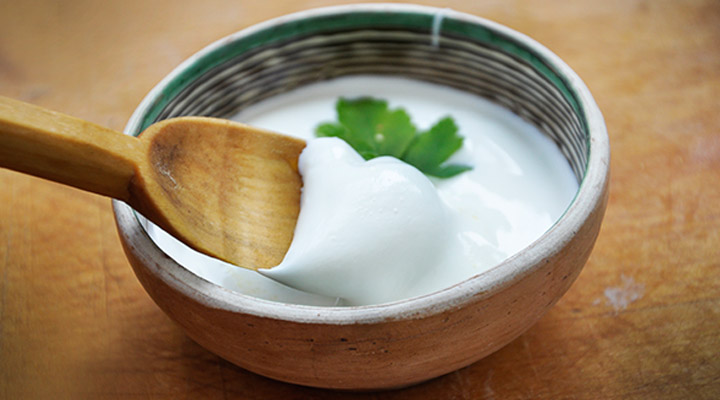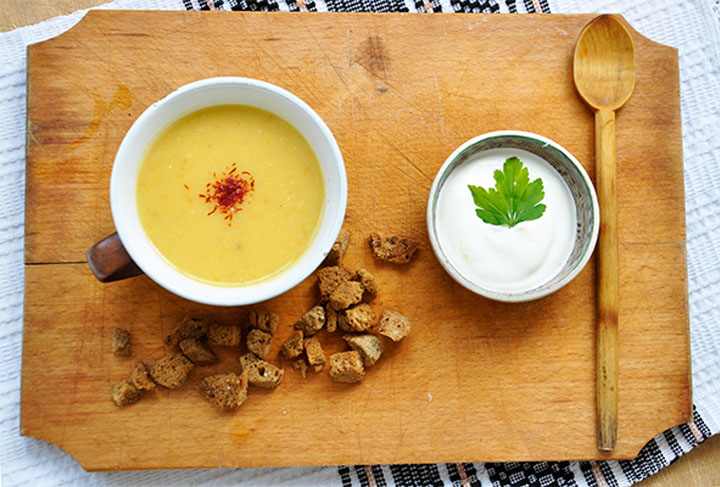 Imi plac supele crema la nebunie si asta nu mai e un secret de mult. De fiecare data cand prepar o supa crema mananc portii duble sau chiar triple! Am facut un top al celor mai bune supe crema pe care le-am facut, in ordinea preferintelor mele. Iata:
1. Supa crema de mazare verde – Green Peas Creamy Soup
2.  Supa crema de linte rosie – Red Lentil Creamy Soup
3. Supa crema de mazare galbena – Yellow Peas Creamy Soup – se claseaza direct pe locul 3, supa crema de mazare verde va ramane preferata mea
4. Supa crema de cartofi cu chimen – Potato and Carrot Caraway Flavored Creamy Soup
5.  Supa crema de ciuperci – Mushroom Creamy Soup with Garlic Flavored Baguette
Mereu caut noi retete de supa crema pe care sa le incerc. Apropo, ati observat ca multe supe crema de pe net sunt extrem de groase? Nu inteleg.. de ce?! Supa crema ar trebui sa fie lichida si cremoasa, ca de aia se numeste supa nu piure!
Acum, despre reteta asta de supa crema de mazare galbena…  Am cumparat de curand niste mazare galbena uscata. Nu am mai mancat niciodata si am zis sa incerc sa vad cum e. Singura parte mai putin buna este ca trebuie fiarta la fel ca fasolea, adica foarte mult. In rest este absolut delicioasa!
Culoarea este minunata! Am adaugat si un praf de turmeric pentru a o face si mai frumoasa. Nu ii schimba gustul deloc. Supa crema de mazare galbena merge de minune cu sofran, dar cu totii stim cat e de scump, asa ca daca nu ai poti folosi crutoane sau smantana, sau de ce nu, ambele!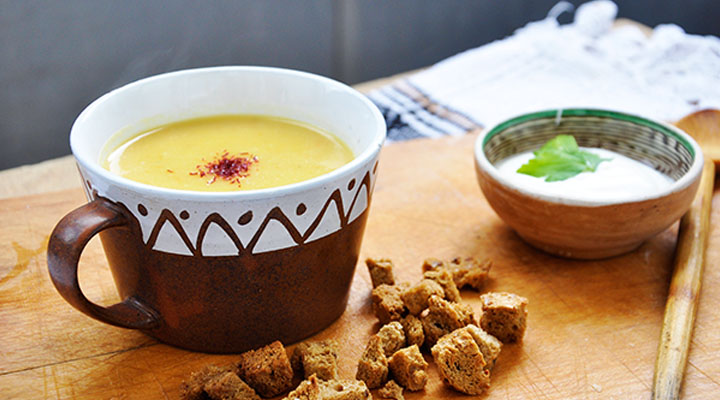 Supa crema de mazare galbena cu sofran si crutoane
Ingrediente pentru >8 portii:
250g mazare galbena uscata
3 cartofi medii, taiati cubulete
o ceapa, taiata in 4
un morcov, feliat
1 cana cu telina, taiata cubulete
2 Lg unt sau ulei de masline
sare de mare si piper alb, dupa gust
un praf de turmeric
crutoane din paine integrala (optional)
sofran (optional)
smantana (optional)
patrunjel (optional)
Sfat: Toate ingredientele optionale pot fi sarite..insa va sfatuiesc sa le adaugati.. supa este extraordinara cu ele :D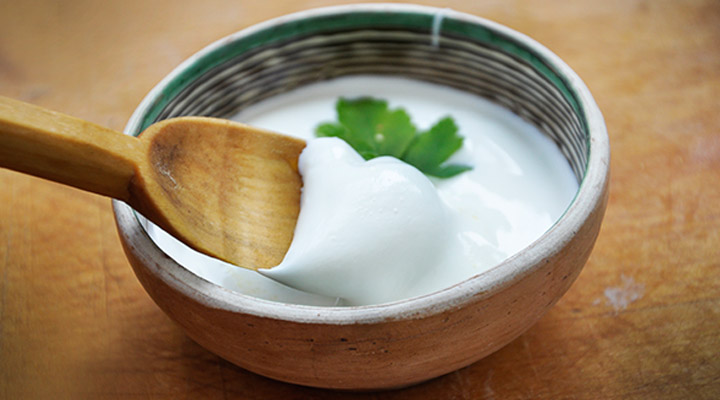 Instructiuni:
Pune mazarea la fiert pentru 40-50 de minute. Schimba apa la 25 de minute si  inlocuieste-o cu apa proaspata – astfel nu va cauza balonare.
Dupa 50 de minute, adauga cartofii cubulete, morcovul, telina, ceapa, sare si piper. Fierbe-le inca 20 de minute. Adauga mai multa apa daca este necesar, suficienta cat sa le acopere. Atentie sa nu adaugi prea multa apa pentru ca supa va deveni mult prea lichida. Ii poti da consistenta dorita mai tarziu.
Ia-o de pe foc si adauga ulei de masline sau unt si turmeric. Amesteca bine.
Folosind un blender vertical, paseaza-le bine pana cand supa devine cremoasa. Mai adauga apa daca e nevoie.
Presara sofran sau patrunjel pe deasupra si serveste-o cu smantana proaspata sau crutoane.