Change language | Schimba limba: Romanian
This yellow split pea soup with saffron and crispy croutons is a simple, vegetarian creamy soup recipe with incredible flavors and vibrant colors! 
I love creamy soups and this is not a secret anymore! And by love I mean I am absolutely crazy about them! Everytime I make a new recipe of creamy soup I eat double or triple servings. I even created my own top 5 best creamy soups:
3. Yellow Split Pea Soup – straight to 3rd place, the green peas soup will remain my all time favorite
4. Potato and Carrot Caraway Flavored Creamy Soup
5.  Mushroom Creamy Soup with Garlic Flavored Baguettes
I always look for new creamy soup recipes to try, but I always create my own version and add new ingredients. By the way, I always see creamy soup recipes that are so thick they almost look like purées. Seriously, who likes that?! If I want to eat a veggie purée, I'll eat a veggie purée, but soup is supposed to be liquid, right? I'd really like to know your opinion on this. How do you like your creamy soups?
I bought some yellow split peas recently and had no idea what to do with them. I remembered yesterday about how much I loved the green peas soup and decided to make this yellow split pea soup. I figured it will be just like making lentils soup. Well, the difference was that you have to boil yellow split peas for about an hour, unlike the lentils which are ready in less than 20 minutes.
What I love about this yellow split pea soup is its vibrant color! I added just a pinch of turmeric and garnished it with saffron. I think this yellow split pea soup goes very well with saffron, but we all know how expensive it is, so if you don't have any don't worry, this yellow peas soup is great with sour cream or croutons too.
P.S. I saw so many wonderful variations of this yellow split pea souprecipe – indian, spicy, sour etc. This Swedish version caught my eye. Will try it soon!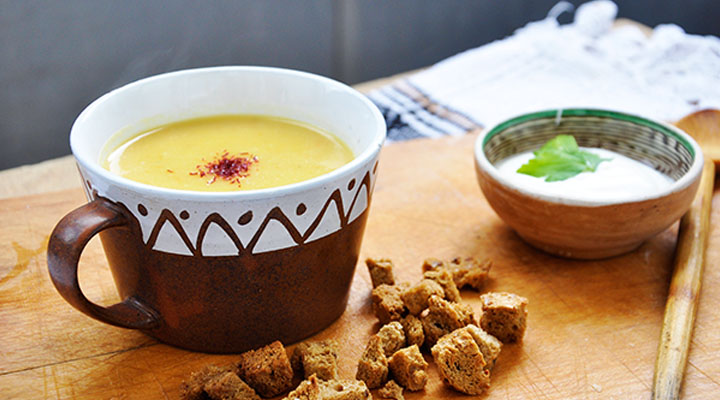 Yellow Split Pea Soup with Saffron and Crispy Croutons
This is a delicious and healthy vegetarian soup recipe for yellow peas soup with veggies and saffron.
Ingredients
250g dry yellow split peas
3 medium potatoes, cubed
1 onion, quartered
1 carrot, sliced
1 cup chopped celery root
butter or olive oil, abut 2 tbsps
sea salt and white pepper, to taste
a pinch of turmeric
whole grain croutons (optional)
saffron (optional) – for garnish
sour cream (optional)
parlsey (optional) – for garnish
Instructions
Put the peas in a pot, covered with water, and let it boil for about 40-50 minutes. Replace the water in the pot with fresh water after half an hour; this way it won't cause any bloating as it usually has the same effects as beans.
After 50 minutes, add cubed potatoes, sliced carrot, celery, onion, salt and pepper. Boil for anouther 20 minutes. Add more water if needed, just enough to cover the veggies (don't add too much or the soup will be too liquid, you can adjust it's thickness later).
Remove from heat and add olive oil or butter and turmeric and stir well.
Using a vertical blender, start blending until the soup is creamy.
Garnish with saffron, parsley, sour cream or croutons…your choice :)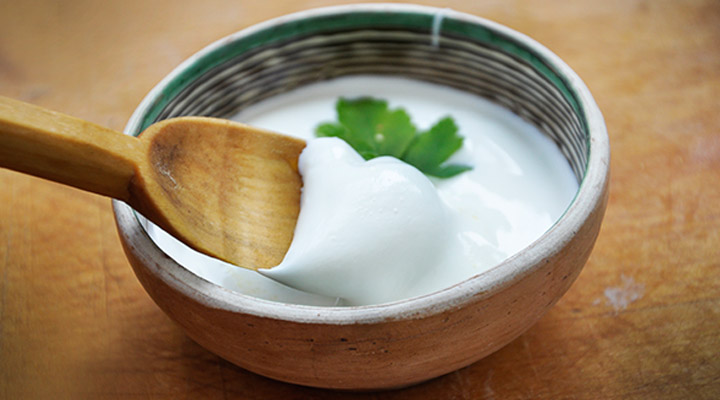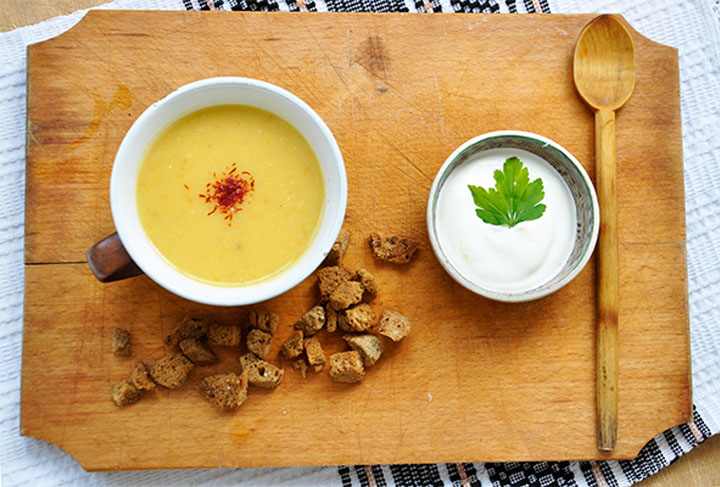 Yellow Split Pea Soup with Saffron and Crispy Croutons
was last modified:
August 27th, 2014
by