What can be a better starter for your Christmas menu than this incredible Christmas tree appetizer? It's easy, it's delicious and it looks impressive – so it's pretty much perfect, right? And vegan, too!
Picture this: it's Christmas Eve. You're sitting around a table next to all your loved ones. Every family member is there. The table is full of nice surprises that invite you to take a bite. Don't you feel warm just by thinking about this?
Christmas dinner is one of the biggest, coziest and most special occasions of the year. The actual meals composing it vary so much around the globe that it's hard to keep track, but the actual meaning remains the same: it's an occasion to be near your loved ones, to enjoy the present moment, appreciate everyone around you and stop stressing for a bit.
Food has always played a huge part in this. A good meal can bring people together in the blink of an eye. That's why it's important for the Christmas dinner to not be just any other regular dinner! It's mandatory for the food to be presented nicely, in a way that pleases the eye and tempts you to taste it. Everything should have a festive vibe, that's why decorations, candles, tree branches and stuff like that are always a good idea.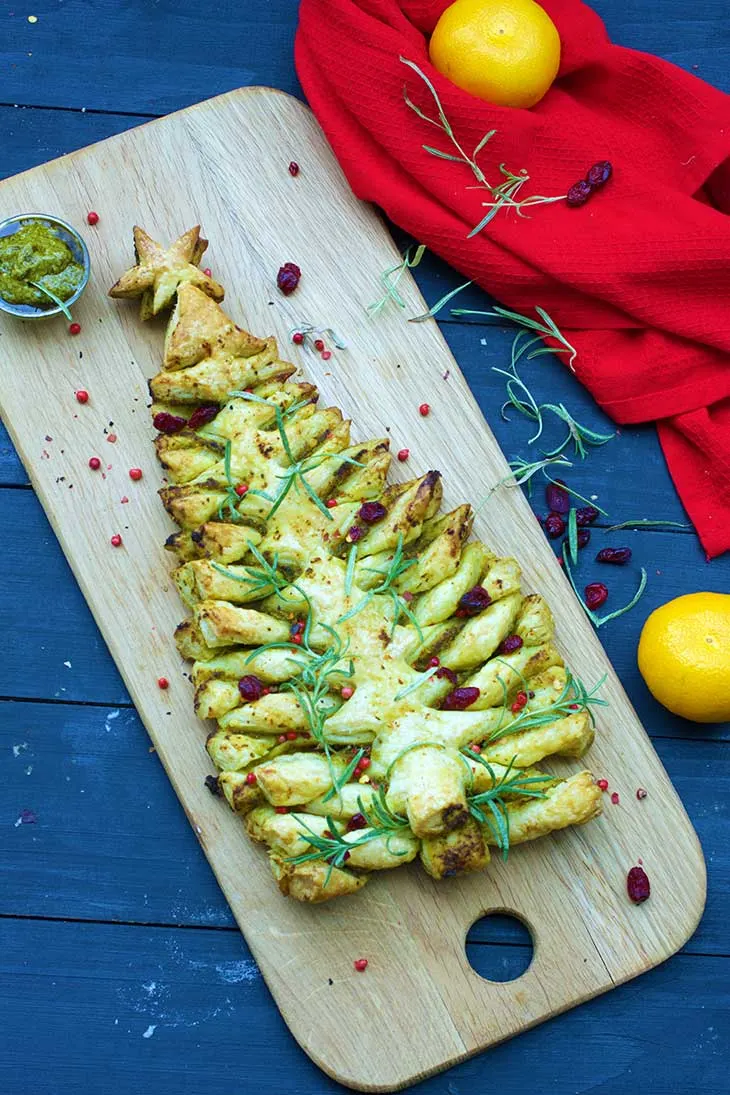 Christmas dinner is a time to put aside any argument. During these modern times, getting everyone together around a table can be a great challenge: I'd love to, but I just can't make it, I'm working overtime; Oh, it would be so nice, but let's do this next week, or I'm so tired I don't think I'll be able to come. We all know these excuses. Heck, we've probably used them ourselves!
That's why Christmas dinner gives us an opportunity to actually interrupt our frantic life rhythm for a bit and listen to what our cousin, daughter, nephew or whoever it might be that we haven't seen in quite a while has to say about their lives.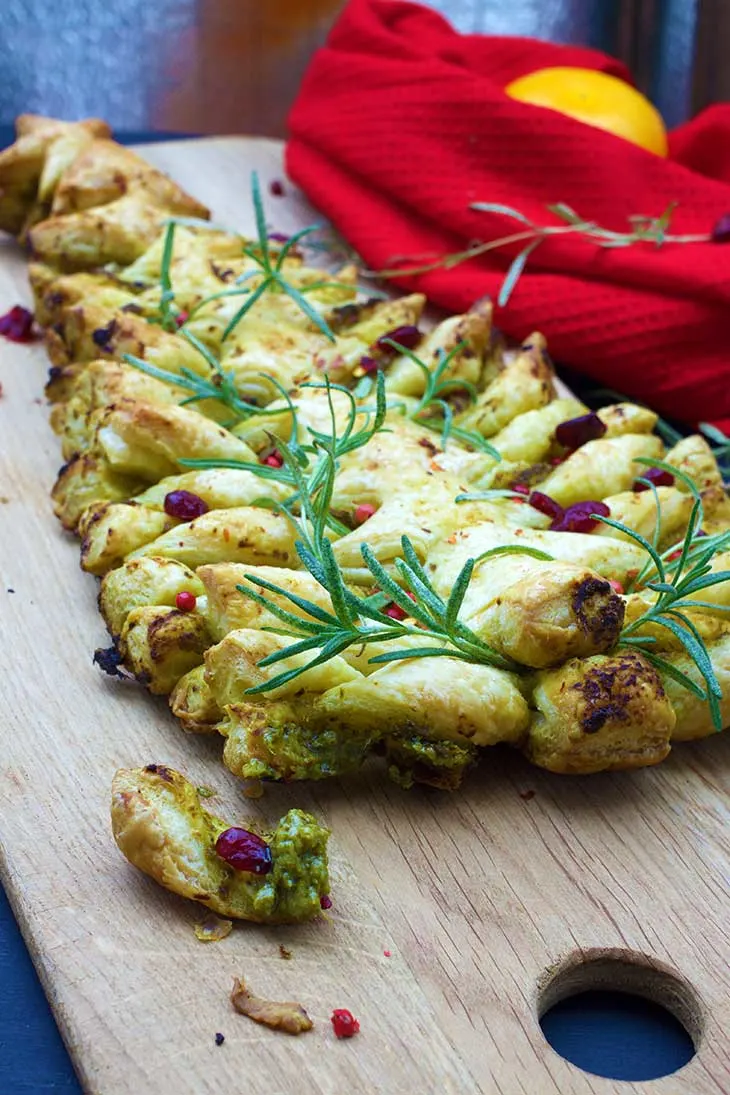 But sometimes the conversation can go a bit in the wrong direction. There's always that uncle who tells racist jokes or begins to talk about politics, and everyone goes 'Oh no, not again…' That's when food can really save the atmosphere! Your mom comes in with appetizer and everybody forgets about what they were arguing about. Food comes first. Situation saved.
Appetizers are amazing for any Christmas dinner, not only because they are a way to postpone hunger until the main course, but because they're fun, they can bring people together and they can work for anyone, no matter how fussy. A Christmas tree appetizer is an amazing solution for fussy eaters. I mean, who could resist a beautiful and delicious puff pastry decorated in the shape on the iconic Christmas tree? Yep, simple as that.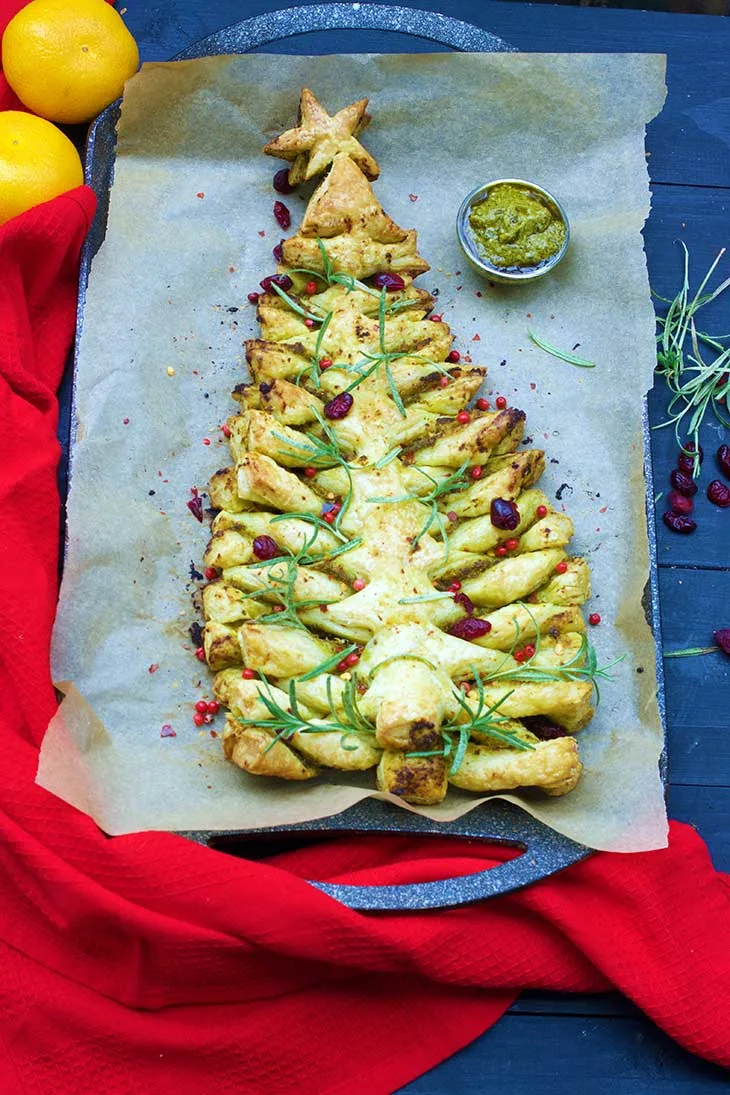 And the best thing about it? You can play with the ingredients and just mix and match them as you please in order to fulfill everyone's preferences! The only rule that must be followed here is the shape of it, which has to look like a cute Christmas tree. That's about it.
The Christmas tree appetizer looks and tastes amazing, and even though making this involves a bit of work, I am absolutely sure that everyone will be impressed by both its aspect and taste! There will be a pleasure for every member of your family to pull apart a bite-sized piece. I think it's one of the best ways to show just how close food can bring people! 🙂
Feel free to use as many or as little ingredients as you'd like. You can decorate the puff pastry with dried cranberries and rosemary, you can add some peppercorns or leave it as it is – the choice is all yours!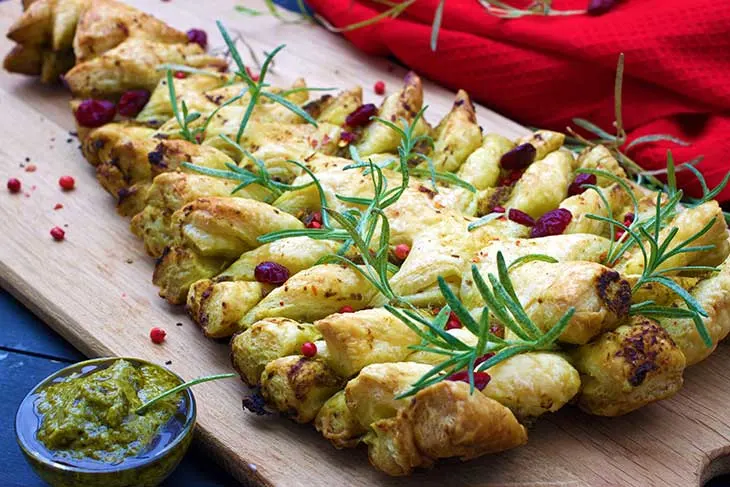 And because I am on a quest to show you that a vegan Christmas menu is just as amazing as a traditional one, this vegan Christmas tree appetizer is the perfect dish to exemplify this!
This appetizer is a sure way to impress your family members and friends this year, so you should definitely try making it as beautiful and festive as you can. The result will surely be awesome!
Yield: 8
Christmas Tree Appetizer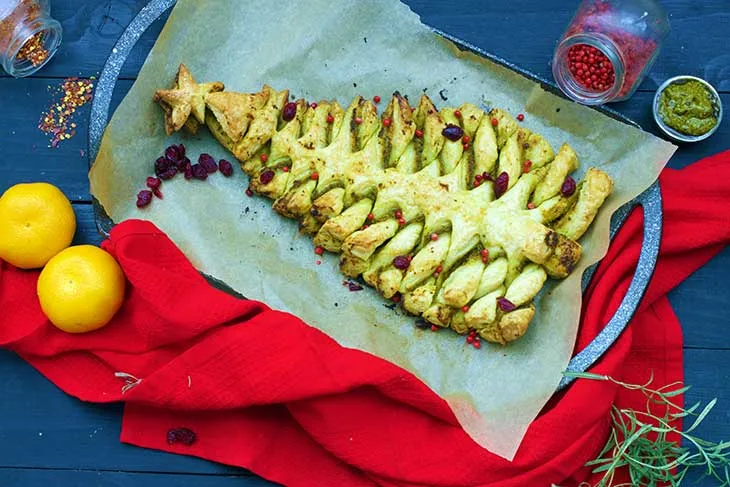 What can be a better starter for your Christmas menu than this incredible Christmas tree appetizer? It's easy, it's delicious and it looks impressive - so it's pretty much perfect, right? And vegan, too!
Ingredients
For the pesto:
40g (2 cups) fresh basil
3 Tbsp water
3 Tbsp pine nuts
3 cloves garlic
2 Tbsp lemon juice
4 Tbsp nutritional yeast
½ tsp sea salt
3 Tbsp extra virgin olive oil
For the tree:
1 Tbsp flour
2 sheets puff pastry, use GF pastry if needed
1 Tbsp cranberries
a bunch of rosemary
1 Tbsp red peppercorns
Instructions
Add the basil, water, nuts, garlic, lemon juice, nutritional yeast, and sea salt to a food processor or small blender and mix on high until smooth.
While blending, add olive oil a little at a time, controlling the consistency. Scrap down sides as needed. Set aside.
Place one sheet of puff pastry on a lightly floured surface.
Spread your pesto evenly on the puff pastry.
Cover with another sheet of pastry.
With a sharp knife, cut a large triangle - the tree shape.
Use the leftovers to cut out the trunk and the star for the top.
Make the branches of the tree by slicing into the puff pastry from the side, being careful not to slice all the way through.
Twist every branch.
Press the edges of the twisted branches down into the puff pastry so they don't pop up.
Transfer the tree to the baking tray.
Add the trunk to the bottom and star to the top and press the edges to the tree.
Bake for about 25 minutes until golden at the edges.
Sprinkle with peppercorns, cranberries and decorate with rosemary.
Nutrition Information
Yield
8
Amount Per Serving
Calories

167
Total Fat

11.7g
Carbohydrates

9.8g
Protein

5.5g