Reteta usoara cu specific italienesc, de frittata simpla si satioasa pentru vegetarieni si nu numai. Reteta vegetariana de frittata cu cartofi noi si branza telemea este delicioasa si gata in jumatate de ora! | Vegetarian recipe for Baby Potatoes Frittata, an Italian inspired dish. 
  Recipe in English
  Reteta in Romana
Frittata recipes are super-easy, quick and very filling. For those of you who don't know, frittata are omelets baked in the oven, as simple as that! You can add different ingredients to make them tastier, such as cheese, potatoes, greens, etc. Today, I decided to make a baby potatoes frittata with temele cheese. I'm sure you'll love it as much as I do! This baby potatoes frittata recipe is extremely easy to make and will surely satisfy even the pickiest eater!
Similar recipe: Potato and Cheese Tart.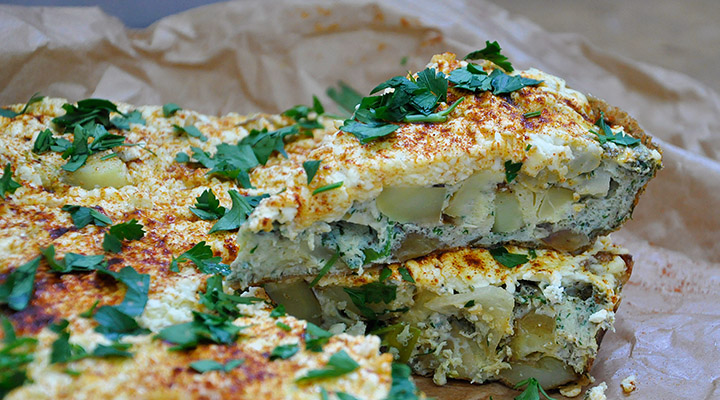 Baby Potatoes Frittata with Teleme Cheese
Vegetarian recipe for Baby Potatoes Frittata, an Italian inspired dish.
Ingredients
8 eggs
1/2 cup grated teleme cheese
2 handfuls of baby potatoes, the smallest the better
1 onion, cubed
2 strands of green garlic
2 strands of scallions
chopped parsley
sweet paprika
salt is no longer needed as teleme cheese is salty enough
olive oil
Instructions
Rinse the baby potatoes and cut them in half or in four depending on their size.
Heat some olive oil in a frying pan.
Tip! Use an 'all-metal' frying pan as you'll need to put it in the oven later.
Fry the baby potatoes for about 10 minutes, then add the chopped onion and fry for another 5 minutes.
Drain any excess oil.
Whisk the eggs in a separate bowl. Add chopped green garlic and scallions and pour them in the pan.
Remove from heat and blend together.
Add grated cheese on top and place in the preheated oven at 180C for about 30 minutes.
Serve this baby potatoes frittata, hot with bubbling cheese…mmm.. and some chopped parsley and sweet paprika on top. Heavenly!
http://gourmandelle.com/frittata-cu-cartofi-noi-si-branza-telemea-baby-potatoes-frittata-with-teleme-cheese/
Copyright: 2014 Ruxandra Micu | www.gourmandelle.com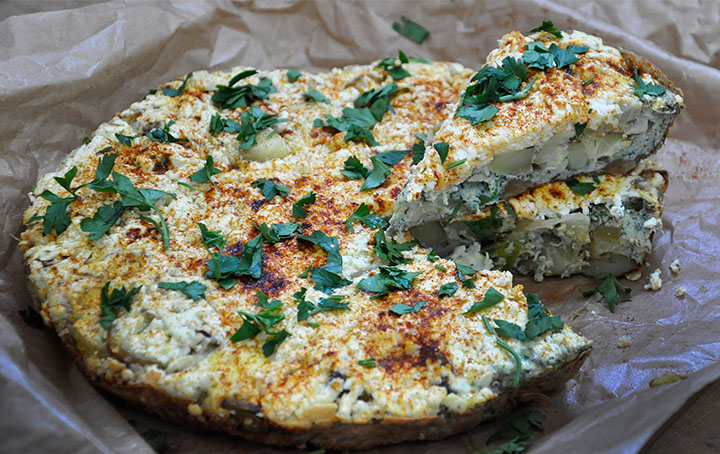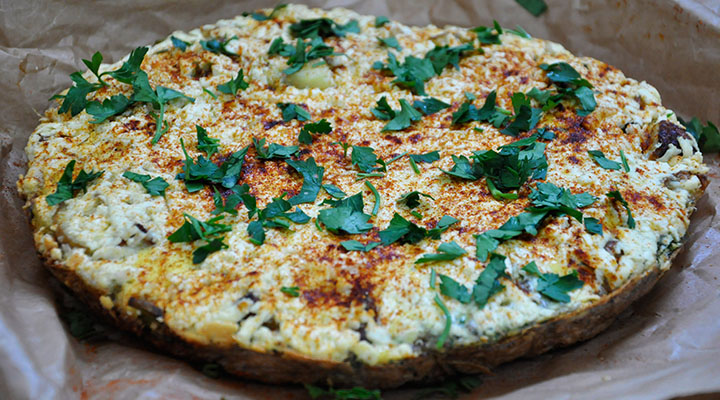 Retetele de frittata mi se par extrem de usoare, rapide si satioase. Pentru cei care nu stiu, frittata este un fel de omleta facuta la cuptor, in care poti adauga ce combinatii de ingrediente doresti. Eu am ales sa fac o frittata cu cartofi noi si branza telemea. Reteta de frittata cu cartofi noi si branza este extrem de simpla si rapida, si va va gadila papilele gustative cu siguranta!
Sfat! Unu la mana, daca puteti alegeti oua si lactate dintr-o sursa sigura, fara hormoni si alte prostii, si doi, folositi cartofi noi mici, mici, mici ca sa se faca mai repede si sa aveti mai putin de taiat.
Sper sa va placa aceasta reteta simpla de frittata cu cartofi noi si branza telemea si sa o incercati si voi
Reteta asemanatoare: Tarta de cartofi cu branza.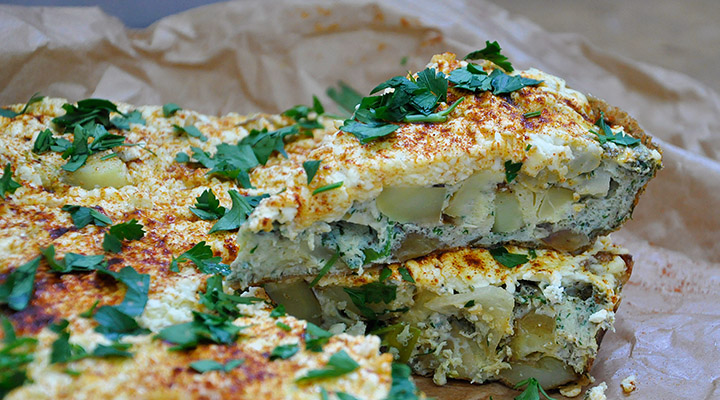 Frittata cu cartofi noi si branza telemea
Ingrediente pentru 6 portii de frittata cu cartofi noi si branza:
8 oua
1/2 cana branza telemea rasa
2 maini de cartofi noi, micuti si spalati bine de tot
o ceapa, taiata cubulete
2 fire de ceapa verde
2 fire de usturoi verde
patrunjel maruntit
boia dulce
ulei de masline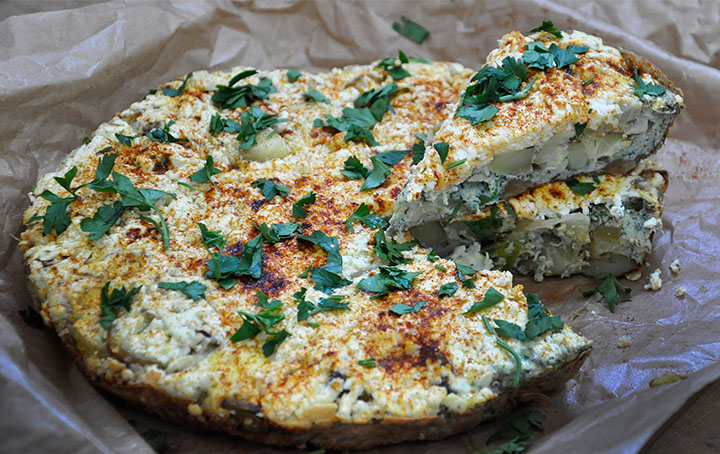 Instructiuni:
Spala bine cartofii noi si taie-i in 4.
Pune la incins uleiul de masline si adauga cartofii. Rumeneste-i 10 minute dupa care adauga ceapa maruntita si mai lasa-i pe foc inca 5 minute.
Scurge uleiul in exces.
Bate 8 oua intr-un bol separat si adauga-le peste cartofi.
Marunteste ceapa verde si usturoiul si adauga-le in tigaie. Amesteca bine si opreste focul.
Presara branza telemea rasa pe deasupra si baga fritatta la cuptorul preincins la 180C, pentru jumatate de ora.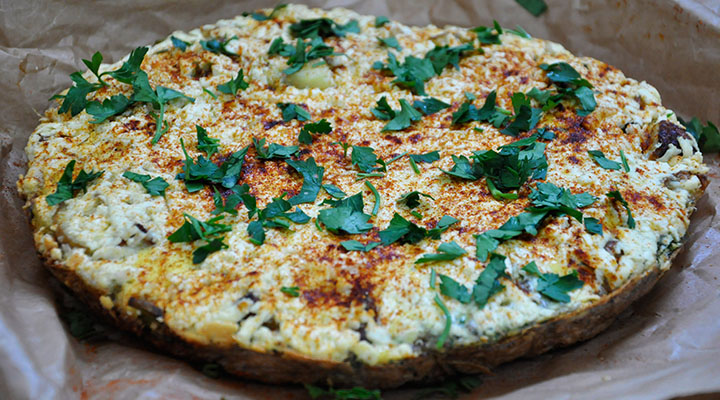 Cooksnaps