Vegetarian BBQ recipes: veggie skewers, grilled mushrooms, potatoes cooked in ember and crispy pita bread. | In aceasta postare veti gasi 5 retete oentru un gratar vegetarian delicios: frigarui vegetariene, ciuperci umplute cu cascaval, lipii crocante pe jar, cartofi cu cascaval copti in jar si sos de smantana cu verdeturi. 
[tabs_head] [tab_title]

  Recipe in English[/tab_title] [tab_title]

  Reteta in Romana[/tab_title][/tabs_head]
I love barbecues! This was the first time I made a vegetarian BBQ and it was a success! Even my non-veg friends enjoyed it. Here you'll find 5 recipes you can make for your own Vegetarian BBQ menu. I also made a huge salad bowl but unfortunately I didn't take any pics, I was just starving.. not in the mood for  taking photos
This vegetarian BBQ menu is low fat, low calorie and veeeery diet friendly so nothing to worry about. Some of them are vegan and GF too!
I'd love to discover other heathy, veg recipes for BBQ so please leave a comment if you have any ideas
Vegetarian BBQ: Veggie Skewers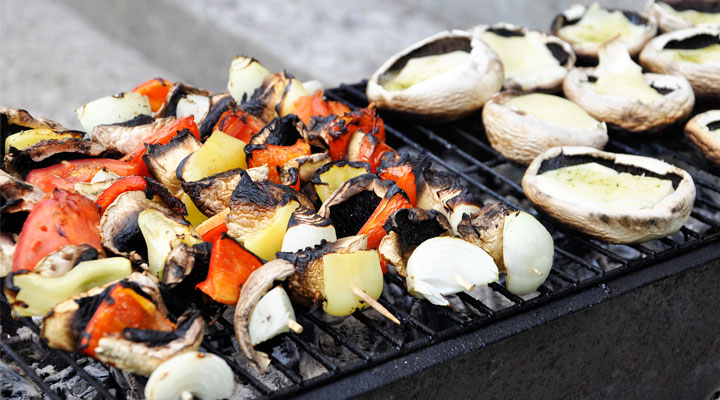 Ingredients for 10 veggie skewers:
4 tomatoes
1 big onion
10 Portobello mushrooms
2 red/green bell peppers
sweet paprika
salt
pepper
Directions:
This is easy. Just chop the veggies and thread on skewers.
Vegetarian BBQ: Grilled Portobello Mushrooms with Cheese and Thyme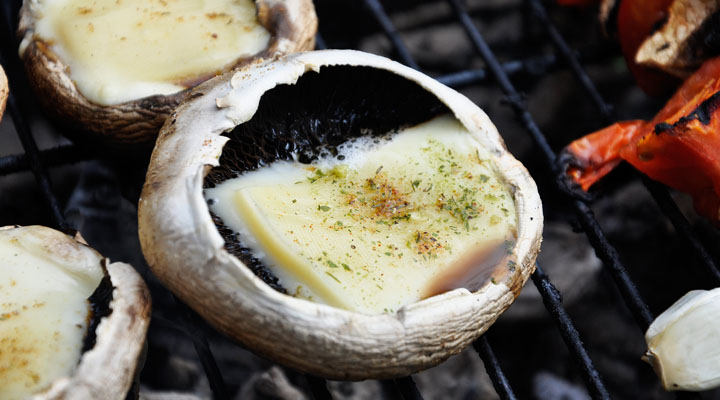 Ingredients for 10 muhsrooms:
10 big Portobellos
10 slices of cheese
butter
thyme (dry or fresh)
Directions:
Rinse the mushrooms and remove stems.
Add 1/2 tsp of butter in each plus 1 slice of cheese.
Sprinkle thyme on top and place on grill. They will be ready in about 10 minutes.
Vegetarian BBQ: Quartered Potatoes with Cheese Cooked in Embers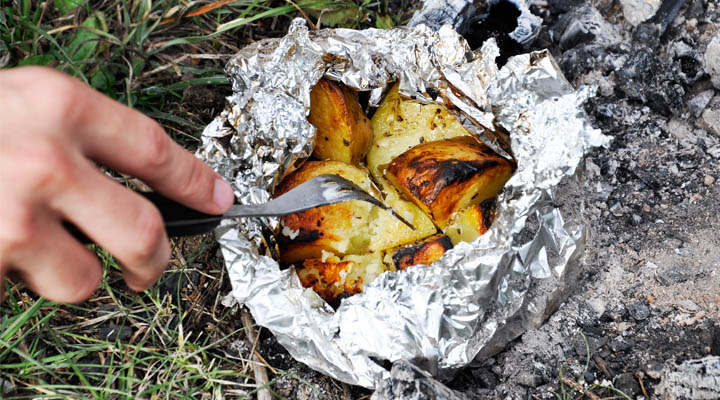 Ingredients for 5 servings:
10 medium potatoes – peeled and quartered
5 tbsps of grated cheese
sea salt
ground pepper
butter
thyme
rosemary
Directions:
Prepare the ember but let it cool a little. It doesn't have to be red.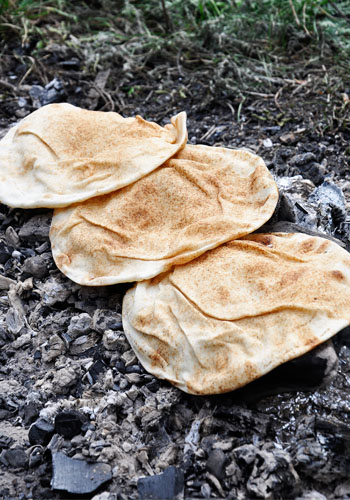 Place 2 quartered potatoes on an aluminum foil and create a small bag.
Add 1 tsp of butter in each. – Vegans can replace this with olive oil.
Sprinkle with sea salt, pepper, thyme and rosemary.
Add 1 tbsp of grated cheese in each bag.
Place in embers and cover with wood ash, It will be ready in about 20-25 minutes. Check with a fork to see if they're tender and ready to be served.
Vegetarian BBQ: Sour Cream and Herbs Sauce
1 1/2 cup of sour cream
3 tbsp chopped chives
1 tbsp chopped dill
1 tbsp chopped parsley
ground pepper
sea salt, to taste
Mix well and serve over veggie skewers and potatoes.
Vegetarian BBQ: Crispy Pita Bread Cooked on Hot Wood Ash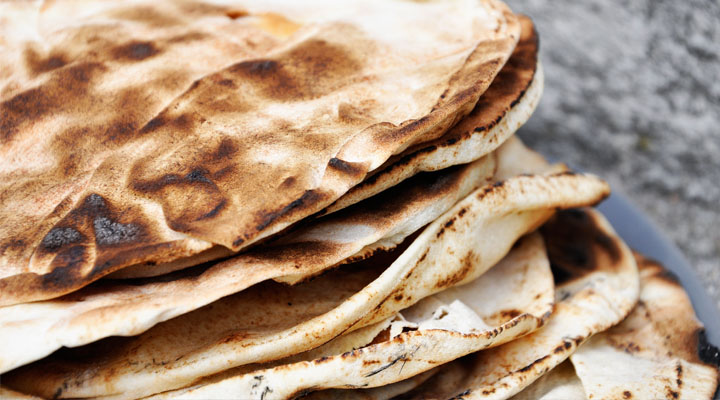 Just place the pita bread over the still hot wood ash and leave it there for a couple of minutes. It will become deliciously crispy and warm.
Serve all of the above accompanied by a large, fresh salad and beer, Mmmm..delish!
Looking forward to your comments. Let me know what you think!
Imi place la nebunie cand ies la gratar cu prietenii si cu familia, iar anul asta a fost primul gratar vegetarian! Toate preparatele au avut succes si am decis sa le impartasesc si cu voi, cu ocazia asta sa va arat ca se poate face gratar si fara mici si fripturi
Am postat aici 5 retete de gratar vegetarian pe care le-am preparat la aceasta iesire. Mai facusem si un bol urias cu salata insa nu am mai apucat sa ii fac poza. Imi era prea foame..hihi
Toate retetele de gratar vegetarian prezentate aici, sunt low fat si au calorii putine. Sund ideale si pentru persoanele la dieta.
Astept cu drag parerile voastre
Gratar vegetarian: Frigarui vegetariene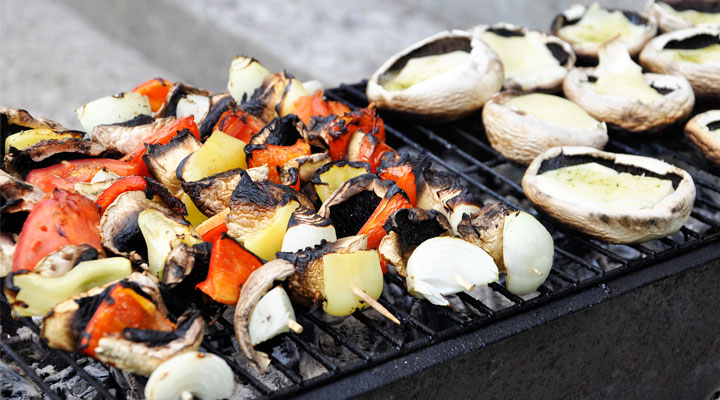 Ingrediente pentru 10 frigarui:
4 rosii
o ceapa mare
10 ciuperci Portobello
2 ardei grasi rosii
boia dulce
otet balsamic
sare si piper
Instructiuni:
Ciupercile se lasa la inmuiat in otet balsamic cel putin o ora. Restul banuiesc ca stiti deja, se taie legumele si se trag in teapa
Gratar vegetarian: Ciuperci la gratar cu cascaval si cimbru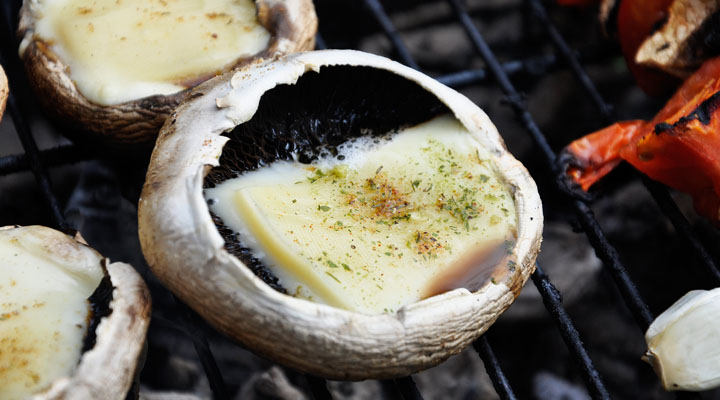 Ingrediente pentru 10 ciuperci: 
10 ciuperci mari
10 felii de cascaval
unt
cimbru
vin alb
sare si piper dupa gust
Instructiuni:
Se spala bine ciupercile si li se scot piciorusele.
Se adauga 1/2 lg unt in fiecare ciuperca + o felie de cascaval.
Se asezoneaza cu cimbru, sare si piper si se stropesc cu vin alb.
Sunt gata cam in 10 minute.
Gratar vegetarian: Cartofi rumeniti in jar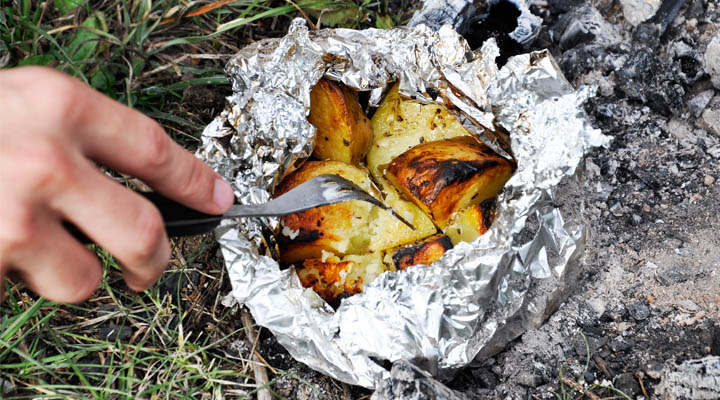 Ingrediente pentru 5 portii:
10 cartofi medii, curatati de coaja si taiati in cubulete mai mari
5 Lg cascaval ras
sare si piper dupa gust
unt
cimbru si rozmarin
Instructiuni: 
Se pregateste jarul. Nu trebuie sa fie rosu.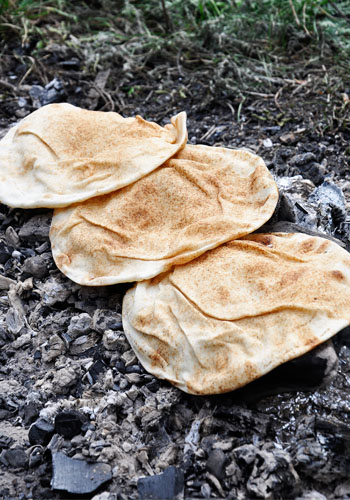 Se pun cartofii taiati cubulete in pungute facute din folie de aluminiu.
Se adauga o lingurita de unt in fiecare.
Se asezoneaza cu sare, piper, cimbru si rozmarin.
Se presara cascaval ras peste.
Se inchid pungutele si se baga in jar.
Sunt gata in aprox. 25 de minute. Se verifica cu o furculita.
Gratar vegetarian: Sos de smantana si verdeturi
1 1/2 cana smantana
3 Lg chivas maruntite
1 Lg marar maruntit
1Lg patrunjel maruntit
piper si sare dupa gust
Se amesteca si se serveste peste frigarui si cartofi.
Gratar vegetarian: Lipii rumenite pe jar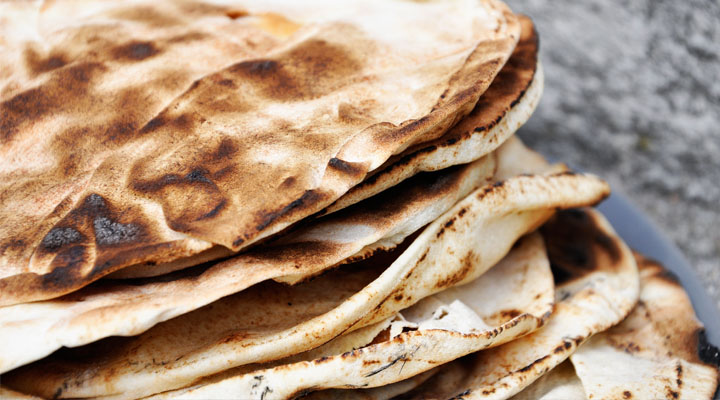 Tot ce trebuie sa faceti este sa puneti lipiile pe jar sa le rumeniti un pic. Atentie sa nu le lasati prea mult pentru ca vor deveni mult prea crocante.
Se servesc toate preparatele de mai sus acompaniate de o salata uriasa si bere rece