Because I'm such a huge fan of vegan burgers and veggie patties, I decided to make this post: The Anatomy of a Perfect Vegan Chickpea Burger. A couple of days ago I made this vegan chickpea burger and I was AMAZED by how delicious it turned out. It was incredibly good! Honestly, I think it could easily trick an omnivore!
From spices, ingredients, sauces, greens, veggies and gluten-free homemade buns, everything was just perfect! It would be a pity not to share it with you. Of course, if you don't want to stay too much in the kitchen, you can just buy some vegan burger buns, but in my case, I also wanted to make them gluten-free. They are actually easy to make; it's just mixing and baking. 🙂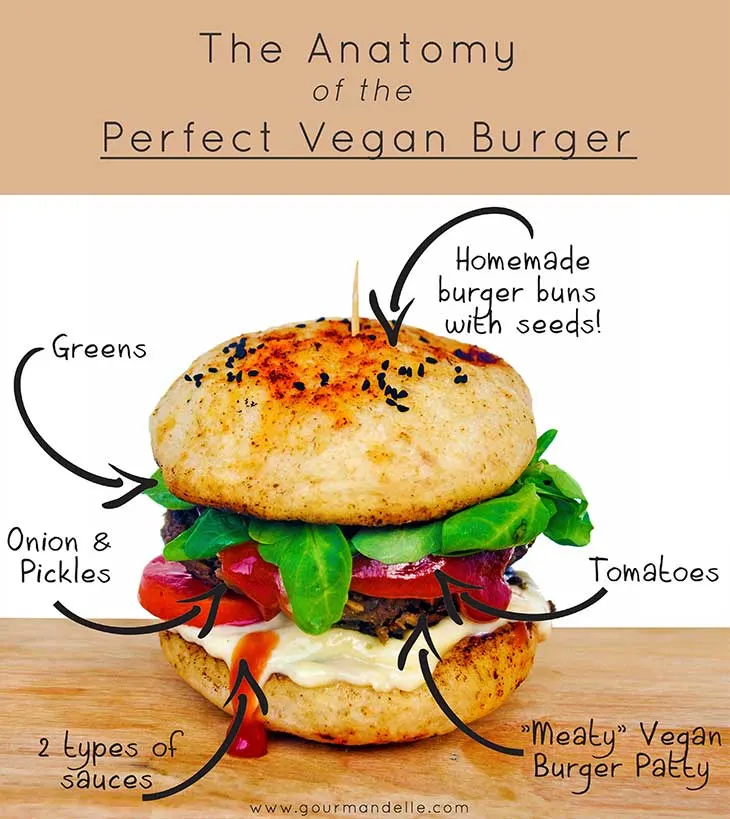 So, what makes a perfect vegan chickpea burger?
Burger buns are a very important part! They must be fluffy, with just a bit of crunch. Also, they must have a mildly sweet and buttery taste and definitely some seeds on top.
Below, you will find the recipe I used for my gluten-free vegan burger buns. It's quite simple. Instead of butter I just used coconut oil, which is amazing, and instead of eggs, I used some psyllium husks. Because I used gluten-free flour, I added more liquids than usual, and this made them fluffy.
Because my gluten-free flour mix is too white and the bread I bake are usually as white as paper, I decided to make a mix of olive oil and turmeric powder and coat each bun with it. This was used instead of milk and beaten egg yolk, which is used for non-vegan burger buns. It was just perfect! It made the buns golden. To make the buns taste a bit "smoky", I also sprinkled them with some smoked paprika.
I love black cumin seeds, so I sprinkled them all over the buns. You can use any seeds you want. 🙂
2. Vegan Chickpea Burger Patty
The vegan burger patty is the most important part of a vegan burger. In my opinion, the patties must look like real meat patties, have a similar texture and definitely have the taste of real meat burgers. In order to achieve this, I used a couple of tricks I will share with you. 🙂
The spices are VERY important. Thyme and smoked paprika are a must! The patties will have a subtle smoked flavor you'll love! 🙂
For making the patties look like real meat patties, I added some carob powder in order to change their color to brown. This may sound like an unusual ingredient to use in vegan patties, but trust me, it's perfect!
The patties should be just a bit oily and have a nice crunchy crust. So, I recommend lightly frying them instead of baking them. When baking, you risk making them dry, so their texture will change a lot.
Besides the main ingredient in this, chickpeas, I also added some greens (parsley) and a dry veggie mix with carrots and celeriac. In case you don't have a dry veggie mix, you can just grate some carrots and celeriac. It gives the patties a special flavor.
Sauces are a big deal! The perfect vegan burger MUST have very good sauces! I used a combination of ketchup (Heinz, my favorite) and vegan aioli. You can also use mayo instead of aioli, but garlic makes this burger special, so I wouldn't replace it!
I found a great vegan aioli recipe you can use (it's in the ingredients list), or you can just buy it.
4. Greens
I LOVE valerian leaves! You can use any leafy greens you want, from baby spinach, wild garlic, lettuce, to arugula and others! Pick your favorite and add a handful in each vegan burger.
5. Veggies
Tomatoes (which are technically fruits) are a MUST! I also add some thin onion slices.
I am thinking about trying a vegan burger with some lightly cooked eggplant or zucchini slices. What do you think? 🙂
6. Pickles
Yes, pickles! Any pickled veggies you like will work. Personally, I find pickled roasted red bell pepper absolutely amazing in this!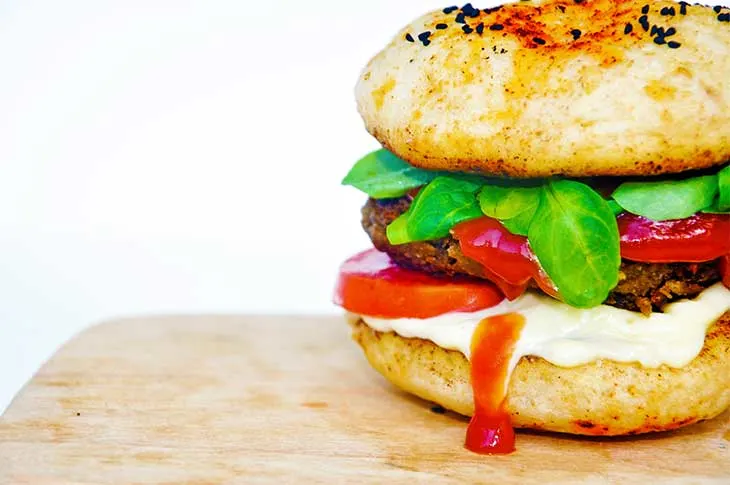 So, here it is – the anatomy of the perfect vegan chickpea burger! Hope you'll like it. Well, I'm sure you will!
Let me know how it turned out!
Yield: 10
The Anatomy of The Perfect Vegan Chickpea Burger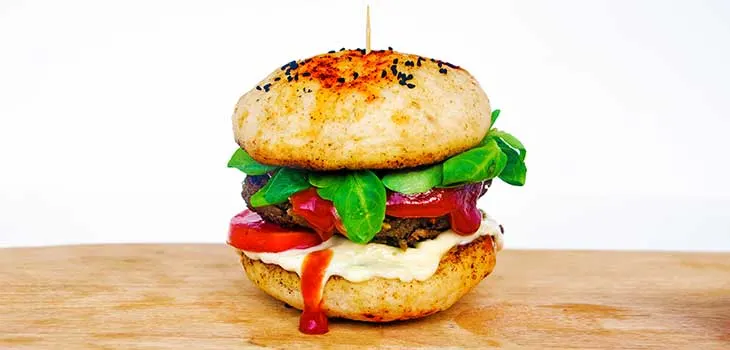 Learn how to make the absolute PERFECT vegan chickpea burger, from homemade buns to patties, sauces, greens, and veggies, plus some extra tips and tricks!
Cook Time
1 hour
30 minutes
Ingredients
Gluten-Free Vegan Burger Buns:
500g (17 oz) gluten-free flour mix, I used MixIt by Schar
250ml (1 cup) lukewarm water
250ml (1 cup) warm soy milk
5 Tbsps coconut oil, melted
3 Tbsps psyllium husks
2 Tbsps sugar
1 ½ tsps sea salt
10g (2 tsp) instant yeast
3 Tbsps olive oil + ½ tsp turmeric - for coating
smoked paprika
some black cumin or black sesame seeds
some more oil, for greasing
Vegan Burger Patties:
250g (1 ½ cup) dry chickpeas, soaked in warm water overnight
60g (½ cup) flour - any kind of flour you want
1 tsp baking soda
30g (1 cup) chopped parsley
1 medium onion, chopped
4 Tbsps carob powder
4 Tbsps psyllium husks
2 tsps dry thyme
1 tsp oregano
½ tsp 7 peppers spice
2 tsps smoked paprika
2 tsps garlic powder
½ tsp sea salt
2 Tbsps dry veggie mix, with carrots, celeriac etc. - If you don't have something similar to this, just grate 1/2 medium carrot + 1/4 celeriac.
Assembly, other ingredients:
2-3 thin onion slices / burger
a couple of pickle slices or a slice of pickled roasted red pepper / burger
2-3 thin tomato slices / burger
a couple of valerian leaves / burger
vegan aioli sauce
ketchup
Instructions
Gluten-Free Vegan Burger Buns:
Combine lukewarm water with warm soy milk, sugar and yeast. Mix until sugar is dissolved.
Add flour and psyllium husks in a large bowl. Add salt, liquids and coconut oil. Mix well. Don't worry if it will look very sticky. It's ok. Gluten-free flour is a bit different and needs more liquids. A 1:1 ratio is best.
Cover with plastic wrap and let it sit for an hour or so at warm temperature (near an oven or a stove maybe).
Put some parchment paper on a large oven tray and grease it. Heat the oven at 180C.
Once the dough has risen, grease your hands with some oil and separate it into ~10 small balls.
Shape the buns and place them on the tray. Your hands should be very well greased, or else the dough will stick to your hands.
Mix olive oil with turmeric powder and using a brush, coat each bun. This will give them color.
Sprinkle some smoked paprika and seeds on top and bake in the oven for approx. 25 minutes, or until golden.
Vegan Burger Patties:
Boil chickpeas in a large pot. Add baking soda. Boil for 40-50 minutes, or until ready and soft.
Drain chickpeas and put them in your food processor.
Add all the other ingredients for the burger patties.
Process for 1-2 minutes.
Store in the fridge for 30 minutes before using.
Tip: You can make the veggie patties composition right after you put the buns in the oven. This way, both the buns and patties will be ready in the same time.
Heat some oil in a large non-stick pan.
Shape the burger patties and place them in the pan.
Fry each patty 1-2 minutes on each side.
Assembly:
Make the perfect vegan burger!
Add ketchup and aioli sauce on the buns. Add onion and tomato slices.
Place the vegan burger patty and top it with valerian leaves, pickles and some more sauce if you want.
Enjoy! 🙂
Nutrition Information
Yield
10
Amount Per Serving
Calories

569
Total Fat

25.2g
Carbohydrates

65g
Protein

20.6g