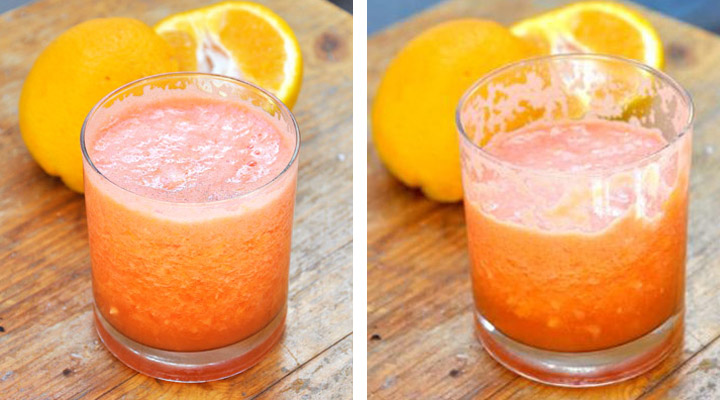 Reteta de raw pentru smoothie de pepene rosu si portocale, racoritor si delicios. | This watermelon and oranges smoothie is very refreshing and it's a great way to start your day.
  Recipe in English
  Reteta in Romana
This oranges smoothie is one of my favorites. It is very refreshing and it's a great way to start your day. I love drinking smoothies at breakfast. I feel like I'm filling myself with energy which lasts all day! This oranges smoothie will be ready in just a couple of minutes. Try it and let me know how it was
Ingredients for 2-3 glasses:
1 slice watermelon, cubed, seeds removed
2 oranges
6-7 ice cubes
fresh mint leaves for garnish (I didn't have any but mint goes perfectly with this smoothie! YUM!)
Directions:
Add all in blender along with some water (it depends how thick you want it to be; it's better to add just enough to blend and then add some more if necessary)
Enjoy!
Ador smoothieurile de fructe, iar acest smoothie de pepene si portocale este in topul preferatelor mele! Este ideal pentru zilele calduroase de vara. Racoritor si delicios, iti va potoli foamea de dimineata si te va umple cu energie si voie buna! Este gata in doar cateva minute, asa ca trebuie sa il incerci!
Particip cu acest smoothie la campania "Castig timp cu Philips si Gustos.ro" si mi-ar placea tare mult sa testez unul dintre produsele lor, storcatorul de fructe sau blenderul vertical. Ambele mi-ar fi de folos pentru ca imi place atat sa fac smoothieuri cat si sa beau sucuri proaspete de fructe.
Ce ai face cu timpul castigat in fiecare saptamana (circa 1,5 ore) daca ai prepara sucuri/milkshake-uri cu aparatele Philips?
Cu siguranta as posta mai multe retete gustoase pe blog
Smoothie de pepene si portocale
Ingrediente pentru 2-3 pahare:
1 felie de pepene rosu, pulpa taiata cubulete si cu semintele scoase
2 portocale zemoase
6-7 cuburi de gheata
menta proaspata (optional)
Instructiuni:
Se blenduiesc toate si se adauga apa cat sa aiba consistenta pe care o doresti.
Enjoy!
Cooksnaps