This grilled eggplant sandwich is ready in just a couple of minutes! You need just some basic ingredients in order to make this flavorful, vegan (and gluten-free) sandwich! 
Here's another vegan sandwich recipe! As I told you in my previous recipe for the vegan BLT sandwich, I am currently hosting an awesome campaign for Schar Romania, focused on making the best, healthy gluten-free sandwiches! 🙂 This sandwich-making contest is available only for Romanian residents, so I talked about it in detail on the Romanian version of this recipe.
So, what about this grilled eggplant sandwich?! First of all, it's CRAZY GOOD! I am a huge eggplant fan and because it's so versatile, I've tried it in so many ways so far, from baked, stuffed and rolled, to putting it in sandwiches, on pizza or even spreads!
I decided to make this vegan, so I used vegan cheese (the kind that melts) and vegan mayo. If you're not vegan or lactose intolerant, you can simply use normal cheese. Also, I used the wonderful Ciabattini rolls, by Schar, which are gluten-free. They're really good in sandwiches! You should give them a try, even if you're not a coeliac. They're awesome, especially if baked for a couple of minutes before serving. I think am falling in love with these grilled eggplant recipes!
---
It's time to stop worrying about what you're going to eat! I created the meal planner app to help you! Get your personalized meal plan with delicious, healthy, and budget-friendly recipes! GET YOUR MEAL PLAN!
---
More than that, this recipe is ready in just a couple of minutes. It's perfect for lunch at the office or school. Hope you'll give it a try!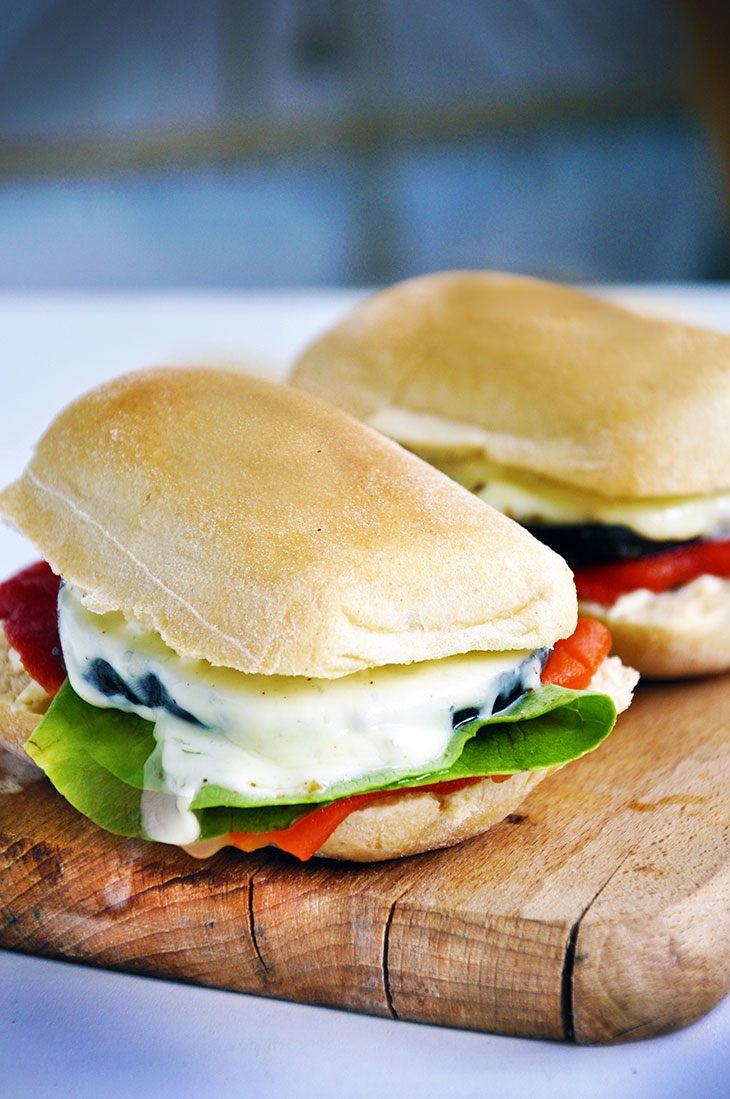 Grilled Eggplant Sandwich
This grilled eggplant sandwich is ready in just a couple of minutes! This sandwich is perfect for lunch at the office or school!
Ingredients
1 medium/small eggplant, sliced
4 lettuce leaves
1 tomato, sliced
2 canned roasted peppers (optional, but recommended), halved
4 vegan cheese slices (Choose the type that melts. If you're not vegan, just use regular cheese slices)
2 tsps balsamic vinegar
1 Tbsp oil
4 tsps vegan mayo
salt and pepper, to taste
Instructions
Heat oil in a large, non-stick pan.
Add the eggplant slices and fry them 3 minutes on each side.
Drizzle them with balsamic vinegar, salt and pepper. Place one slice on cheese (vegan cheese) on 4 of the slices. Remove from heat and cover the pan with a lid.
Cut the buns/ciabattini in half. Spread ½ tsp of mayo on each half.
Add tomato slices, canned roasted peppers, lettuce and 2 slices of grilled eggplant.
Serve right away.