Invata cum sa prepari rapid baba ganoush! Aceasta salata de vinete coapte cu specific din Orientul Mijlociu va deveni cu siguranta aperitivul tau preferat!
Sunt mare fan vinete asa ca nu putea ca reteta de baba ganoush sa lipseasca din seria de retete din Orientul Mijlociu de pe blog. 🙂 Am mai facut in trecut o reteta similara, mutabal, care e de fapt baba ganoush dar fara verdeturi si rosii. 🙂
Am vaut ca multi bloggeri le confunda. Ei, bine, sunt diferite! Asa cum am mentionat si mai sus, mutabal e varianta mai simpla, cu tahini si uneori si iaurt, pe cand baba ganoush nu are tahini, insa contine verdeturi rosii si uneori melasa de rodii. Daca ar fi sa aleg, desi imi plac amandoua, preferata mea ar fi baba ganoush. E mai fresh! 🙂
Reteta e simpla, daca ati mai facut salata de vinete e clar ca stiti sa faceti si baba ganoush. Baza o reprezinta vinetele coapte. Am adaugat mai jos un link catre blogul Bucatar Maniac in care explica pas cu pas cateva variante de a coace vinetele. Eu prefer varianta pe aragaz, direct pe flacara. Parca au gust mai bun asa.
De data asta insa, am "trisat" si am cumparat vinete deja coapte. Puteti sa procedati si voi la fel daca nu aveti timp sa coaceti vinete.
Sper sa va placa aceasta reteta de baba ganoush! 🙂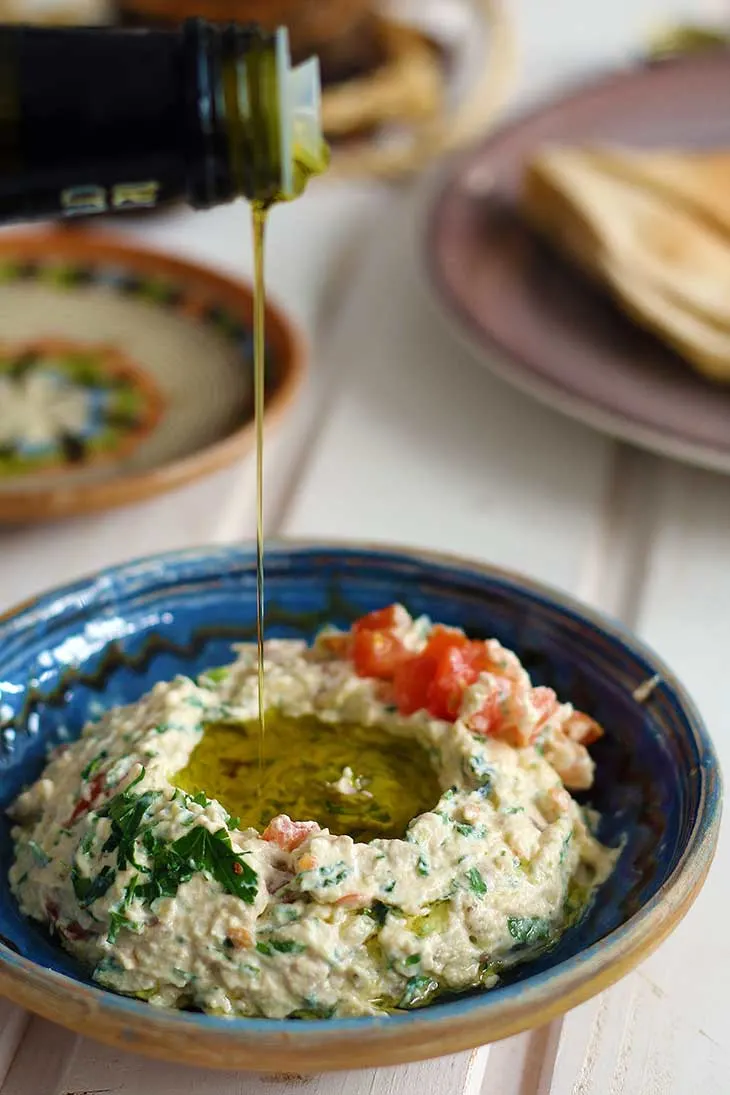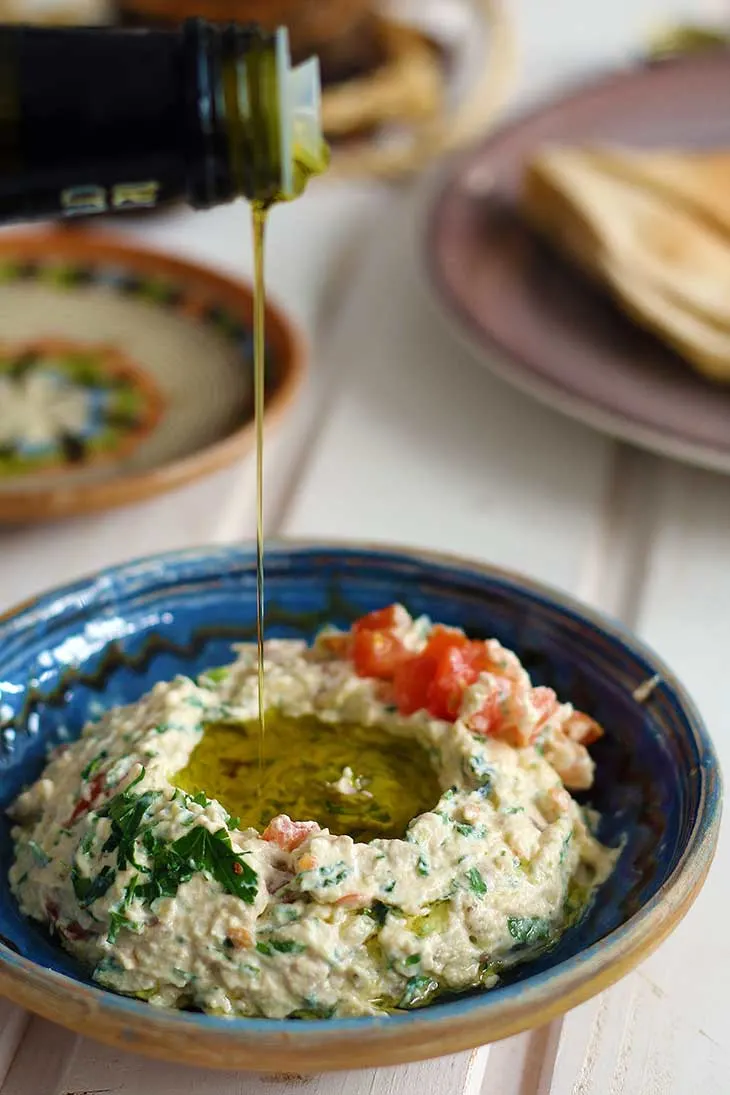 Learn how to make baba ganoush, the easy way! This delicious, fresh and flavorful Middle Eastern eggplant appetizer will surely become your favorite!
Ingredients
2 eggplants, medium
½ onion, medium, diced
4 Tbsp mint, fresh, chopped
4 garlic cloves, mashed
½ lemon, juiced
1 tomato, diced
4 Tbsp parsley, fresh, chopped
2 Tbsp olive oil
pomegranate molasses - optional, for drizzling
Instructions
Roast the eggplants. I prefer to roast them on the flame as they taste better, rather than using the oven.
Wash and dry the eggplants. Pierce them a few times with a fork. I have a gas range, so I roasted them directly on the flame. Add some aluminum foil on your stove before roasting the eggplants, to protect it from charred bits that may fall during the process.
Turn the flame to medium. Roast the eggplants for 20 minutes and move them on each side so they roast all over every 5 minutes. If it's a large eggplant you may need more time - about 30 minutes.
Place the roasted eggplants on the cutting board and start peeling them carefully, using some tongs. They're still hot! See here some other detailed methods for roasting eggplants.
Put the eggplants into a bowl and add the rest of the ingredients. Using a hand mixer on medium speed, start mixing everything (hand mixer, not a blender!!!). Mix well and serve with a drizzle of olive oil on top and some pita bread.
Nutrition Information
Yield
2
Amount Per Serving
Calories

425
Total Fat

15g
Carbohydrates

64g
Protein

8.2g