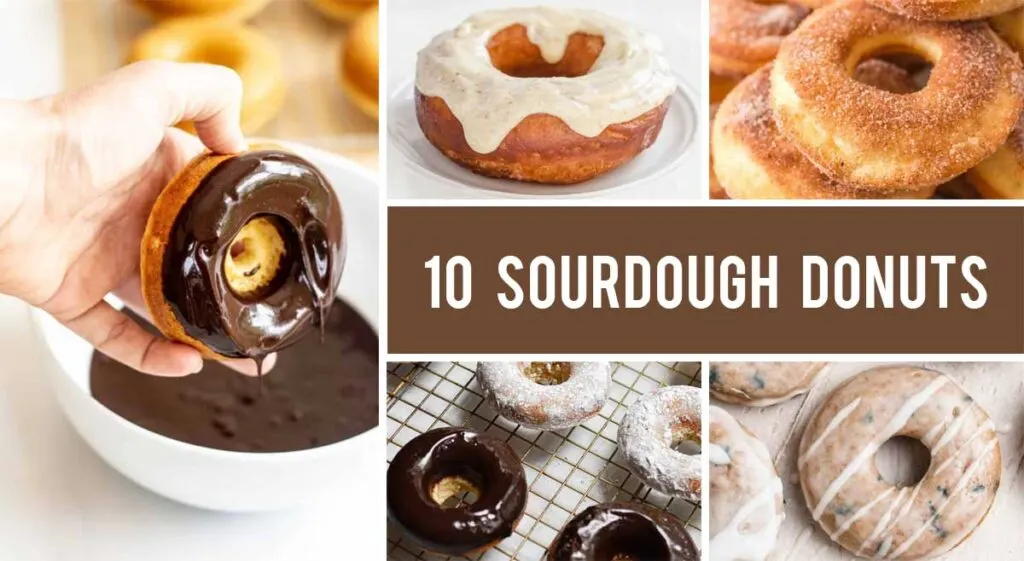 If you want to experiment with homemade sourdough, here's where you start! Here are 10 unique sourdough donuts recipes you'll want to bookmark right away!
Sourdough donuts are one of the best things you can make with your sourdough starter – or sourdough discard left after feeding. These little gems not only taste amazing, but they're also incredibly easy to make! I'm going to tell you everything you need to know about making delicious sourdough donuts in your own kitchen. All you need is a few ingredients and a little bit of time!
But first, a few words about the wonderful world of donuts.

Donuts are sweet, deep-fried cakes that can be made from different types of flour. Donuts are typically round with a hole in the middle, but they can be shaped like little balls as well. These can be filled with things like chocolate, jam, jelly, custard, or cream cheese.
Donuts are delicious, and there's no shortage of reasons why. Here are five reasons why you should make donuts today (find my recipes below!):
They're a great treat. Nothing says "I love you" like a homemade batch of donuts! 🙂
They're easy to make. With just a few simple ingredients, even beginning bakers can whip up their own sourdough donut recipe in no time at all.
They're a good way to use your sourdough starter. Donuts take advantage of the rise-and-fall effect created by yeast dough fermentation and are therefore an ideal opportunity for using the excess starter that's sitting around in your fridge.
They're a crowd-pleaser. With so many different varieties, there's a donut for everyone — and you can even make some without eggs or dairy, which makes them the perfect treat for vegans and those with egg allergies as well!
They're literally comforting food. Donuts are an easy way to satisfy your carb craving in a tasty way with minimal effort. When you're feeling down or tired, donuts can make you feel better almost immediately — plus they're really easy to eat while on the go!
Donuts are so popular because they are comforting, exciting, and delicious. Donuts are just plain fun to eat and share with others! They're perfect as party snacks or even as small gifts when friends come over – and they'll always be appreciated, that's a promise! Plus, their variety of flavors means that there's something for everyone to enjoy.
And because most of us need carbs frequently throughout the day in order to fuel our bodies properly during exercise or daily activities, a donut will come in handy anytime! 🙂
In the end, there's no wrong way to eat a donut. Whether it's hot out of the oven or you're eating it cold from the fridge — a donut will always taste amazing. But what about sourdough donuts?
Why are sourdough donuts better?
Sourdough donuts are made using a sourdough starter, which is a fermented mixture of flour and water. It's made with wild yeast, not commercial yeast. Wild yeast is, in short, the good kind of yeast. This type of yeast doesn't need any help from commercial yeast or baking soda to make donuts rise, so sourdough donuts are much healthier than regular donuts!
Sourdough donuts have an excellent flavor that can't be replicated with any other type of yeast. They're more flavorful because they have a stronger, more complex taste. This is because the sourdough culture used to make them produces lactic acid during fermentation which gives them their distinctive flavor.
Their texture is denser, chewier, and more complex than those of regular yeast donuts. Plus, they're easier to make than the traditional variety because there's no need for proofing or rising time — in fact, you could even say they're foolproof since there's no chance for failure!
They're also lower in sodium and carbs, which makes them a better choice for anyone who's trying to lose weight. Sourdough donuts are also naturally more nutritious than regular ones because they contain more vitamins, minerals, and antioxidants.
Okay, I hope I convinced you already that sourdough donuts are the best type of donuts. And if you want to try some today, scroll down to find my hand-picked selection of 10 sourdough donuts recipes you'll surely want to bookmark straight away. I tried to include donuts for all tastes, preferences, and levels of difficulty, so I'm sure you'll find something to love down below!
These 10 sourdough donuts recipes are a perfect way to use up some of your sourdough starter! They're easy to make and taste great, so what are you waiting for?
Happy cooking! 🙂
10 Sourdough Donuts Recipes You'll Want to Bookmark Right Away
If you want to experiment with homemade sourdough, here's where you start! Here are 10 unique sourdough donuts recipes you'll want to bookmark right away!