These protein-rich mushroom hemp patties with herbs not only taste great but also have the perfect patties texture! Give them a try!
I started experimenting with hemp food products, such as hemp oil, hemp seeds, hemp protein powder and even hemp flour! I realized that hemp is an incredible product and has so many great benefits. It's very rich in proteins and good fats and helps with a lot of health issues.
Before I tell you about this wonderful, protein-rich mushroom patties recipe, you should know why hemp is so amazing! Here are some hemp health facts below.
The amazing health benefits of hemp
Hemp is a variety of the Cannabis sativa plant. It is not the same as marijuana, as it does not contain the high levels of tetrahydrocannabinol (THC).
The essential fatty acids contained in hemp reduce blood cholesterol and thus prevent plaque buildup in the arteries.
Hemp improves your memory and prevents diseases such as Alzheimer's and Parkinson's.
Hemp oil is often used for cosmetic purposes in products such as soaps, skin lotions and lip balms. It clears up skin conditions such as eczema, psoriasis, and dry skin.
Hemp is a natural appetite suppressant and helps you to feel full longer. Add 4 tablespoons of hemp seeds to your breakfast and reduce your food cravings for the rest of the day.
Hemp is rich in fibers and thus it keeps your digestive tract clean and healthy.
Hemp reduces your risk of breast, colon, and prostate cancers because of the antioxidants and plant sterols it contains.
Hemp seeds are also essential if you are diabetic, as they control your blood sugar levels.
Hemp seeds are very rich in proteins and are great for vegetarians!
These are just a few of the great health benefits of hemp.
I decided to create a super-protein-rich meal with hemp and what better ingredient to go along with other than mushrooms! We all know mushrooms are very rich in proteins and they also have a meaty texture, so I created these protein-rich mushroom patties for vegetarians! They were not only healthy but really good too! You should try this mushroom patties recipe and see for yourself 🙂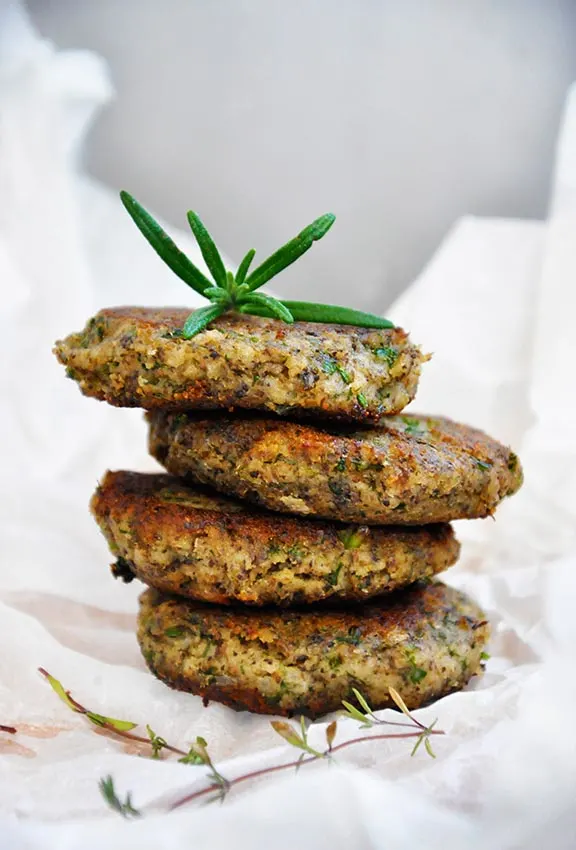 Yield: 15 mushroom patties
Protein-Rich Mushroom Patties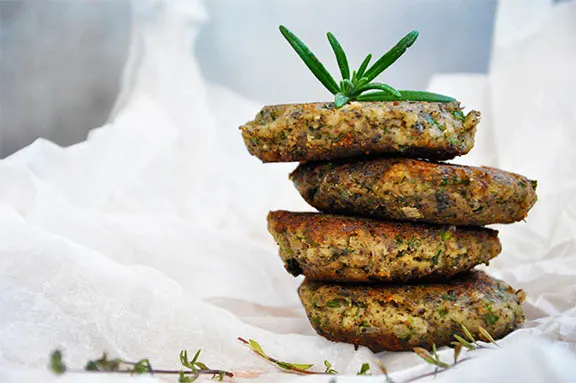 This is a vegan recipe for protein-rich mushroom hemp patties with herbs. These mushroom hemp patties have a great texture and taste!
Ingredients
360g (4 cups) button mushrooms, chopped
5 Tbsp hemp seeds
3 Tbsp dill, chopped
1 onion, chopped
2 tsp dry thyme
2 Tbsp ground flax seeds + 3 Tbsp water, or one large egg
4 Tbsp nutritional yeast
3-4 Tbsp hemp protein powder - Start by adding 3 Tbsp; If the composition is too moist and you cannot make the patties easily, add more until it has the right consistency. The hemp powder will absorb all excess water.
4 Tbsp white wine, optional
3 Tbsp oil for frying/baking + 1 Tbsp oil for cooking
sea salt and ground black pepper, to taste
Instructions
Mix the ground flax and water in a small bowl and set aside for 5 minutes to thicken.
Heat 1 Tbsp of oil in a large skillet. Add chopped onion and saute for 2 minutes.
Add chopped mushrooms, dry thyme, wine, salt, and pepper. Saute for 10 minutes and cover with a lid.
Remove from heat.
Add egg/flax egg and inactive dry yeast flakes and mix al ingredients together.
Add chopped dill, hemp seeds and hemp protein powder. When adding hemp protein powder, start by adding 3 Tbsps. If the composition is too moist and you cannot make the patties easily, add more until it has the right consistency. The hemp powder will absorb all excess water.
There are 2 ways you can cook the patties. A.Low fat or B. Baking.
A. Grease a non-stick pan with some oil and add the patties. 1Tbsp per patty. Fry 1-2 minutes on each side.
B. Grease an oven tray with some oil. Add patties and cook for 25-30 minutes at 200C. Flip them on the other side after 15 minutes.
Nutrition Information
Yield
15
Amount Per Serving
Calories

83
Total Fat

5g
Carbohydrates

5.3g
Protein

4.2g