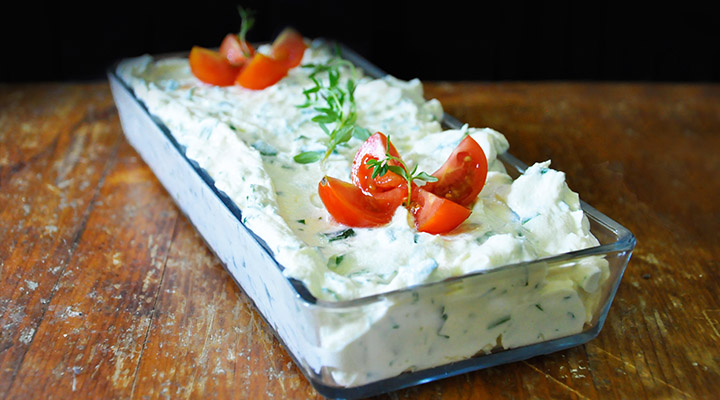 Cea mai buna reteta de crema de branza cu verdeturi! Delicioasa, cremoasa, si gata in doar 10 minute, iti va gadila papilele gustative cu siguranta! | Super smooth cream cheese recipe with fresh herbs, ready in just 10 minutes! The creamiest cheese spread ever! 
  Recipe in English
  Reteta in Romana
The BEST cream cheese with herbs recipe ever!! Really! The sensation when I first tasted it was…Aaaahmazing! It is so smooth and delicious, nothing compared with those store-bought ones. You have to try it! It's not only super good but it is also ready in 10 minutes! Yes! It's that easy to make.
I made this cream cheese with herbs recipe for a party and it was a huge success! I served it with some crackers and crispy toast. YUM!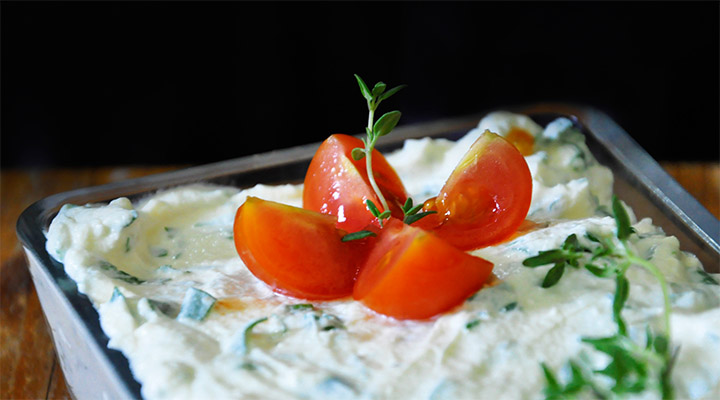 Super Smooth Cream Cheese with Herbs
Ingredients for a generous bowl of smooth goodness: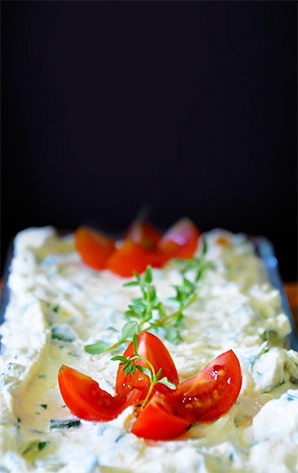 500g ricotta cheese
100g feta cheese
1 bunch of parsley, chopped
1 bunch of young, green onions, chopped
salt and pepper, to taste
water, as needed (about 1/2 glass)
Directions:
So easy! Mash the ricotta cheese using a fork and place it in your food processor. Add feta cheese and 1/2 glass of water. Let the food processor do it's job for about 3 minutes. Add more water if needed, in order to get a smooth consistencey.
Put the cream cheese in a large bowl and add fresh chopped herbs, salt and pepper.
You can also try to combine it with caraway or dill, instead of parsley + onion.

Cea mai buna crema de branza cu verdeturi pe care am mancat-o vreodata! PUNCT! Nu glumesc, cand am gustat-o prima oara nu mi-a venit sa cred cat de cremoasa si aromata e. O ador! Este atat de fina si cremoasa…numai cand ma gandesc la ea acum imi ploua in gura
TREBUIE sa incercati reteta asta de  crema de branza cu verdeturi. O sa va placa la nebunie!
Sa va mai si zic ca se face super usor?! Minunatia asta e gata in vreo 10 minute. Eu am servit crema de branza cu verdeturi pe post de aperitiv la o petrecere, alaturi de paine prajita si crackersi. Yami!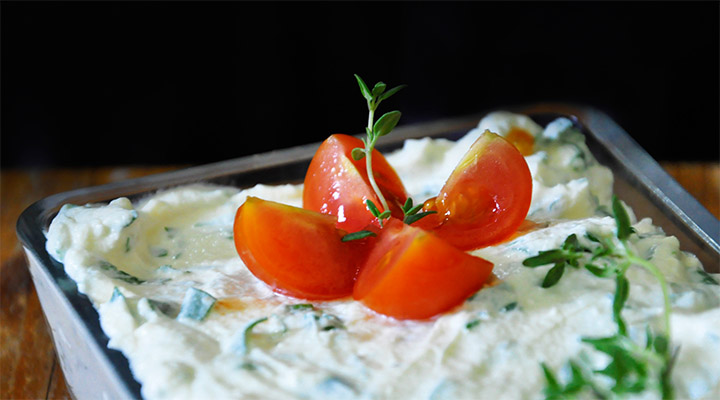 Crema de branza cu verdeturi
Ingrediente pentru o cantitate generoasa de crema de branza cu verdeturi: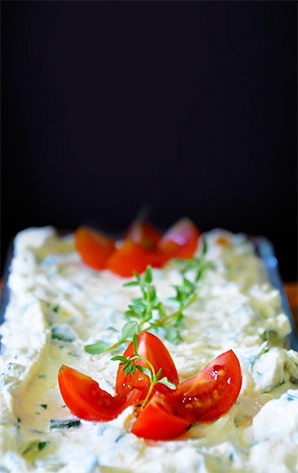 500g urda
100g branza feta
1 legatura patrunjel, maruntit
2-3 fire de ceapa verde tanara, maruntite
sare si piper dupa gust
apa, cat e nevoie, aprox. juma de pahar
Instructiuni:
Nimic mai simplu. Se piseaza urda cu o furculita si se pune in robotul de bucatarie. Se adauga branza feta si apa. Intai adaugi jumatate de pahar cu apa. Daca mai e nevoie mai adaugi dupa, suficient cat sa aiba o consistenta cremoasa.
Lasa robotul de bucatarie sa isi faca treaba, cam 3 minute dureaza. Intre timp poti sa maruntesti verdeturile.
Cand crema de branza din robotul de bucatarie este gata, se adauga verdeturile, sare si piper si se pune in vasul de servit.
Alte variante de condimente: Daca nu vrei patrunjel + ceapa poti incerca si cu chimen sau cu marar.
Cooksnaps