This is a vegan creamy carrot soup recipe with ginger and potatoes. You'll love the sweet and spicy flavor and creamy texture! | Reteta vegetariana / vegana (de post) de supa crema de morcovi, cartofi si ghimbir, delicioasa si aromata. 
  Recipe in English
  Reteta in Romana
There are three types of recipes I am absolutely crazy about: veggie burgers/patties, hummus and creamy soups! I could eat these everyday! I always experiment, when it comes to veggie burgers and creamy soups, as I love creating new recipes with unusual, but delicios ingredient combinations. I encourage you to do the same! Cooking should be fun
This time I changed the basic carrot and potato creamy soup by adding a new ingredient, ginger. With only one ingredient, this creamy carrot soup recipe turned from boring to an absolute sensation! You don't have to add too much ginger, just a thumb-size piece will do the trick.
This creamy carrot soup with ginger is perfect for this season! It will warm you from inside out :) Like all of my creamy soups recipes, this one is ready super-fast and it's really easy to make. All you have to do is boil the veggies and use a blender. You'll be done in just 15-20 minutes
Looking for more creamy carrot soups? Try this Potato and Carrot Caraway Flavored Creamy Soup too!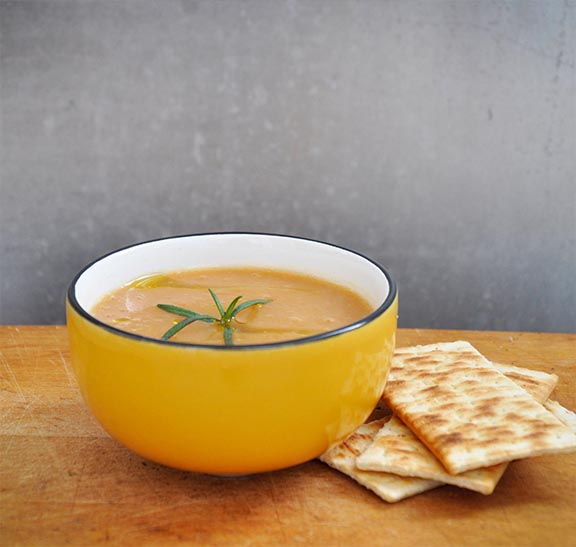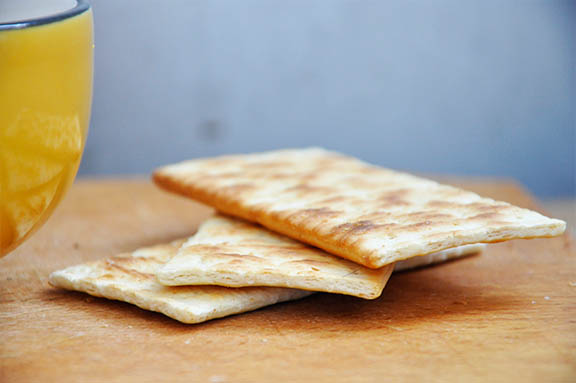 Creamy Carrot Soup with Ginger
This is a vegan creamy soup recipe with carrots, ginger and potatoes. You'll love the sweet and spicy flavor and creamy texture!
Ingredients
2 big potatoes, peeled and cubed
1 medium onion, peeled and cut in chunks
2 carrots, sliced
a thumb-size piece of ginger, peeled and grated
2 Tbsps extra-virgin olive oil
2 Tbsps lemon juice
sea salt, to taste
white pepper, to taste
yogurt (optional)
herbs, for garnish
water, just enough to cover all veggies
Instructions
Add potatoes, onion and carrots, in a medium soup pot. Add water, just enough to cover the veggies and let them boil for 15-20 minutes.
Add grated ginger, salt and pepper. Stir well.
Remove from heat when the potatoes and carrots are tender. Check them with a fork.
Using a vertical blender, start blending the veggies.
Add olive oil and lemon juice.
Add more water, depending on how thick/thin you want the soup to be.
Garnish with yogurt (optional) and herbs.
http://gourmandelle.com/supa-crema-de-morcovi-cu-ghimbir-creamy-carrot-ginger-soup/
Copyright: 2014 Ruxandra Micu | www.gourmandelle.com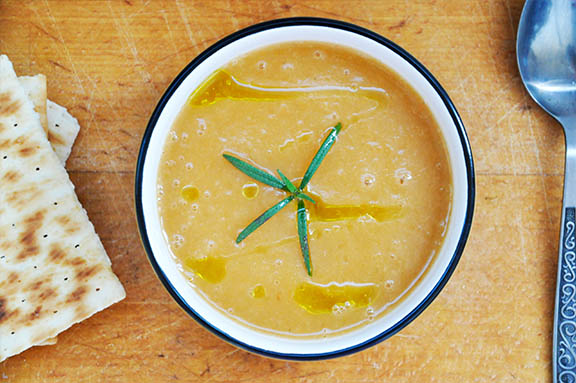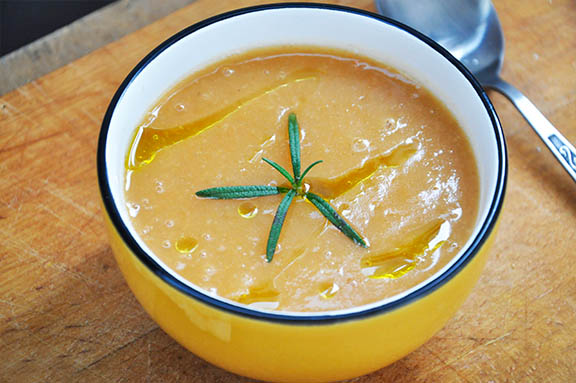 In caz ca nu stiati, eu sunt absolut innebunita dupa trei feluri de retete: chiftelute vegetariene, hummus si supe crema! As putea sa le mananc in fiecare zi! Mereu experimentez noi combinatii de ingrediente pentru chiftelutele vegetariene, dar si pentru supele crema, asa..ca sa nu ma plictisesc cu aceleasi gusturi :D. Va incurajez sa faceti si voi la fel! Experimentati atunci cand gatiti! Gatitul ar trebui sa fie distractiv, nu o povara.
De data asta am schimbat reteta clasica de supa crema de morcovi si cartofi, adaugand un singur ingredient care o scoate complet din anonimat…ghimbir! Cu doar un ingredient, supa de morcovi s-a transformat dintr-o supa banala, intr-o explozie de gusturi! Reteta de supa crema de morcovi cu ghimbir este ideala pentru sezonul rece. Va va incalzi instantaneu si va va binedispune
Asemenea tuturor retetelor mele de supa crema, si aceasta este gata rapid si se face foarte usor. Tot ce trebuie sa faceti este sa puneti legumele la fiert si cand sunt gata, sa le pasati. Tot procesul dureaza 15-20 de minute.
Incercati si reteta de Supa crema de cartofi si morcovi cu chimen, e delicioasa!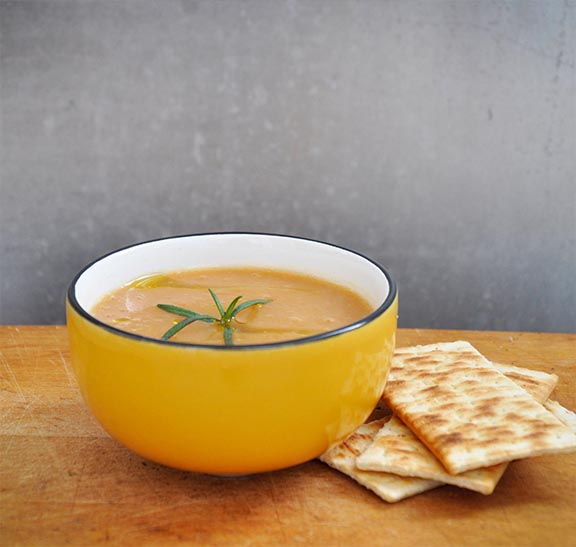 Supa Crema de Morcovi cu Ghimbir
Ingrediente:
2 cartofi mari, curatati si taiati cubulete
o ceapa medie, taiata in 4
2 morcovi, feliati
o bucata de 2-3 cm de ghimbir, curatat de coaja si dat pe razatoarea mica (sau 1lg ghimbir uscat)
2 Linguri de ulei de masline
2 Linguri de suc de lamaie
sare si piper alb, dupa gust
iaurt/smantana (optional)
verdeturi, pentru decorat
apa, suficienta cat sa acopere legumele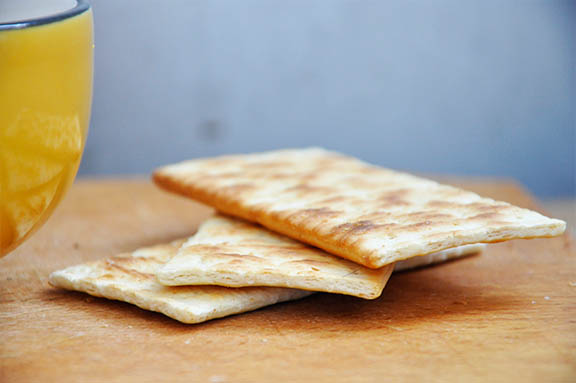 Instructiuni:
Adauga cartofii, ceapa si morcovii, intr-o oala de supa. Adauga apa, doar cat sa le acopere. Lasa-le la fiert 15-20 de minute.
Adauga ghimbirul dat pe razatoare, sare si piper. Amesteca bine.
Opreste focul. Adauga uleiul de masline si sucul de lamaie.
Folosind un blender vertical, paseaza toate legumele. Acum poti regla consistenta supei adaugand mai multa apa.
Se poate servi cu iaurt/smantana, crutoane si verdeturi proaspete.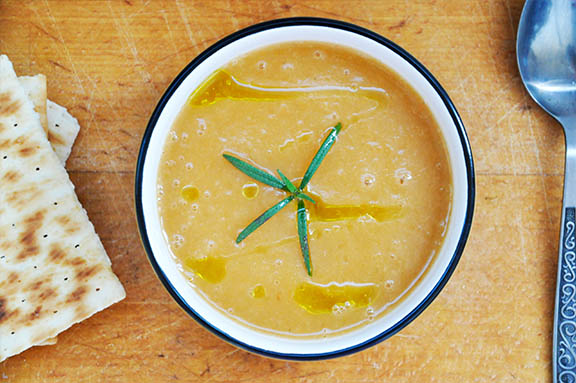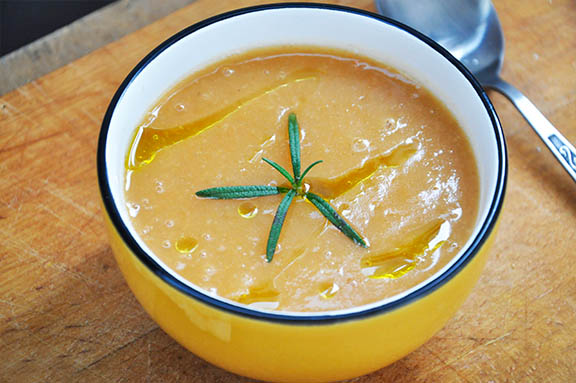 Cooksnaps