This super skin glow juice is packed with vitamins, minerals and powerful antioxidants! It will give you a healthy glow while also energizing you! Give it a try!
Before showing you the recipe for the best juice for skin complexion, let me start by telling you that diet plays a great role in the health of your skin. The path to healthy skin starts with a healthy diet. I've seen the effects myself and no acne cream or medicine can compete with the benefits a healthy diet will bring you.
If you want a better-looking skin, you should keep in mind the following things:
No more dairy! Limit your dairy intake or preferably give it all up! Studies have shown that increased dairy consumption can lead to acne in some people. (1) Personally, every time I eat cheese for more than 2 days in a row, I start seeing the effects. Pimples start to appear, my skin loses its glow and an outbreak is about to happen. It's best to give up dairy for good, but if don't want to, at least eat it just 2-3 times a month.
No more sugar! Refined sugar does a great deal of damage and not only to your skin but to your whole body as well! Replace refined white sugar with healthier sugar alternatives.
No more white bread! It's best to avoid all foods made with white flour. Choose the healthier options, made with whole grain flour.
Eat less processed foods. Cook whole meals. It may be more difficult at first, especially if you're not used to cooking from scratch, but the benefits will not only include healthier skin, but also an overall healthier body!
No fast food! This is pretty much self-explanatory. All that fat will show up on your skin as well.
A useful book about juicing: Juicing, Fasting, and Detoxing for Life: Unleash the Healing Power of Fresh Juices and Cleansing Diets
The tips I mentioned above are what worked for me. I cannot guarantee it will work for everyone, but for me, they did miracles!
If you adopt a healthy diet by following the tips mentioned above and if you drink this juice daily, you will get better skin in just one week!
Need a juicer? Check out these best juicers you can buy.
____________________________________________________________________________________
This super skin glow juice has become one of my favorite fruits and veggies juices so far! It does not only have an amazing orange neon glow color, but it is also crazy good and extremely healthy! This carrot juice recipe for glowing skin has become my favorite type of juice, by far.
As I love juices and smoothies, I decided today to try a new kind of recipe – a detox juice recipe for skin. Summer is close, so we should start detoxing and improve our skin health. This skin glow juice is the best juice for skin, as it contains awesome fruits and veggies with vitamins, minerals, and antioxidants capable of improving your complexion. Drink this juice for clear skin daily for at least one week, eat healthy foods and you'll see the results you want! 🙂
Here's some info about the great benefits of the ingredients in this super skin glow juice – the best juice for skin problems I've tried so far:
Apples
Apples are great for preventing cell and tissue damage, wrinkles and aging. An apple a day not only keeps the doctor away but will also make you glow! Note: Eat only organic apples!
Carrots
Carrots are an excellent source of vitamin A. They also contain vitamin K, potassium, folate, manganese, phosphorous, magnesium, vitamin E and zinc. Carrots will not only improve your vision but will make your skin look better too!
Ginger
Ginger will not only speed up your metabolism and help you lose weight, but it is also rich in skin-supporting antioxidants, vitamins, and minerals which promote smooth and clear skin.
Oranges and Lemons
Citrus fruits have high vitamin C content. A glass of water with a little lemon juice is great for detoxing and thus it will make your skin clear and beautiful.
Cucumbers
Cucumbers juice is an excellent source of silica, known to improve your complexion. Cucumbers are also very hydrating as they have very high water content. A properly hydrated skin is healthy and glowing!
So if you're wondering which juice is good for skin, here is my recipe on how to prepare carrot juice for glowing skin. Want more tips on how to make your skin glow? Check out these effective home remedies for glowing skin.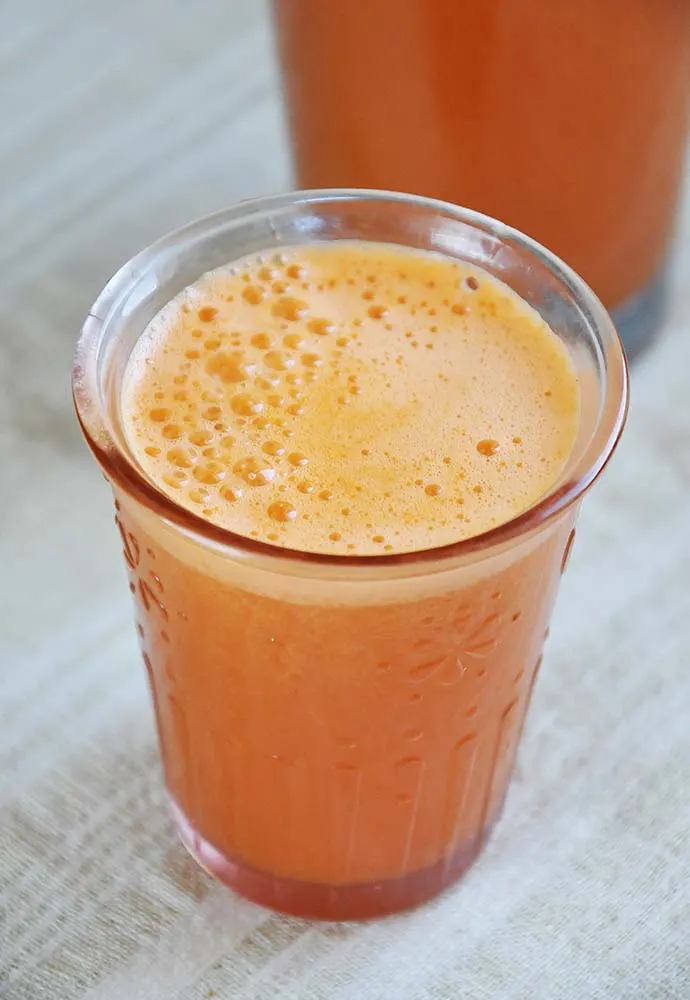 Yield: 3-4 glasses
Super Skin Glow Juice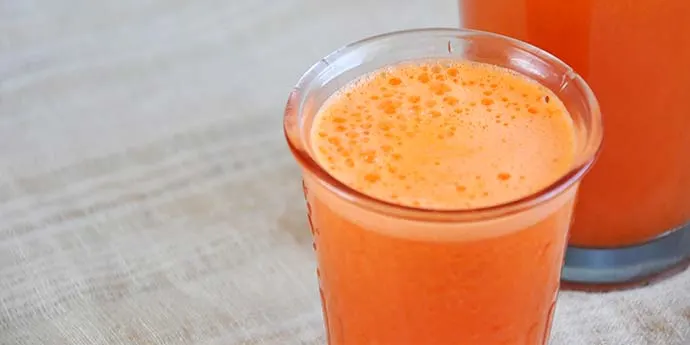 This super skin glow juice is packed with vitamins, minerals and powerful antioxidants! Oranges, ginger, carrots, cucumbers and apples, will make your skin look healthy, glowing and beautiful! Ready in just 5 minutes!
Ingredients
1 apple
1 orange, halved and peeled
4 carrots
½ cucumber, peeled
a thumb-size piece of ginger
½ lemon, peeled
water, to dilute if needed
healthy sweetener of choice, to taste
Instructions
Juice them all! Add water if you think the juice has to be diluted. Also, add healthy sweetener of choice. I prefer it just as it is, without sweetener, as I find it already sweet enough. Enjoy!
Nutrition Information
Yield
4
Amount Per Serving
Calories

94
Total Fat

0.4g
Carbohydrates

21.3g
Protein

1.3g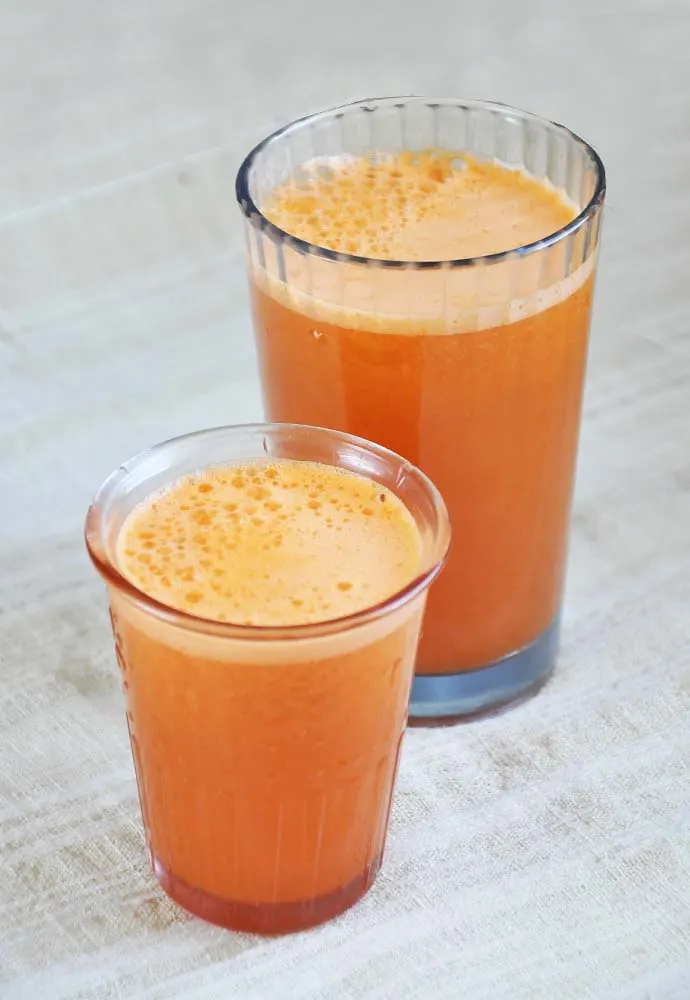 Sources:
Spencer, E. H., Ferdowsian, H. R., & Barnard, N. D. (2009). Diet and acne: a review of the evidence. International Journal of Dermatology, 48(4), 339-347.