You should definitely make this gluten-free gingerbread cake for Christmas this year! It's easy to make, egg-free, dairy-free, and vegan too!
I never imagined I will love gluten-free baking so much! 😀 Ever since I began holding gluten-free baking classes in Bucharest, with the help of Schar Romania, I started baking a lot! The last gluten-free baking class was held this Saturday and it was organized by Schar Romania. The theme for this class was "Gluten-Free Sweets for Christmas". You can check out the photos in the Facebook album below. I really enjoyed cooking with you!
We baked two of my favorite recipes – gluten-free gingerbread cake and Christmas sweet bread with cranberries and other dried fruits. It was so much fun to cook together with you all and I really hope you enjoyed it too! 😀
I decided to post the gluten-free gingerbread cake recipe first because we had a small incident during the cooking class. 😀 You'll see in the recipe below that it is very important not to preheat your oven and set the temperature to 170C. Oh well, because I didn't have total access to the restaurant kitchen's oven and I don't speak Italian either (the chef being Italian), he not only preheated the oven but also set the temperature to somewhere between 50C-100C! After 20 minutes I decided to check if the cake rises properly and then I noticed that the temperature was not ok… Anyway.. I tried to solve the situation but the cake didn't turn out exactly how it was supposed to. The taste was good, but the texture wasn't perfect.
Well.. let's move on. You'll see from the photos below, that the texture turns out perfectly if you follow the instructions. Also, because you liked my gingerbread spice mix so much, I wrote the ingredients below.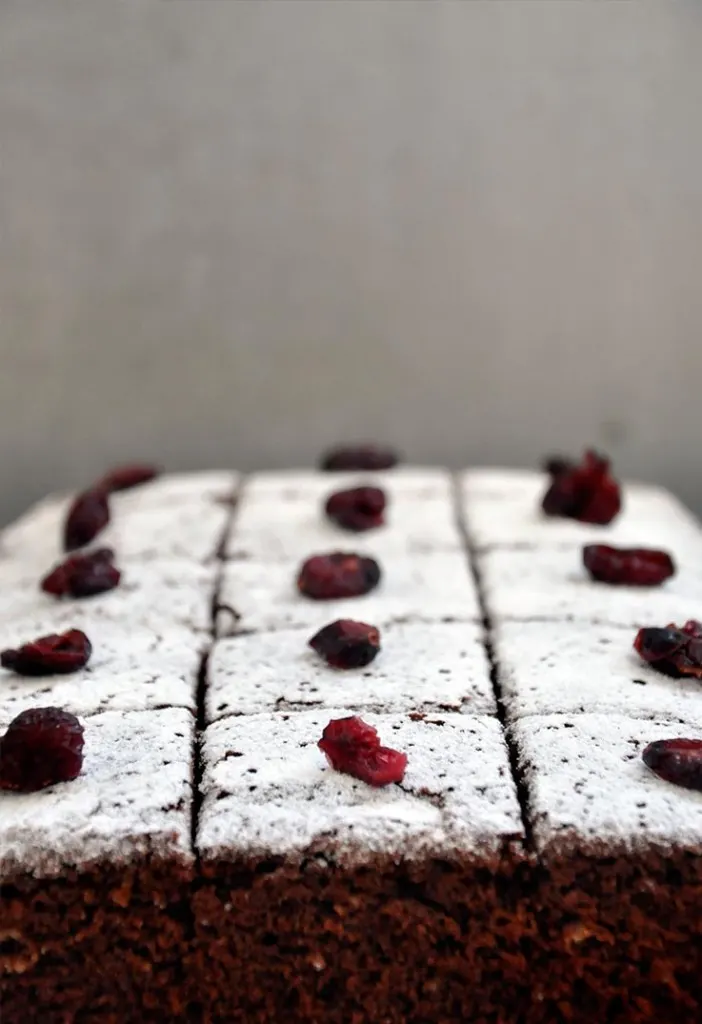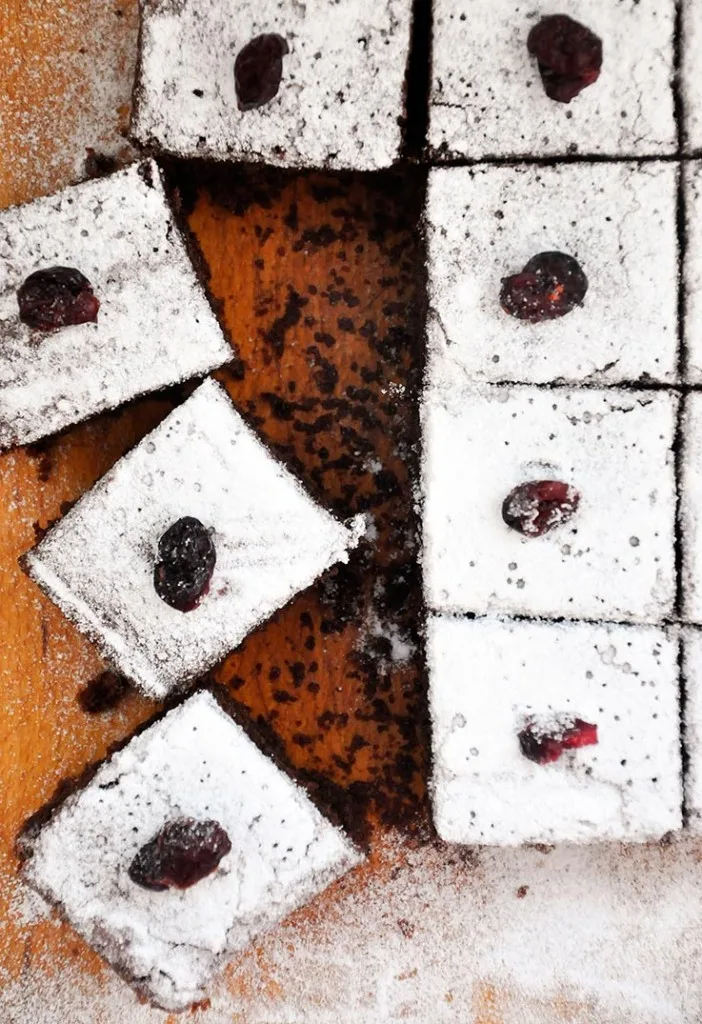 This gluten-free gingerbread cake recipe is also dairy-free and egg-free. I used soy milk instead of regular cow milk. Also, for sweetening, I used sugar and honey. I rarely eat sugary stuff so once or twice a year I allow myself to eat sugar. If you don't want to use sugar in this you can replace it with stevia powder or another healthy sweetener. Also, you can replace honey with maple syrup.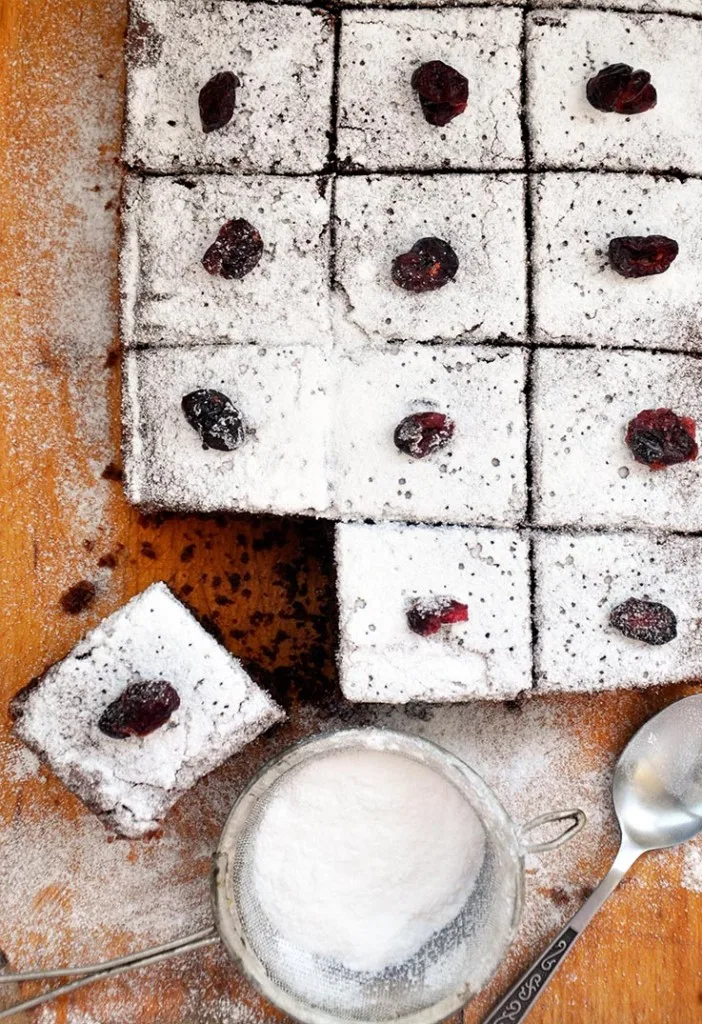 I really hope you'll like my gluten-free gingerbread cake recipe! I loved it! 😀
Yield: 15 pieces
Gluten-Free Gingerbread Cake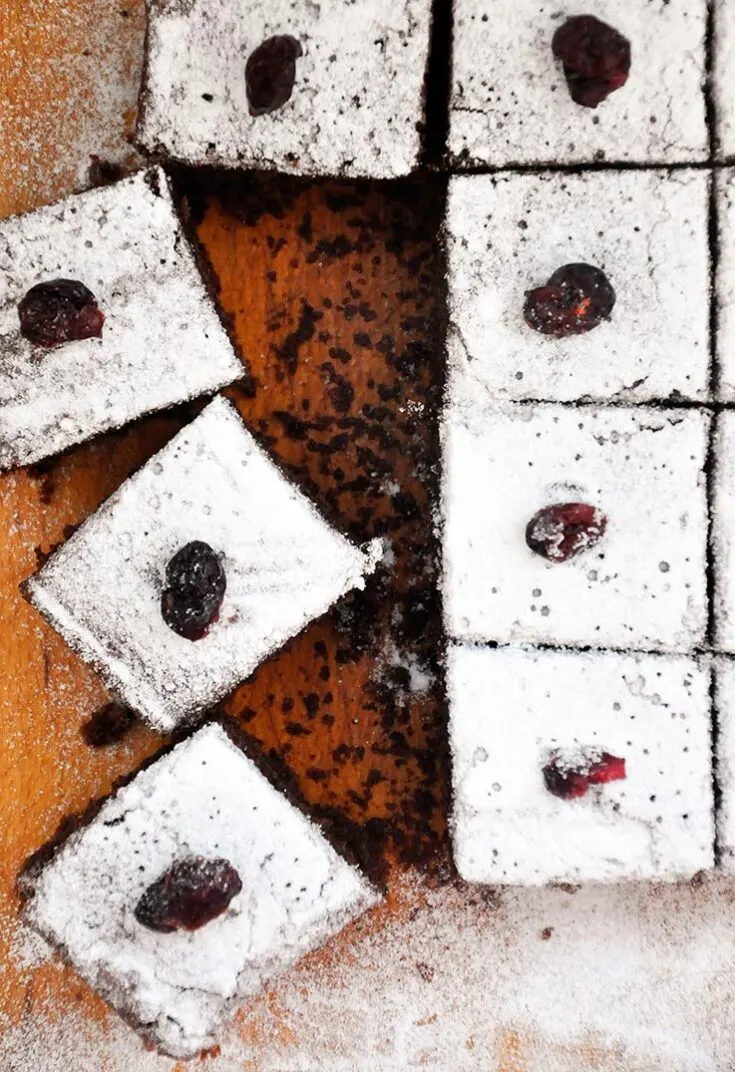 You should definitely make this gluten-free gingerbread cake for Christmas this year! It's easy to make, egg-free, dairy-free, and vegan too!
Ingredients
280g (2 cups) gluten-free flour Mix C Patisserie by Dr. Schar , or regular flour, if you're not gluten intolerant
230g (1 1/8 cup) sugar or stevia powder, or another healthy sweetener, same quantity
3-4 Tbsps honey , or maple syrup, same quantity
2 Tbsps cocoa powder
3 Tbsps gingerbread spice mix , ingredients below
10g (2 tsp) baking powder
280ml (1 cup) soy milk, or any other veg milk of choice
3 Tbsps oil
a pinch of salt
My homemade gingerbread mix:
3-4 Tbsps brown sugar
1 Tbsp ground cinnamon
1 tsp ground anise
2 tsps ground cloves
1 tsp ground cardamom
1/2 Tbsp ginger powder
1 tsp ground nutmeg
This is my homemade gingerbread mix which I also use to flavor hot wine. The quantities can be adapted to your own taste.
Instructions
Mix flour, cocoa and baking powder. Sieve them in a large bowl. Ass salt, sugar and gingerbread spices mix.
Mix milk with honey. Add oil.
Pour the liquid ingredients over the solid ones in the bowl.
Grease the form you want to use. I used a rectangular shaped jena tray, with the approx. sizes of 45x15cm.
Pour the batter in the form.
Put it in the COLD oven and set the temperature to 170C. Let it bake for 35 minutes. Check with a toothpick if ready.
Serve with melted chocolate or powdered sugar on top.
Nutrition Information
Yield
15
Amount Per Serving
Calories

302
Total Fat

8.3g
Carbohydrates

53.4g
Protein

3.4g