Since moving to Milan, I've been eating out a lot. I visited quite a few restaurants but this is the first one that truly deserves to be mentioned on the blog and given a proper review. I liked absolutely everything about it and I can honestly say it is by far the best raw vegan restaurant I've been to so far… and I've been to quite a few back home in Romania.
Mantra is a little restaurant located in Via Panfilo Castaldi 21, Milan. This is the first raw vegan restaurant in Italy!
Their food is entirely raw vegan and they also have allergy-friendly meals. If you have a food intolerance or allergy, it's best to tell them when you make the reservation. They can suggest you what kind of meals would be suitable for you.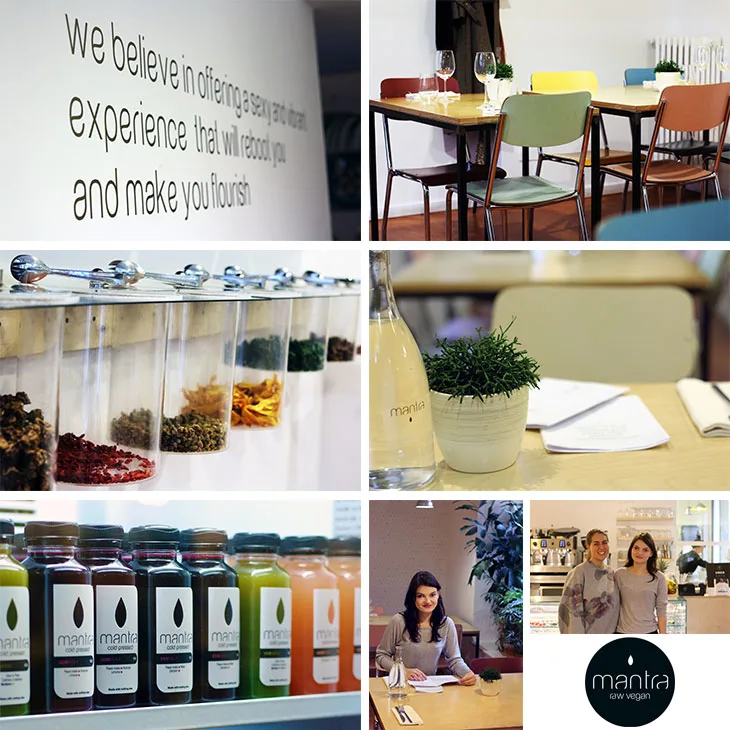 The atmosphere is cozy and relaxing. I really enjoyed the subtle background music. When we first arrived, at 12.00pm on a rainy Tuesday, the restaurant wasn't too crowded but in just 15-20 minutes it got almost completely full! So, if you want to eat lunch here, make sure you plan ahead or come earlier. It is best to make a reservation too, especially at lunch hours or on weekends.
We decided to try two of their cold-pressed juices. I went for a green juice with kale, celery, apple, lemon, spinach, lettuce, and parsley and Costin decided to try a fruity juice, with melon and lime. Both were really good, but comparing them I'd say that, surprisingly, the green one was better!
Even if you're not a big fan of green juices, you should really try theirs. The flavor is balanced really well and they are quite delicious!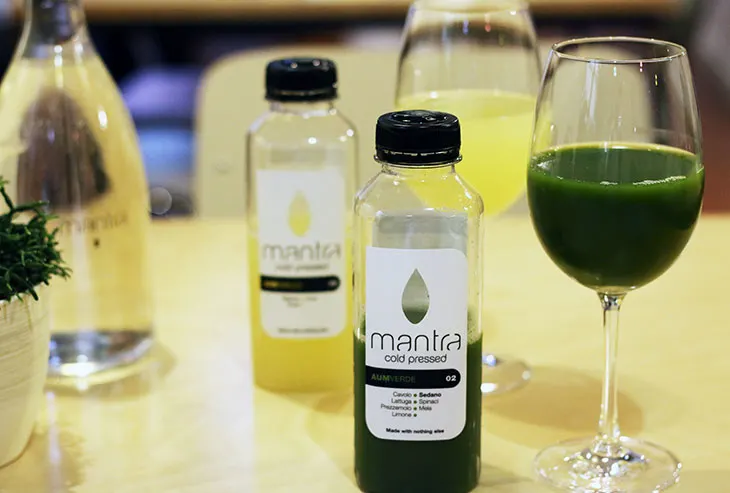 The appetizer we tried is called TOSTAVO. We were served two avocado toasts with a raw bread made of mixed seeds. The avocado mash also contained smoked cherry tomatoes, lemon-marinated fennel, herbs, and flowers.
The serving and presentation were impeccable. What surprised me the most was the great attention to details. This is what turned a simple avocado toast into an explosion of flavors! You can really taste the smoky flavor of the cherry tomatoes.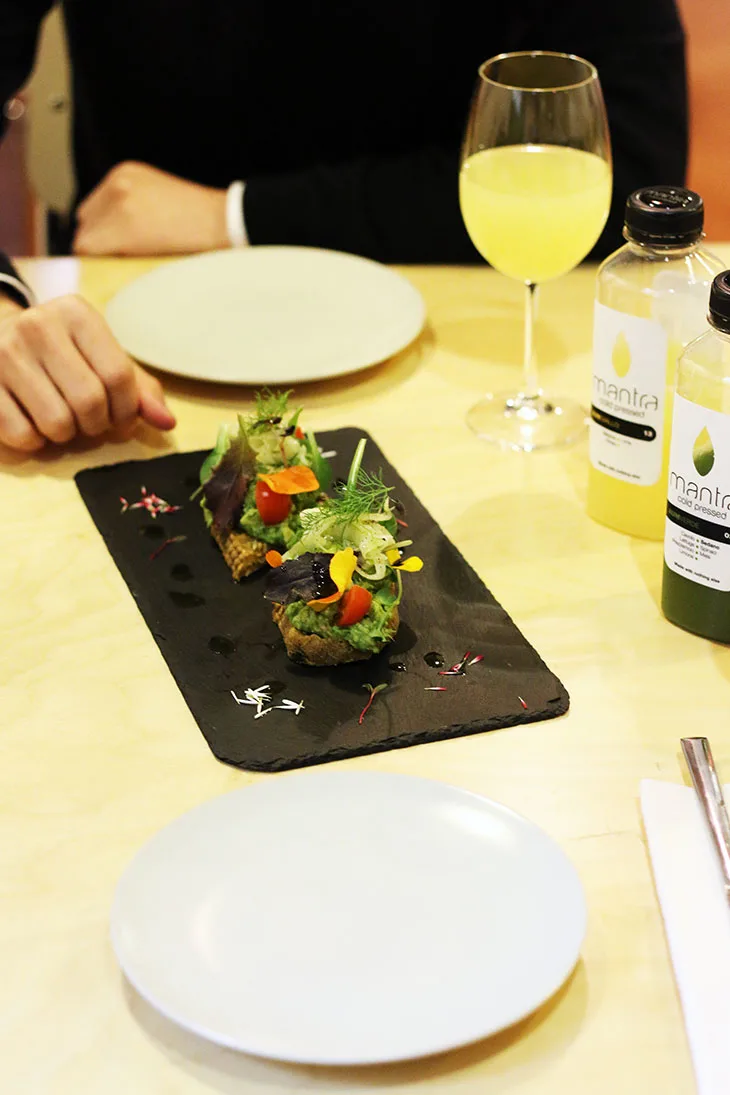 The raw bread was almost too good to be true! I had to ask if it was really raw. They assured me that it is and it was made of a mix of seeds and carrot and dehydrated for the perfect amount of time.
Just look at the textures and presentation below. I dream about having these mad plating skills one day!
For the main course, we tried POL – Walnut and mushroom balls with marinara sauce and ZPAG EST – Zucchini noodles with pistachio pesto and dried tomatoes.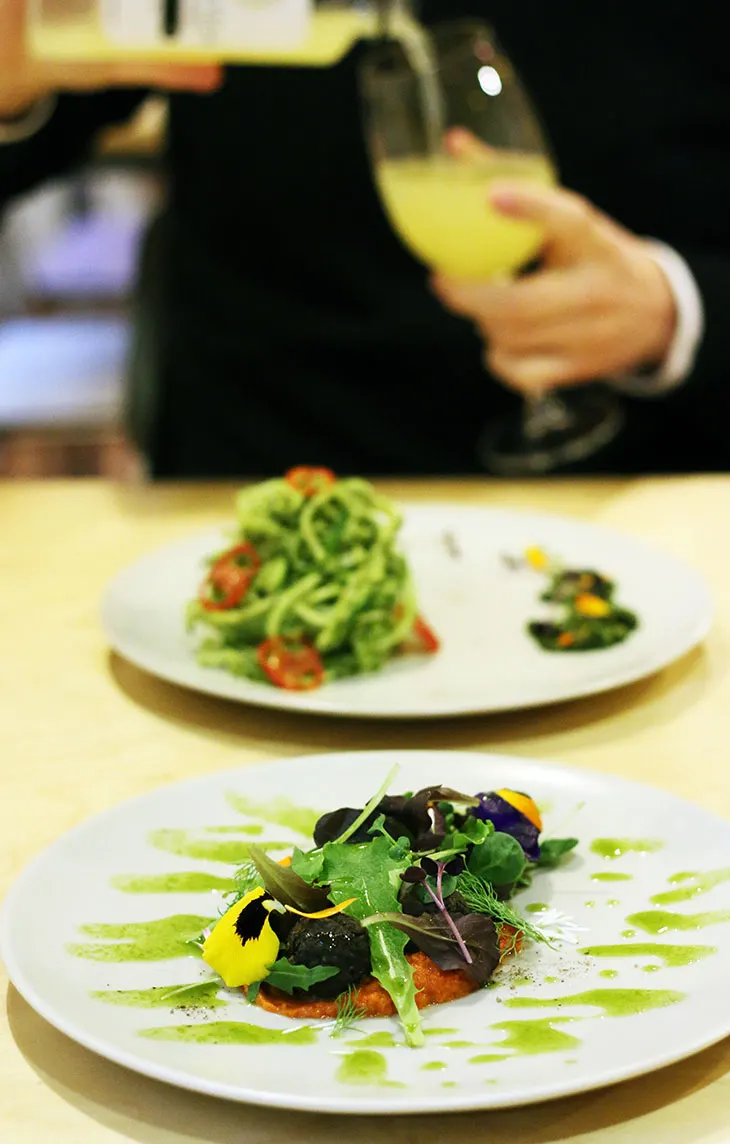 The little walnut and mushroom balls were really good. Their raw chef is brilliant! I wanted to find out more about him and discovered that his name is Alberto Minium Paluello, he's vegan for 14 years and has graduated the Raw Vegan Chef course at Matthew Kenney Academy in Santa Monica.
The second main dish we tried was the zoodles with pistachio pesto and dried tomatoes. It was the first time I tried zoodles and I'm hooked! I need to buy a spiralizer and make them at home as well. They have an amazing texture and could easily replace regular pasta.
The pistachio pesto was a hit! I loved the slightly chunky texture and subtle pistachio flavor.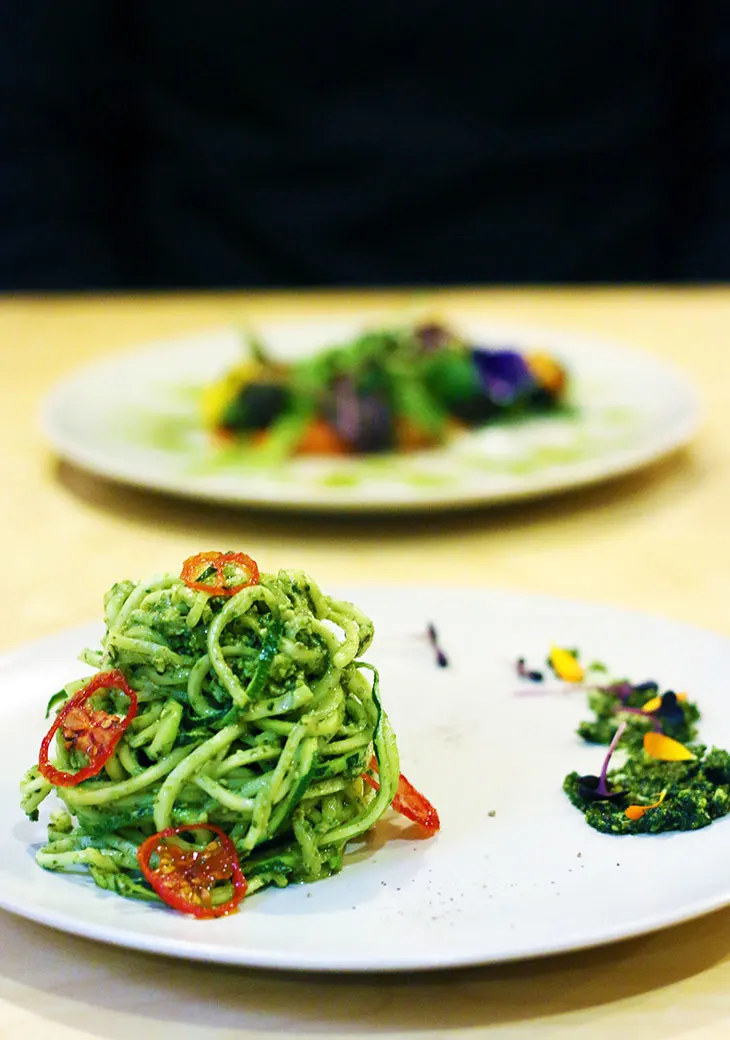 Comparing these two main dishes, I couldn't say which one I enjoyed more. Each one had their distinct qualities. You should try them both!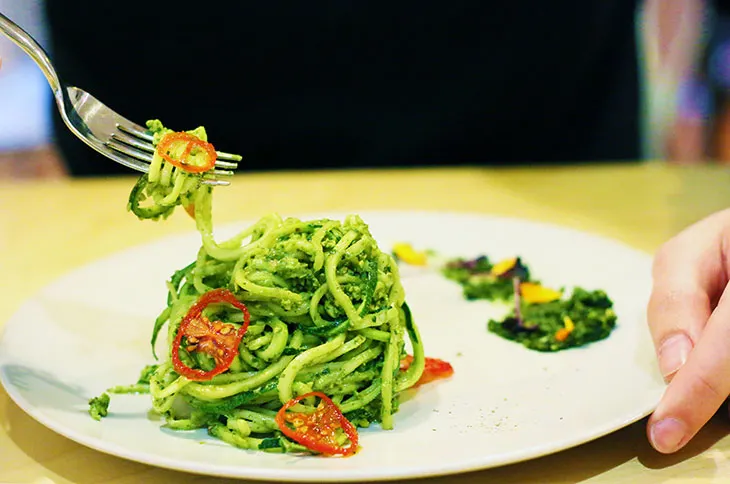 After the appetizer, juices and these two main meals, we were full! We couldn't eat dessert as well, but I asked if I could take a photo of it at least, so I can show it to you. It looks really good and I bet it tastes divine! What I noticed is that it looks creamy and it doesn't have the "icy" texture most raw desserts have.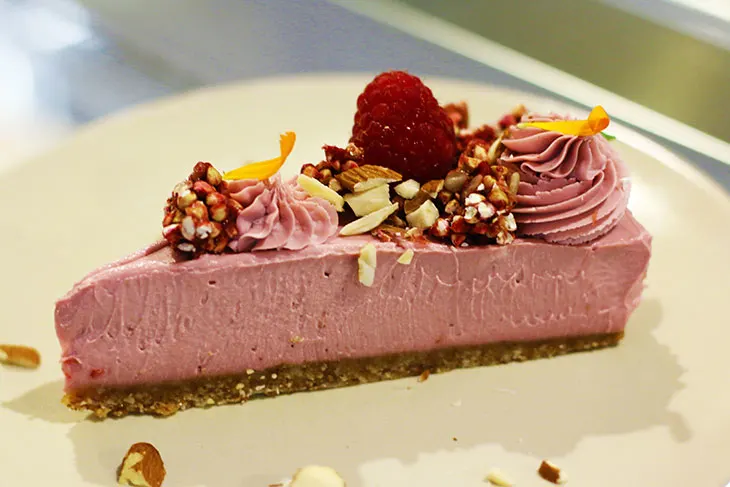 To conclude, Mantra Raw Vegan should definitely be on your "To Visit" list when you come to Milan. If you want to experience a gourmet raw vegan culinary journey, this is the place for you. Their chef really does miracles with raw ingredients!