What could be easier and more delicious than a big batch of freshly baked thumbprint cookies? Literally nothing! Here is how to make vegan thumbprint cookies, give them a try!
I had a really laid-back week and I decided to treat myself. Today is not about quick meals or elaborated dinner recipes, it's about delighting yourself with a dessert! It's about taking the time to do the things you love. Today I needed something that goes together well with lying in bed with my favorite book. And something that will later keep me company while watching a nice movie. So today is about dessert – in the form of a cookie!
I decided that today I will prepare one of my favorite desserts, a classic in the cookie world: vegan thumbprint cookies! They are just so nice to have around. Small, round and bite-sized, with their colorful jam middle, they are simply perfect to snack on while enjoying some fun activity.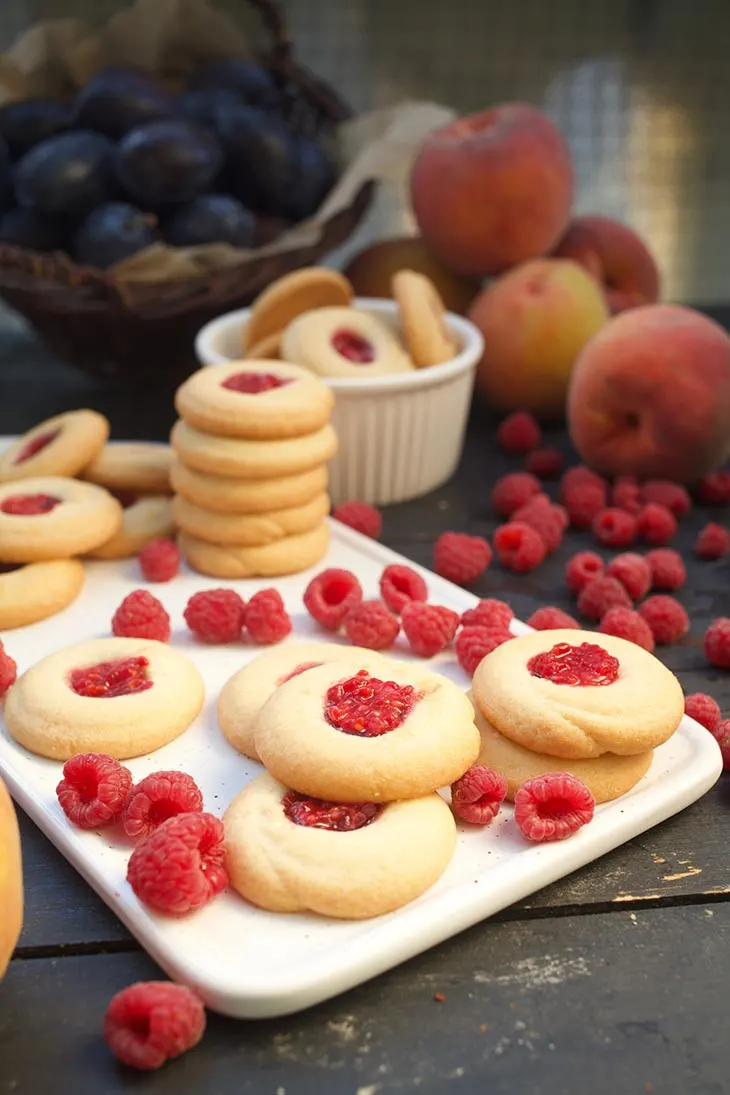 You probably already know these cookies, but this recipe will really change the way you look at them. Firstly because I adapted the recipe to be completely vegan. No eggs, no milk and obviously no meat. I remember when I became vegan I was kind of craving some of the dishes that contained milk or eggs that I used to love. And back then it wasn't that easy to find vegan substitutes for everything.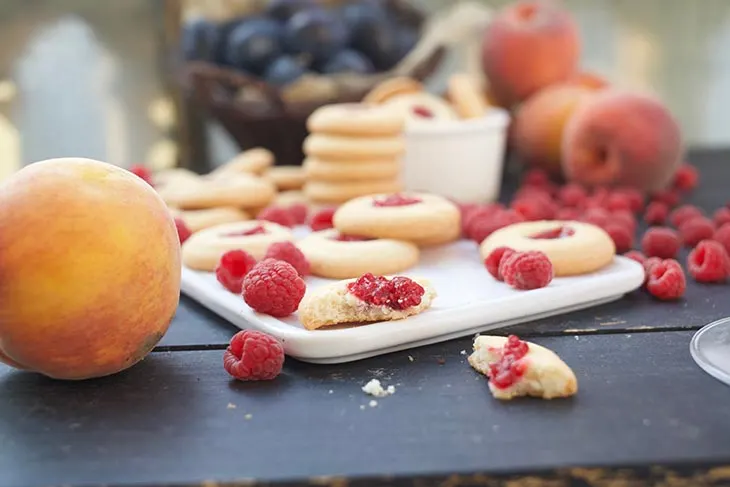 But now that more and more people have turned to be vegan, it's getting easier and easier to find vegan recipes for meals and desserts that we love! And this is the case with these classic thumbprint cookies as well. They are just as good as the original version and could please all vegans and non-vegans alike!
Thumbprint cookies are great. They are easy to make and everybody loves them. In some parts of the world, they are a classic Christmas cookie. But of course, you can have them all year round, as I do! 🙂 Because they can be put together so easily, I end up preparing these cookies quite often.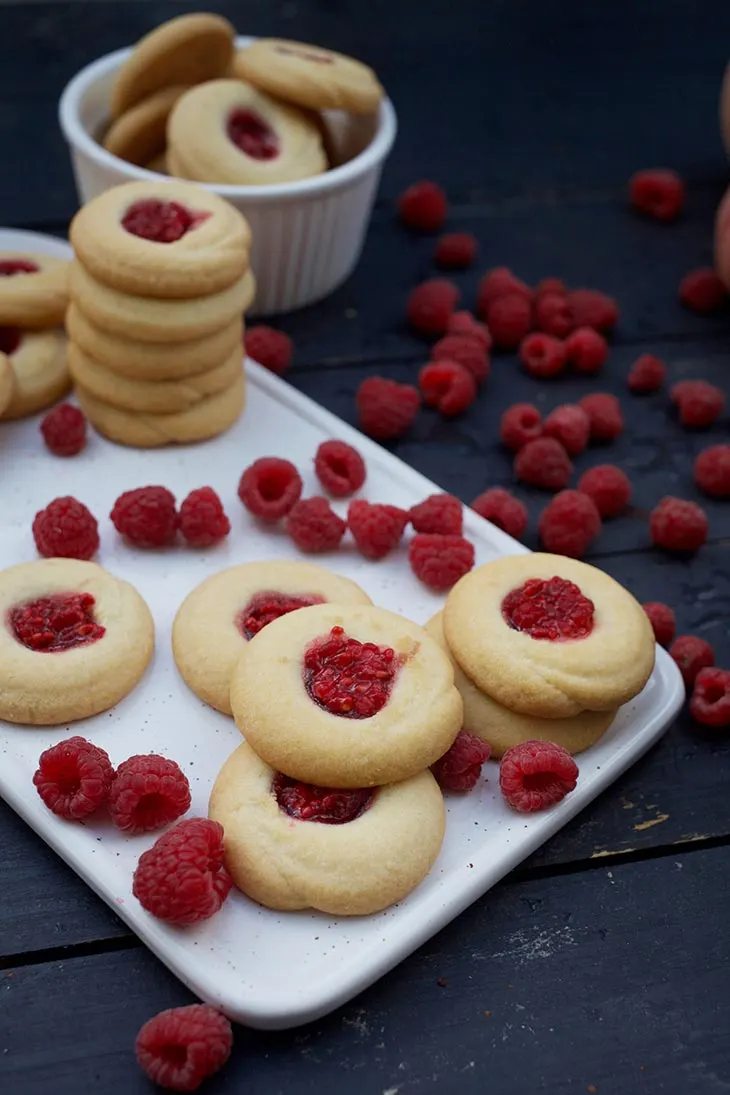 Maybe you are wondering where the thumbprint cookies come from. The name is related to the way the cookies are prepared. You roll the dough into small balls, flatten them a bit and them make a small hole in the center using your thumb. Crafty, right? 😉
You then proceed to fill the center with something sweet. And here, the sky's the limit. You can use chocolate cream, fruit jam, peanut butter… you can basically use anything sweet comes into your mind and fits into a space the size of your thumb.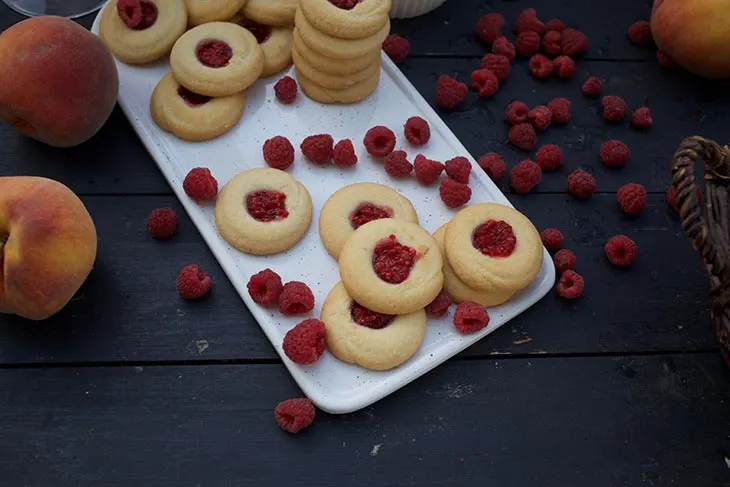 Oh, and by the way, the thumbprint cookies are also known as hallongrotta, which means Raspberry cave in Swedish (which is why I used fresh raspberries in my recipe today!). In other parts of the world, they have other cool names like bird's nest cookies, Polish tea cakes or butterballs.
They probably originated somewhere in the 19th century. but cookies scientists are not completely sure about the exact time. And they are believed to come from either Sweden, Poland or some Jewish communities in Eastern Europe – but cookie scientists are not completely sure about the exact place either! 🙂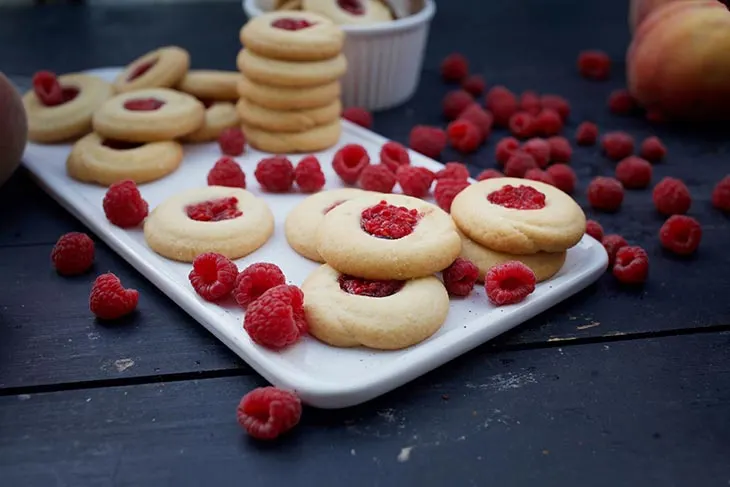 What we are completely sure about is that today the thumbprint cookies will come from your oven. And it will be magic! You will simply love to share them with all your friends and colleagues, eat them in the morning with a cup of tea and have them as a treat after a lovely meal. Just be sure to have the recipe at hand because I am positive that all your friends will want to know how to make their own batch as fast as possible.
I think that the cookies are the perfect form of dessert because they are much easier to prepare and easier to eat than cakes. I just looove bite-sized food! And they're also easier to carry around – you can take them to work without any problems. You can basically enjoy them wherever and whenever you feel like!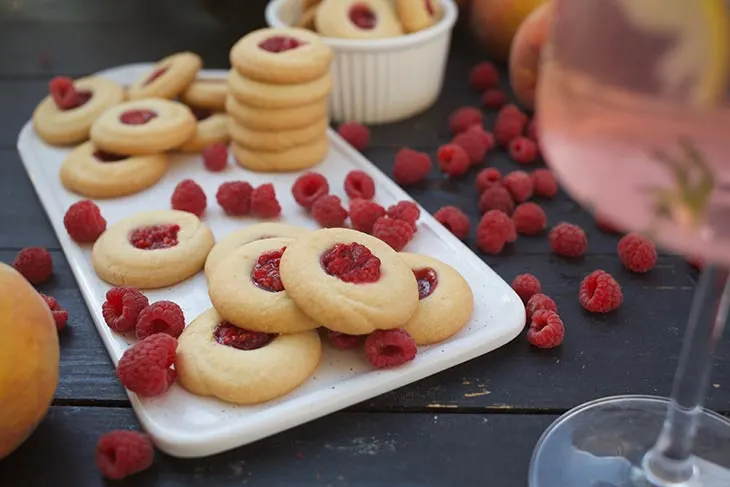 And you probably feel like enjoying them now so I will cut short the introduction and start showing you how to bake these amazing cookies. Just let me know in the comments what did you think about this recipe – I love hearing your opinions about my recipes!
Yield: 16
Vegan Thumbprint Cookies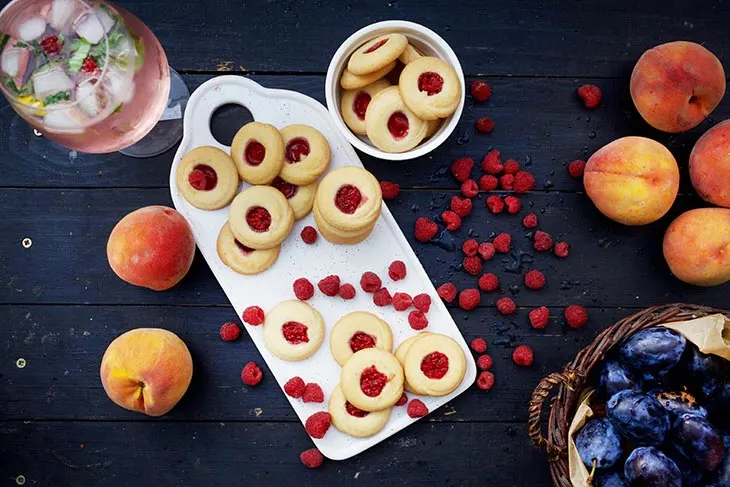 What could be easier and more delicious than a big batch of freshly baked thumbprint cookies? Literally nothing! Here is how to make vegan thumbprint cookies, give them a try!
Ingredients
240g (2 cups) all-purpose flour
½ tsp salt
100g (½ cup) granulated sugar
180g (¾ cup) vegan butter, room temperature
2 Tbsp soy milk
1 tsp vanilla extract
80g (¼ cup) homemade raspberry jam
Instructions
Preheat the oven to 180 C.
Line a baking tray with parchment paper. Set aside.
Add the butter to the food processor and whisk until fluffy.
Add sugar, vanilla and soy milk and continue to whisk until well incorporated.
Now start adding the flour and salt, gradually, until a thick batter forms.
Use a Tbsp of dough for each cookie. Scoop the dough, form a small ball with your hands and lay it on the prepared parchment paper.
Repeat with all remaining dough.
Now press each ball with a small scoop spoon or your finger.
Fill each cavity with jam.
Bake for about 15 minutes or until lightly golden on the edges.
Let cool. Enjoy!
Nutrition Information
Yield
16
Amount Per Serving
Calories

170
Total Fat

9g
Carbohydrates

17g
Fiber

1g
Sugar

6g