This gluten-free bread is one of the best bread recipes I've tried so far! I also added some tips and tricks on how to make the perfect gluten-free, fluffy toast loaf.
As you probably know, I recently eliminated gluten from my diet. I discovered that my mom was gluten intolerant and I also had some symptoms, so I decided to completely give up gluten products. It wasn't as hard as you may think. I wasn't a huge fan of bread anyway. I'll just have to be more careful with processed foods (like store-bought veg spreads and stuff like that) as they usually contain gluten.
Unfortunately, we don't have a wide range of gluten-free products here. It's pretty hard to even find gluten-free flour mixes! So, it's going to be a little bit of a challenge until we get used to this lifestyle.
To make it easier, the whole family went gluten-free! We eliminated all gluten products from our pantry and decided to try some gluten-free bread recipes. I don't like baking, so my dad is in charge of making gluten-free bread. This is his gluten-free bread recipe and it's actually the third gluten-free bread he made. I was amazed by how delicious gluten-free bread recipes are!! You can barely tell the difference between a normal bread and a gluten-free one.
We used a gluten-free flour mix. Until we discover the best flour combination, we'll be using this mix. We're in the testing process. Also, you have to try the turmeric + olive oil coating and the gluten-free breadcrumbs crust. These are the details that matter! It will turn a regular gluten-free bread in a delicious treat!
Also, I made a Gluten-Free Baking board on Pinterest. Check it out!
If you have any tips on gluten-free baking, please leave a comment below. Thank you!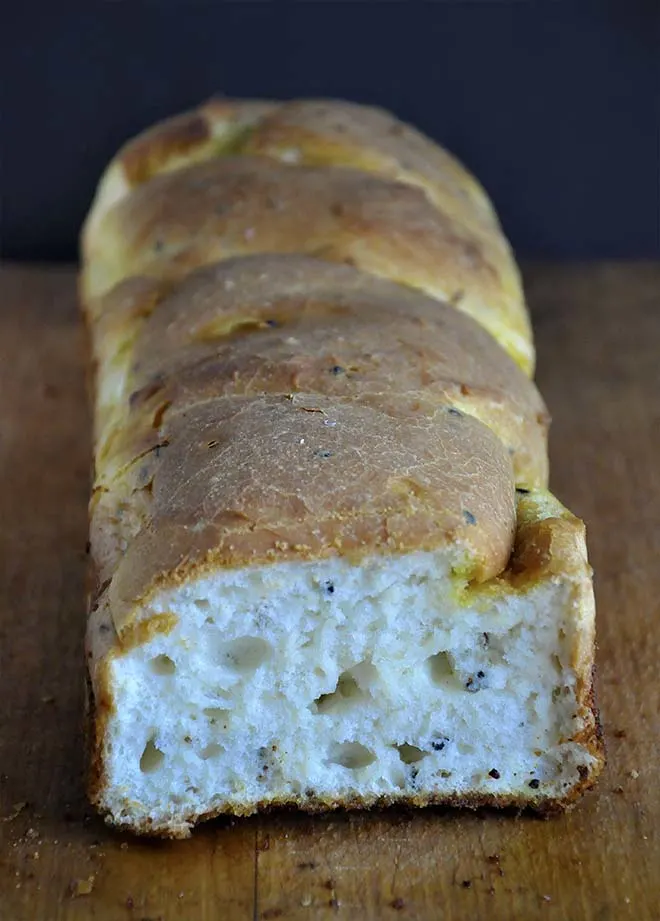 Yield: 1 gluten-free bread
Gluten-Free Bread with Black Cumin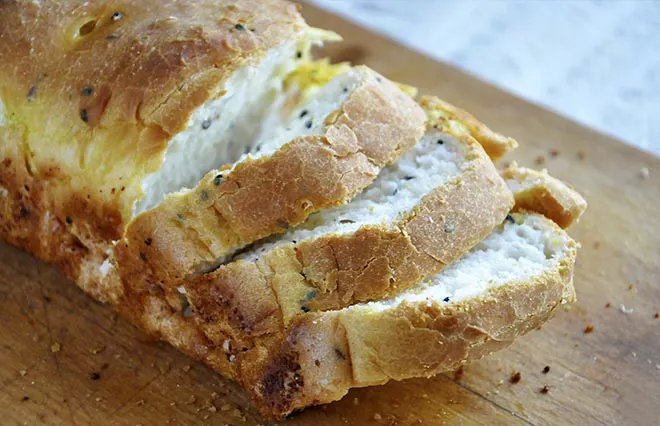 This gluten-free bread with black cumin recipe is absolutely amazing! The breadcrumbs crust and turmeric coating make it special!
Total Time
1 hour
30 minutes
Ingredients
350g (12.3oz) Schar Mix B gluten-free flour
350ml (1 ½ cup) warm water
1 Tbsp extra-virgin olive oil for the dough + 3 Tbsps olive oil for coating
1 Tbsp sugar
1 tsp sea salt
1 Tbsp fructose jellyfying agent - Dr.Oetker, optional, but highly recommended. It makes it even better.
7g (2 tsp) dry yeast
1-2 Tbsps gluten-free breadcrumbs
2 Tbsps black cumin
1 pinch of turmeric
Instructions
Add sugar and dry yeast in a small bowl, along with the warm water. Mix well.
Add gluten-free flour mix and fructose gelling agent in your food processor. Pulse once or twice. Add warm water from the bowl. Blend for 1 minute. Add sea salt and 1 Tbsp of olive oil. Mix for 3-4 more minutes. Add black cumin and mix by hand.
Grease the baking form with olive oil and sprinkle with gluten-free breadcrumbs.
Pour the dough in the baking form. Cover with a wet, clean cloth and let it rise in a warm place, for 30-40 minutes.
When ready, put it in the pre-heated oven at 200C and bake it for 30 minutes.
-see note-
Add 3 Tbsps of olive oil in a small cup. Add a pinch of turmeric powder. Mix well.
After 30 minutes of baking, take the bread out of the oven and coat it with the mix above.
Put it back in the oven for another 10-15 minutes.
Remove from the baking form and let it cool before slicing it.
Notes
Very important! Add a small recipient with water in the oven. The humidity in the oven must be high.
Nutrition Information
Yield
10
Amount Per Serving
Calories

139
Total Fat

4.4g
Carbohydrates

21.3g
Protein

3.5g